In the run up to the imminent launch of the Apple Inc. (NASDAQ:AAPL) iPhone 6 it appears as if rumor mills are working over-time. There have been tons and tons of claims about the supposed technical specifications, configurations and price of the iPhone 6 but what occupies the top spot amongst all of these rumors is the claim that the iPhone 6 will sport a screen that's sized at 4.7 inches. Yes, you read that right. In what could be seen as a huge paradigm shift for the Cupertino giant, these rumours which are quite believable suggest that the latest instalment in the iPhone series will see a bump in screen size. This move comes across as a surprise because all the previous iPhone models, right from the very first one, have had screens which were below the 4 inch mark in terms of size. What's more intriguing is that apart from the 4.7 inch iPhone 6, we could also see a larger 5.5 inch version of the same device being announced and subsequently launched too. It doesn't take much to understand that Apple have decided to roll out this larger version of the iPhone 6 to capture a share in the highly competitive phablet market. While this may be a late charge by Apple, it's rather appreciable to see them taking a cue from their Asian counterparts – read Sony, Samsung and LG – and offering a larger sized device. The larger of the two iPhones will most likely be known as the iPhone Air.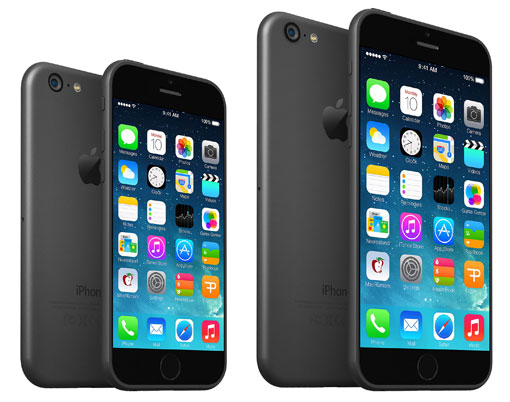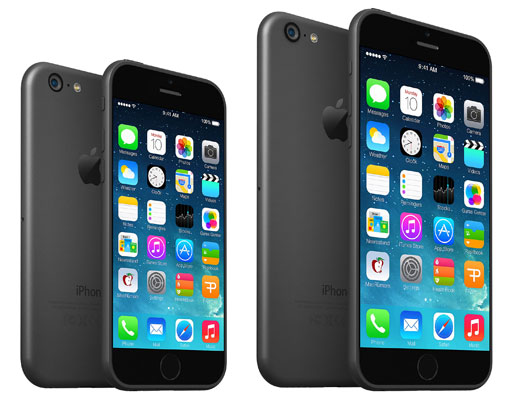 We, at Dazeinfo broke the news about the rumoured display size of the iPhone 6 more than a couple of months ago. The benefits of a large screen aren't few and they aren't just aesthetic in nature as well. A recent study conducted by a leading agency on this subject reaffirms this claim. Devices sporting larger screens can also be associated with offering better practicality and functionality to their users. Due to the advancement of technology, information is being shared in various formats across all media. You could use your smartphone to send a simple text, stream a video or Skype with your best friend and do much more than this too. At a time when smartphones are being positioned as multi-purpose devices, it is obvious that users expect more out of their devices. And while a sub-4 inch iPhone can get the job done, a larger number of users have been found wanting; especially when compared to their phablet or larger smartphone using counterparts. At the same time, a device that's overtly large due to its screen can stick out like a sore thumb too. That's where Apple's strategy to launch a 4.7 inch iPhone seems to fall in place. The key lies in striking the right balance with regard to screen size and in arriving at the optimal size; and by the looks of it, it seems as if Apple have got their strategy right.
Apart from Apple consumers' demand for an iPhone with a larger screen, another important driving force behind this decision from Apple is the unprecedented surge in Online TV viewership during Q1 of 2014. According to this study, more and more people have been turning to their smartphones in order to watch TV. And the icing on the cake for Apple is that most of the devices behind this startling development were none other than iOS devices. No wonder that Apple has reacted positively and decided to rake up production for its upcoming devices.
But perhaps the most significant reason why an iPhone with a larger screen could do wonders for Apple is that there's been a change in consumer preferences worldwide. It has been observed that consumers are willing to spend the extra moolah in order to get a larger sized device. A report by Canalys suggests that about 66% of all smartphones shipped in Q1 of 2014 were in the sub-5 inch bracket and around 22% were in the 5.0 to 5.4 inch bracket. If you combine these figures you'll see that they occupy a total of 88% in the smartphone pie thus making it the most popular (for consumers) and profitable (for manufacturers) segment to be present in.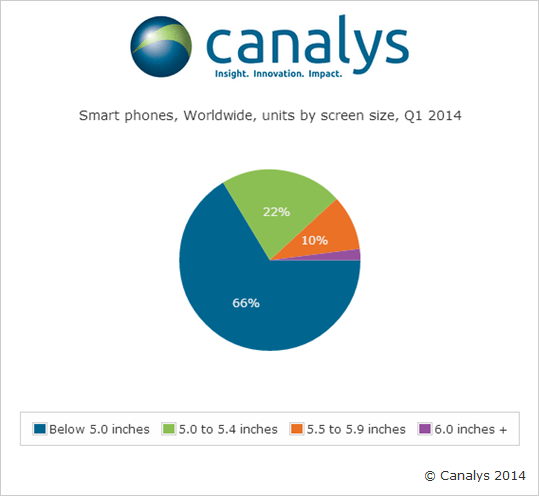 If Apple were to launch a 4.7 inch iPhone, which seems certain now, it'd be hitting the sweet spot when it comes to screen size. The optimal or ideal display size that was earlier emphasized in this post comes to mind. You see, for Apple to venture into pure phablet territory could turn out to be a double-suicide mission of sorts. Firstly, because the competition from established players, primarily Samsung; LG and Sony are catching up as well and Nokia has some great offerings too, is stiff and secondly, because a move like this could cannibalise the sales for the iPad Mini as well; since a larger iPhone would potentially be eating into its share too. Therefore for now, Apple's prime focus should be on a 4.7 inch iPhone for all the obvious reasons.
[poll id="35″]