Social-login trend is increasing at a galloping pace persuading a majority of brand web sites to avail login options of various networking sites. Website visitors are increasingly using social login options of Facebook Inc. (NASDAQ:FB), Twitter Inc. (NYSE:TWTR), Google Plus, LinkedIn Corp. (NYSE:LNKD) and so on, mainly to save time and effort in filling up the registration form and to interact with brand ads of websites which they have registered on the networking sites.
According to a report by popular user-management and social login provider Janrain, the social media titan, Facebook led the market with 44% of overall social login share in Q2, 2014. Google Plus was next in line with 37% share, Twitter owned 6%, Yahoo Inc. (NASDAQ:YHOO!) 5%, LinkedIn 3% and Windows accounted for mere 2%.
Facebook Recorded 1.5% Growth After Continuous 6 Quarters Of Falling Market Share!
After 6 quarters of declining social login share, the social media giant, Facebook, recorded a positive growth of 1.5% in the second quarter of 2014. This embarks its invincibility and continuous efforts by Zuckerberg's team in retaining the title of networking giant. Next in line was search giant's social media arm, Google Plus with 37% share. Facebook and Google Plus together accounted for 81% of social login share, outplayed rest of the sites by a massive margin.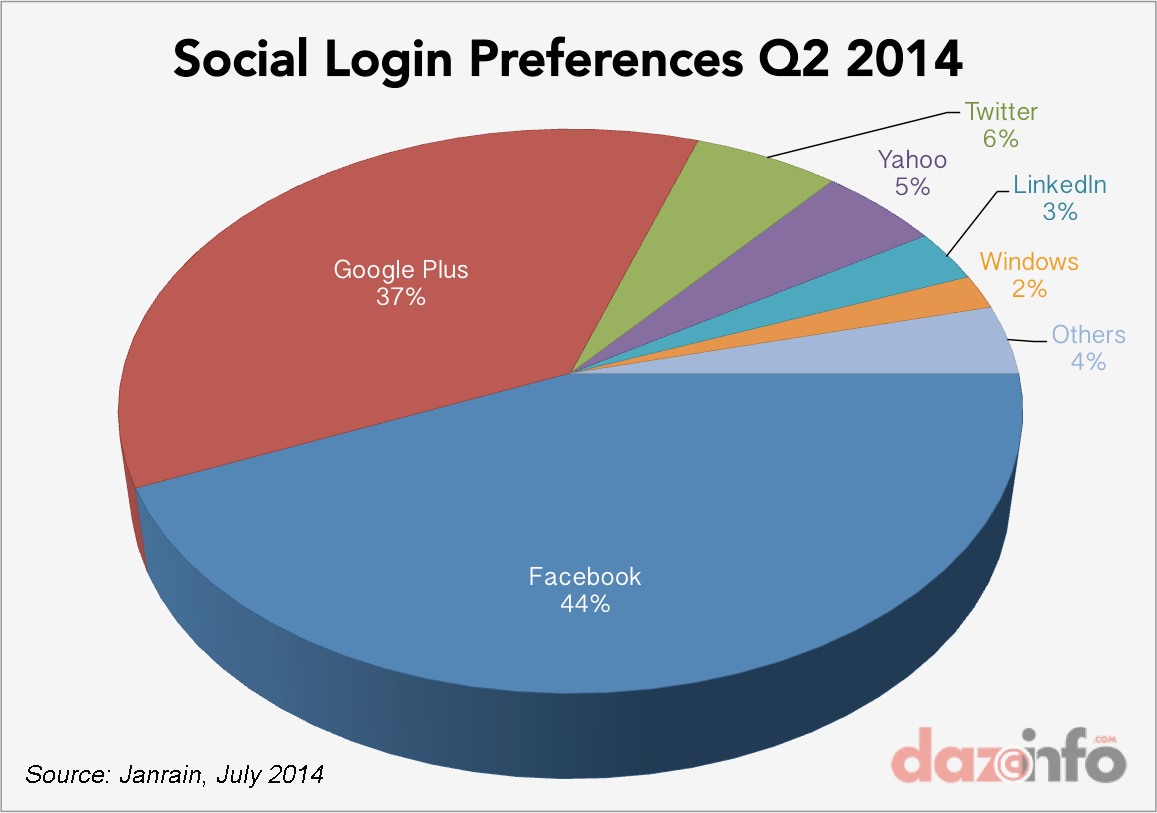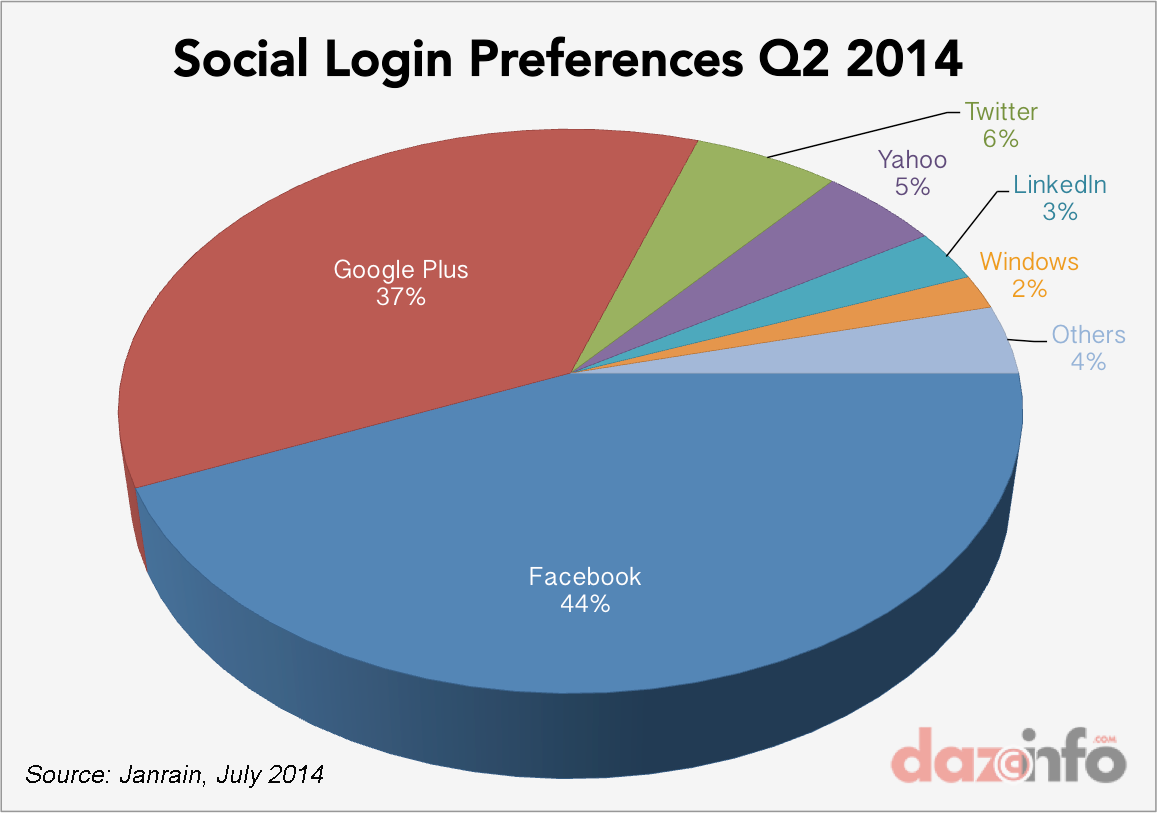 San Francisco based 140 char device firm Twitter, was far behind at 3rd position with 6% share, Yahoo was one percentage lesser (decrement by 3%) than the micro-blogging site, followed by LinkedIn with 3% and Windows with 2% share. Networking sites like VK in Russia, Sina Weibo, Renren, Tencent Weibo and QQ in China and Mixi in Japan were amongst the other competitors in social login arena.
The trend of registering via social login is bound to increase in future. Users chose to network on different social media sites for interacting with friends, relatives, keep up professional identity and so on. It is important for brand websites to have as many social login options as possible, both of widely used and niche sites offer website visitors with the social login of their choice. This can help brand websites in tracking most often used social networking sites by their website visitors and increase the registration rate. They can re-target these visitors by posting brand ads on user's news feed on networking sites through which a user registers. Social login option provides an easy way for marketers acquire customer data.
Facebook Surpassed LinkedIn And Google Plus In Social Login Share For B2B Sites
In Q2 2014, Facebook outplayed Google Plus and LinkedIn in B2B arena with over 30% share. Earlier in Q1 2014, Google Plus dominated the social-login market with 30% share, followed by Facebook and LinkedIn, each has had 27-28% share. But, the social media giant revived its hold on B2B sites and is apparently becoming unstoppable now. The changed equations indicate that internet users are have started showing confidence in Facebook when it comes to exposing their personal information. Besides, many companies have started providing access to Facebook on the office network to keep their employees satisfied and engaged, which in-turn has resulted in improved social-login share of Facebook.
If we analyze social login trend in other areas like Retail, Media and Consumer brands, Facebook remained unbeatable by a huge margin. In the Retail arena, Facebook's social login share was well above 60%, followed by Google Plus with a distant 25% (approximately). Yahoo, LinkedIn, Twitter and other sites together accounted for less than 15% of social login share in the industry.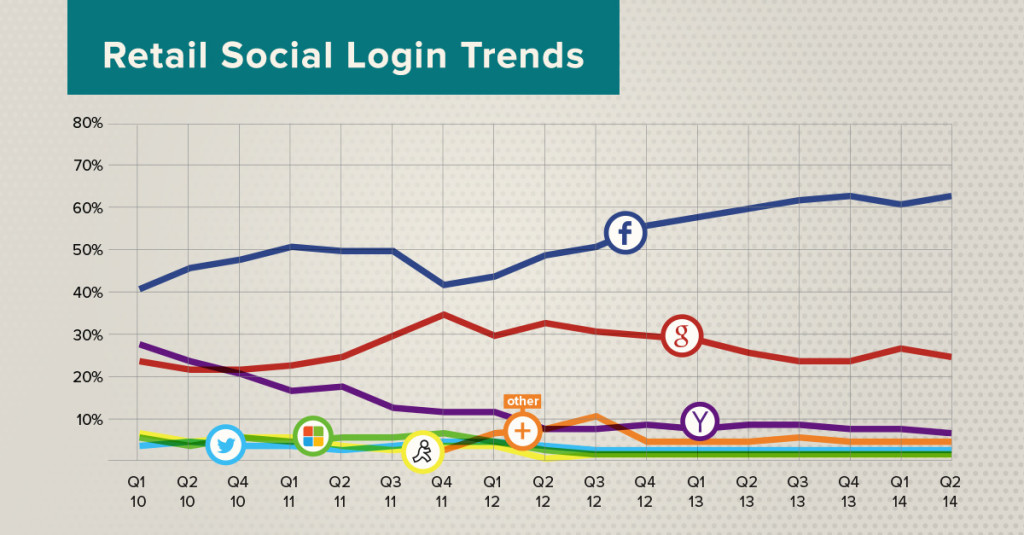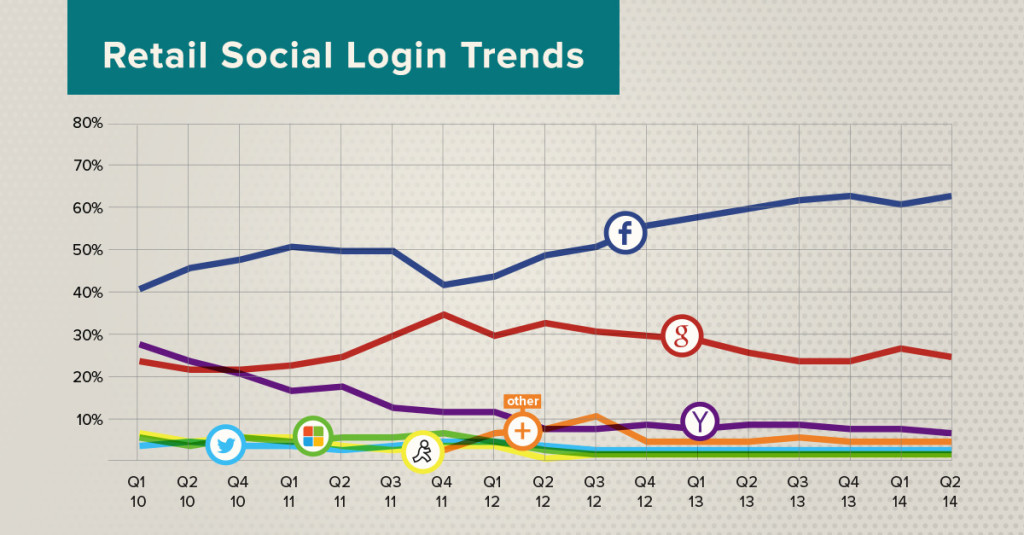 In case of Media websites, networking giant registered a healthy social login share of over 55%, followed by Google Plus with +20%, Twitter and Yahoo with +10% share. The trend observed above can be attributed to the drastic rise in news consumption by Facebook users. In the US over 30% of adults consume news from Facebook. People on Facebook are increasingly looking for informative, the latest and good-to-read content and hence they prefer registering into media websites via Facebook.
In Consumer brands arena, Facebook's social login share was above 55%, next in line was Google Plus with close to 30% share. Yahoo, LinkedIn, Twitter and other sites account for less than 10%. Marketers of consumer brands should focus on increasing their Facebook and Google Plus activities and conduct ad-campaigns, provide offers and freebies to attract consumers. However, in last one year, neither Facebook nor Google+ failed to gain more grounds as their market share remained about the same.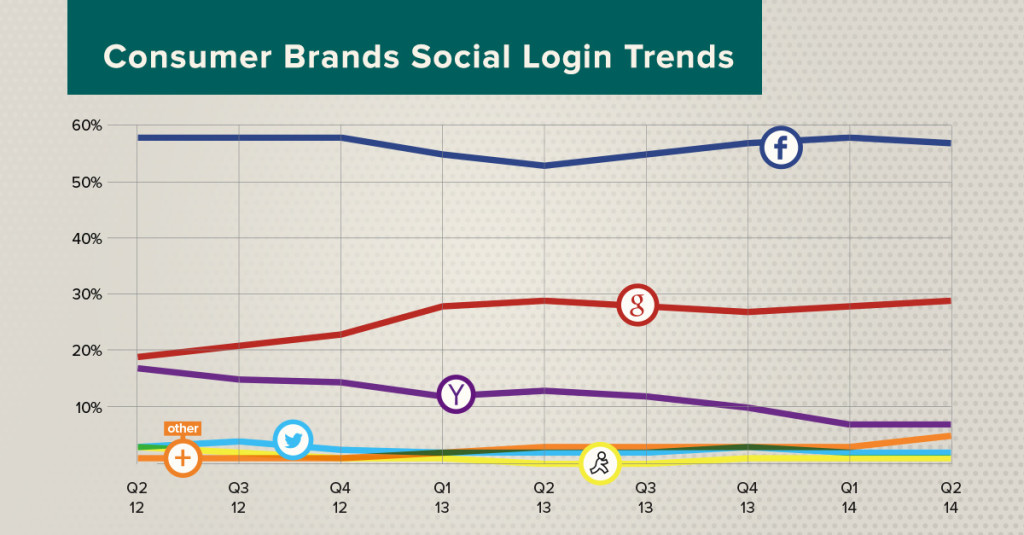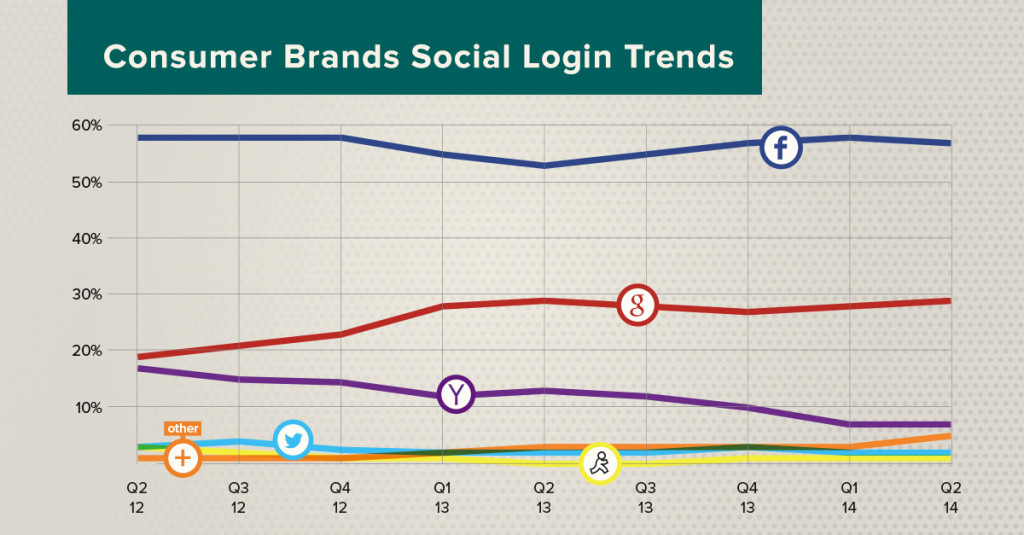 Entertainment and music area was dominated again by Facebook with +60% and +50% share, respectively. Far behind was Google Plus with social login share in the range of 20-40%, followed by other niche sites with less significant share.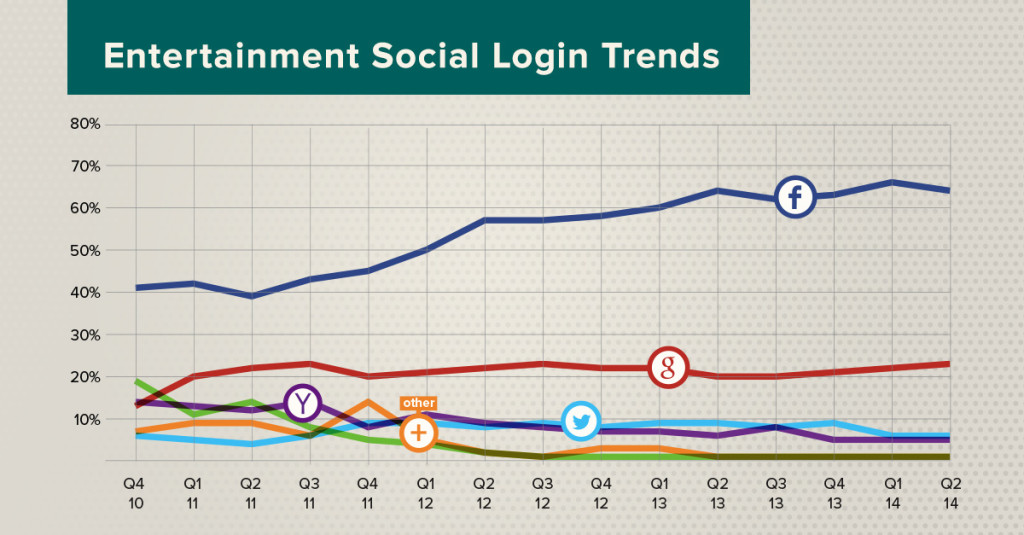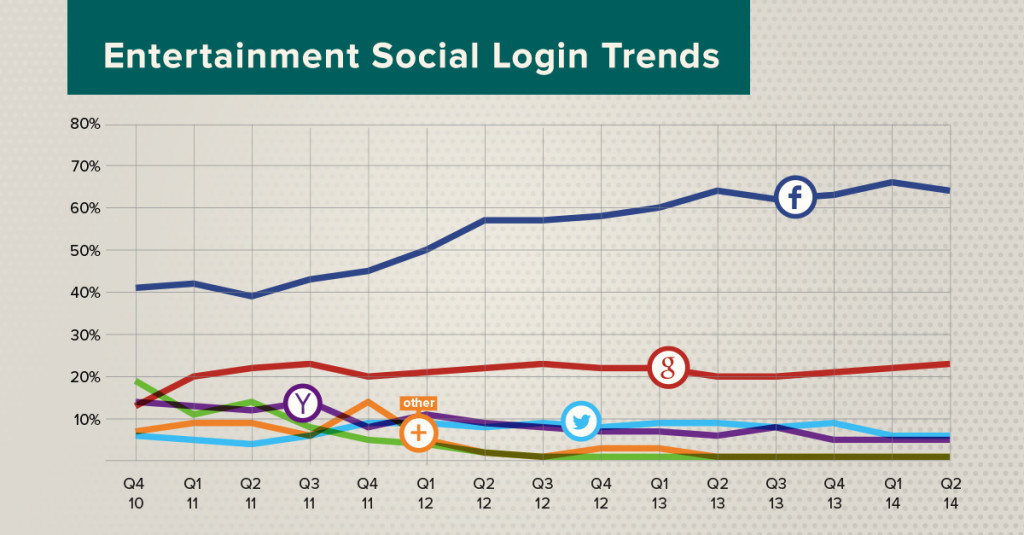 One of the biggest reasons behind Facebook's growth is its unprecedented growth in the number of mobile users. More than one billion Facebook users consume information on Facebook on their mobile devices, this helps mobile users to carry their Facebook world with them around the clock. Unlike Google+, Facebook mobile users are a heavy consumer of breaking news and instant information, which keeps mobile internet users logged into Facebook and skip the registration process by authorizing itself through Facebook login credentials.