The poster boy of Indian ecommerce industry Flipkart is likely to foray into its first billion dollar investment by raising $1 billion from its partners Tiger Global, DST Global, and Accel India along with new investors Singapore's GIC and US based T ROWE PRICE. If the news, which making rounds on the Internet since this morning, is true, then Flipkart will be the first ever Indian E-commerce company to raise $1 billion.
Flipkart ventured into E-commerce industry with just Rupees 4 lakh in hand in 2007. The company received its first amount of funding of $1 million from Accel India and Tiger Global in 2009. Now the same investors will supposedly go from a million to a billion in just about four years with Tiger Global investing half of the amount. After receiving its first round of funding in 2007, investors increased the amount 10 fold by an investment of $10 million from Accel India and Tiger Global. There was a subsequent huge summing up of investments with $20 million in 2011 and $150 million from a new investor MIH (of Naspers) and ICONIQ in 2012. By 2013 they received a total funding of $200 million and recently was funded $210 million by Russian TST Global solutions LTD. The total fund raised till now stands at $1.7 billion, with makes Flipkart worth about $5 billion. Flipkart's valuation is now being compared to P&G INDIA and TATA global beverages.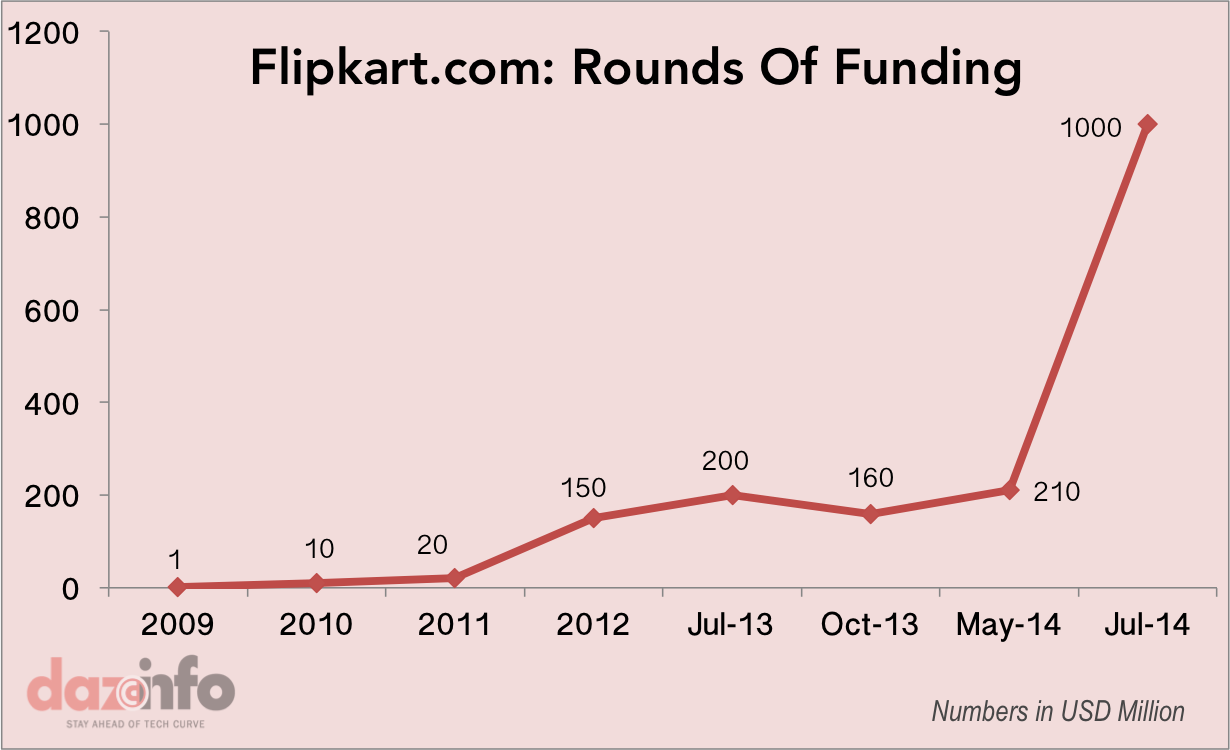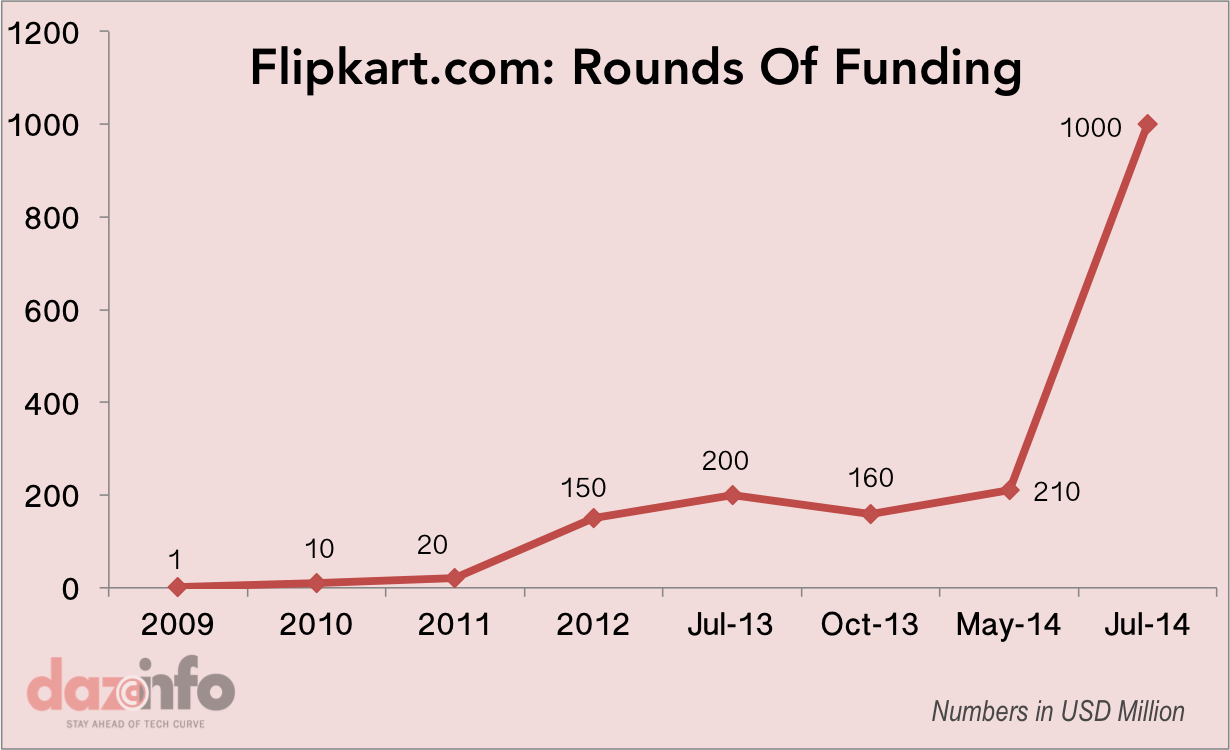 Why Its FLIPKART?
Even when Flipkart is still a loss-making E-commerce portal, One must now wonder as to what happened in between that a start-up with such a small investment is now apparently going ahead to raise an investment of a billion!! Several leading investors stocked up for the e-commerce industries in India. The funding by these investors is the one that accounts for the shaping up of e-commerce in India. The leading investors are Accel India and Tiger Global, IDG and such which funded Myntra and Flipkart. According to venture intelligence, a set of 7 venture capital funds account for the 54% of the materialized e-commerce portals.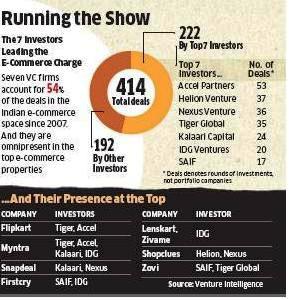 In May 2014, a weighty tie-up was made between Myntra and Flipkart. This 2000 cr merger-deal created an entity with annual sales of $1.5 billion. Analysts estimate that the total registered users are 26m, has 5.2m daily visitors, has a team strength of 12000, clocked 100% annual growth. Myntra fetched an estimated value of more than $330 million, significantly higher than the $200 million valuation it received in January.
Before Flipkart's latest fund raise, its rival Snapdeal raised its fund to $100 million from new investors such as Temasek Holdings Private LTD and BlackRock Inc. The recent rounds of fund raising by the e-commerce giants in India emphasize the requirement of huge amounts of capital to build, run and maintain the e-commerce business. This drives the investors to watch out hungrily for investments can spur new hope.
None of the e-commerce businesses in India until now spoke of an investment that could reach $1 billion, but the news that Flipkart will now be doing the rounds. The Indian ecommerce giant is in the loss-making business since its inception; the company showed $45 million loss in FY2013 on its revenue of $190 million. But Flipkart's main intention does not seem to be profit-making but to stand only on its promise that whatever be the cost, make the customers happy and satisfied. However, from the business standpoint, it's called a strategy where Winner takes it all. This was their aim, the idea of giving people what they want in a simple yet satisfying manner by means of categorization of their items to be sold and a customer oriented payment and service schemes. And to ensure it, Flipkart has strengthened its marketing and post-sales support by offering rock-bottom pricing, secure payment, online tracking, quality shipping, superb customer service and replacements.
How Flipkart may be planning to use this huge investment
It is not always so easy to tell what these huge investments are meant to do. With the earlier investments their main focus was to roll out more categories of products and strengthen its position in India. Now that it has gained a strong foothold in India, Flipkart now has an estimated user base of over 2 million and ships over 30,000 items a day with daily sales worth Rs 2.5 crore.
But as the Indian ecommerce market is heating up, competitors have upped the ante. With about 250 million internet users in India, the battle between Flipkart, Amazon – the global giant, which entered India last year – and the homegrown deal site Snapdeal – backed by eBay – is to grab the lion's share of the market. However, Flipkart must able tackle the growing challenges from these e-commerce giants by pushing ahead its growth sector and marketing strategies aggressively.
Flipkart now has 32,12,798 likes on Facebook and 142k Twitter followers. This shows the massive rise in popularity among people. This also accounts for the fact that Flipkart has a huge amount of traffic to its website with almost 19,120,000 visitors per day as per Alexa traffic.
However, all is not well for Flipkart as the company has to have profits on books before it actually go for an IPO – reportedly planned for mid 2015. And, with cut-throat competition in the market Flipkart will have to look out new avenues to generate profit. However, there could be a plan B for the company that could be well established on the response Alibab.com receives from its upcoming IPO.