Mobile is the future and video content will continue to drive the growth of online publishing markets worldwide. Yet, in spite of this, Indian mobile data network providers are failing to scale up and can't seem to beat, the minimum infrastructure required for an uninterrupted video consumption of 3G networks. It's an apathy to learn that 56% of mobile video consumers on 3G networks in India face significant stalling and re-buffering, resulting in frustration and are frequently abandoned. The disappointment is vexed further when we see that the figure surges up to 89% after adding video users who experience some stalling on 3G networks.
According to a recent report from Skyfire – a cloud base mobile-video optimization player and a fully owned subsidiary of Opera Software – 40% of all video streams on 3G networks in India ran at a lethargic 300 kpbs bitrates. This is much lower than the actual needed bitrates required for running a HD video and the immensely popular Vine and Instgram auto-play videos that need anything between 900 kpbs and 1200 kpbs bitrates to run successfully.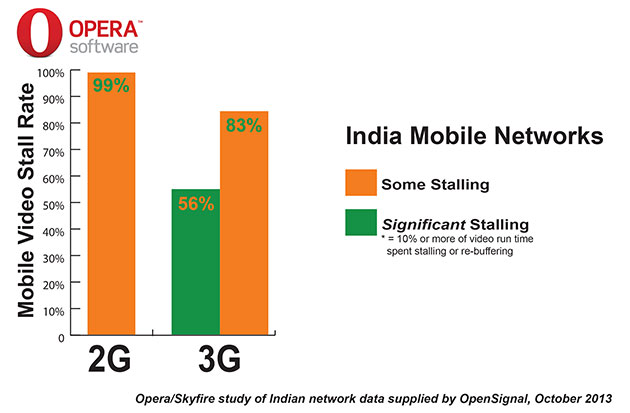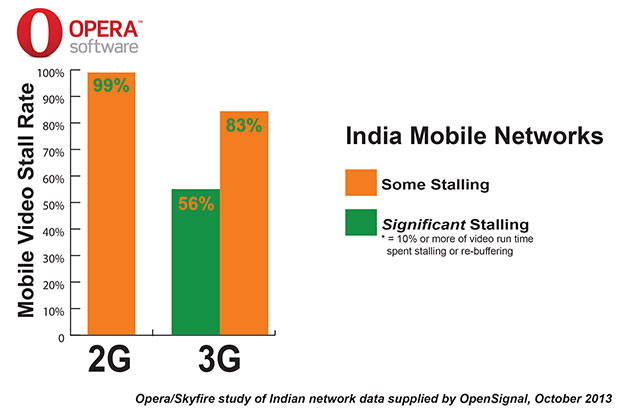 The study defines Significant Stalling when the video consumed is more than 10% of its overall playtime in buffering.
The findings are really disappointing in the light of the fact that India will play a crucial role in global m-commerce by 2017. The contribution of Smartphone by India to global market is still low (2.1%), though the number of Internet enabled Smartphones are estimated to reach 264 million by 2016.
But that's not all to justify the intense growth of mobile video users. Cisco's Visual Networking Index 2013 estimates that mobile data traffic will reach a whopping 900 Petabytes each month by 2017, mobile videos would contribute to about 60% of this consumption. Besides, YouTube, world's second largest search engine and by far the biggest the most popular video sharing site in India, has claimed that 50% of all YouTube video consumption in India were already being watched on mobile.
The damages from poor mobile infrastructure are not limited only to video consumption. Mobile shopping, mobile traffic monetization and real-time targeted mobile advertising are a few other areas that are attracting losses.  In Asia-Pacific alone, India lags much behind the close neighbouring countries, such as Singapore, Thailand and China, where average Internet speed is much faster than 1.3 Mpbs in India.  And to make the situation worse, India showed no improvement in the last 2 quarters, unlike China, Thailand and Malaysia.
Source: OperaSoftware