iPhone sales have always been a point of discussion among industry insiders and business analysts. Before every quarter, we see various projections that help to estimate the sales and performance of Apple Inc. (NASDAQ:AAPL). Recently Morgan Stanley's AlphaWise Smartphone Tracker has come out with another report that predicts iPhone sales in the ongoing quarter to be 39 million. This spells a rather good quarter in favor of Apple if the estimate is accurate signalling 25% Y-o-Y growth. Taking a step further, we have factored many other aspects with the report, including Apple's last three years quarterly and yearly iPhone sales performance, that have helped us to project nearly 41.59 million units of iPhone sales in the third quarter – or call it fourth fiscal quarter of 2014 for Apple – of this year.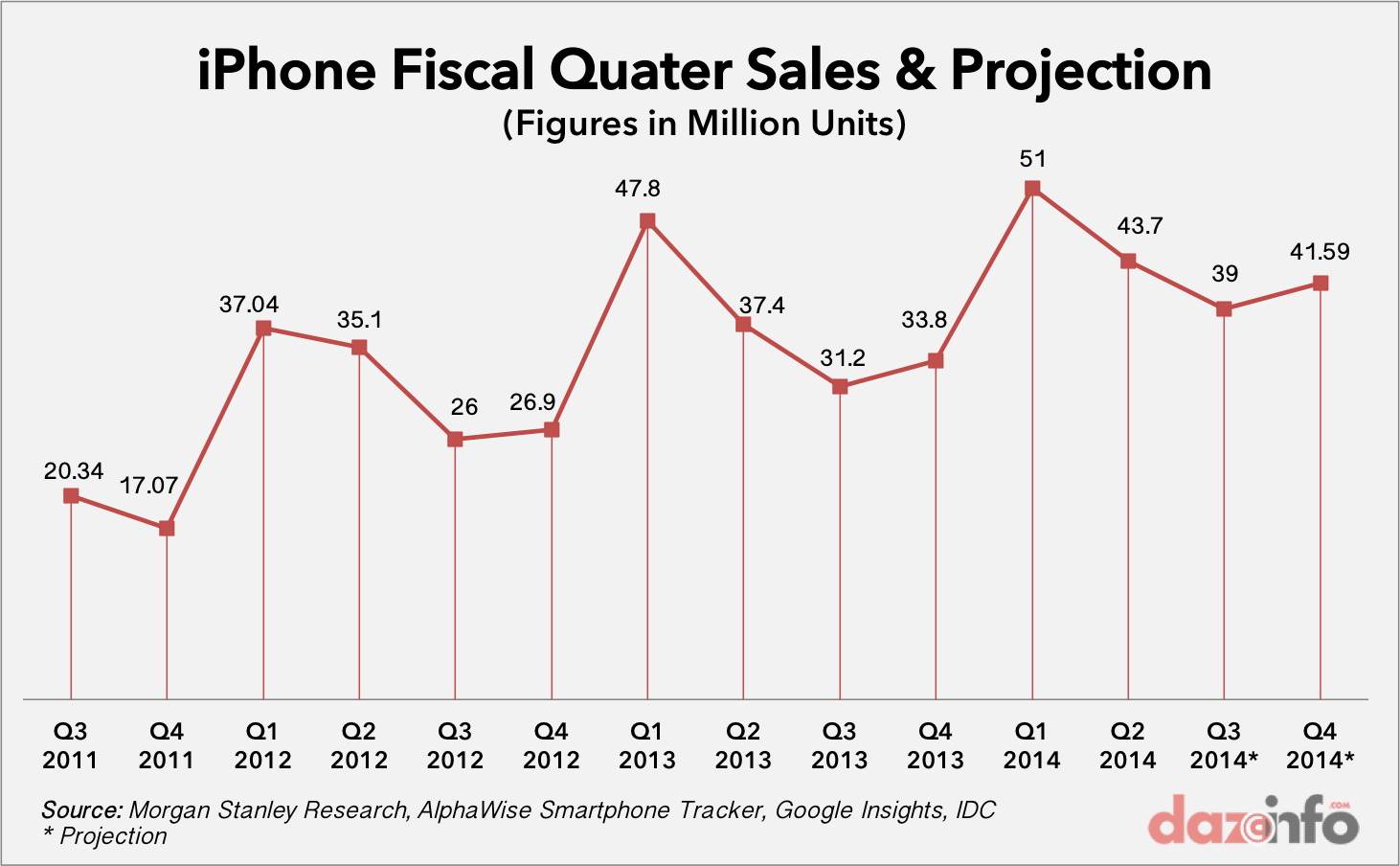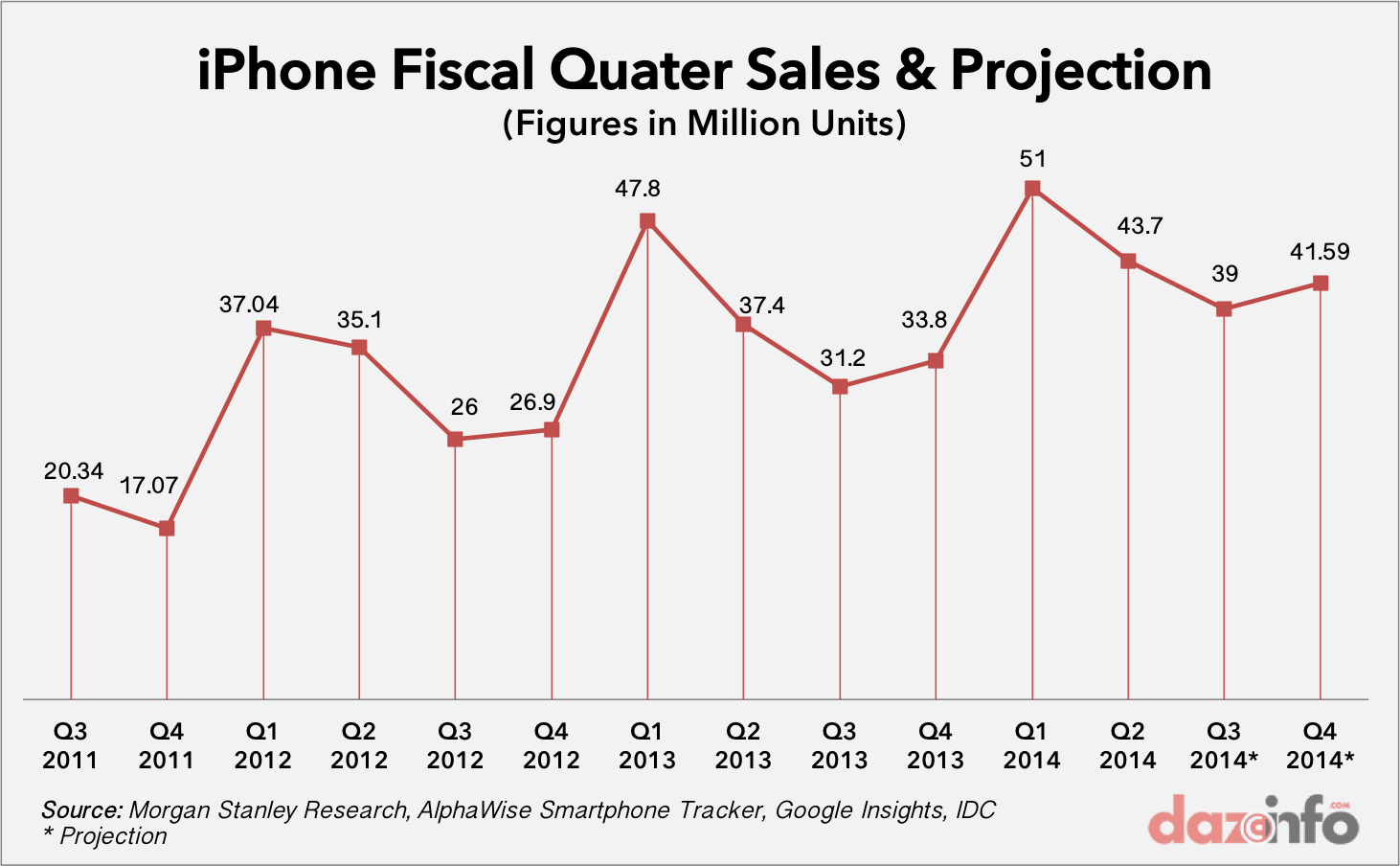 The AlphaWise Smartphone Tracker may not be an accurate tracker but they have never missed the actual sales by more than a 10% point. In the last quarter, the forecast was 40.6 million units while the actual sales were 43.7 million units, 8% increase from the projection. The Consensus estimate – come from WSJ – missed the beat by almost 15%.
iPhone sales, generally, in any quarter are driven by various factors like the carrier deals, upgraded package and the impending launch of a new iPhone. Especially third and fourth quarters have been recording low sales in wake of the new iPhone release rumours in the following quarter.
Apple's financial quarter is bit complex in comparison to calendar year. The financial year for the company starts from October 1 and end on September 30. Therefore, the last calendar quarter of any year is termed as first fiscal quarter of next year. To make the below calculations easier, all quarters are attributed to fiscal year.
iPhone Sales Grow By 81.8% in the Holiday Season
iPhone sales have always witnessed a remarkable boom during the festival season falls in the first fiscal quarter which corresponds to the last calendar quarter ends on December 31. During its first fiscal quarter of 2012, post the launch of iPhone 4S in October 2011, Apple sold 37.04 million iPhones, a staggering 116.9% Q-o-Q increase from fiscal Q4 2011, ended on September 30, 2011. Though Apple has not been able to break its own record for Q-o-Q growth, it registered another 77.9% growth in the fiscal Q1 2013 sales.
A similar trend was observed in fiscal Q1 2014, post the launch of iPhone 5S and iPhone 5C, when a whooping 51 million iPhones were sold that resulted in a 50.8% Q-o-Q growth. In the past three years, the growth from fourth fiscal quarter to the following first fiscal quarter has been 81.8% on an average. Looking at the figures, it is easy to suggest that Apple has been timing the launch of iPhone intelligently for last three years, considering holiday season that follows iPhone launch. This is helping Apple to record upsurge in sales of just-launched iPhone every year.
Apple Most Likely To Witness a declining iPhone Sales in Q4, 2014
The hop from the third fiscal quarter to fourth fiscal quarter has been gradual – be it increase or decrease. In fiscal Q4 2013, Apple registered a disappointing Q-o-Q growth of 8.3%, while a year before in Q4 2012, it witnessed a marginal Q-o-Q growth of 3.4%. However, this does not follow an incremental pattern on yearly basis; in fiscal Q3 2011 20.34 million iPhone were sold, whereas in Q3 2102, Apple's iPhone sales dived to mere 17.07 million, resulting in negative 16.07% Q-o-Q growth. Averaging the consequent growth and decline percentage, it is likely that Apple might witness another decline in its iPhone sales in Q4 2014. We have also tried to understand the Y-o-Y growth in iPhone shipment in fiscal Q4 that remained to 36.54% and 20.41% in 2013, respectively.
Considering Morgan Stanley's forecast for fiscal Q3 2014 and its difference between projections and actual sales,  Q-o-Q growth in fiscal Q3 and Q4 for last 3 years, and Y-o-Y growth pattern, it is safe to say that Apple might manage to close the fiscal 2014 with nearly 41.59 million iPhone shipments in Q4 2014.
The Cupertino-company needs to strategize on its iPhone sales before the launch of iPhone 6. The users will consider waiting for the latest, large-screened device rather than investing their money on an older device.
Will Apple Stick to The Forecast?
A recent report from IDC estimates 1.2 billion smartphone shipments in 2014, including 177.6 million iPhones shipments. Considering the 51 million and 43.7 million accomplished iPhone sales in fiscal Q1 2014 and Q1 2014 respectively in accordance to estimated iPhone shipments in Q3 and Q4, Apple is expected to close the ongoing fiscal year, ending on September 30, 2014, with nearly 175.29 million shipments of iPhone. In fiscal Q3 and Q4 together, the company is expected to sell nearly 80.59 million units of iPhone. In fiscal Q1 2015, Apple is reportedly set to launch two variants of iPhone 6, which will apparently help the company to witness the best performing quarter of the calendar year 2014. Last year Apple sold 51 million units of iPhone during the same quarter and even if the company manages to sell equal number of iPhone – quite likely more than that, though – it will beat the IDC's 177.6 million projection, so the total number of smartphone shipmates in 2014.
With the onslaught of variety of smartphones, Apple might have to rework its strategy and launch iPhones in the entry-level segment as well as with a larger screen if it wants to stick with the earlier predicted iPhone 6 sales of 90 million. It could be well achieved if the giant-screen variant of iPhone 6, with 5.5 inches screen, could get expected market response. Apple is targeting to sell atleast 20 million iPhone 6 phablet devices in the first quarter of fiscal 2015. And, if the sales figures stands anywhere close to estimations, Apple could sell well above 210 million units of iPhone in 2014 (calendar). However, the high Average Selling Price (ASP) of iPhone might push away the informed customers.