Apple, Inc. (NASDAQ: AAPL) has long been applauded for its unique range of product lineups despite being tagged with premium prices. The goal was to elevate Apple products beyond widespread accessibility, positioning them as some of the most coveted products in the market, accessible to a discerning audience.
However, as time has passed, the Cupertino giant recognised the need for a strategic shift. Apple launched the $400 iPhone SE in 2016 to broaden its customer base. This small-sized iPhone model was designed to allure smartphone users who wished to join the coveted iOS ecosystem. Still, the exorbitant prices of iPhones often led them to explore Android alternatives like Samsung and Google Pixel. The strategy proved to be a success, leading Apple to introduce three generations of the iPhone SE – the cheapest iPhone model Apple ever launched.
Encouraged and excited by the success of iPhone SE models in the last few years, Apple is all set to launch the iPhone SE 4 this year, generating significant buzz because of rumoured features and specifications, which seem to be very impressive.
Industry experts believe that the features of the iPhone SE 4 could be compelling enough to entice millions of Android users, offering them a reason to make the switch to the iPhone.
Let's dig deeper into the factors contributing to smartphone users switching from Android to iPhone, and explore why the upcoming 4th edition iPhone SE is anticipated to be a game-changer in the world of iPhones for Apple.
Apple iPhone SE: Evolution from I to IV Generation
When the original iPhone SE made its debut back in 2016, taking design cues from the earlier iPhone 5S, some speculated that Apple was responding to its fans' requests for a super-compact iPhone, while others thought it might be a way for Cupertino to repurpose older hardware components for profit – a practice not uncommon in the industry. However, since nobody can confirm these theories, it is wise to emphasize the most plausible explanation: the iPhone SE was nothing but Apple's response to some of the top-tier yet affordable Android smartphones.
Zooming ahead to 2022, the iPhone SE 3 maintains an uncannily identical appearance to its 2020 predecessor, the iPhone SE 2. The 2020 model incorporated the design of the iPhone 8 and was powered by the latest Apple A15 chip available at the time.
The current third-generation ‌iPhone SE‌ is also Apple's smallest device. This design continuity suggests a continuing tradition of repurposing components from older iPhone models, creating a sense of déjà vu within the SE lineup. However, this practice has garnered criticism for giving the impression of stagnation, particularly when contrasted with the dynamic market of $400 to $500 Android smartphones that have proliferated.
Sporting a 4.7-inch display, the iPhone SE 2022 edition remains the only ‌iPhone‌ model featuring prominent bezels and a venerable Touch ID Home button, setting it apart visually from its more modern counterparts.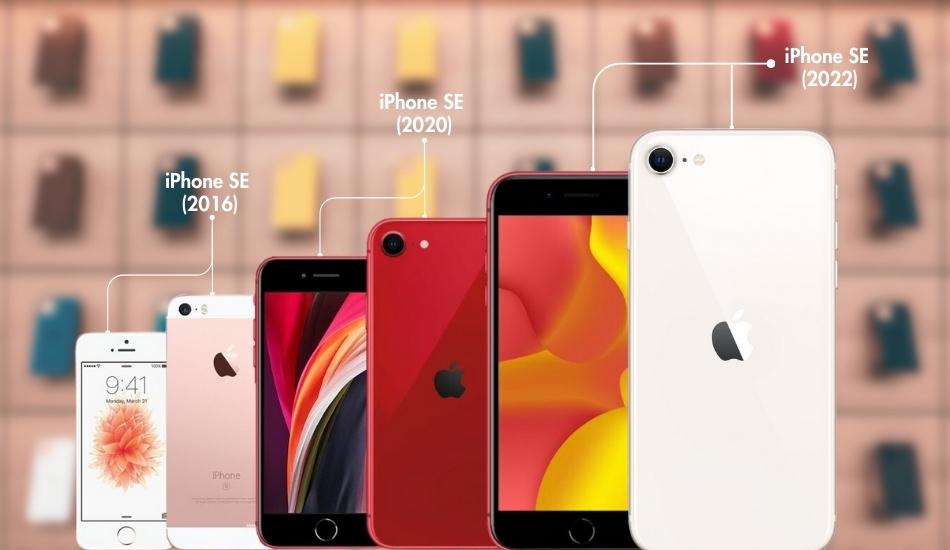 The iPhone SE series has traditionally been known for offering a more budget-friendly alternative to Apple's flagship iPhones while retaining an older design. However, the iPhone SE 4 seems poised to break from that tradition by incorporating modern design elements, improved features, and potentially even Face ID. This shift could make the iPhone SE 4 a compelling choice for users who desire a more affordable iPhone without compromising contemporary technology and design.
iPhone SE 4 Features and Specs
The rumoured iPhone SE 4 appears to be a significant departure from its predecessors and could potentially redefine the iPhone SE line. Here are some key features and design elements that are expected:
All-Display Design with Face ID: The 6.1-inch iPhone SE 4 is anticipated to adopt an all-display design, similar to Apple's flagship iPhones, such as the iPhone 14. Instead of the iconic Touch ID Home Button, the device is expected to incorporate Face ID, Apple's facial recognition technology. This will be the end of Touch ID on the front of any iPhone.
USB-C Port: Apple has been gradually transitioning its devices to USB-C, and the iPhone SE 4 is likely to follow suit. This would replace the familiar Lightning port with a USB-C port, providing faster data transfer and charging capabilities.
OLED Display: The iPhone SE 4 is likely to feature an OLED display. This marks a departure from LCD technology and aligns it with flagship iPhones, which have adopted OLED screens since the iPhone 12.
Notched Display: Similar to the design of flagship iPhones since the iPhone XR in 2017, the iPhone SE 4 may also incorporate a notch on the display. This notch would house the front-facing camera, although it's unclear if it will support Face ID and the TrueDepth camera system due to potential cost considerations.
Action Button: The iPhone SE 4 might introduce a new hardware feature called the Action Button, which is expected to replace the mute switch starting with the iPhone 15 Pro. Users can optimise the button to perform various tasks, such as activating the camera shutter or starting the stopwatch.
Camera Improvements: The iPhone SE 4 will reportedly feature a 12 MP rear camera and a 12 MP front-facing camera.
Looks impressive, isn't it?
All of it lead us to two thought-provoking questions:
Are the above-mentioned features impressive enough for Android smartphone users in the $400-$600 price range to switch to the iPhone SE 4?
And
Will the features and specs of the iPhone SE 4 provide compelling motivation to current iPhone owners, particularly those with the non-pro iPhone 13 and 14 series, to consider making the switch to the more budget-friendly iPhone SE 4?
Will Android Users Switch to iPhone SE 4?
A smartphone priced between $400 and $600 (Rs 33,000 and Rs 49,500) is typically considered a mid-range device, aiming to strike a balance between affordability and performance. Some popular mid-range smartphones launched in 2023 include the Google Pixel 7a, Samsung Galaxy A54, Xiaomi Redmi Note 12 Pro+, and Honor 90. Each of these devices packs a punch, but the real question is, can the iPhone SE 4 hold its own when it comes to capturing life's precious moments?
Yes, we are talking about the Camera!
One crucial factor why a significant number of Android users might hesitate to upgrade to the iPhone SE 4 is the camera. It's a proven fact that a majority of Android smartphone users prioritize camera capabilities above other features when choosing a device. This preference has contributed to the success of Chinese manufacturers like Xiaomi, Oppo, Vivo, and Realme, as well as the Korean giant Samsung in all major markets.
When evaluating the camera features of the iPhone SE 4 – expected to be priced at $529 – in comparison to these 2023 Android marvels priced between $400 and $600, it becomes evident that the Android offerings outperform the iPhone SE 4 in terms of camera specifications.
For instance, The Samsung Galaxy A54 5G, launched in March 2023 at a $499 price point, boasts a triple camera setup with a 50MP wide-angle lens, a 12MP ultra-wide lens, and a 5MP macro lens. Similarly, the Xiaomi Redmi Note 12 Pro+ 5G, a March 2023 debutante also priced at $499, features a remarkable 200MP wide-angle lens, an 8MP ultra-wide lens, and a 2MP macro lens.
The $599 Honor 90, launched in June 2023, offers a camera arrangement with a 200MP wide-angle lens, a 12MP ultra-wide lens, and a 2MP depth sensor.
In contrast, the Google Pixel 7a, unveiled in June 2023 at a $499 price point, provides a dual camera setup comprising a 64MP wide-angle lens and a 13MP ultra-wide lens.
Although the upcoming iPhone SE 4 is expected to have many jaw-dropping features and specs, as mentioned above, it will undoubtedly face stiff competition from rivals like Samsung, Xiaomi and Google in the camera department. Its 12MP wide-angle camera pales compared to the versatile and high-resolution setups found in these Android smartphones, featuring dual and triple lenses with at least a 50MP wide-angle shooter.
iPhone SE 4: The Most Alluring Gateway to iOS Ecosystem
It is worth noting that there's a unique market segment to consider for the Apple iPhone SE 4. This group comprises Android smartphone users who have long desired to become part of the enthralling iOS ecosystem but are still stuck with the Android OS ecosystem. Android devices, as many reports suggest, come with their fair share of issues, including constant app crashes, delayed OS updates, security vulnerabilities, etc. But what's truly kept these eager Android users from realizing their iOS dreams? It is the price of an iPhone!
The most prominent barrier to their iOS dreams has been the high price tags associated with flagship iPhones like the iPhone 14 Pro, and Pro Max, as well as their predecessors. This challenge is particularly prevalent in countries like India, renowned for its price-sensitive consumer base. Despite being the second-largest smartphone market in the world by the number of users, Apple has maintained only a small 5.4% share of India's smartphone market, failing to secure a spot among the top 5 brands in terms of shipments.
Hence, Apple has strategically provided a solution for Android users who don't want to 'feel stuck' by investing $800 – $1000 in the iPhone but are eager to test the iOS ecosystem and get a taste of the iPhone's impressive features and specs. The launch of Apple's 4th generation iPhone SE can serve as an affordable entry point into the iOS world, allowing users to experience Apple's ecosystem without spending a considerable amount just to test the waters.
Android to iOS: The Unprecedented Shift
In the past three years, there has been a growing trend of Android users switching to iPhones. According to data from March 2022 to 2023 provided by CIRP, about 14% (previously reported as 15%) of new iPhone customers in the US switched from Android. The percentage of new Android switchers is particularly noteworthy because it has steadily risen from 10% in 2020 to the current 14% in 2023. In stark contrast, only 4% of new iPhone users switched to Android devices during the same period.
The significant difference in the switching percentages highlights the stronghold Apple's ecosystem has on its user base and emphasizes the iPhone's ability to retain customers in an increasingly competitive smartphone landscape.
It's important to note that the specific data on people switching from Android to iPhones in India and China isn't available. However, India is expected to have seen a remarkable surge in these numbers over the past three years. It can be understood by the fact that the demand for iPhones in India has been increasing with each passing quarter. India has recently become the 5th largest market for Apple iPhones, with a whopping 56% YoY growth in sales in Q2 2023.
The demand for iPhones in India is on the rise, driven by an increasing purchasing power among consumers, particularly those working in startups and IT companies that offer higher salaries. Additionally, fintech companies are pivotal in making Apple's premium products more accessible by offering affordable payment options like EMI (Equated Monthly Installments).
E-commerce giants like Amazon and Flipkart also contribute to this trend by providing substantial discounts and coupons, especially during festive season sales, to attract a wider customer base to their platforms.
Apple's commitment to the Indian market is further underscored by the opening of two retail stores in the country. This strategic move aims to bring iPhones and other Apple products closer to a broader audience. Through these concerted efforts, Apple is strengthening its foothold in India, ensuring that more people, particularly Android users, can enjoy the iPhone experience. Ultimately, this could increase revenue and profits from the Indian market.
Beyond just being an entry point for Android users, the iPhone SE 4 is also designed to encourage users to try out the iOS world and consider sticking around or upgrading to more premium Pro and Pro Max iPhones in future purchases. With its outstanding features and specs distinguishing it from earlier iPhone SE models, the fourth-generation SE model makes a tempting proposition for Android users.
Apple's ecosystem approach, where its hardware and software seamlessly integrate with each other and with services like iCloud, Apple Music, and the App Store, can be a strong motivator for users to stay within the iOS ecosystem. Once users become accustomed to this ecosystem, it can be challenging for them to switch to another platform due to the unparalleled ecosystem experience it offers. Interestingly, it is evident in the high customer loyalty percentages.
Another report from CIRP highlights the strong customer loyalty on both iOS and Android platforms, regardless of the previous or new OS they are using. Notably, 94% of iPhone users chose to stay with Apple when they made their next purchases, indicating a strong preference for the iOS ecosystem, as against 91% of users who stayed with the Android OS platform. Although both platforms enjoy high customer loyalty, Apple maintains a slight edge with a 3% difference in favour of retaining its user base.
iPhone SE 4: A Challenge to Apple's Premium Market Dominance?
Apple generated nearly half, or 48.5%, of its global revenue from iPhones, amounting to $39.67 billion in FY Q3 2023. It's worth noting that the premium iPhone models, particularly the iPhone 14 Pro models, accounted for the majority of this revenue. These high-end devices evidently play a substantial role in Apple's overall financial performance.
Now let's consider a scenario where the existing premium iPhone users owners explore the option of buying the affordable $529 iPhone SE 4.
What if the owners of high-end iPhones – iPhone 14 series or older models currently under $700- decide to forego the temptation of upgrading to a new top-tier iPhone in 2023 – likely the iPhone 15 Pro or Pro Max – and opt for the iPhone SE 4 instead?
It is quite possible, considering the design and some of the features of the fourth-generation iPhone SE draw inspiration from the iPhone 14 base model. Users currently owning the iPhone 14, iPhone 13, and their predecessors may find the iPhone SE 4 an attractive option. Additionally, some Pro and Pro Max users of older generation iPhones may also consider switching to the iPhone SE 4, especially if the price is a significant factor.
A large 6.1-inch display, Face ID, all-screen OLED display, USB Type-C port, A15 Bionic chip, Built-in rechargeable lithium‑ion battery – all these features that, up until now, have only been found in premium iPhones priced above $999, will be available for just $529. This combination is so compelling that it might give even the most die-hard fans of Apple's premium iPhones reason to pause and reconsider their upgrade choices.
Consequently, the iPhone SE 4 launch could impact Apple's premium market, affecting its overall revenue and profit in the long run.
However, it is essential to note that Apple, Inc. is known for its deep understanding of what its premium customers want in an iPhone. They have a track record of crafting products that precisely cater to those desires. Consequently, there are two significant reasons for their premium iPhone users to resist opting for the more affordable SE 4 model – Camera and Battery.
Not surprisingly, this is why many Android users might not consider switching to this iPhone. The argument here is that the single rear camera setup in the iPhone SE 4 might not satisfy the needs of those Pro and Pro Max users passionate about creating videos and capturing high-quality photos. This particular aspect could be a significant drawback for them.
The battery life is another compelling reason behind users buying Pro and Plus devices.
With the anticipated 6.1-inch display size for the iPhone SE 4 – mirroring the size of the iPhone 14 model – users can expect significant improvements in battery performance compared to the iPhone SE 3. However, Apple's heavyweights like the iPhone 14 Pro Max, 14 Plus, and the iPhone 13 Pro Max would continue outperforming the SE 4.
For instance, video playback is expected to reach up to 20 hours on the iPhone SE 4, a noteworthy increase from the previous 15 hours available on the iPhone SE 3. Similarly, streaming video content is projected to provide up to 16 hours of playback, a substantial upgrade from the former 10 hours in the iPhone SE 3. Furthermore, audio playback is set to reach an impressive 80 hours, a significant boost from the previous 50 hours offered by the iPhone SE 3. Despite these remarkable enhancements, the iPhone 14 Pro and iPhone 13 Pro, sporting the same 6.1-inch display size as the iPhone 14 (which is likely comparable to the SE 4), deliver superior battery life. The gap in battery life is expected to widen with the launch of the iPhone 15 Pro and Pro Max series.
Nevertheless, the iPhone SE 4 is poised to deliver a commendable battery performance, positioning itself as a strong contender for older iPhone models like the iPhone 14, iPhone 13 and 13 mini. In fact, it may outperform iPhone 12 Pro models as well.
However, let's not overlook what sets Apple apart – its fiercely loyal customer base. Not all users of the Pro and Pro Max models from generations the 13th will leap the iPhone SE 4. BUT WHY?
Most Apple iPhone users are constantly pursuing the ultimate premium smartphone experience, and they're more than willing to splash out for it. Apple's enticing trade-in program also sweetens the deal, allowing users to part ways with their old devices and grab a shiny new high-end one at a discount. This is why Apple iPhone users upgrade their devices more frequently than Android users, according to a recent Mobile Overview Report (MOVR) Q2 2023 report.
In a nutshell
Even though the upcoming iPhone SE 4 brings a lot to the table, the allure of the premium experience remains a formidable force in the realm of Apple enthusiasts.
Apple's diversified product lineup and strategic approach allow it to serve both mid-range and premium segments of the smartphone market effectively. The company is known for its ability to adapt to changing consumer preferences while maintaining substantial revenue and profitability.
Apple's iOS ecosystem has been on a triumphant rise, ascending from a modest 18.97% market share in May 2018 to an all-time high of 31.44% in May 2023, according to StatCounter data. In contrast, Android mobile OS's market share declined during this period, slipping from 76.53% to 67.72%.
In the ever-evolving world of smartphones, will the upcoming iPhone SE 4 disrupt the balance between budget and premium, or will the allure of the ultimate premium experience remain unshaken among Apple's loyal user base? Let us know in the comment section!