The demand for smartphones worldwide has slowed in the last few quarters, affecting major manufacturers and OEMs. Even India, known for its rapid population growth and insatiable appetite for smartphones, has not been immune to this trend. According to a recent report by Counterpoint Research, India's smartphone shipments declined 3% YoY in Q2 2023. This marked the fourth consecutive quarterly decline, with the top five players in the market either witnessing stagnation or a decrease in their market share.
It all began in Q3 2022 when India's smartphone market reported its first decline, with shipments falling by 11% YoY. The situation worsened in Q1 2023, with a notable 19% YoY decline in smartphone shipments, leaving manufacturers and the industry as a whole apprehensive about the future. Now the 3% YoY decline in the second quarter indicates hope for potential recovery and growth in the upcoming quarters.
Let's delve deeper into the performance of India's top five smartphone brands during Q2 2023 and explore their strategies to attract Indian customers to secure a significant share in this rapidly growing market.
Top 5 Smartphone brands In India Q2 2023
Samsung's dominance in India's smartphone market continued in Q2 2023, with an 18% market share. However, there was a noticeable decline in Samsung's market share compared to 20% in Q1 2023 and remained stagnant at 18% in Q2 2022.
Vivo's market share in India's smartphone market stagnated at 17% in Q2 2023, compared to the year-ago period and the previous quarter. Interestingly, Vivo was the only brand among the top five to experience YoY growth in its quarterly smartphone shipments. This commendable performance by Vivo could pose an emerging threat to Samsung, the current market leader with an 18% market share.
Xiaomi continues to face challenges in India, as its market share declined from 23% in Q1 2022 to 19% in Q2 2022, 16% in Q1 2023, and 15% in Q2 2022. However, industry analysts expect this figure to increase in the next few quarters as the Chinese giant has begun focusing on India's offline smartphone market.
Realme showed some improvement in its market share, increasing from 9% in Q1 2023 to 12% in Q2 2023. The brand also overtook Oppo in the overall smartphone market in India during the June quarter of 2023.
Oppo slipped to the fifth spot with an 11% market share in Q2 2023, down from 12% in Q1 2023 and unchanged from Q2 2022, a year-ago period.
OnePlus emerged as the fastest-growing smartphone brand in India, with 68% YoY shipment growth in Q2 2023.
Apple iPhone shipments in India grew a whopping 56% YoY in Q2 2023, indicating the Cupertino giant's determined efforts to attract Indian customers despite offering the world's most expensive smartphone, the iPhone.
Other brands, such as China's Transsion (34%), India's Lava (53% YoY) and Finland's Nokia (6% YoY), also reported some yearly growth in their smartphone shipments during the second quarter of 2023.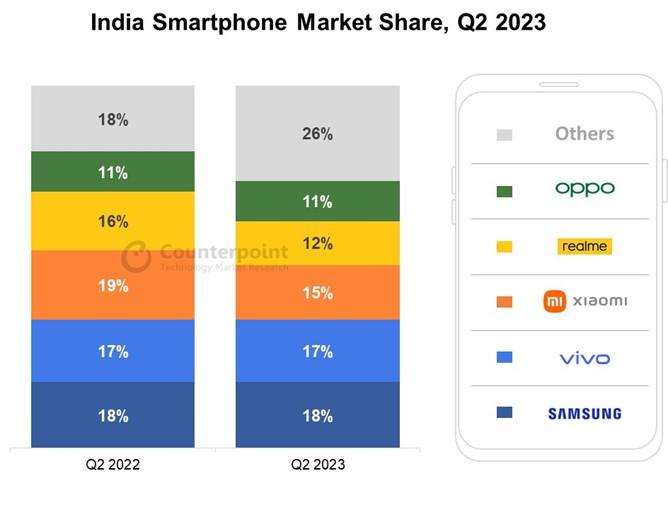 Factors Contributing To India's Smartphone Market Growth
Now the question arises, how Samsung, Vivo, Apple, and other leading players have masterfully surged ahead, boosting their smartphone shipments in India, while Xiaomi and Realme seemingly grapple with challenges? Let's find out!
The answer lies in their smart approach of targeting premium customers and expanding their offline presence. These strategies have allowed them to cater to diverse customer needs, gain a larger market share, and drive their success in the highly competitive Indian smartphone market.
The smartphone market in Q2 2023 experienced an interesting blend of factors that influenced its performance. The combined impact of the base effect, pent-up demand, improving macroeconomic conditions, and the surging popularity of premium smartphones played a pivotal role in moderating the market's decline, which stood at just 3% year-on-year, much lower than the initial projections.
Interestingly, India's premium smartphone segment grew a whopping 112% YoY in Q2 2023, capturing a historic 17% share of the overall shipments.
Samsung, the Korean giant, has regained its throne with a commanding 34% share in the premium segment (>INR 30,000, ~$366), surpassing its rival Apple. Aggressive offers on models like Z Flip3 and S21 FE, Samsung Finance+ options, and high demand for the latest premium A-series and F-series devices fueled this achievement.
On the other hand, Apple maintained its supremacy in the ultra-premium segment (>INR 45,000 or ~$549) with an impressive 59% share. India has now emerged as one of Apple's top five markets, reflecting the brand's strong appeal to Indian consumers seeking top-of-the-line iPhones.
OPPO has consistently expanded its presence in the higher-tier segments, concentrating on the upper mid-tier range (INR 20,000-INR 30,000 or ~$244-$366), showcasing a thoughtful approach to meeting diverse consumer preferences. As a result, OPPO emerged as the leading brand in this segment, with a commendable 21% market share.
Vivo's key to success lies in its astute focus on building a robust offline presence, which has significantly resonated with Indian consumers who prefer traditional brick-and-mortar stores for smartphone purchases. Additionally, the rise of Vivo's sub-brand iQOO in the online market has further bolstered their reach, tapping into the tech-savvy audience seeking digital convenience and cutting-edge features.
Vivo's strategy of launching a diverse range of smartphones across different price tiers has allowed them to cater to a wide spectrum of consumers, ensuring a Vivo device to suit every budget and requirement.
The significance of offline sales in India's smartphone market is evident as channel share is expected to rise to 54% by the end of 2023.
Another reason for just a 3% YoY decline in India's smartphone shipments during the second quarter of 2023 is the increasing adoption of 5G smartphones. Most OEMs launched their 5G-enabled devices in the INR 10,000-INR 15,000 (~$122-$244) segment, expanding the accessibility of 5G capabilities to a wider audience. As a result, India saw 5G smartphone shipments surpassing the significant milestone of 100 million units, with a remarkable 59% YoY growth in Q2 2023.
As India's smartphone market progresses, the competition among leading brands is set to become even more intense. In the quest for dominance, success will hinge on their ability to stay attuned to the ever-changing preferences of Indian consumers. Brands that can offer diverse and compelling product offerings, cater to specific needs and preferences, and deliver seamless experiences through both online and offline channels are likely to gain a competitive edge.
The ultimate question remains: Who will emerge triumphant in the highly competitive India's smartphone market?