India's smartphone market is facing its most challenging phase yet in 2023, following a dismal performance in H2 2022. The demand for smartphones priced below INR 30,000 has sharply declined in the last nine months. The latest report by Counterpoint Research reveals that smartphone shipments in India declined a notable 19% YoY in Q1 2023 to over 31 million units. This represents the worst-ever first quarter decline and the third consecutive quarterly decline, raising concerns for smartphone manufacturers like Xiaomi, Samsung, and their component suppliers who manufacture parts such as displays, batteries, and processors used in smartphones.
The decline in smartphone shipments in India in Q1 2023 was attributed to several factors. Sluggish demand, high inventory build-up from 2022, a growing consumer preference for refurbished phones, longer than usual retention period, and a negative outlook or perception of the market's future prospects are the primary reasons behind the lukewarm response from consumers.
Counterpoint Research's Senior Research Analyst Shilpi Jain stated that the beginning of the first quarter saw a surge in smartphone demand across e-commerce channels during the Republic Day sale period. However, this demand fell significantly after the sale period ended. As a result, channel players are now shifting their focus towards selling their existing inventory rather than creating a fresh inventory of new smartphone models. By reducing their inventory, channel players can avoid the risk of overstocking and potential losses.
Here are some of the other most intriguing highlights of the Counterpoint report on smartphone shipments in India Q1 2023.
Top 5 smartphone brands in India: Winners & Losers
Samsung maintained its numero-uno position in the Indian smartphone market for the second consecutive quarter, albeit with an unchanged 20% share in Q1 2023. In addition, the Korean giant continues to be the top choice for 5G smartphones, accounting for a 24% share of 5G shipments. Samsung's ultra-premium segment priced above INR 45,000 (~$550) experienced a mind-blogging 247% YoY growth in Q1 2023, thanks to the successful launch of Galaxy S23 Ultra, Galaxy S23+ and Galaxy S23 in February.
Vivo maintained its runner-up position in India's smartphone market in Q1 2023 with a 17% share. The Chinese behemoth's strong omnichannel presence and cost-effective pricing have contributed to its popularity. It is worth noting that Vivo claimed the top spot in the affordable premium segment, priced between INR 30,000 and INR 45,000 (~$370-$550) in India, with a 40% market share.
Once the market leader, Xiaomi, experienced a massive 44% YoY decline in its shipments during the first quarter of 2023. As a result, Xiaomi's share in India's smartphone market declined from 23% in Q1 2022 to just 16% in Q1 2023. The dramatic decline in shipments can be attributed to weak demand in the sub-INR 10,000 (~$245) segment, increased reliance on online channels despite higher demand in offline channels, a confusing portfolio and a few other reasons. Despite this, the Redmi Note 12 series was well-received by consumers, accounting for over 14% of Xiaomi's total shipments.
OPPO maintained its position as the fourth-largest smartphone manufacturer in India, with a 12% market share in Q1 2023. Oppo smartphone shipments grew 9% YoY during the quarter. Furthermore, the brand achieved an exceptional 144% year-over-year growth in its smartphone shipments within the upper mid-tier segment, which ranges from INR 20,000 to INR 30,000.
realme continues to struggle in the Indian smartphone market. The brand reported a massive 65% YoY decline in Q4 2022 and a 52% YoY decline in Q1 2023. Surprisingly in Q1 2022, realme was the only top-five OEM to achieve year-over-year growth (40%) in shipments. However, the brand has since faced challenges such as inventory build-up and unfavourable market conditions, particularly in the sub-INR 10,000 segment.
It is noteworthy that the demand for 5G smartphones in India has surged, with shipments growing by 23% year-over-year in Q1 2023.
Apple witnessed a remarkable 50% YoY growth in iPhone shipments in Q1 2023, securing a 6% share of India's smartphone market. The Cupertino giant continued to dominate the overall premium segment (>INR 30,000) and the ultra-premium segment (>INR 45,000, ~$550), with 36% and 62% market shares, respectively.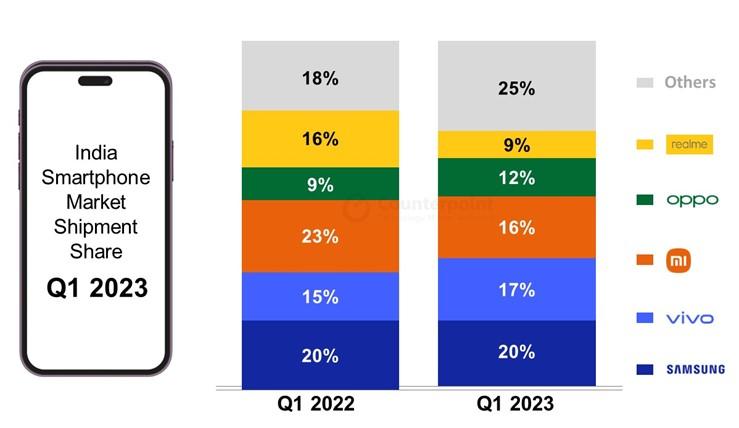 Premium and Ultra Premium eating mid-tier market
The share of India's premium smartphone segment has nearly doubled in Q1 2023 compared to Q1 2022. This growth is primarily driven by the launch of various financial schemes, such as Apple's No-cost EMI with zero down payment through HDB Financial Services, the increase in trade-in offers, and encouragement from retailers. As a result, consumers are upgrading to higher-priced smartphones more often than before; hence, the growth of the premium segment comes at the cost of the mid-tier segment.
The smartphone shipments in India's ultra-premium segment grew a whopping 66% YoY in Q1 2023, while the affordable premium segment grew 60% YoY. Apple, Samsung, and Vivo are dominating these segments in India.
On the other hand, the smartphone shipments in the upper mid-tier segment (INR 20,000-30,000) and the mid/budget-tier segment (INR 10,000-20,000) declined 33% and 34% YoY, respectively, in Q1 2023.
The sub-INR 10,000 smartphone price segment reported a 9% YoY decline in Q1 2023, mainly due to the more extended replacement cycle, the slowdown in the migration from feature phones to smartphones and the reduced availability of hero models.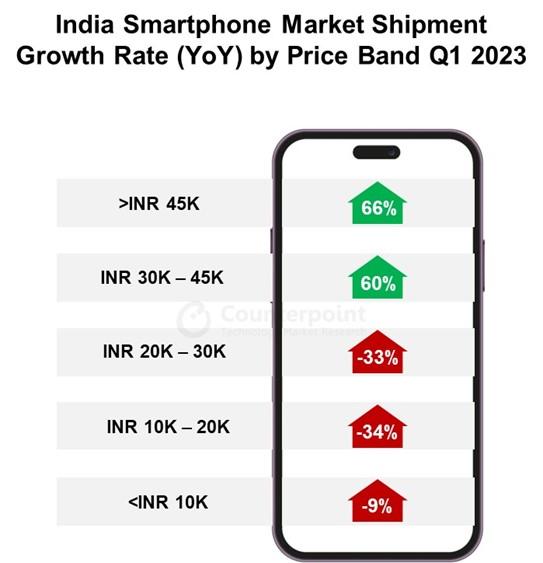 Smartphone shipments In India Q1 2023: In a nutshell
The market share of premium and ultra-premium smartphone segments in India continue to swell, which is affecting the mid-tier and budget segments. Due to the deep penetration of smartphones in India, the number of first-time and mid-tier smartphone users is declining fast. Entry-level, budget-segment and mid-tier smartphone users are now getting accustomed to functionalities and features offered by their smartphones, and now their preferences are shifting towards premium and ultra-premium smartphones, which is resulting in low demand for budget and mid-tier smartphones.
Most of the smartphone companies that have captured a sizeable share of India's smartphone market by offering entry, budget and mid-segment smartphones at very competitive prices are now focusing more on smartphones priced tagged with 30K or more.
It would be interesting to see how, in the coming months, companies like Samsung and Apple would counter the strategies of Oppo, Realme and Xiaomi, which have set their eyes on India's premium smartphone market. The equations in India's smartphone market are once again bound to change, just like a decade ago.