The technology world is going gaga after Apple Inc. (NASDAQ:AAPL) released its Q4, 2013 (fiscal Q1 2014) earnings reports on Monday. Undoubtedly, this is one of the best quarters for the iPhone and iPad maker in recent times. The company posted a record $13.1 billion profit on $57.6 billion revenue. Apple's flagship product iPhone emerged as the biggest revenue and profit driver once again and accumulated nearly 56% of the total revenue in Q4, 2013. The other most admired product of Apple, the iPad contributed to around 20% of the revenue. Together, Apple received 87% of the total revenue in Q4, 2013 from the iPhone, the iPad and the Mac.
Despite of  Android's meteoric rise, the sales figures of all three major Apple products – iPhone, iPad and Mac – reached record heights in 2013. In total, Apple sold 81.8 million iPhones, iPads and Macs in Q4, 2013, which is nearly 10% higher compared to its best performance in the same quarter, a year ago. The below charts depict Apple's Q4, 2013 (fiscal Q1, 2014) performance in detail: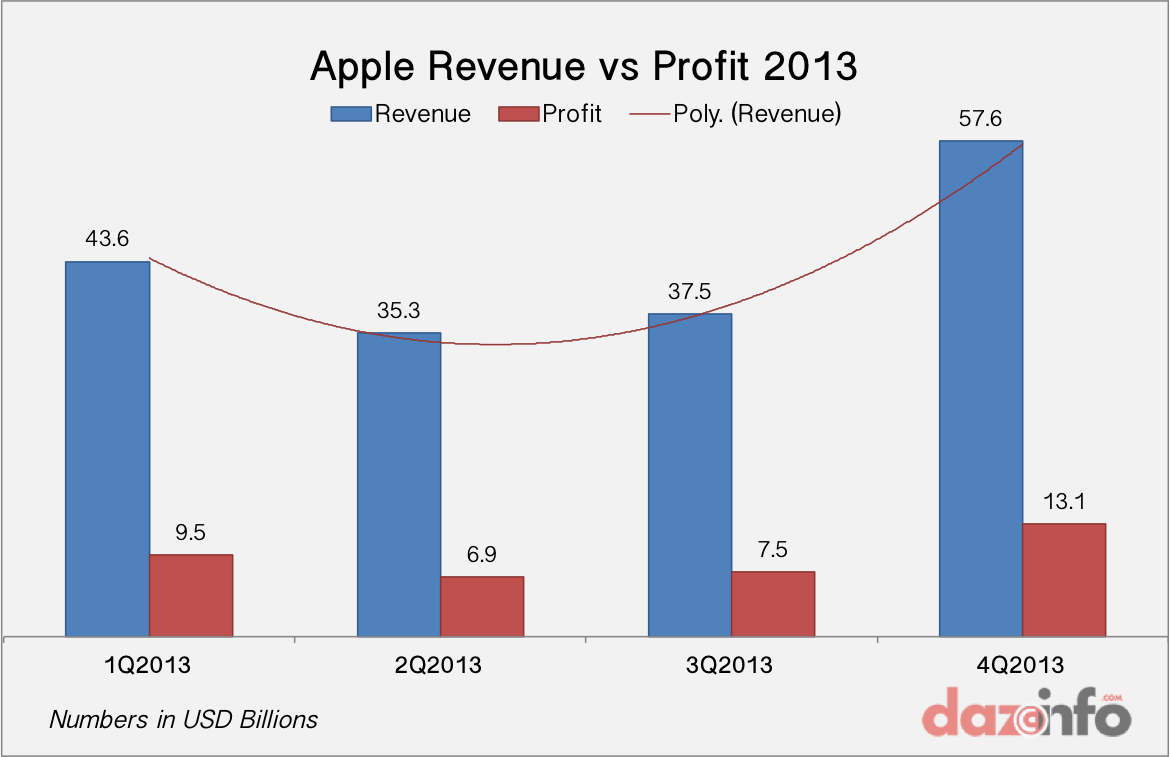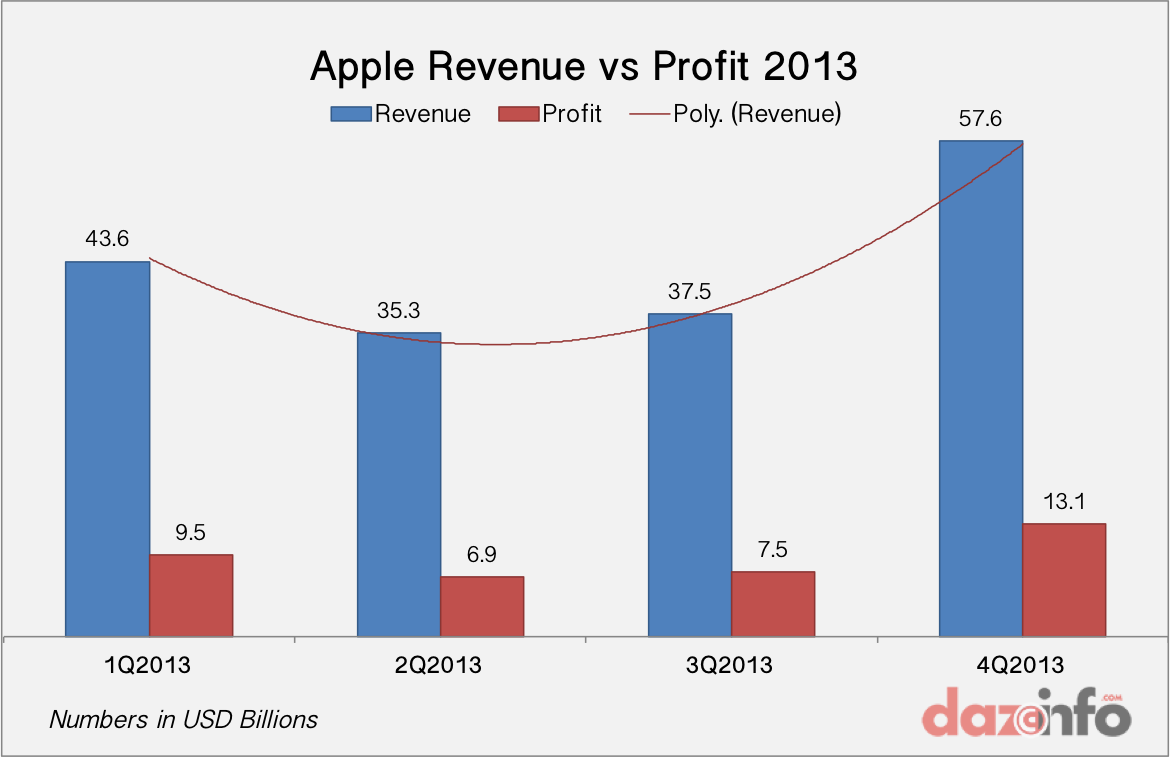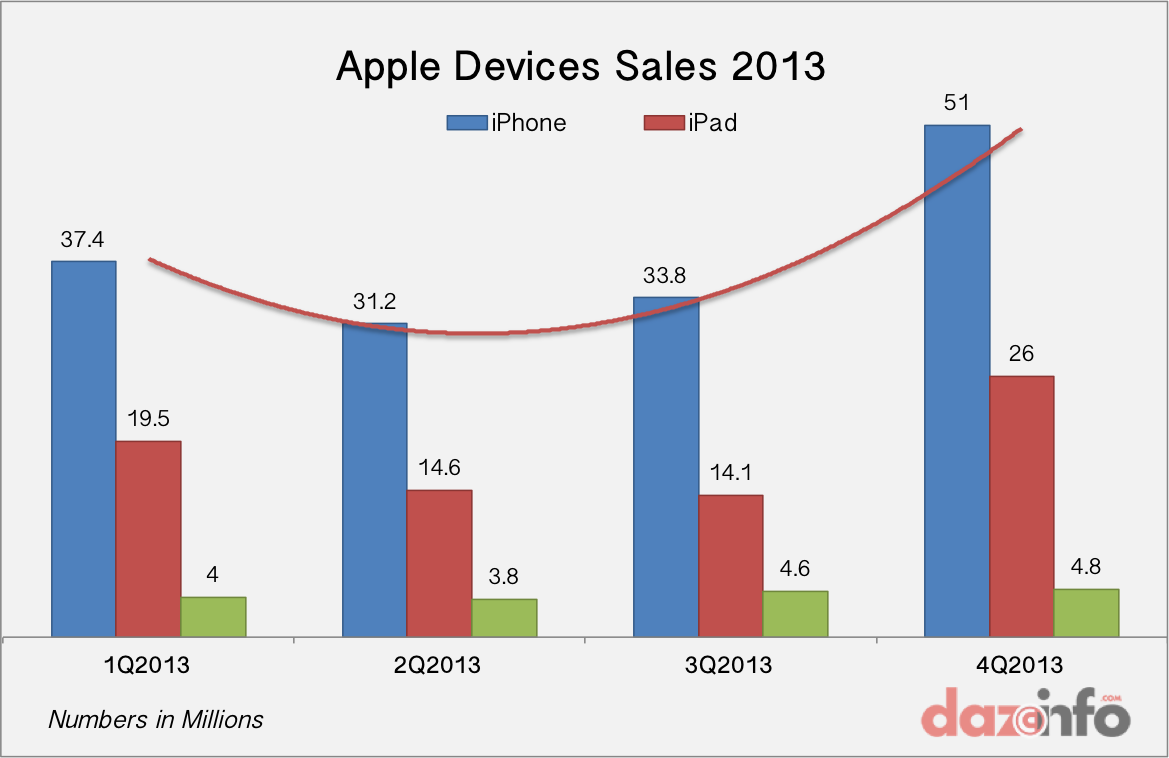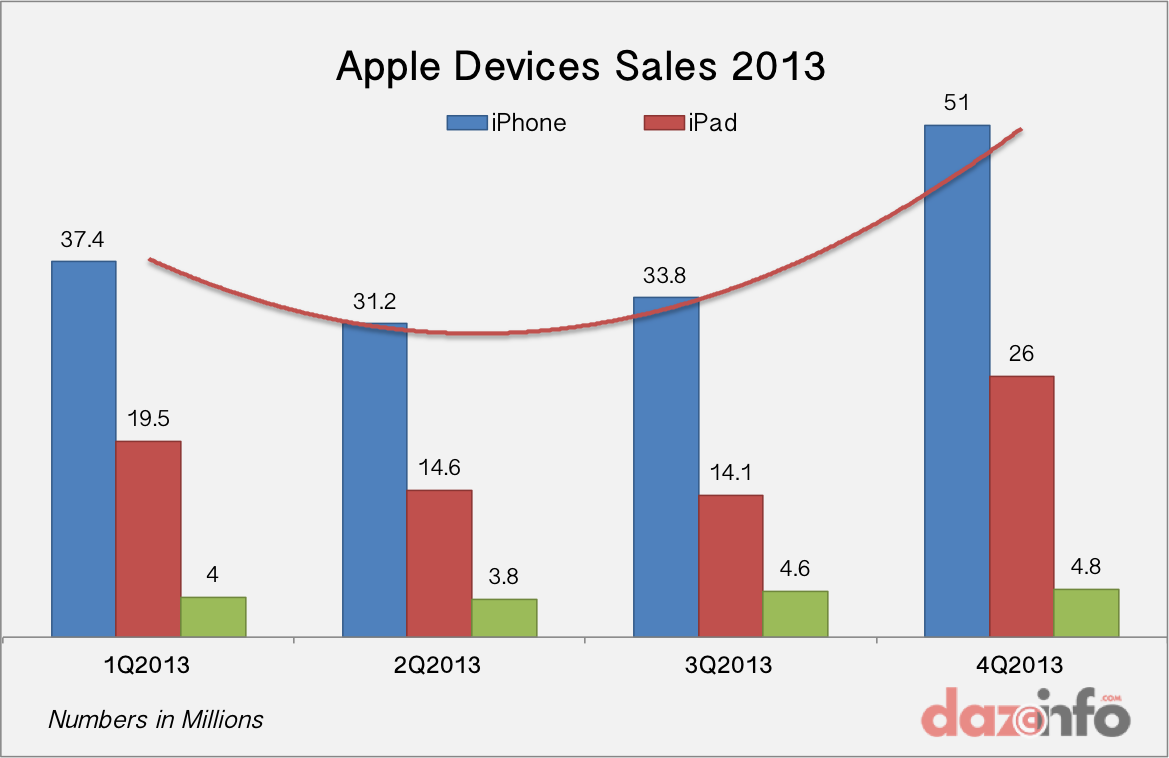 In 2013, Apple sold a total 244.8 million iPhones, iPads and Macs, of which 153.4 million sales was generated by the iPhone alone. Apple bounced back with a bang in Q4, 2013 with record profits and record sales, the biggest surprise came in the form of increased average selling price (ASP) of the iPhone, especially during the time when developed smartphone markets are witnessing saturation and developing nations are experiencing comparatively low-price smartphone penetration. For the first time, in 2013, iPhone ASP surged up to $637 as compared to $642 in the same quarter, a year ago.
All Is Not Well For Apple
But with all these positive waves, there is also a flip side to the performance that many 'analysts' didn't stress upon. Do you remember the iPhone 5C – the very phone with a colorful outfit presented as the 'key-player' in emerging and price sensitive markets? Though Apple never released bifurcated sales numbers for any iPhone models, but it was the first time when Apple had introduced two variants of the iPhone together, targeting different market segments. Unfortunately, today no one speaks about one much hyped virtually dead initiative of Apple.
Besides, Apple also failed to meet market expectations of iPhone sales in Q4, 2013 that was set to 57 million units. As a result, company's stocked tumbled by 8% after the announcement. The decline in share value was also influenced by Apple's projection of Q1, 2014 (fiscal Q2, 2014). The iPhone and iPad maker took a conservative approach to present the projection and expects to bring anywhere between $42 billion to $44 billion in revenues in the ongoing quarter. The forecast once again missed out market projections of $48 billion in revenues.
Apple is not able to cope up with the growing demands of Smartphones and tablets, especially in two of the world's largest markets – China and India. Strong hold of homegrown mobile device makers, price sensitive markets and absence of strong brand loyalty are the main aspects that are keeping Apple away from grabbing a sizable market share in these countries. Apple understands these aspects very well and is trying to penetrate these markets by luring customers with trade-in offers with older versions of iPhone and tying up with Chine Mobile – the world's largest mobile network carrier. The deal with China mobile is expected to bring additional sales in 20 million iPhones by 2014, while in India the trade-in offers have spiked the sales of the Apple iPhone by 400%.
But these numbers are still quite low and compared to the overall mobile phone markets of China and India, largely dominated by Samsung-Android. Apple is failing to break the jinx of being 'expensive to users' and the disappointing sales of the recently introduced iPhone 5C justifies the claim. Together, China and India carry an opportunity to attract more than 2 billion mobile subscribers for device markers. However, low-price Smartphone vendors – the likes of Samsung, Huawei, Micromax and ZTE, and expected to grab the largest portion of this opportunity, resulting in tough competition for Apple.
But the future challenge for Apple is not limited only to mobile device market penetration. Some investors feel that Apple may hit the roadblock soon and may not be able to sustain such high growth by riding upon Smartphone and tablet sales alone. In 2013, Apple sold 227.6 million iPhones and iPads that accounted for nearly 80% of the total devices sold by the company in the whole year and have had a major impact on revenue. Confining itself to the premium device market will hit Apple's performance and may lead to stagnation.
One other major flip side of the performance is Apple's constantly declining Smartphone market share. After the end of 2013, Apple emerged as the only Smartphone vendor that recorded negative yearly growth. Compared to 18.7% market share in 2012, Apple sunk to 15.3% in 2013, while all the other major players including Samsung, LG, Lenovo registered a positive year growth in 2013. The effect of the downsized market is clearly visible on Apple's profit as percentage of profit-on-revenue dived in Q4, 2013 when compared to company's best ever fourth quarter last year.
It's high time that Apple thinks about 'real' low-priced iPhones, something that was tried in the third quarter with the iPhone 5C but eventually failed due to arbitrarily priced strategy adopted by the company. There's no way that Apple can make their investors happy by grabbing a single digit Smartphone market share in China and India. Its like 'giving away too much for a small gain'. By 2018, low-priced Smartphones are expected to grab at least 46% of total Smartphone shipments with the majority in China and India. Apple has earned its position and brand value amongst people and if the company decides to subsidize the existing iPhone 5C model by 30% to 40%, it would definitely become a cause for calling a serious board meeting somewhere in Seoul, Korea.