Mobile handset users are substantially increasing in emerging markets such as China and India. However, India has poor Smartphone penetration and folks are still more relying on feature phones. But in this context, the scenario is somewhat different in China, which has become Apple's second largest global market after the U.S. It's well known that users are anorexigenic to own the feature phone in developed countries due to availability of Smartphone at the subsidized price (being provided by carriers). The graph (below) is demonstrating that the U.S. mobile phone market has reached to its optimal level. An increment to the mobile user number is negligible across the country. On the contrary, mobile phone users are continuously augmenting in China and it's expected to reach almost 1.2 billion by 2016.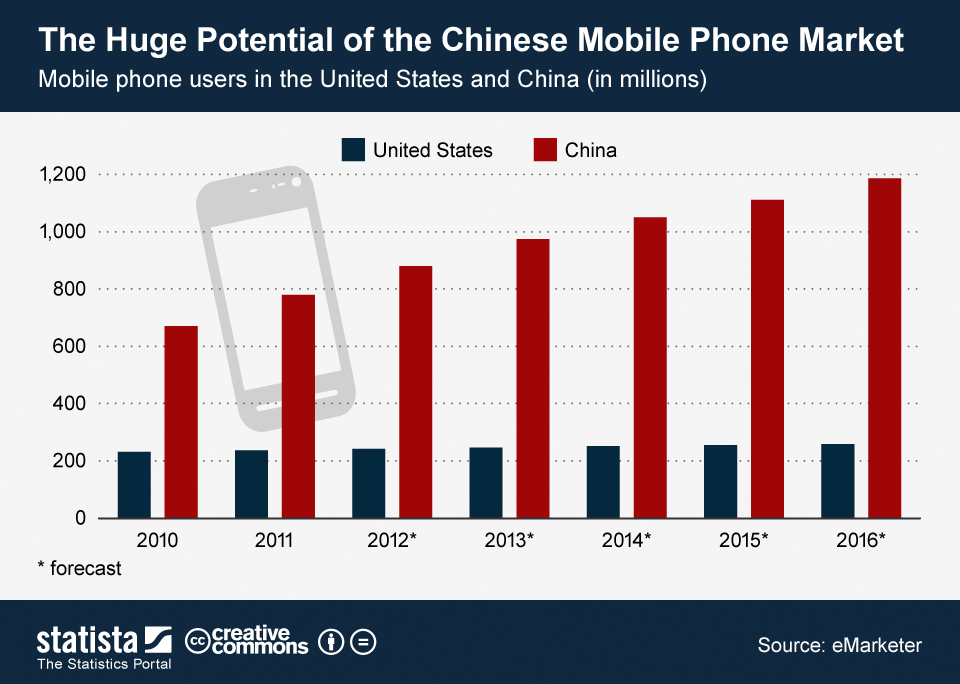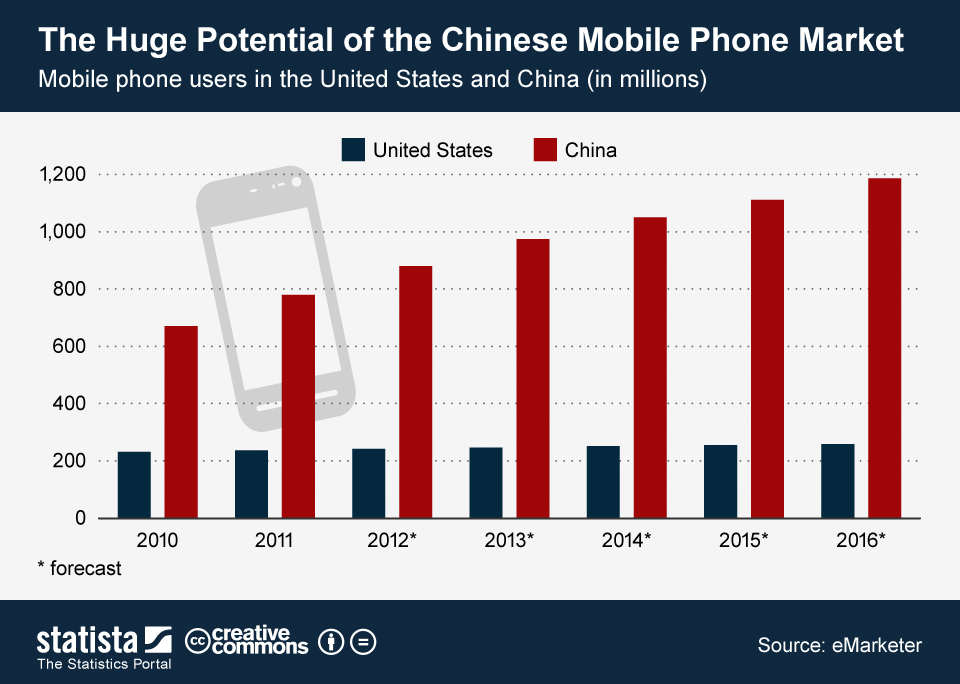 In the US, Apple is dominating on Smartphone sector. It's pretty clear from the below chart how Apple is ruling on three carriers–including Verizon, AT&T and Sprint–in the U.S.. However, the presence of Apple's iPhone on T-Mobile and other carriers is nil. Samsung is now the
World's leading
Smartphone manufacturer, followed by Apple. The south Korean giant has recently snatched the first position from Nokia in terms of total mobile handset shipments.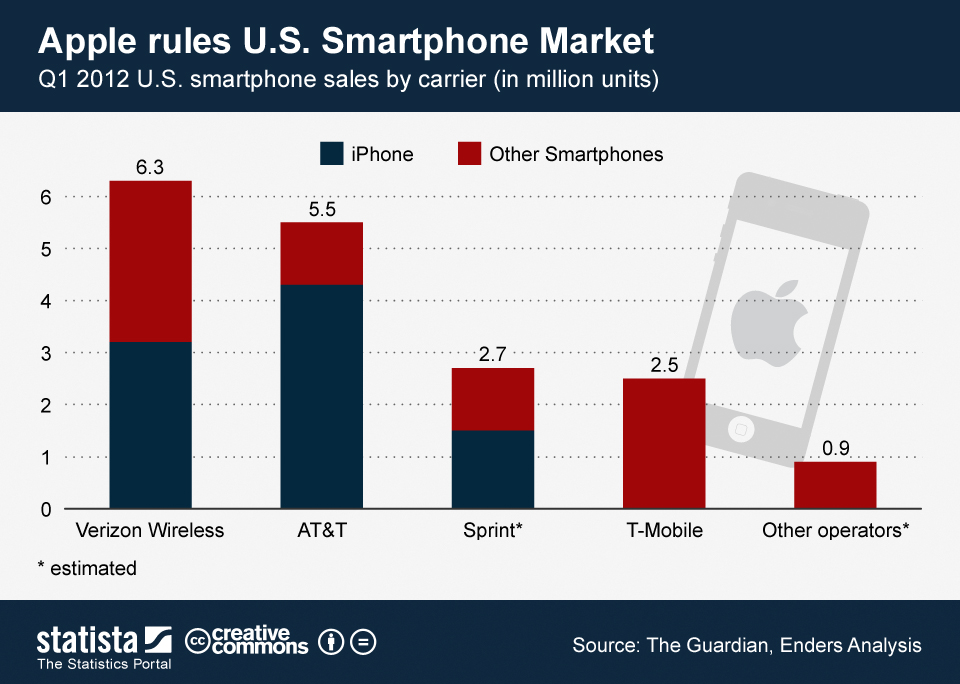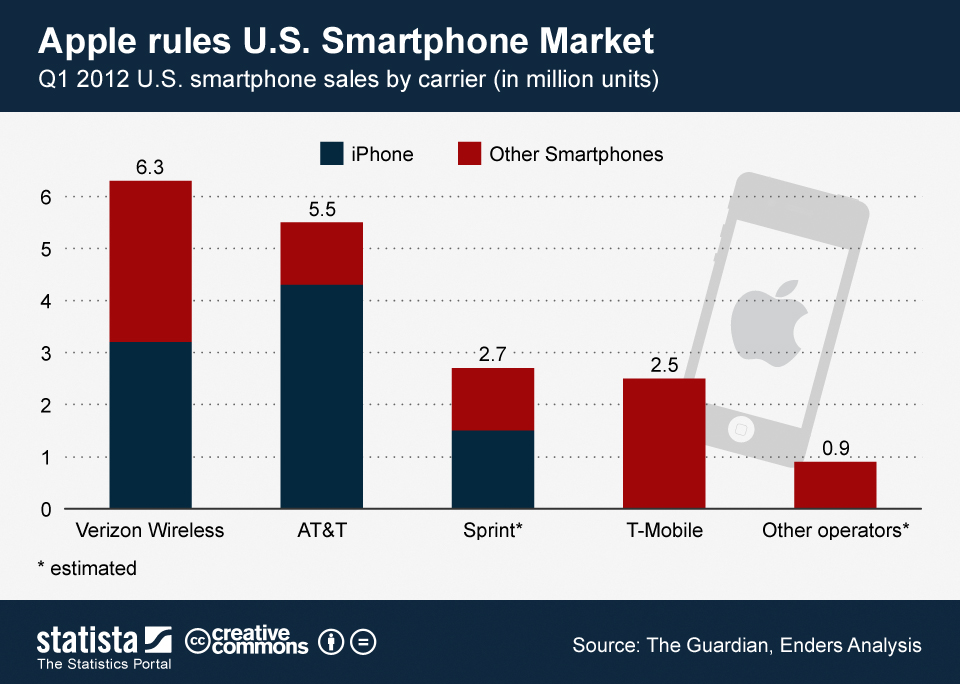 It's very interesting to know about Smartphone users' behavior in the U.S.—how do they use their Smartphone while doing some other activities? It's quite clear from the below graph that American Smartphone owners are 'Media Multitaskers'. In the U.S, 53% of Smartphone owners use to access internet on their device while they watch TV, followed by 51%, 43% and 34%, those keep themselves engage on their Smartphone while they use to listening the  music, surfing web on desktop and watching movies respectively.
In the U.S., users are still eager to own Smartphone rather than feature phone. There are lots of Smartphones–like Apple's iPhone 5 and more–, which are yet to come later this year. However, the U.S market is favoring to Apple, but we can't ignore Samsung's presence, which has recently launched its Galaxy SIII model in the country.
Image Credit: Statista