Smartphone shipments are estimated to surpass 1 billion units in 2013, that is on a global scale, resulting in 39.3% growth over the last year. According to the latest report from IDC, the growth in Smartphone market is primarily being driven by developing countries witnessing high penetration rates of low-priced Smartphones. The forecast report claims that by 2017, yearly Smartphone shipments will reach to a figure close to 1.7 billion, accounting for 18.4% CAGR (Common Annul Growth Rate) from 2013 to 2017.
The explosive growth in Smartphones will also attract high competition in the emerging markets. This will result in a constant decline in average selling price of Smartphones descending to $265 by 2017 from the current price of $337 in 2013.
"The key driver behind smartphone volumes in the years ahead is the expected decrease in prices," said Ramon Llamas, Research Manager with IDC's Mobile Phone team. "Particularly within emerging markets, where price sensitivity and elasticity are so important, prices will come down for smartphones to move beyond the urban elite and into the hands of mass market users. Every vendor is closely eyeing how far down they can price their devices while still realizing a profit and offering a robust smartphone experience."
Asia-Pacific Smartphone Market 2017 : In Driver's Seat
By being the biggest market for Smartphones by number of mobile subscribers, Asia-Pacific enjoys the dominant position in the worldwide Smartphone market. In 2013, more than half of Smartphones (52.3%) would be shipped in the region alone. Interestingly, in the next four years, APAC's market share in Smartphone shipments is estimated to grow at the cost of matured markets such as North America and Europe. By 2017, APAC is estimated to control 58.5% in yearly shipment of Smartphones, NA and Europe will apparently lose their grip on the market, as their market share will take a dive to 11.2% and 15.5%, respectively.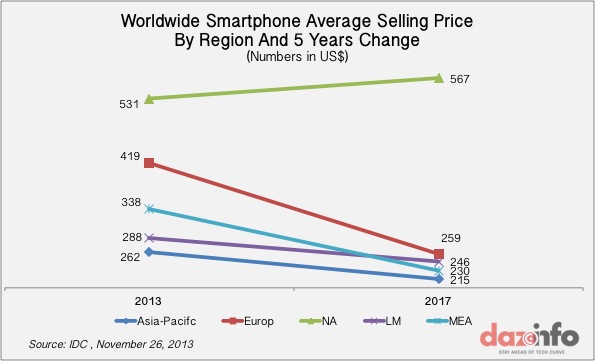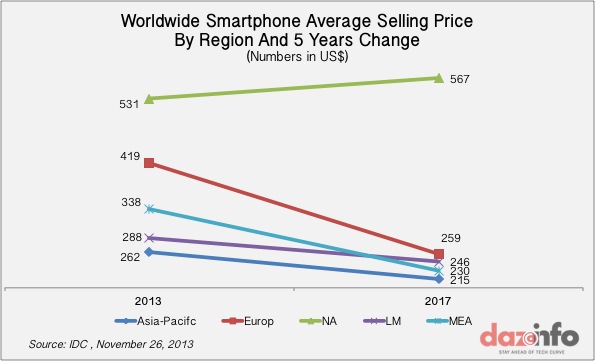 However, the Latin America and Middle East Africa (MEA) regions would be able to maintain their share and contribute around 9.2% and 5.5% of total Smartphone shipment by 2017.
Besides shipment, APAC has got a major role to play in the constantly decreasing average selling price of Smartphones globally. The emergence of local players such as Huawei, Micromax and ZTE have pushed global players to cut the corners, resulting in launch of a higher number of low-priced Smartphones.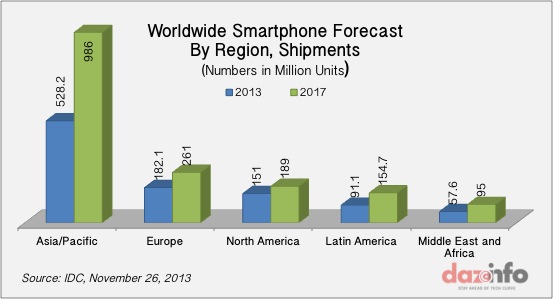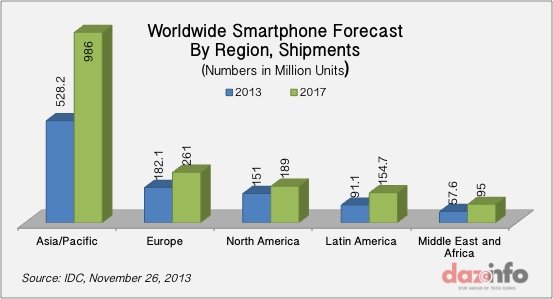 In the next four years, APAC and Europe regions will record the biggest drop in average selling price (ASP) of Smartphones. In Europe the current ASP for Smartphones of $419 would be decreased by 9% to $259, while in APAC the ASP will reach $215 – the lowest across the globe – by 2017. Surprisingly, North America will remain the only region that will see a 2.1% upsurge in the ASP of Smartphones from $531 in 2013 to $567 in 2017. This will result in an overall decrease of 7.3% in the ASP of Smartphones by 2017, globally.
Source: IDC