From the year 2011 Smartphone market has accounted incredible growth compare to feature phones; last year over 700 millions Smartphones sold around the world.
As technology boosts, the price of Smartphone (with standard functionality) is gradually declining. Although, there's an affluent number of affordable low and mid-end smartphones in the market but still high-end smartphones are managing to generate hoard of cash. According to ABI research forecast report, 46% of market will be occupied by low-cost smartphones by 2018. Shipments of low-cost smartphones (less than $250) are expected to grow from 259 million in 2013 to 788 million in 2018. However Mid (less than $400) and High ($400+) cost smartphone shipments are assumed to grow from 635 million to 925 million in 2018.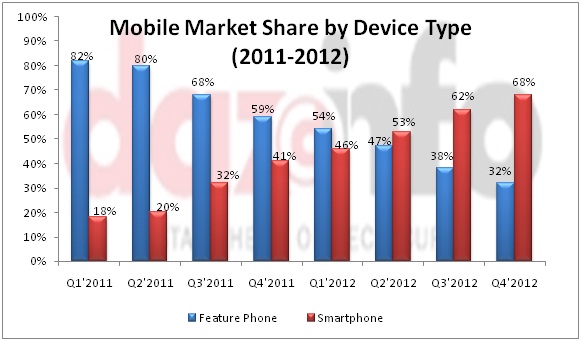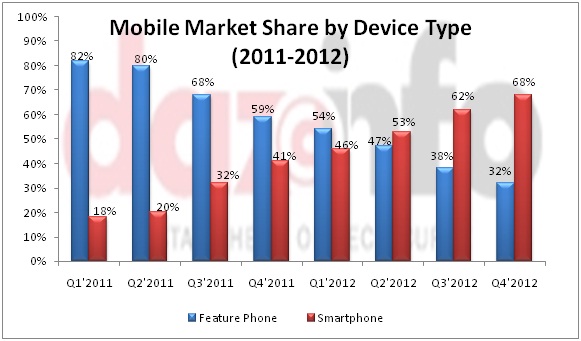 The South Korean Company Samsung Electronics Co., Ltd (KRX:005930) is manufacturing both type of phones– traditional feature phones and smartphones. The consumers in developing countries are still reluctant to get their hands on high-end smartphones. Samsung introduced low and mid-end smartphones to trap these developing markets; be it Galaxy Young, Galaxy Y, Galaxy Mini and many others, Samsung's low-end Smartphones are largely powered by Android OS with discounted features compare to high-end smartphones. Consequently, the company is gaining good momentum in these markets.
The Low end smartphones are turning to be a perfect replacement for feature phones. The giant in this space Nokia Corporation (ADR) (NOK) introduced low-end smartphone ASHA series last year which have outsold Android running low-end smartphones in the markets like India. The high-end Windows Phone OS powered smartphones by Nokia – specially Lumia series – so far has failed to make the impact on market what its low-end smartphone ASHA series has created.
However the low-end smartphones are marking their presence in developing markets while the high-end smartphones are also selling out abundantly in developed markets including U.S, U.K and UAE. According to our previous report Smartphone penetration in matured markets like U.S, U.K, UAE and Australia, is high.
At present Samsung and Nokia are trying to balance its smartphone business between the high, mid and low-end users' segment. In the recusant, Apple Inc. (AAPL), as of now focused only on high-end Smartphones, may consider to join Samsung and Nokia by releasing iPhone Mini.
Could Low-end Smartphones Kill User Experiences?
Low-end smartphones are equipped with less storage capacity, RAM and slow processors. These smartphones could jeopardize users' experience in spite of having great OS. Google Android – leader in Smartphone OS – is helping mobile manufacturers to launch low-end smartphone due to the nature of openness. However, these low-cost chips are not powerful enough to provide seamless experiences and don't enjoy latest updates of ICS or Jelly Beans. As a result users have to stick to the OS version provided by manufacturers. The web experience in the low-end smartphone is also not inspiring due to poor data reception. As Smartphones are pegged to online activities, the poor data transfer speed might create hostility for users.
Recently Mozilla announced a new Firefox OS for smartphones and promised low-end smartphone users to give better usage experience. If Firefox stands on their promise than low-end smartphones can really turn the table around and would easily grab the feature phone market share – still the biggest one.