Apple Inc. (NASDAQ:AAPL) has emerged as the only vendor to maintain the Average Selling Price (ASP) of its iPhone, registering a scanty decline of 1.4% with its market share waning from 14.8% in 2014 to 13.7% in 2018. The declining Average Selling Price of smartphones will increase affordability and demand. Consequently, global smartphones shipments is expected to reach 1.8 billion units from 1.2 billion in 2014, with a Compound Annual Growth Rate (CAGR) of 12.3%, reports International Data Corporation (IDC). APAC (excluding japan) will control nearly 55% of global smartphone market by 2018 as the ASP of a smartphone is expected to drop from $335 in 2013 to $267 in 2018, a decline of 20.9% in next five years.
1 Billion Smartphones Shipment in 2013
Global smartphone industry reached an all-time high when it crossed the billion mark in a single year, 2013, with an upsurge of 38.4%. In 2014, an astounding 450 million smartphones are likely to be shipped in China alone. Smarthphones have become one-point accessibility for all our woes and fun, be it playing games, checking emails, messaging, taking notes, clicking photographs or listening to songs apart from being connected by making calls.
"What makes smartphone growth so amazing is where the growth will be taking place. Smartphone shipments will more than double between now and 2018 within key emerging markets, including India, Indonesia, and Russia. In addition, China will account for nearly a third of all smartphone shipments in 2018. These – and other markets – will offer multiple opportunities to vendors and carriers alike, but the key will be balancing affordability with expectations," said Ramon Llamas, Research Manager with IDC's Mobile Phone team.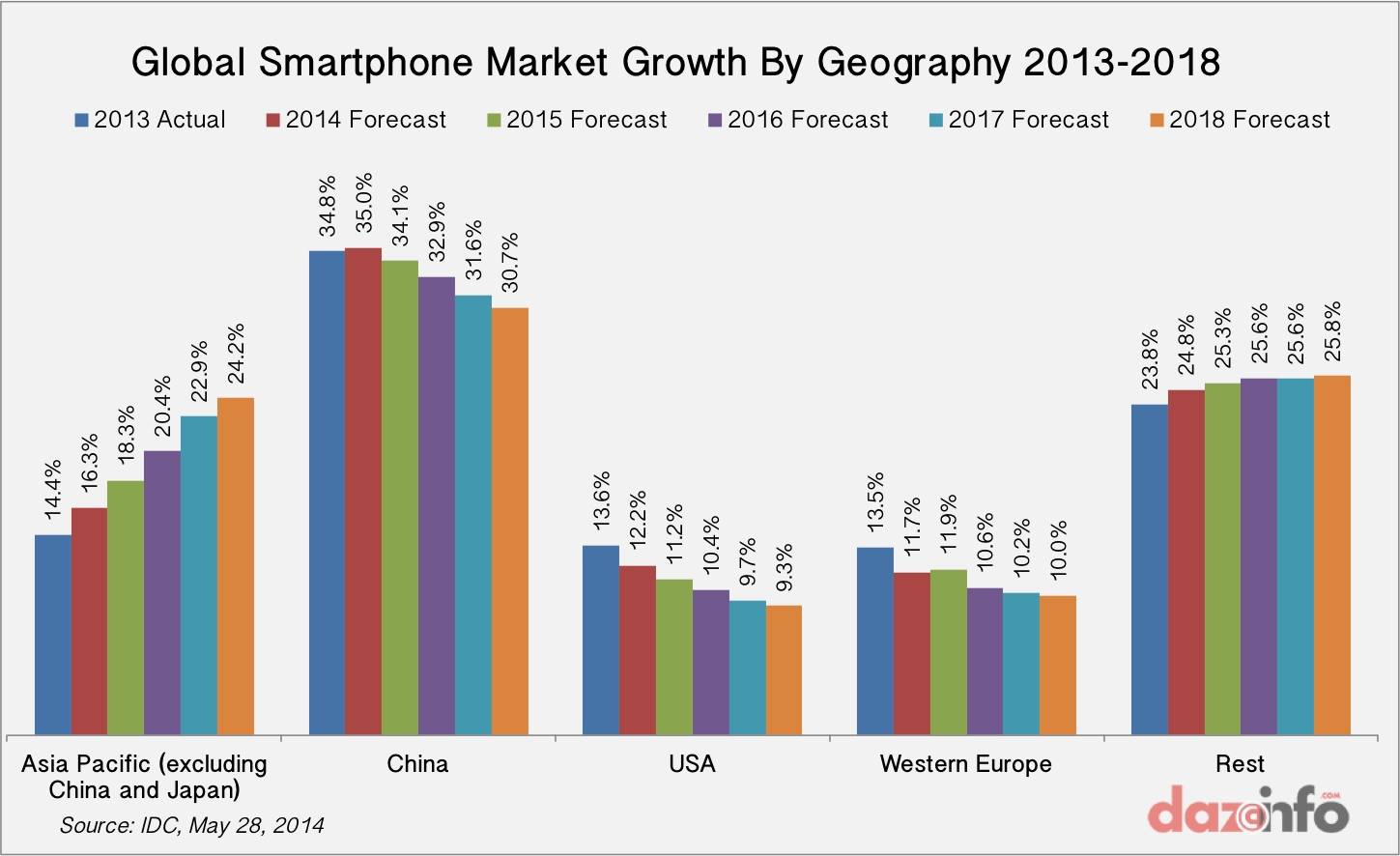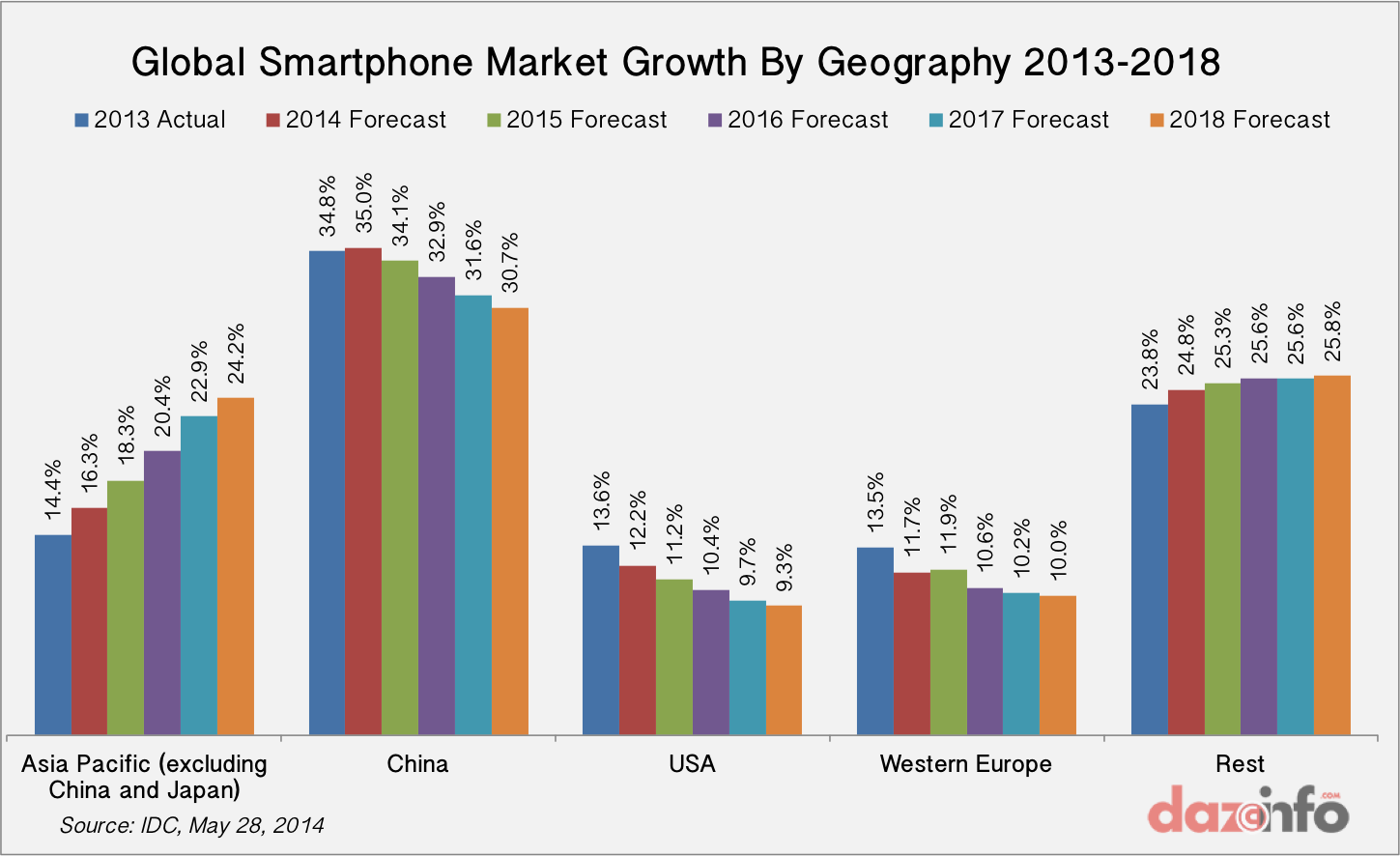 Asia Pacific Doubles its Smartphone Market Share
With 900 million mobile subscribers India is the largest mobile market, second only to China. By having low smartphone penetration India presents a huge opportunity-window for smartphone vendors. Out of 242.7 million mobile handsets shipped in the country during 2013, only 41.1 million were smartphones. Although the smartphone industry in India registered a staggering 172% Y-o-Y growth, feature phones still remain favourite. According to IDC, the contribution of Asia-Pacific region (excluding China and Japan) to the global smartphone market is expected to almost double from 13.69% in 2012 to 24.20% in 2018.  The decline in ASP of Android smartphone, from $254 in 2014 to $215 in 2018, will play a major role in the growth due to price-sensitive nature of users in the region.
China Captures One-Third Smartphone Market
China boasts of 1.24 billion mobile subscribers and the growth of smartphone industry in the country has been phenomenal. China will experience the peak of its share in the global smartphone market in 2014, contributing 35%. Such an upsurge in the country can be attributed to its local vendors such as Xiomi and Huawei Technology Co Ltd (SHE:002502). Xiomi outsold Samsung Group (KXR:005930) for the second time in the 3 months ending in April 2014.  Although, Chinese market may experience a downfall in its market share after 2014, it will still lead with 30.7% contribution to the global smartphone market in 2018.
The Market Share of Western Europe and USA likely to be Halved in 2018
Western Europe and USA will acknowledge a similar market trend.  The stagnating market in these regions will witness a contribution almost half of what they are doing now. The smartphone market share in the US is expected to gradually decline from 16.58% in 2012 to 9.3% in 2018. A similar forecast is made for Western Europe, which will observe a negative growth from 16.98% in 2012 to 10% in 2018. US, being a developed market, has an already elevated smartphone penetration with little or almost no room for more smartphone.
Windows Phone OS to Grow by 28% in the Next Five Years
It is predicted that Android will be in the clear lead, capturing more than three-forth of the total smartphone operating system share in 2018, despite declining market share in next five years. The growth of Windows Phone OS is expected at the expense of Android, whose market share will decline to 77.6% in next five years. The shipment of Windows Phone smartphone is likely to grow from 43.3 million in 2014 to 115.3 million, rolling a CAGR of 28.1%. The acquisition of Nokia Corporation (ADR) (NYSE:NOK) and ongoing partnerships with other OEM's will help Microsoft Corporation (NASDAQ:MSFT) increase the demand for Windows Phone smartphone. Apple is reportedly planning to launch iPhone 6 later this year, however, growing demand in price sensitive market is unlikely to help iPhone much to improve its market share. The noticeable slash in the ASP of Android smartphone and Windows Phone are other factors contributing to their sizeable market share.
In spite of the declining ASP of smartphones, users want a top – notch device at a budget price and this is the major driving factor in overall market growth. Android, being an open source operating system and platform to low-cost devices, has managed to hold its lead. It will be interesting to watch out for Apple's strategy to save its market. On the other hand, India will be a major destination for the smartphone vendors.