First things first, Apple Inc. (NASDAQ:AAPL) emerged as the only Smartphone vendor that lost its market to other vendors in 2013 – despite of having the best performing quarter in the history of the company. And, yesterday we exposed why All is NOT well for the iPhone maker. As demand of Smartphones mounted in the last few years, global Smartphone market share in 2013 saw a major shift in terms of shipments. It's  surprising to see global brands Nokia Corporation (ADR) (NYSE:NOK), HTC Corp (TPE:2498), Sony Corporation (ADR) (NYSE:SNE) and Blackberry Ltd. (NASDAQ:BBRY) missing from the list of top five Smartphone vendors.
According to IDC's latest report, worldwide smartphone shipments in Q4 2013 reached yet another milestone, having shipped more than one billion units in a single year for the first time, a 38.4% upsurge from 725.3 million units in 2012. Samsung Electronics Co., Ltd. (KRX:005930) again grabbed the 1st position by accounting for 313.9 million units for the year 2013, while Apple maintained its number two position with 153.4 million iPhone shipments. Surprisingly, Chinese local vendor Huawei Technology Co Ltd (SHE:002502) attained the highest Y-O-Y increase among the leading vendors. The company shipped 48.8 million Smartphones during the year 2013 and finished the quarter at 3rd  position followed by LG Inc. (NYSE:LG) and Lenovo Group Limited (OTCMKTS:LNVGY) that shipped 47.7 million and 45.5 million Smartphones, respectively.
In the fourth quarter of 2013, Smartphone vendors shipped a total of 284.4 million units worldwide, up 10.06% from the 258.4 million units in Q3, 2013. As usual Samsung enjoyed the lead position with 82 million Smartphone shipments, an increase of 15.3 million units as compared to Q4, 2012. Apple shipped 51 million iPhone units in Q4, 2013 that is 3.2 million higher from the number of iPhones shipped in the same quarter of 2012.
More Intense Battle Between Apple & Samsung!
The battle between Samsung and Apple is getting more intense, as both the companies are trying hard to grab the biggest share of the pie in the global Smartphone market. Although Samsung is predominantly holding its top position in Smartphone markets, Apple is also leading in different market aspects. The latest trend observed in mobile data usage shows that iPhone users are the more data-hungry consumers. Apple's iPhone variants secured four of the top ten devices used for data consumption against only two Samsung Smartphones that were able to make it to the list. Another comparative study in U.S. says that Apple iPhone secured 42% of smartphone market, widening the gap with Samsung by 16%. So far Apple has proved to be the favourite brand globally in different segments with iPhones.
Although Samsung suffered a loss of 2.6% in terms of market share in Q4, 2013 as compared to the previous quarter, but it still holds the largest share of Smartphones in the global market, and dominates every other Smartphone vendor in this segment. On the other side, with the launch of the iPhone 5s, Apple did well to close the gaps and accounted for 17.9%  of the global Smartphone market share in Q4, 2013, resulting in Q-O-Q growth of 4.8%. But when compared to the same quarter, last year, both Samsung and Apple lost 3% and 2% of its market to local vendors in Q4, 2013.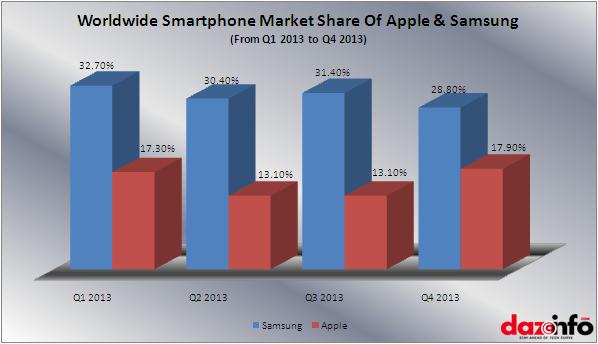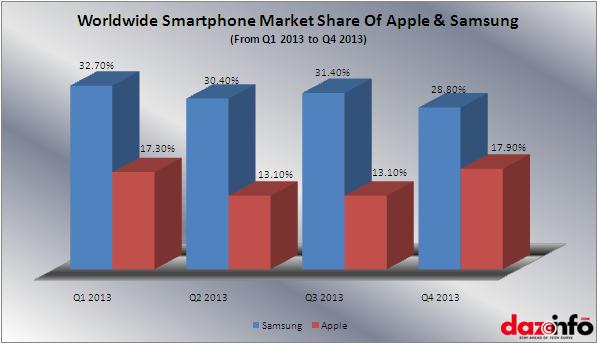 Across the year Samsung shipped the highest numbers of Smartphones and emerged as a clear winner. Overall, Samsung shipped more than double the number of Smartphones shipped by Apple in 2013 . In Q1, 2013, Samsung shipped 70.7 million Smartphones worldwide and improved its shipments to 82 million units in Q4, 2013. On the other side, Apple also shipped the highest number of iPhones in Q4, 2013, an increase of 17.2 million units compared to the previous quarter. Earlier in Q4, 2012 the Cupertino based company shipped 47.8 million units, which was last year's highest shipment for Apple, and repeating a similar trend this year also, the figures rose to 51 million units, all thanks to the introduction of newer versions of the iPhone.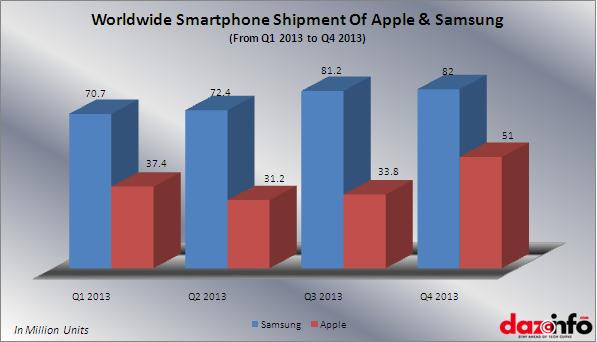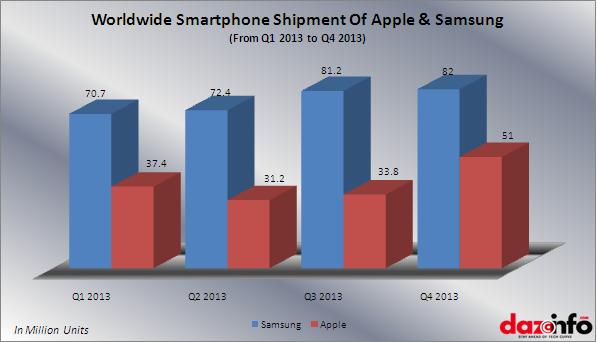 The Smartphone market continues to be a two-horse race for profitability between Apple and Samsung. With the two neck-to-neck rivals commanding 46.7% market share worldwide together, it is too difficult for other vendors to outsell these giants. These companies are primarily focused on manufacturing low-cost Smartphones designed for emerging markets, but at the same time also want to leverage on high-end Smartphones for matured markets.