The explosive growth in U.S. Smartphone market is slowing down though, but Apple Inc. (NASDAQ:AAPL) is showing no sign of relaxation as its smartphone market share recorded significant growth compare to other vendors in the U.S. The battle for smartphone supremacy takes another new turn. According to the NPD GROUP's new report from Q4 2012 to Q4 2013, smartphone usage increased by 8 percent over the last quarter in U.S., which is exact 60 percent in Q4 2013, whereas earlier it was just 52 percent in Q4 2012. U.S. is one of  the biggest consumer of smartphones, these stats clearly shows that in Q4 2013 six out of every ten mobile handsets, are smartphones.
Apple iPhone recorded user share of 42% in the U.S. emerging as a key player in the smartphone race. Interestingly, the growth in the users of  iOS powered smartphones has widened the gap over Samsung Electronics Co., Ltd. (KRX: 005930), LG Inc. (NYSE:LG), Motorola and other major smartphone vendors in the region. Apple as far proved to be the most favourite brand in U.S. and is standing alone in the competition against all its rivals. Even after 6 years of existence Apple is the toughest nut to crack for Samsung, Motorola, HTC Corp (TPE:2498) and Blackberry Ltd (NASDAQ:BBRY). However, Samsung also fetched the attention of smartphone user's in U.S. and improved its sales by 4 percent in Q4 2013, as compared to a year ago quarter. Market share of Samsung smartphones, powered by Android operating system, increased from 22% to 26% as more consumers migrated from other vendors. Whereas Motorola, LG, HTC and Blackberry were unable to hold their previous position and experienced a huge decline its their market share accounting less than 10 percent each. Even Windows OS powered Nokia smartphones do not have a large share on its own to merit a separate rank.
As the owners of smartphone are growing day by day, it is making a similar impact on data usage also. Earlier in Q4 2012 the overall data usage was 5.5 GB per month but  in Q4 2013 it increased by 1.1 GB and this figure is now 6.6 GB per month. Clearly it can be said that in these scenario where Apple and Samsung are the most preferred brand in U.S., live streaming and data usage are supposed to increase as smartphones from these vendors offer good connectivity with high-speed internet. New smartphone user's are more keen to use every apps installed in their devices, which ultimately gives rise to the data usage. Whereas, streaming music services have emerged as the key drivers of of increasing data usage. Nearly 52% of smartphone owner's are optimised to use apps like Pandora, which is leading amongst all the music apps used on smartphones followed by iHeart Radio only for iPhone users' and the rest of the spot in top five is covered by Spotify, TuneIn Radio, Slacker Radio respectively.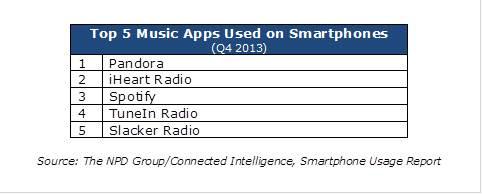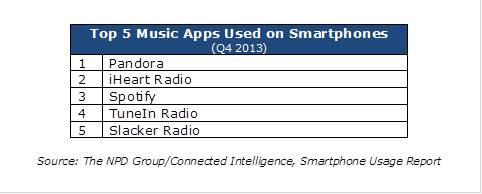 Only these apps are not responsible for increased average data usage in 2013, between 2012 and 2013 overall mobile app usage increased by 115%, messaging and social media apps remained the main driver of this growth. Use of messaging apps rose up to 203% and other applications also marked a good percentage in daily use. This is the mobogenic era, users can find everything they use in their daily life, installed in their smartphone as an application. It doesn't seems like in upcoming years data usage will reduce by any means, every passing day is introducing some new technology for smartphone users that can be applied in their daily needs as their smartphone applications.