Smartphone market, since its inception, has always witnessed an upsurge growth. The fragmentation in the market share may vary but the smartphone sales have not gone down. The global smartphone market is estimated to reach an astounding 1.75 billion in 2014 with Google Inc. (NASDAQ:GOOG) Android holding almost 80% of market share. Mobile operating systems like iOS and Windows Phone 8 are yet to command a substantial market share. Older brands like Sony Corp (ADR) (NYSE:SNE) and Motorola are showing resurgent growth while newcomers, Huawei Technology Co Ltd. (SHE:002502) and Wiko are making their presence felt in the market.
Android is yet again leading in major markets of Germany, Great Britain, Italy, USA, China and EU5, according to the recent report by Kantar Worldpanel Comtech, a leading player in consumer knowledge and insights. The report is based on the number of of smartphones sold during last 3 months ended April 2014, which clearly highlights the demand and growth of various OS from newly developed market during the three months. The EU5 or European Union 5 consists of nations like Germany, United Kingdom, Italy, Spain and France. iOS has shown growth in few markets but the sales have dipped in major markets of USA and China. Apple Inc. (NASDAQ:AAPL)  loss has been Huawei and Wiko's gain. Both the native manufactures of China have shown triple-digit growth in European Markets and roaring to go global in next few months.
BlackBerry Records a 0% Share
Blackberry Ltd. (NASDAQ:BBRY) has recorded an all-time low sales with 0% market share in Spain, Japan and China. The company has recorded negative sales growth in almost all countries except America and Australia in which it has shown a meager growth of 0.3%.  Blackberry has failed to impress users with its limited apps and stagnant technology.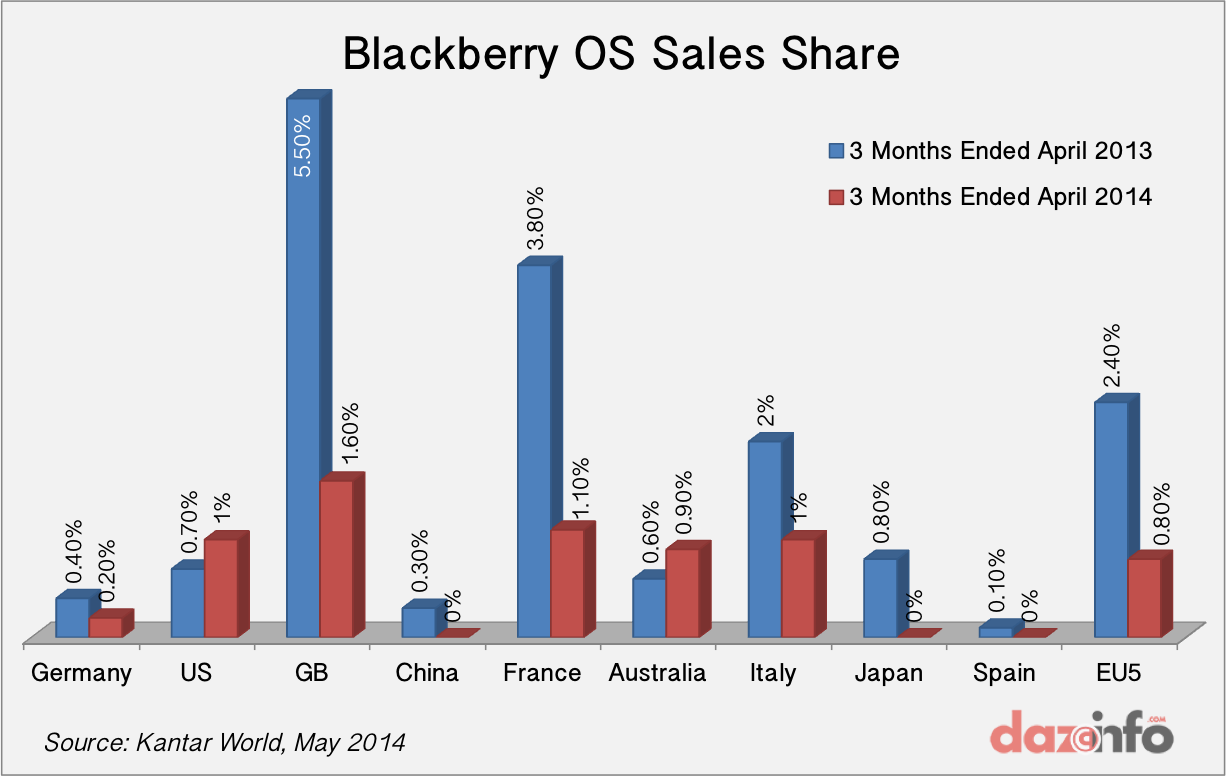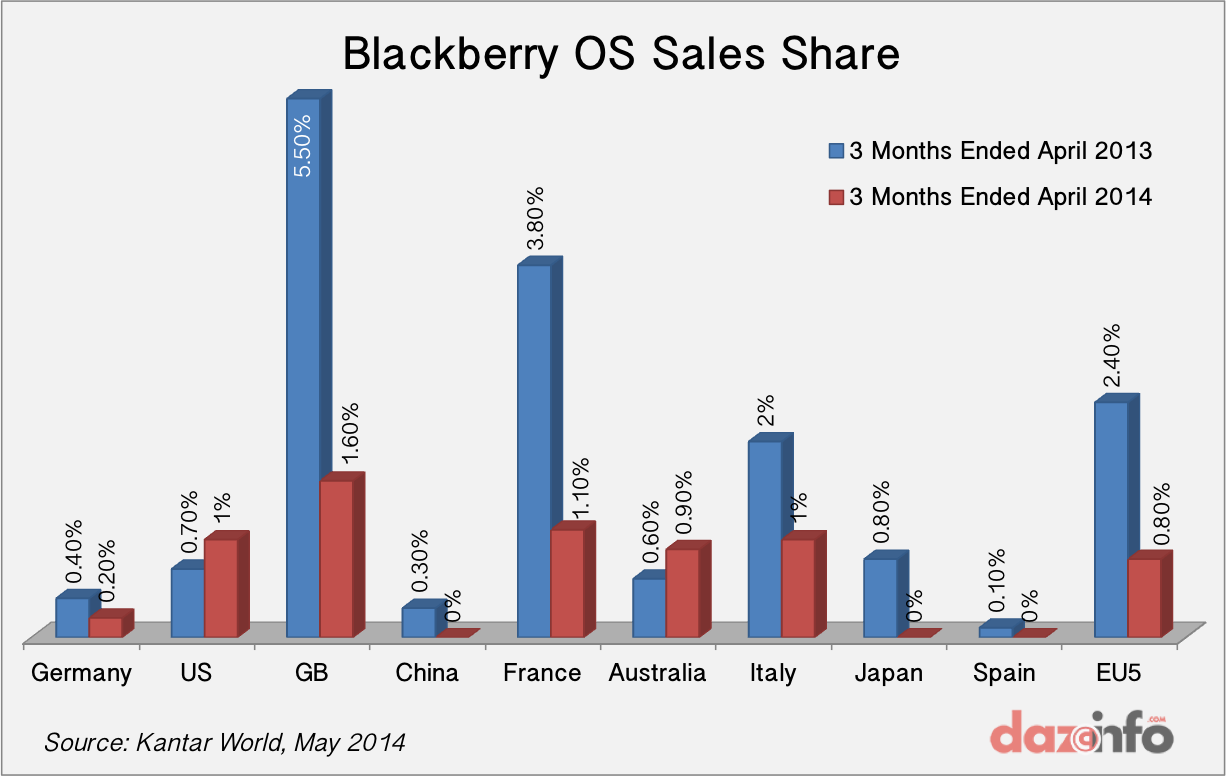 iOS is Gradually Losing its Foothold in its Mother-land
iOS has shown a positive sales growth in markets of Great Britain, France, Spain, Australia and Japan. The increase in these countries has been scanty except in Great  Britain where it has captured almost one-third of the new market with 30.2%, a growth of 2.2% as compared to 3 months ended April, 2013.  Japan is the only nation where sales share of Apple market, at 55.4%, is more than Android sales share of 43.6%. The Cupertino-company has been witnessing a slow but deliberate downfall in its home land. During three month quarter ended April, 2013 the sales share of iOS was 41.4% which declined to 38.7% during three months ended February, 2014 and further dived down to 34.6% during three months ended April 2014, registering a decrease of 6.8%. This clearly shows that Apple is failing to charm new developing smartphone market in various regions.
Apple and Samsung Loss is Local Vendors' Gain
In China, Xiomi's sales outperformed the sale of Samsung Group (KRX:005935) for the second time. The Xiomi sales soared to 123% from the past year in the EU5 market making it a 3% share holder in the smartphone market.  Xiomi captured its 23% smartphone users from Samsung while 41% were first –time smartphone buyers. A similar trend was observed by another native Chinese manufacturer, Wiko, which holds 8% market share in France.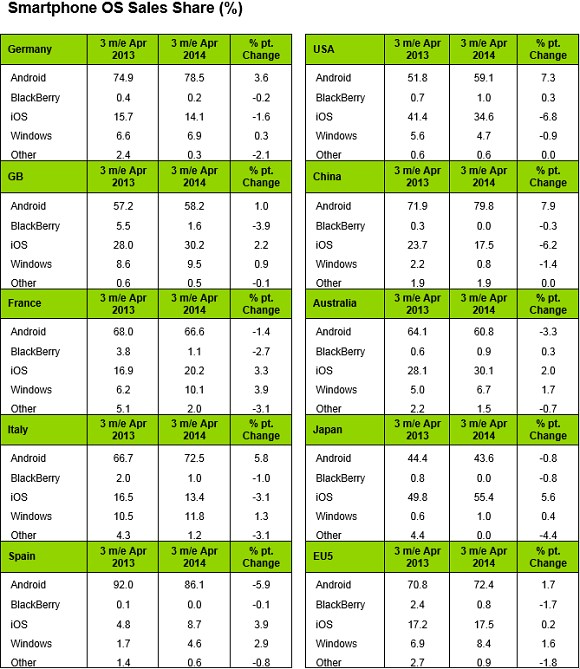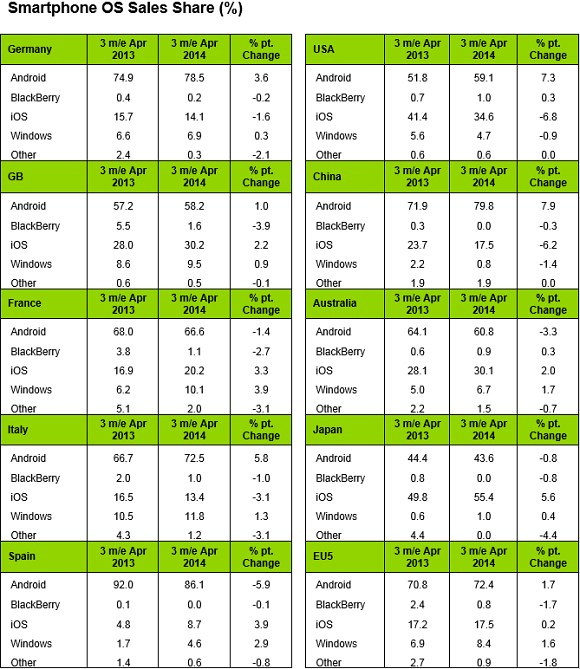 "Increasingly across Europe and the US we are seeing separation of tariffs and handsets, mirroring the dynamic seen in other parts of the world.  Consumers are starting to realise the true cost of handsets, and as a result they are shopping around to find cheaper alternatives.  This shift in behaviour plays directly into the hands of lesser known brands like Huawei and Wiko, who are able to offer competitive technologies for a fraction of the price", said Dominic Sunnebo, strategic insight director at Kantar Worldpanel ComTech.
Android is The Clear Leader
Despite of few countries witnessing negative growth in the Android smartphone market share, Android has maintained its leadership in all the countries with the exception of Japan. In China, sales of Android powered smartphone went up by 7.9% during three months ended April 2014 as compared to same time last year, although the sales declined from February,2013 which witnessed Android's share to be 80.3%. iOS demonstrated a similar trend in China where its sales share went down gradually. During three months ended April 2013, iOS almost had one-fourth of the market share but at present, the numbers have dipped to 17.5% in April, 2014.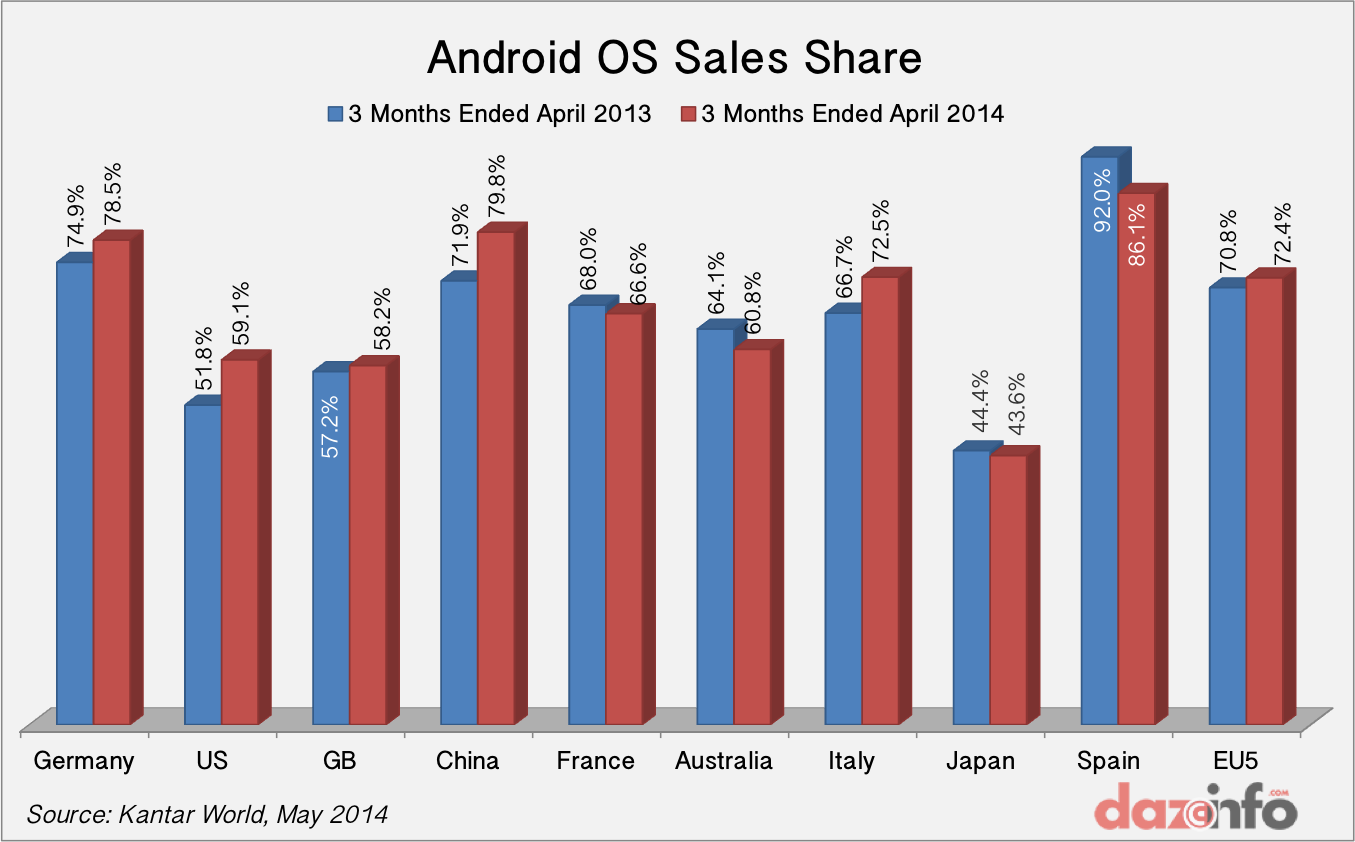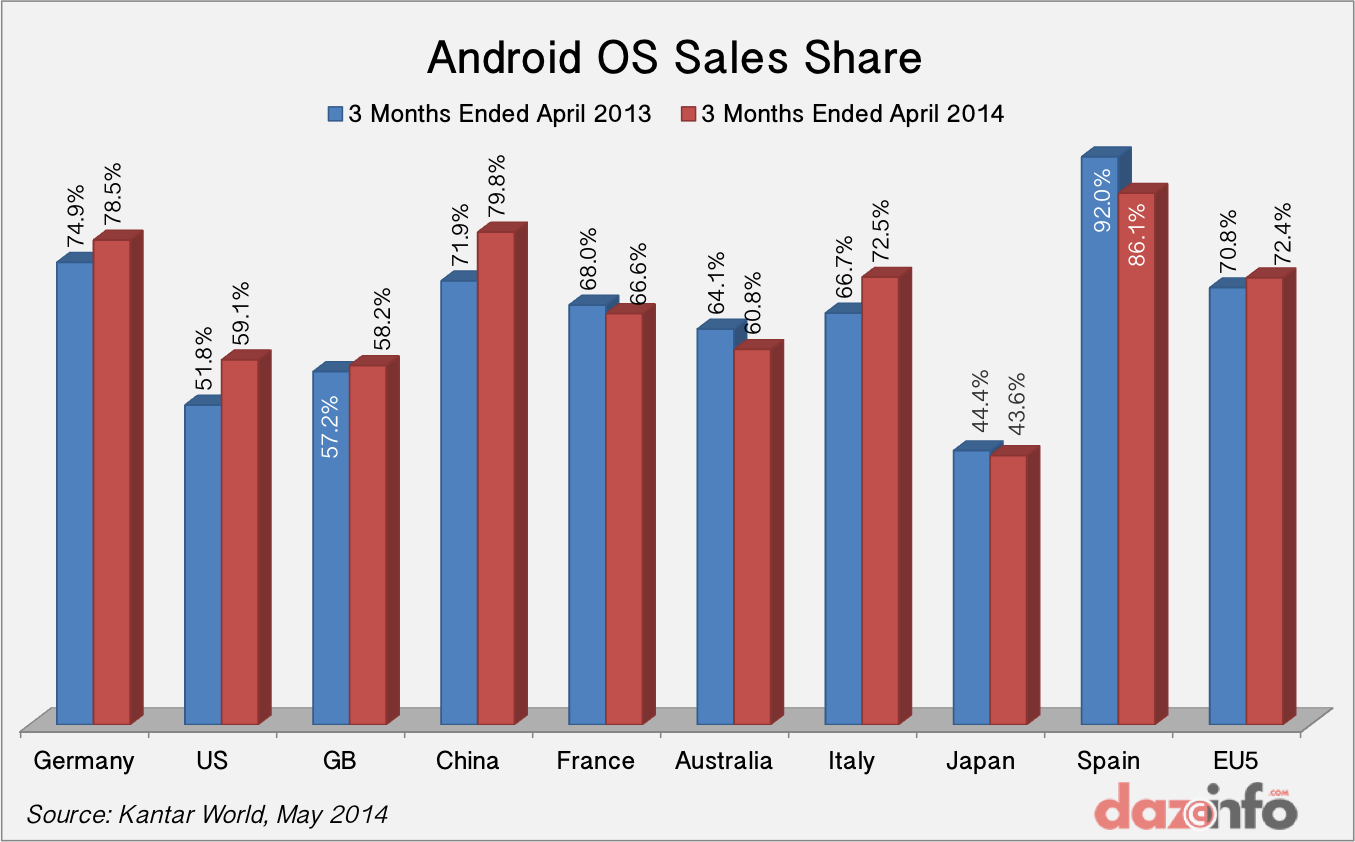 The smartphone market is paving way for the established brands which are re-entering the market. Motorola is making its presence felt with its top-class but value for money phones like Moto E and Moto G. LG is the third largest smartphone vendor in the sales category.