With the end of Q4, its time for companies to back to your account books to do a prominent calculation over their gains and losses. Consequently, the performance report card has started to stay afloat openly. Today, Apple Q4 2011 results announced at Cupertino, California, ended on September 24, 2011. The company has posted the net profit of $6.62 billion out of $28.27 billion revenue or $7.05 per diluted shares. When compared with the quarterly report for the same period of last year, it registered the net profit of $2.31 billion and revenue is increased by $7.97 billion. The company has also registered growth in its gross margin, increased from 36.9% to 40.3% – a rise of 3.4%. International sales play a major role in Q4 revenue as it accounts to 63 percent of the total revenue.
However, despite record sales of iPad and MacBook in this quarter, Apple failed to match the revenue prediction done by market analysts a few days earlier. Analysts predicted that company will touch the revenue of $29.5 billion in Q4 of this year- a shot fall of more than $1 billion in revenue.
Apple arch-rival Google has also revealed its Q3 report a few days before and managed to beat the expectation of the analysts. Its reported revenue touched $9.78 billion for Q3 of 2011. Google is competing with Apple in all phases of technology and recently it has planned to open MP3 store for an intense competition with Apple iTunes.
"We are thrilled with the very strong finish of an outstanding fiscal 2011, growing annual revenue to $108 billion and growing earnings to $26 billion". "Customer response to iPhone 4S has been fantastic, we have strong momentum going into the holiday season, and we remain really enthusiastic about our product pipeline," said Tim Cook, Apple's CEO.

"We are extremely pleased with our record September quarter revenue and earnings and with cash generation of $5.4 billion during the quarter". "Looking ahead to the first fiscal quarter of 2012, which will span 14 weeks rather than 13, we expect revenue of about $37 billion and we expect diluted earnings per share of about $9.30," said Peter Oppenheimer, Apple's CFO.
However, Apple has made record sales of iPad and MacBook in this quarter. Below is the sales information of Apple product which was provided by the Apple Inc.:
iPhone: Company has sold 17.07 million iPhones in this quarter. Despite record sales of iPhone 4s in 12 hours it managed to get only 21 per cent of the unit growth over year-ago
iPad: Apple has registered maximum sales of iPad in this quarter. It has sold 11.2 million of iPad in this quarter, a 166 per cent unit increase over the year-ago quarter.
MacBook: Apple has also registered maximum sales of MacBook in this quarter. This is due to the addition of some new features in MacBook Air. The company sold 4.89 million units of MacBook in this quarter, a jump of 26 per cent over the year-ago quarter.
iPods: Apple has managed to sold 6.62 million iPods in this quarter, registered a decline of 27 per cent unit growth over the year-ago quarter.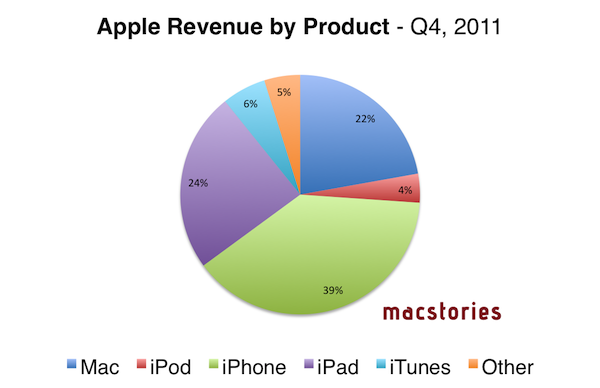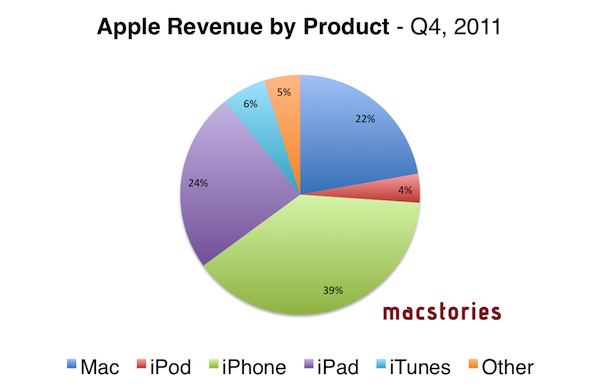 When we take in consideration of the above pie-chart, we learn that the iPhone plays a major role in generating revenue for Apple. It accounts for 39 per cent of the total revenue. Followed by iPad which accounts to 24 per cent of the total revenue, and Mac which has made a contribution of 22 per cent in overall revenue, iPod stand at least position with accounts to only 4 per cent of the total revenue.
This is the first quarter result after Steve Jobs death and market pundits have started the discussion about the manageable quality of Apple's new CEO Tim Cook. Let's hope Tim can make Apple touches more and more positive milestone in sales and its revenue shall keep on increasing with each passing quarter.