Global Smartwatch industry will see a massive traction late this year. Almost every tech giant is gearing up to venture into smartwatch market, estimated worth $3 billion by B2C revenue in 2014. Apple Inc. (NASDAQ:AAPL) iWatch, Microsoft Smartwatch, LG G Watch, Moto 360 and HTC One Wear and few of the most awaited smartwatches, scheduled to launch in the fall of 2014. Google Inc. (NASDAQ:GOOG) is also tapping the market with engineering driven approach; Google Android Wear, the tweaked Android OS, especially designed for smartwatch, is reportedly around the corner.
The annual shipment of smartwatch is estimated to reach 373 million by 2020 and the growth will largely be fueled by Google Android Wear OS. On contrary, Samsung Electronics Co. Ltd. (KRX:005930), the current leader of smartwatch industry, is chasing the market with new OS – Tizen.
The second half of 2014 is going to be full of excitement and releases with more than half a dozen of innovative products are lined up to debut. With so much happening around, this new infographic sheds light on current market scenario of smartwatch industry. Designed by DreamChrono and powered with Smartwatch Group data points, the infographic outlines the leaders of the industry by their market value shipment, industry projection, growth and much more. Not surprising enough, Samsung has topped the list with 800,000 units of smartwatch shipped during 2013.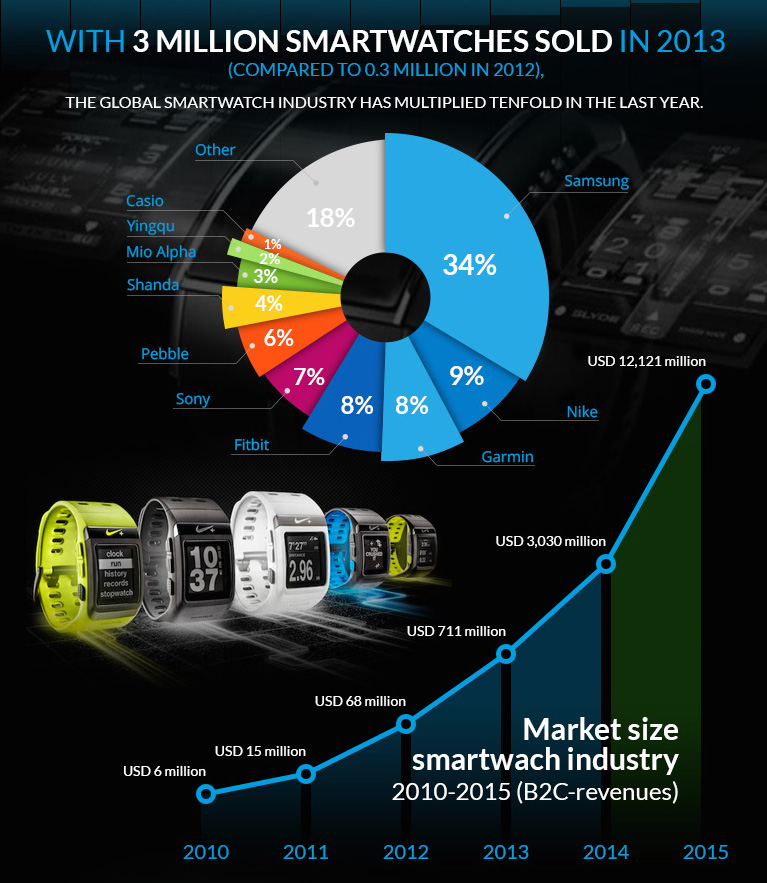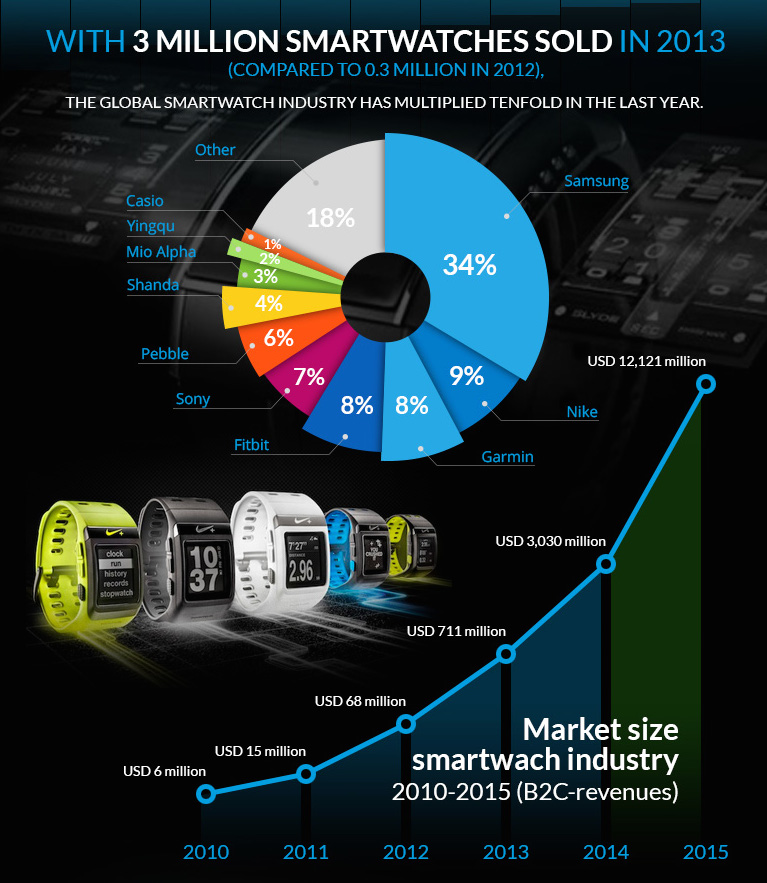 The smartwatch shipment jumped to 3 million units in 2013, from 300K in the previous year, which results in an astounding 10X growth in a short span of time. Samsung grabbed the largest chunk of the pie with 34% market share, followed by Nike, Garmin, Fitbit, Sony and Pebble. Samsung led the market with distinctive margin; rest top players were engaged in a close competition with nearly 1% point difference in their market share.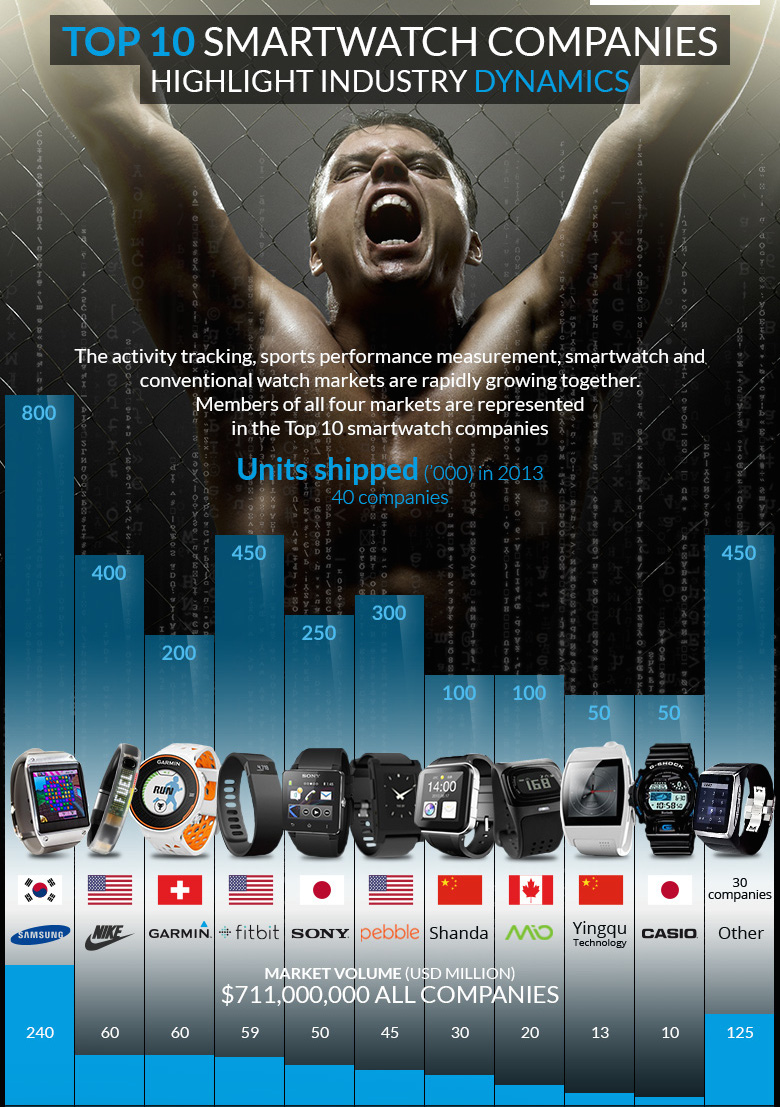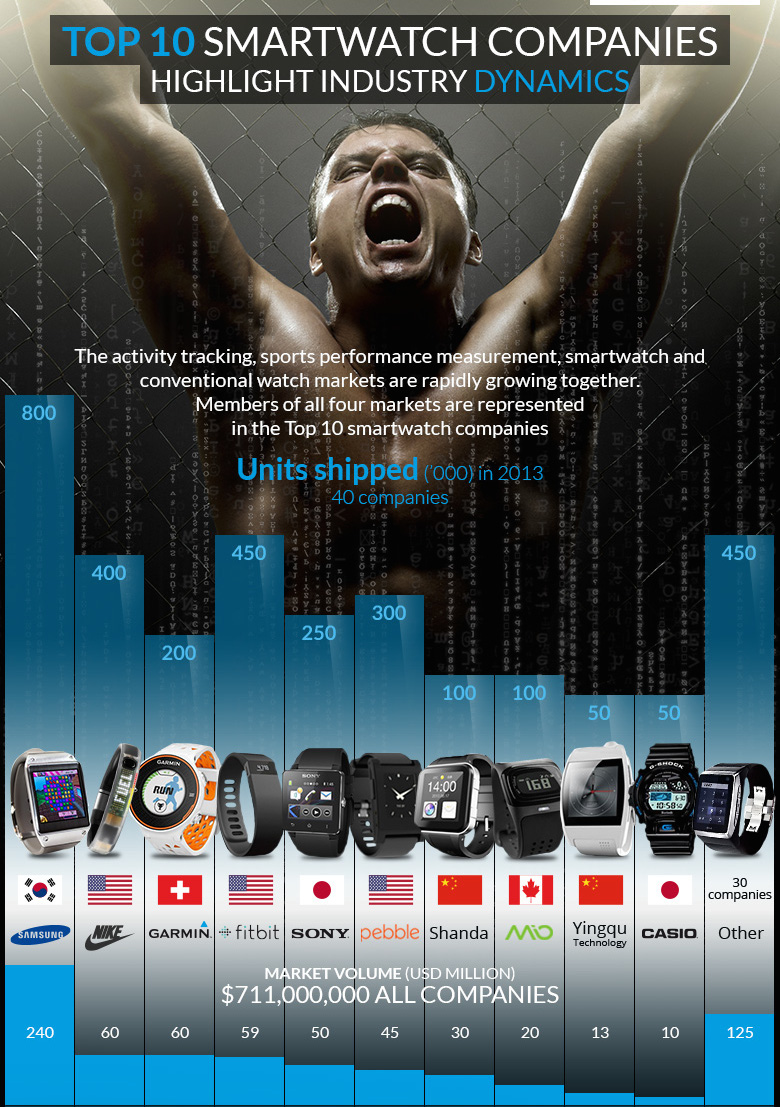 Smartwatch industry is estimated worth $12.12 billion by 2015 and Healthcare industry is going to lead the growth. Applications areas, such as Medical Heath, Wellness, are going to be the main drivers. Interestingly, there would be more than 200 companies with smartwatch offerings by the end of 2014, up by 500% as compared to last year.
The evolution in smartwatch industry will also create a new opportunity window for all app developers. Smartwatch-only OS, such as Google Wear and Tizen, will create new revenue streams for app developers who have started feeling burn-out of already crowded smartphone app industry. As compared to 25,000 smartwatch app developers in 2013, the industry will gain attention of 100,000 smartwatch app developers by the end of 2014.
The smartwatch market is heading towards deserved price competition; the average price of smartwatch is expected to be $214. Samsung Gear 2 is ranked among the best smartwatch available in the market, but will face a tough fight from its archrival Apple.