Wearable gadgets have already become the next big thing in the market. Prior to the Google I/O Conference scheduled for 25th and 26th June, Google Inc. (NASDAQ:GOOG) has shown sneak-peeks of Android Wear, the modified version of Android OS for wearable gadgets. The developers at Google are deep in work to develop apps for the Moto 360 and LG G Watch prior to the Conference. The Android Developers Blog takes us through their expedition of doing some creative thinking and designing for one of such apps, and finally scaling it for circular smartwatch.
The developers developed a walking tour app that suggests nearby locations to visit, all through the day, although the notifications for the locations will be on low priority. The notifications will appear as white squares or translucent screen in the centre of the display. The biggest challenge in designing apps for wearable gadgets is their diverse display size, so designing becomes a lot more controlled and importance has to be laid upon the information to be displayed. Unlike other smartwatches that are rolled out recently or under production, Moto 360 supports round-faced dial.
The app includes dynamic notification system which shows the distance to the next stop, a 4-page detail screen about your destination and information about the place where you currently are. The app is tested on LG G watch and then scaled up for circular Moto 360 prototype.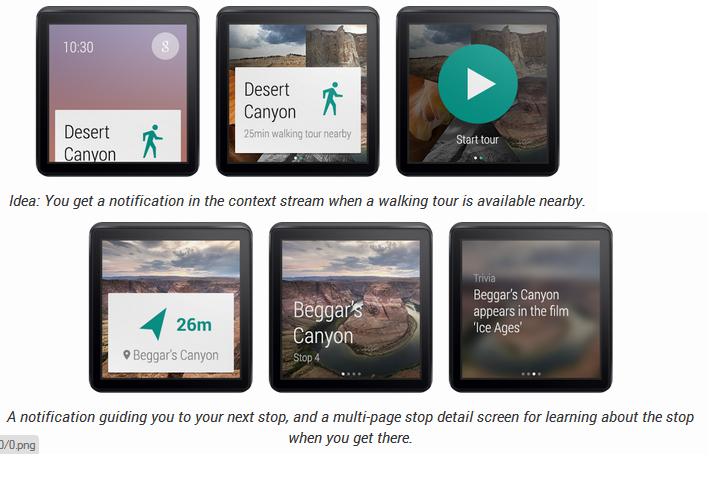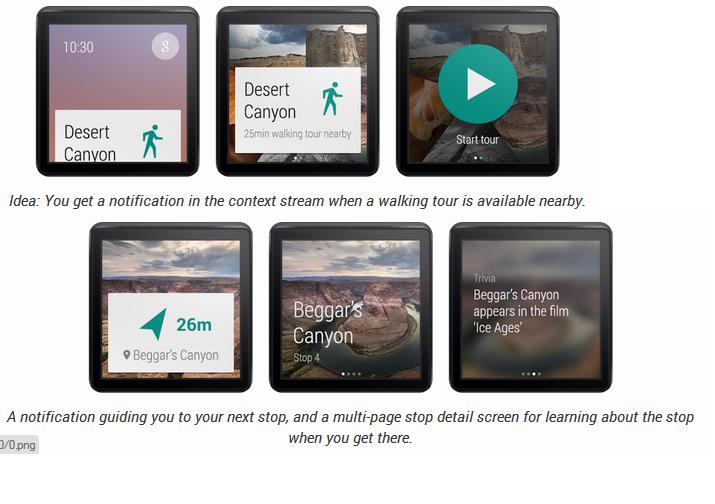 Smartwatches are the forerunners in the field of wearable gadgets and Google is all set to lead in this race. The worldwide shipments of smartwatches are likely to touch 373 million by 2020 and Android Wear will be the triggering factor behind the accelerating growth of the industry. More than 30 smartwatches are under development in partnership with leading hardware vendors that includes HTC Corp (TPE:2498), Samsung Electronics Co., Ltd (KRX:005930), ASUSTEK Computer Inc. (TPE:2357). The expanding smartwatch market presents a big opportunity-window for the local vendors too. Smartwatches, with their simplicity and functionality, may represent good companion of smartphone for improved productivity.
Smartwatches appeal to tech enthusiasts and health fanatics alike. But the new smartwatches take up the space of a traditional piece. Glance, from Kiwi Wearables, is the first smartwatch accessory that can be worn in combination with the old timepiece. Glance helps in tracking your phone, enables motion control and tells who is calling. It basically works with Android and iOS, but can be scaled up for Windows and Blackberry devices too. Glance is surely an innovative touch but we will have to wait and watch for the effect it has on consumers.