It's hard to believe that it's been just two years since Apple Inc. (NASDAQ:AAPL) took its first step into the field of 4G with iPhone 5 and with in such brief duration the company has turned the market in its favour. In Q1 2014, Apple grabbed 42% share of the global LTE smartphone shipments, thereby leading the pack, claims a recent Counterpoint report. But this didn't surprise much as one out of three LTE smartphones, largely addressed as 4G smartphones, shipped shipped in the U.S. – home country of Apple. On the flip side, Apple lost 2% of its LTE smartphone market, largely to Samsung, in Q1 2014.
Mobile phones have had an interesting history; from a simple bar-phone used for making calls to phones specifically developed for messaging, from the feature phones to high-end smartphones and now the latest version LTE smartphones and phablets. The adoption of 4G smartphones is pacing in countries like Korea, Japan, Australia and U.S., which are also known as early adopters of mobile technologies. In Q1 2014, more than one-fourth of smartphone shipments constituted of LTE smartphones globally, while USA alone accounted for one-third of the LTE smartphone shipments.
LTE Smartphone Shipments Grew by 91% Annually
The total smartphone shipments in Q1 2014 stood at 285 million units, resulting in a 33% Y-O-Y growth, while LTE smartphone shipments grew at an astounding 91%. However, this is not surprising since the mobile data traffic is projected to grow to 2.5 GB per active mobile subscriber from 650 MB in 2013, an astounding 4X growth in next 5 years.
Korea and Japan are the forerunners in the field of 4G technology, but China has surpassed Korea and is expected to leapfrog Japan by the end of 2014 to become the second largest LTE smartphone market globally. China boasted of 97.5 million smartphone shipments in Q1 2014 which accounted for 93% of total mobile phone shipments in China. The growth of smartphone shipments in China is directly linked to the rapid adoption of 4G technology.
European countries have access to 3G technology, while 4G adoption is rampant. Currently, North America and Western Europe boast of a larger share in global mobile data traffic but APAC will emerge as the major contributor by 2019. The technology is gradually shifting from 2G to 3G and now towards the faster 4G.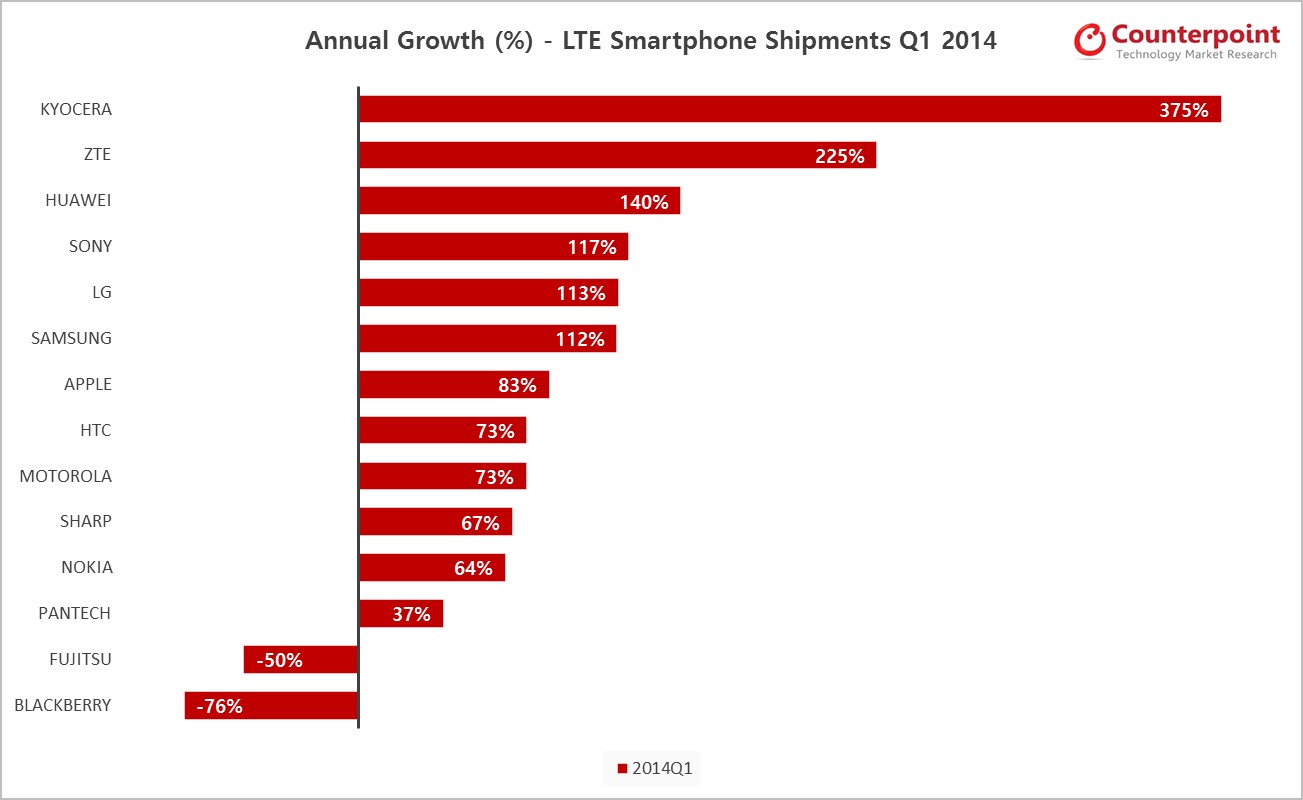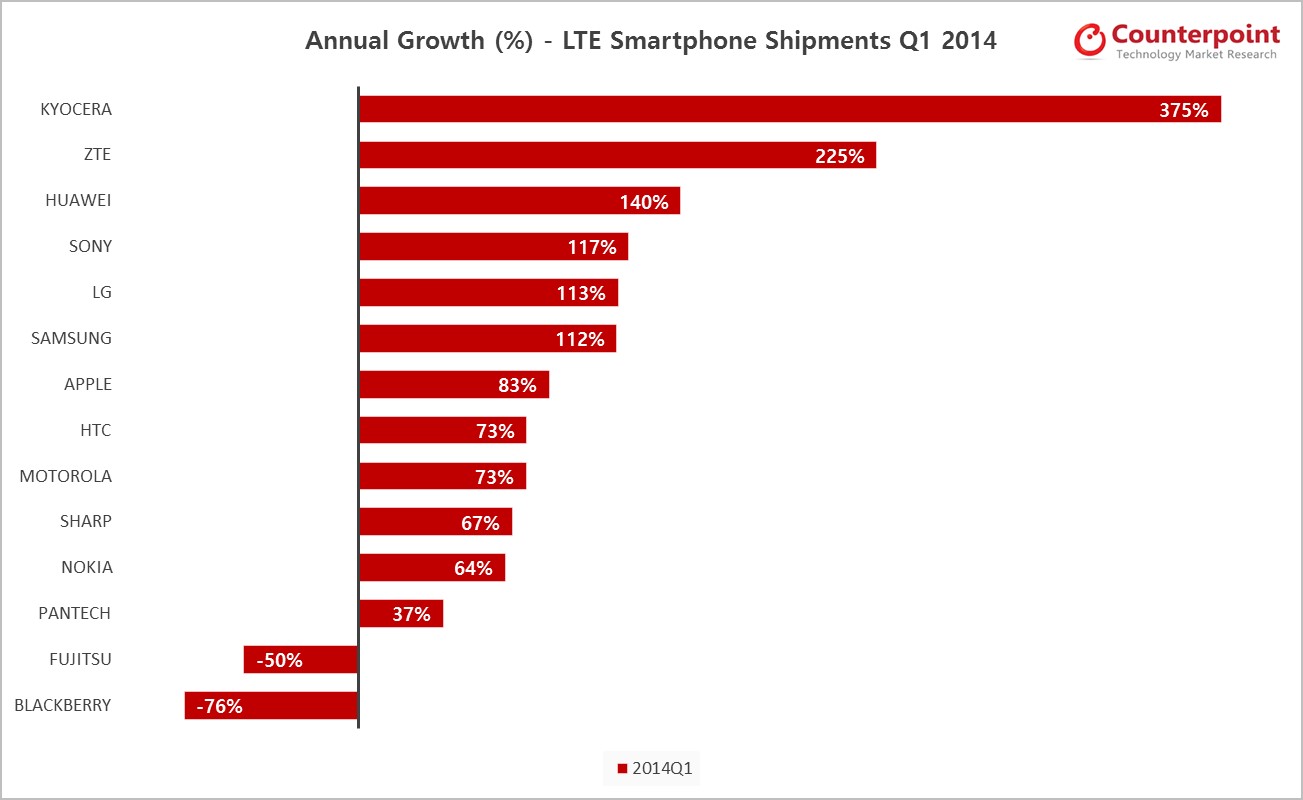 Kyocera Records a 375% Annual Growth
The combined share of Apple, Samsung Electronics Co., Ltd. (KRX:005930) and LG Electronics Inc. (KRX:066570) accounted for three-fourth of the global LTE smartphone market.
The top-5 fastest growing LTE smartphone brands are Kyocera Corporation (ADR) (NYSE:KYO), ZTE, Huawei Technology Co. Ltd. (SHE:002502), Sony Corp (ADR) (NYSE:SNE) and LG.
Fujitsu Limited (ADR) (OTCMKTS:FJTSY) and BlackBerry Ltd. (NADSAQ:BBRY) are the only companies to record a negative growth.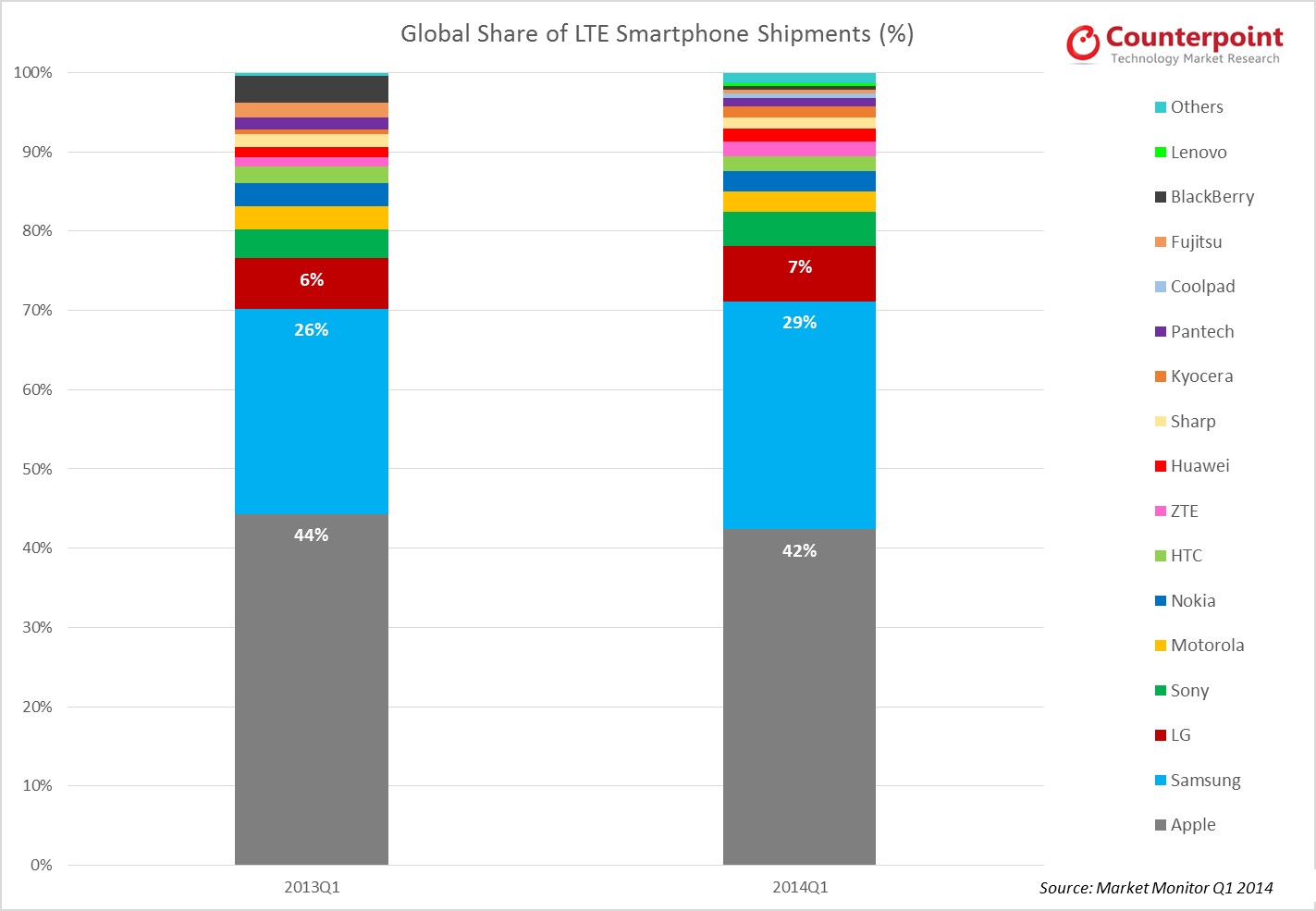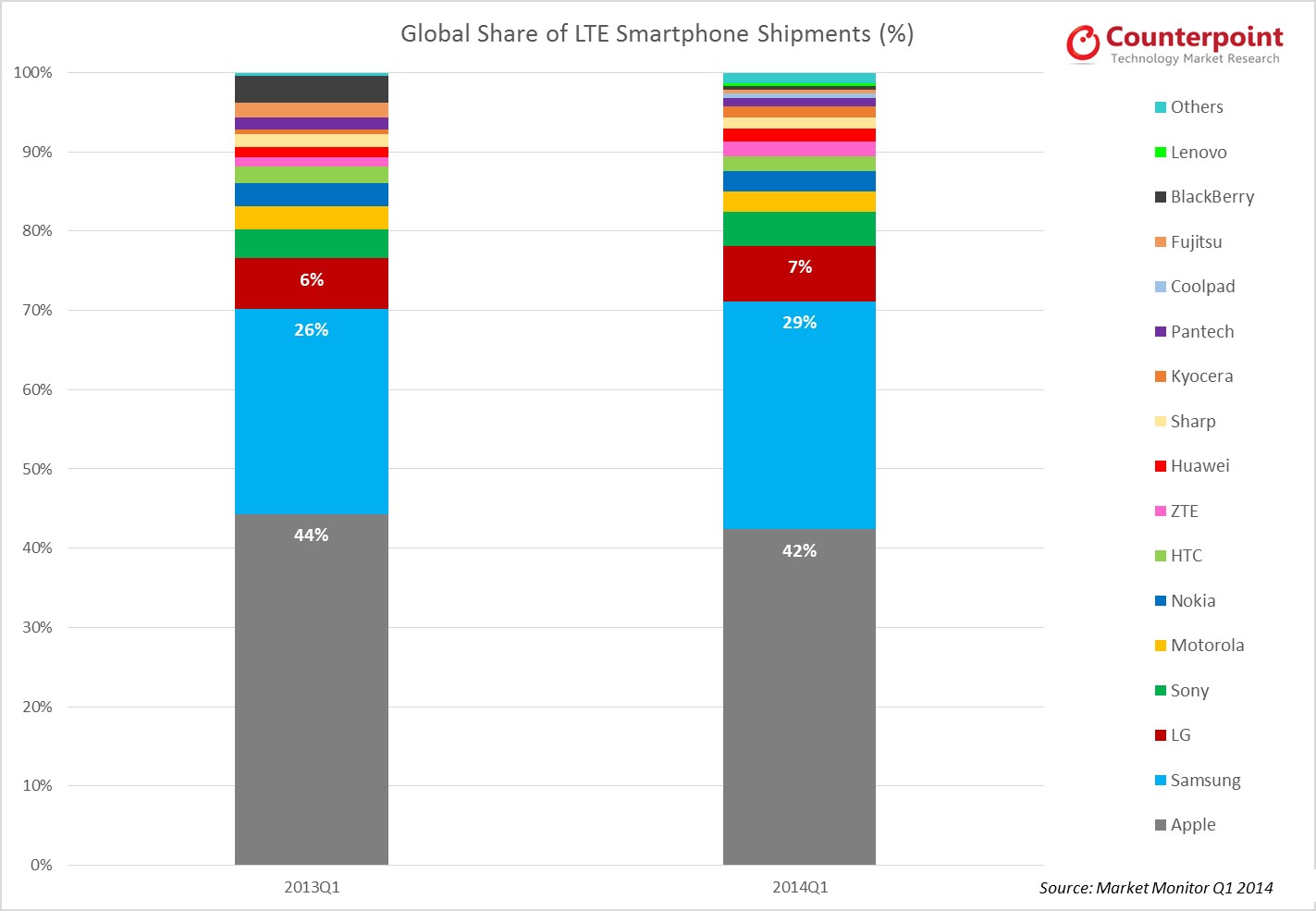 Samsung and Apple are the key players in the leading LTE smartphone markets of USA, China, Korea and Japan. Though Samsung doubled the number of its LTE smartphone shipments, its global share in the market increased marginally. The Chinese and Japanese vendors, with the LTE smartphones in the range of $150-$200 (sub 1000 Yuan), are expected to capture a sizeable share of market. Kyocera, the Japanese mobile vendor, recorded the greatest growth, a whooping 375%, while ZTE grew at a rate of 225% annually in LTE smartphone shipments. LG is expected to maintain its annual growth with its much talked-about flagship product, LG G3.
The Effect of 4G on Battery Life
The battery of mobile phones has always been a cause of concern for the mobile users. The larger screen size, the increasing processing capabilities of smartphones, data transfer at high-speed; all eat into the battery levels of the phone. A majority of users rely on battery-saving applications to conserve the battery for longer backup. Our smartphones are indispensible for us and in the coming days, with the faster 4G technology, they'll be more likely used for browsing and video consumption. By 2019, almost 50% of smartphone users will be using 4G technology. The smartphone vendors will have to pay a lot more attention to the battery life in order to lure the customers.
The 4G technology is growing by leaps and bounds and it presents an opportunity-window for the home-grown vendors. Though the smartphone market in developed countries is stagnating, there is still scope for the LTE smartphones. However, it is pertinent for companies to play at entry-level and mid-range smartphones. Super-LTE phones are expected to play a major share in the market with multi-mode and multi-band services.