Apple Inc. (NASDAQ:AAPL) is under attack from Lenovo Group Limited (ADR) (OTCMKTS:LNVGY), ZTE Corporation (SHE:000063), Huawei Technology Co Ltd. (SHE:002502). These are just some of the major China-based OEMs who are now global smartphone giants, and for them, the biggest market is not in their home country but in Latin America, Africa and other developing markets. Mobile Analyst firm Canalys has released a report for Q1 2014, which shows the vast domination that China has on the global smartphone market. Interestingly, five of the top smartphone vendors in the world are from China including Huawei in third place, and Xiaomi in sixth place. Worldwide smartphone shipments reached 279.4 million in Q1 2014, a 29% increase from Q1 2013. Out of all smartphones shipped in Q1 2014, at least one-third had a screen size of 5 inches or more. Android continued to be the most popular OS accounting for 81% of device shipments. Shipments of  Apple Inc. (NASDAQ:AAP) products were at 16%, while Windows Phone shipments were just 3%.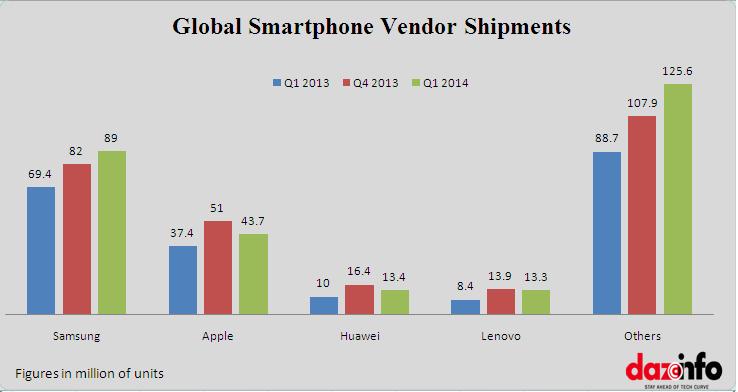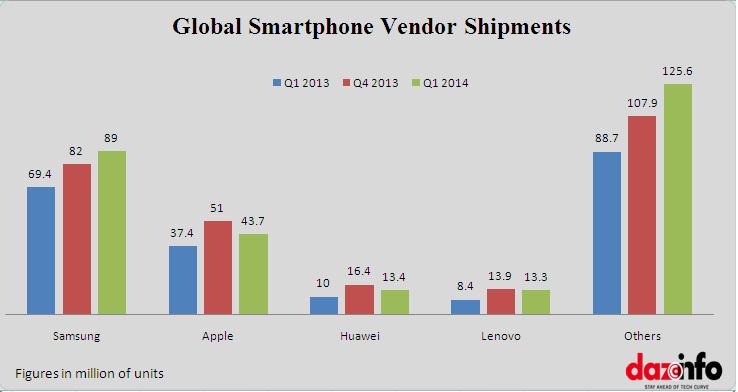 China Is Officially A World Smartphone Superpower
China accounted for 35% of all smartphone shipments worldwide in Q1 2014. A total of 97.5 million units were shipped, a slight decline of 3% from the previous quarter. In Q1 2014, smartphones made up 93% of total mobile shipments in China. The country already has a vast number of mobile subscribers at 1.2 billion, but the main emergence driving mobile growth is the rapid adoption of 4G.
China Mobile Ltd. (ADR) (NYSE:CHL) is the largest mobile carrier in China, with a subscriber base of  767.21 million subscribers users of which 70% still use 2G Networks. It already has the most number of users on 3G, and has emerged as the first major carrier in China to receive the 4G license. The telecom giant also has a deal with Apple to sell iPhones in China through its network in 2014, giving it a huge advantage before competitors catch up. Shipments of 4G handsets were still at 16% in China, compared with 80% in the U.S and 34% globally in Q1 2014. In the next few months, low-priced 4G handsets will be the primary factor driving smartphone sales.
Shipments of devices with screen sizes larger than 5 inches accounted for 39% of all shipments in China in Q1 2014. This presents another opportunity for revenue as more online videos are likely to be watched on large screen devices, increasing data usage.
Chinese OEMs Dominate The Global Smartphone Market
Local smartphone vendors in China are waging a price war in their product lineup to gain customers. Though Samsung still has 18% market share, Xiaomi climbed to third place in the Chinese smartphone market in Q1 2014, overtaking Apple. The new company is yet to go global as 97% of it smartphone shipments are still in China, but it plans to launch in 10 countries this year including India and Brazil.
Meanwhile other vendors are already targeting new markets. Shipments of TCL-Acatel smartphones were 37% in Latin America, 23% in North America, and just 8% in China in Q1 2014. ZTE, Huawei and Lenovo shipped 43%, 40% and 15% of their respective handsets outside China. The popularity of these brands in other countries is mainly due to the low prices offered on their devices and may not be based on device specifications. These vendors have also recognized that the real scope for growth lies outside China, in other emerging economies. Apple's market share is on a steady decline and Samsung is facing stiff competition from local vendors, paving the way for new players to enter the market.
Brazil, Russia, India And China Received 44% of Global Smartphone Shipments
India is the third largest smartphone market with 5% of global shipments in Q1 2014, behind the U.S which accounted for 12% of all shipments. Brazil and Russia are in eight and tenth place respectively, each accounting for 2% of smartphone shipments. The BRIC countries combined saw a total of 123.4 million smartphone shipments, with a massive 44% of the global total.
This could be the reason Samsung is reportedly looking to début its Tizen OS powered smartphone in India and Russia in 2014 and avoid developed markets. The potential for growth in these countries is on an enormous scale, and the opportunity is far larger than those in emerged markets.
Apple Needs Large Screen iPhone To Stay Competitive
Phablet devices are the new engines driving mobile growth. Shipments of smartphones with screen size greater than 5 inches grew by a jaw-dropping 369% in just one year and they accounted for a third of all smartphones shipped globally in Q1 2014. Samsung dominates this segment with 44% of all device shipments above 5 inches.  Other vendors such as Sony Corp. (ADR)(NYSE:SNE), LG Electronics Inc. (KRX:066570) and Huawei have all developed phablet smartphones as their high-end products. Apple lost its second place in the Chinese smartphone market simply because it lacked a competitive  phablet device.
It was observed that among devices with a retail price of US$500 or more, 47% of them were devices with a screen size of 5 inches or more. Of the remaining 53% of high-end smartphones, 87% were iPhones. To fight the completion, Apple is rumored to be launching a large screen iPhone 6 this year. Already, the company is missing out on a humongous market, where 1 billion phablet users are expected by the year 2018.
These findings are a clear insight into two very different strategies. Chinese OEMs are more interested in increasing their market share of devices by selling to audiences globally, irrespective of profit margins on sales of their devices. On the other end, Apple is trying to keep up the high profit margins on iPhone, by simply increasing the screen size. This move is aimed to target the phablet market and is another vast area of growth. Both tactics will be interesting to see in the coming years.