Adopting social media marketing strategy in your business is one of the best tactics to improve your business. Also, marketing professionals world-wide focus on social marketing this year. In addition, 80% of them said they planned to use social media data in their broader marketing efforts and they also think social marketing can drive business campaigns effectively.
Majority of e-Marketers are focusing on Customer Acquisition via social media marketing in 2013 says latest e-Marketing report. The report is based upon the complete study of e-Marketing (Email, SMS and Social Media) in India.
The report is from Octane Research, "Spark the Surge: India e-Marketing Outlook 2013", which says that marketers in India are more focused on engaging customers through content and techniques. When the respondents were asked about their digital spending this year – social media marketing gained top positions in their list of choice.
The survey was crunched by getting great thoughts, insights and inputs from over 500 top marketers in India representing leading companies across industry verticals.
Considering the trends from 2011-2012, the reports sees that social media marketing continues have great importance among marketers in India for 2013 too. 62% of the respondents in the survey feel that the use of social media increases their brand's social reputation and also awareness among the people.
As engagement is the best key to drive awareness and keeping current customers intact to the brand,  over 52% of Indian marketers aimed at customer acquisition this year.
Also, Email marketing continues to be the leading e-Marketing activity for Indian marketers with 27.35% respondents polling it. It is closely followed by social media and Website development at 23.77 and 21.08% respectively.
Its worth noting the edge, however tiny, that social media marketing has gained over search engine marketing. Effectively, this gives ideas about social media marketing activities becoming as important as search engine optimization (SEO). On the other side, multimedia options such as videos and webcasts are yet to get momentum with Indian marketers.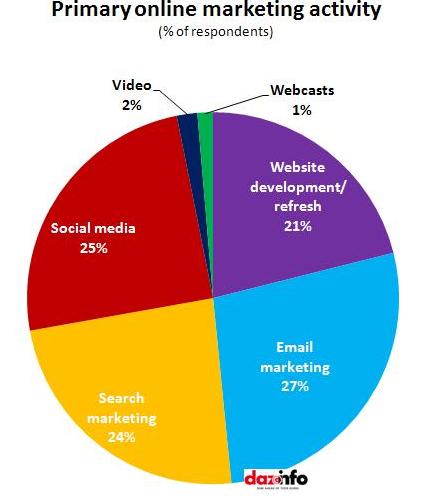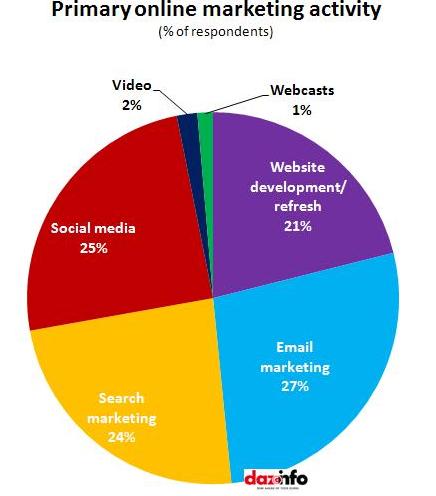 Also, about 25% are planning to use "Follow us" link in their Email messages. While, another chunk of 25% are planning to place links to each Email message on their social media pages. And, about 20% of marketers are including share options in their Email messages. Additionally, 22% of them are gaining help from sign-up forms on Facebook pages.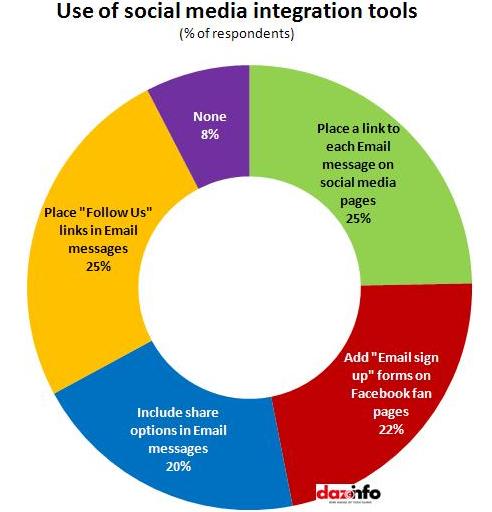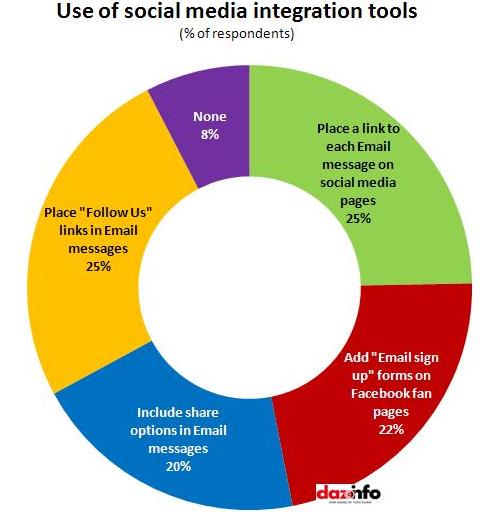 In another study, more than 75% of marketers considered Email and social media as most effectual customer engagement tools and they are primarily used to drive engagement.
Even though social media is gaining momentum, email marketing continues to be effective marketing channel, as 99% of the respondents said email marketing was effective in 2012. Also, 38% of the marketers would increase their investments on Email platform this year.
This year, 93% of the respondents in the survey stated that they have already or planning to now, integrate social media tools in their Email campaigns.
41% of the respondents do believe that use of social media extends the reach of Email content to new markets. While, 33% of them think that it increases ROI of Email programs and 29% of the respondents believe that use of social media generates more qualified leads.