In the arena of digital marketing where consumer ideas are so very fragmented, the idea of using content to drag their interest and engagement is high among these marketers. A few days back we reported on how digital marketing kills traditional marketing, today we have come up with some mixed reports about digital marketing and new trends in this sector.
Adoption of content marketing strategies is increasing and every marketer expects these contents to convey their message in the best way possible and generate a good amount of ROI in return.
A study conducted by CopyPress in January 2013 on marketing decision-makers worldwide reports that the most cost-effective content types are articles, video and white papers.
What type of content gets the best ROI?
62.2% of marketers were overwhelmingly satisfied by the ROI from featured articles, followed by the video which was cited by 51.9% of marketers. But some of the marketers face challenges working with it. In addition, 49.8% of the marketers described the video as "difficult to create" and despite the fact that many marketers are having success with video content. Nearly, half of the marketers believed that video was "over-priced".
When asked marketers like which other types of content they felt difficult to produce? Interactive media, infographic and motion graphics they answered.
But they felt Publishing articles and white papers (45.60%) were fewer complexes and less labour-intensive content solution.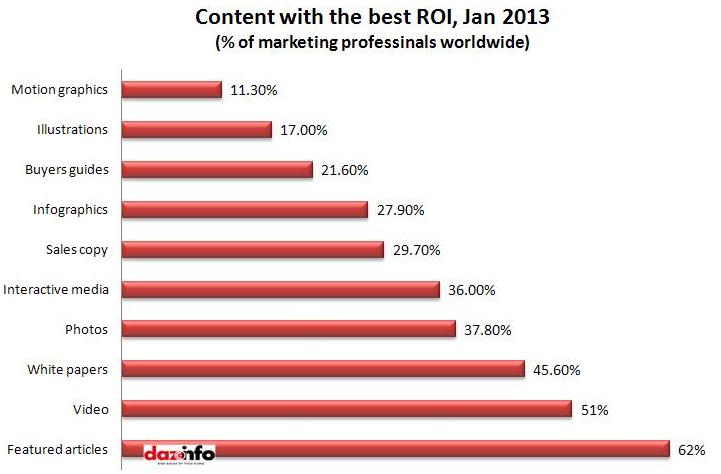 One question many marketers are asking is, should marketing content articles come from specific individuals, or should the focus be on the brand as a whole? (Authorship generally refers to whether articles are bylined, and whether those bylines are from high-profile individuals)
Many marketers were mostly confused about the role an authorship should play in marketing content they created and also they had questions regarding the how to market the content (with the specific individual or as a brand itself). The study found an answer to this, nearly 66% of respondents considered authorship to play an important role in their content marketing strategy but 33% of them disagreed with this scenario.
Which type of marketing is in the "leading focus" this year?
Interestingly, when marketers asked to name their "leading focus" in 2012, 18.9% of marketers opted for content marketing, the percentage is nearly increased to two-folds (34.8%) now (2013). In 2012, email (25.60%) and social media (24.30%) were the leading marketing focus among marketers which when compared to the current situation email marketing has seen a downfall to more than 50% while social media still has the same preference.
In 2013, marketer's top priority is content marketing (34.80%) followed by social media (24.70%). Interestingly, there is a 6% increase in the mobile sector. It's also true that many marketers are more interested in social media mobile marketing this year.
Mobile marketing is a new development in Small businesses as they are investing more of their budgets on websites and other web related features. SMBs (Small Mid-Sized Businesses) spent, on average, $1,190 in the media and marketing areas last year, up from $876 in the fourth quarter of 2011.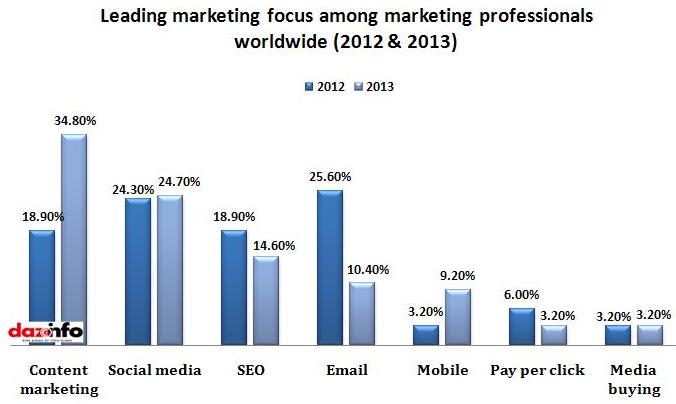 The most exciting and leading digital marketing priorities this year
Another report from Econsultancy and Adobe (Quarterly Intelligence Briefing: Digital Trends for 2013,") correlates with the above study.
The study surveyed client-side marketers worldwide found that content marketing was in the prime focus in the list of importance in terms of emerging digital trends. Content marketing was gained the top priority in the digital marketing this year by 39% of respondents, compared with 29% in 2012.
Companies have had seen a great potential in social media and its potential in engagement and generating leads. The other area to see a significant leap was social media engagement by 31% of respondents, compared with 25% in 2012 in terms of priority.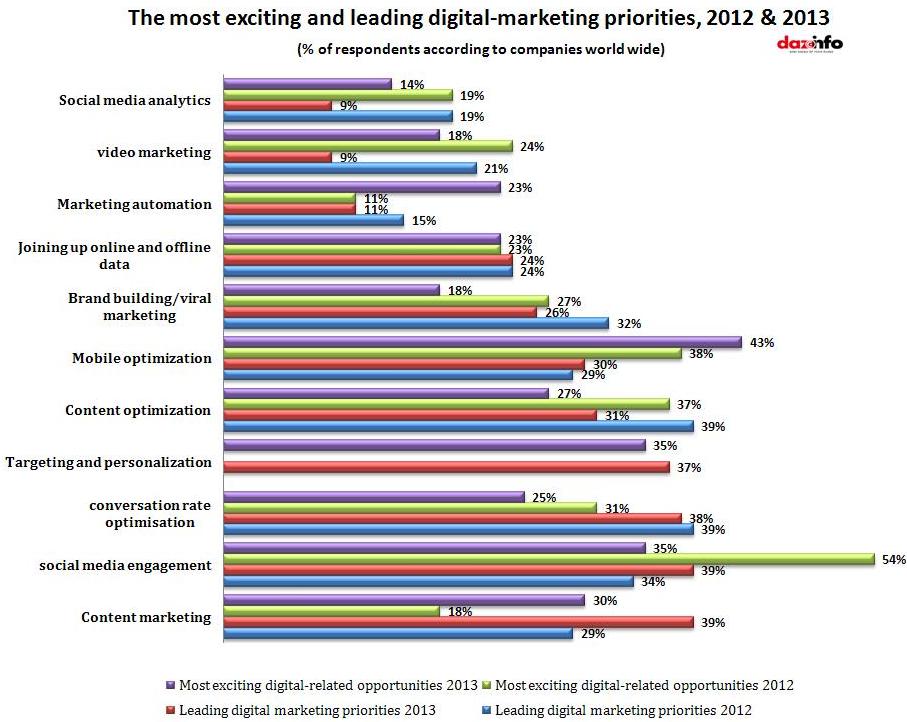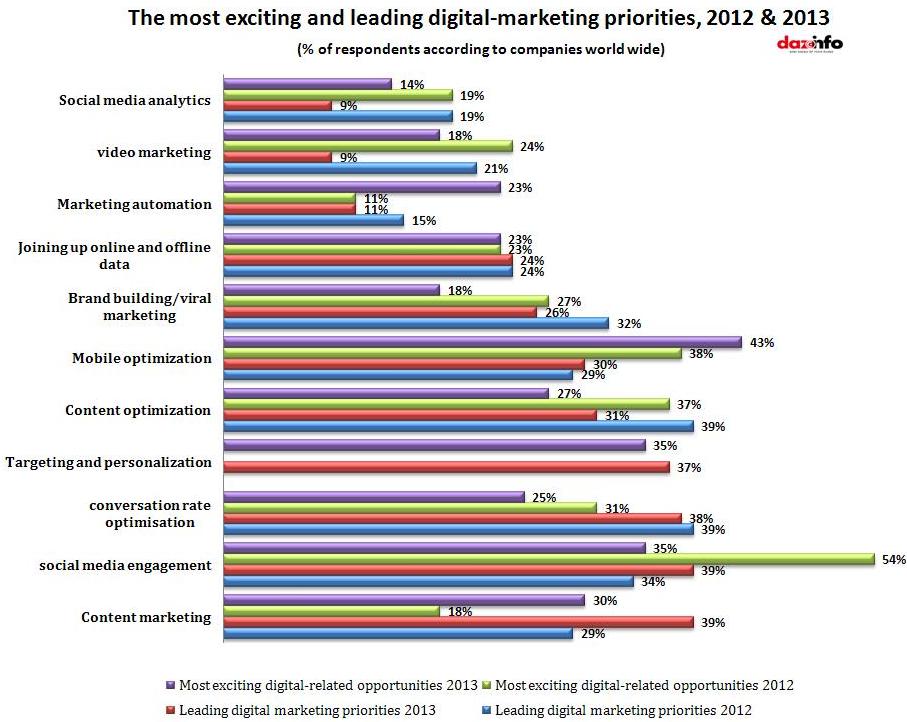 At the same time, marketers saw less importance in social media analytics, and just 9% of them named it as important this year, compared with 19% a year ago.
The report found that 35% of respondents thought social media presented one of the most exciting digital opportunities in 2013, a significant drop from the 54% who said the same in 2012. But excitement levels for social media were still high and trailed only one other category: mobile optimization, which was named by 43% of respondents.