Majority of e-Marketers are focusing on Customer Acquisition via Social Media in 2013, according to a latest e-Marketing research report based upon the complete study of the e-Marketing (Email, SMS and Social Media) in India.
The survey was crunched getting great thoughts, insights and inputs from over 500 top marketers in India representing leading companies across industry verticals.
Marketers in India are more focused on engaging customers through content and techniques. According to an Octane Research report, "Spark the Surge: India e-Marketing Outlook 2013," when the respondents were asked about their digital spending this year – social media and email gained top positions in their list of choice.
More than 75% of marketers considered Email and social media as most effectual customer engagement tools and they are primarily used to drive engagement.
Nearly two thirds (65%) of the respondents were expected to rise their investment in social channels. Even though social media is gaining momentum, email marketing continues to be effective marketing channel, as 99% of the respondents said email marketing was effective in 2012.
75% of the marketers believe that this year at least 50% of them will view the email marketing messages on their mobile, but sadly only 40% of the marketers are ready for the mobile marketing strategy. While, 70% marketers expected that over 25% of their email campaigns would be viewed on a mobile browser this year.
Astoundingly, consumers who receive brand updates/offers on email (42%) were more probable to purchase than those who receive in SMS (33%).
Almost 60% (three out of five) planned to increase their investments in email. Also, making email an element of effective reaching and drawing consumers was the prime area of focus this year, respondents said. In addition 50% of them faced challenges in increasing click-through rates and conversions in email marketing technique.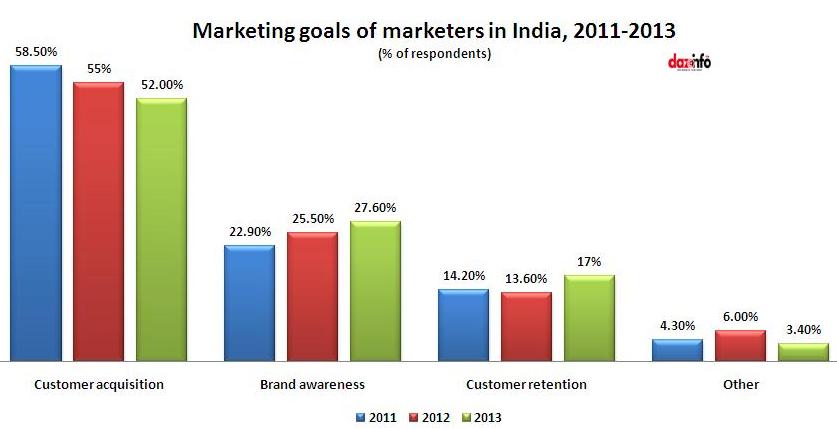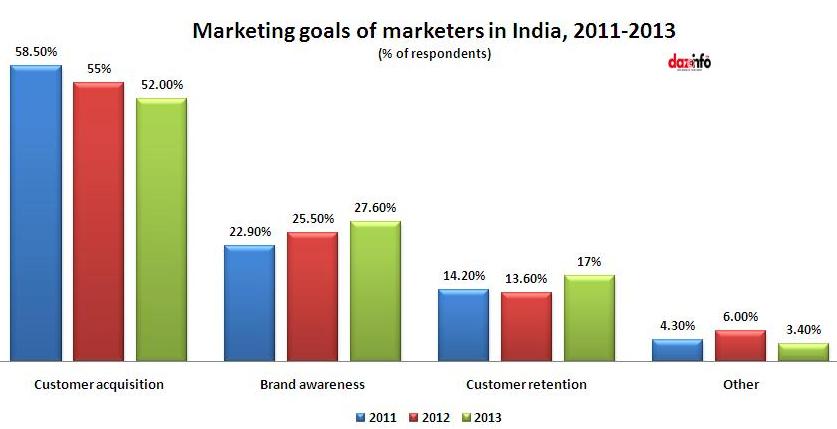 Indeed, over half of the marketers were interested to invest in search. Besides, marketers intended to spend more into mobile as they include several other tactics such as mobile-optimized websites and SMS alerts.
Certainly, over 50% of Indian marketers aimed at customer acquisition this year, down from 58.5% in 2011. Engagement is the best key to drive awareness and keeping current customers intact to the brand.