As Nokia [ADR] [NOK] has launched the new smartphones of Lumia series – majority of which running on Windows Phone 8 OS – the troubled handset maker is betting big time over its aggressive advertisement approach. In spite of all such efforts, sales results are failing to reach market expectations and the Finnish handset maker is finding itself in rough-surface to regain its lost glory.
It's been more than 2 years for Nokia's much-hyped marriage with Microsoft (MSFT). At the time industry analysts were divided over move as many believed that could overshadow Nokia's left over changes to bounce-back. Later, with the decision to 'kill' Symbian Nokia got itself cordoned off by Microsoft and left on the mercy of the success of Windows Phone 8 OS.
Nokia's Aggravated Marketing Proving Fatal
In November last year, Nokia introduced Lumia series powered by Windows Phone 8. Every smartphone from the series holds different hardware configuration, though, the OS remains same. Unfortunately, Nokia hasn't got much say from OS prospective, resulting in acting more or less like a hardware maker of a phone unlike Samsung-Android which goes hand-on-hand in terms of customization flexibility for each smartphone.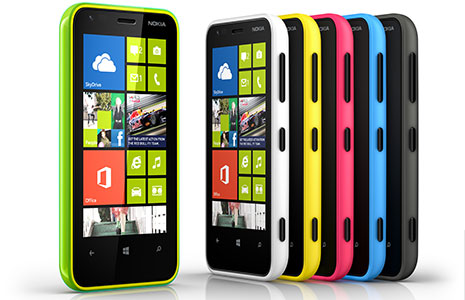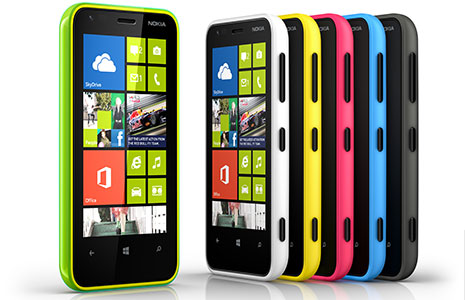 However, with Nokia it's just flavored version availability of Windows Phone 8. The company could rely largely on 'controlled features' that are pegged to hardware; Camera and Music such great example of this.
On the other hand, Windows App Store is still struggling to entice many popular apps, like Instagram, in spite of adding 750,000 apps in 2012.
Besides all, Nokia doesn't enjoy the great level of flexibility to make Windows Phone 8 OS much more personalized in spite of the fact that Stephen Elop is convinced with 'long-lasting' relationship with Microsoft. Unlike Google's Android openness to Samsung and other smartphone makers, Microsoft is still maintaining conservative approach, resulting in tough market situation to crack for Nokia.
Consequently, Nokia has got Camera as the one of most innovative features – or probably the only – in its Smartphones range while Windows Phone 8 OS is still lagging to compete with Android and iOS holding close to a million of apps in their kitty.
Nokia Market Share On Constant Decline
As Per 2011 and 2012 Market share Nokia lags way behind than smartphone giant Samsung and Apple. Samsung emerged as the leader with 39.6 percent share, followed by Apple (25.1 percent), Nokia and HTC with 6.4 & 6 percent shares respectively in 2012.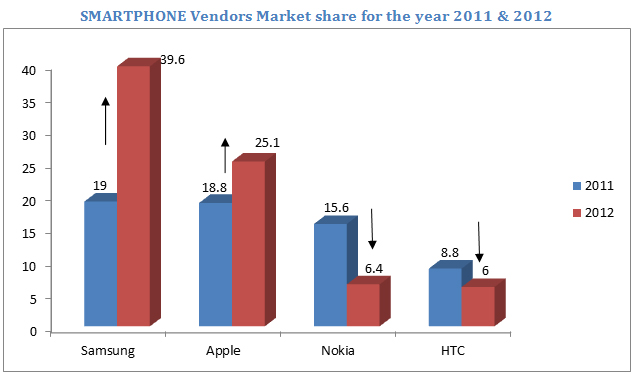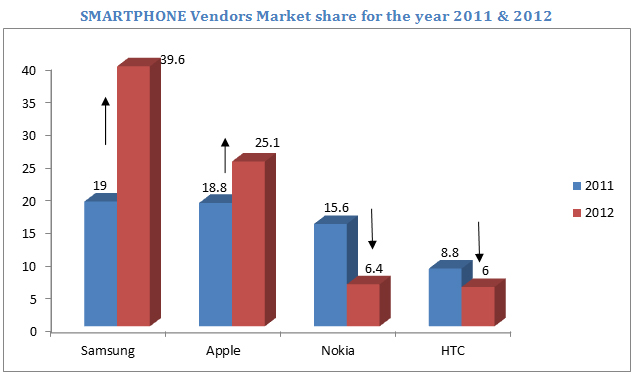 Dumping Symbian Was a Cruel Mistake ?
Most of the analysts feel that Nokia could recover from the current devastating situation by riding over Windows Phone 8 OS but regaining the lost glory would still be far from achievement. Microsoft could possibly launch its own Smartphones in the market in future and Nokia could end up competing with its own siblings.
Considering such scenario, Nokia's decision to kill Symbian would prove fatal for the company. If you pay attention on the current market progression, most of the mobile device makers are either working on its OS or looking for exclusive tie-up with some OS. Yes, they all are trying to replicate the model for which Apple is already known for. And, Google is much closer to achieve the 'goal' than any other mobile maker with Google Phone X scheduled to be launch in late June this year. Samsung is also working on Tizen OS in collaboration with Intel and HTC is eyeing on Ubuntu mobile OS scheduled for 2014.
All-and-all, its upto Nokia how soon it realizes and understands the pulse of users that are becoming more demanding and educated with their best 'companions' these days. While the need of more powerful smartphone hardware is saturating, it will all boil down to Smartphone apps and OS in future.