Marketers globally are continuing to spend more in terms of making surge of data produced by digital interactions with customers.
According to a study by Infogroup Targeting Solutions and Yesmail Interactive, 68% of the respondents said they will increase data-related marketing spending in 2013 while, only 3% planned to decrease spending.
Companies are also starting to realize the need for more timely use of customer data to drive more personalized marketing campaigns. More than 50% of the respondents said they have already started implementing real-time data and plan to make greater use of it in 2013. Another 30% said they plan to incorporate it for the first time/consider using it.
When marketers around the globe were asked about their plans of using social media data to drive marketing campaigns in other channels this year (2013); 36% of marketers planned to start include social media data into campaigns this year, 42% planned to incorporate social media data more deeply and 22% of them said they had no plans to use any kind of social media data in 2013.
The study also provides some additional highlights:
Nearly 80% of marketers plan to make greater use of customers' social media data to drive marketing campaigns in other channels in 2013.
83% of marketers use insights from customer data to drive marketing campaigns on their website while 72% use email and 59% use social media.
Less than 50% of the markets responded that they use customer data to drive marketing campaigns through the offline channels such as direct mail, print and telemarketing with 47%, 32% and 30% respectively .
Additionally, nearly 50% of the respondents said their website is the best source of gathering customer data, 19% polled for email followed by social media with 12%.
Astoundingly, more than 25% of marketers admit they don't know when they last performed quality control on their customer data.
 In addition, 80% of them said they planned to use social media data in their broader marketing efforts this year.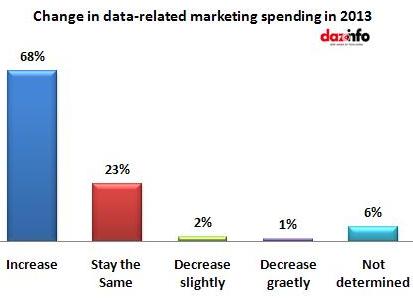 Also as of October 2012, when asked marketers about best sources of consumers data 49% of the respondents polled that website analytics was the best source of consumer data whereas, 19% opted for data from email campaigns and 12% of them responded that data which they got from social media interaction was best. Other data sources were SMS/phone analytics, direct mail interaction and display analytics.
Another survey conducted by Pitney Bowes in November 2012, recorded that few interesting findings when asked for what kinds of data marketers viewed as presenting the largest source of opportunity for their companies. Most of the marketers (20%) commonly saw "immediate opportunity" (defined as useful within the next 12 months) for customer profile data, web data and location data and also more number of marketers found short-term opportunities for each of these. Also, it seems that marketers are still struggling to make opt mobile as only 10% of them saw an immediate opportunity of mobile data and just 16% saw long-term opportunity. Interestingly, about 25% of the respondents foresaw social media data to be a long-term opportunity in coming years. In addition, 19% of them saw opportunity in another 12 months itself.