Microsoft's Windows Phone 7 is, apparently, gaining traction among mobile users as the monthly ad impressions from Windows base mobile handsets have increased by 92% month-on-month. However, the overall mobile ad impression market share of Windows OS is mere 1%. Interestingly, Google Android has secured top position with 53%, beating its closest competitor Apple iOS which has managed to secure 27% of mobile ad impression market.
A latest mobilemix report from millennial media, a leading independent mobile advertising and data company, claims that has managed to narrow the gap with Apple's iOS in mobile ad revenue market. Google Android has improved its revenue market share from 36% in April to 43% in May. While the Apple iOS which has secured its lead position with 45%, lost 2% of its market share compare to 47% in April.
Despite of iPhone 4 debut in many new countries like India, Apple has laid down to 27% of ad impression market losing 4% market share. However, Apple still remains top manufacturer (all devices) beating Samsung and RIM by ad impressions. Around 30% of ads impressions got generated through Apple's devices including iPhone, iPad and iPod. Samsung and RIM stand at number two and thee position with 13.59% and 13.30% of ad impression market through all devices.
For Mobile advertisers, iPhone users must be the most popular ones as 16.53% of ad impressions have been generated through Apple's iPhone. RIM's BlackBerry Curve and Motorola Droid users are the rest who gave the maximum contribution to mobile advertisers.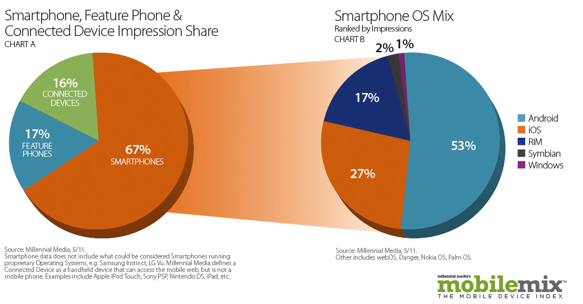 The overall mobile ad market is primarily driven by smartphones. While 67% of overall mobile ad market has been driven by Smartphones, a significant contribution has been done by connected devices. 17% of mobile ad market has been riven by connected devices, like iPad, iPod, Nintendo, Sony PSP etc., which can access web but can't be counted under mobile phones.
Amazingly, report has revealed that people are more comfortable and fascinated towards mobile ads through Touch devices. 60% ads have been generated through Touch screen devices, followed by Touch & QWERTY devices which have got 16% of mobile market share.