Organizations and people across the globe are showing more confidence in advertising as global advertising spend in first half 2012 is increased by 2.7% compare to same duration in 2011. And the growth is primarily driven by Internet Ad spend that recorded highest 7.2% growth in 2012 (first half).
A latest report from Nielsen has exposed the Global Ad spending trend of H1 2012. Though, the report doesn't exposes many related combination trends – like geographic details of Ad trend based upon type – it significantly portrays how advertisers and marketers are acting with their marketing plans and budget.
Global Internet Ad Spend Trend 2012
As a post reaction of explosive growth in e-business space, Advertisers and marketers are showing significant confidence in online advertisement. Consequently, internet Ad industry is the fastest growing among all type of Ad industry, followed by Radio, Cinema and Outdoor Ad industries growing with 6.6%, 5.9% and 4.7% y-o-y growth rate respectively.
Interestingly, despite of such enormous performance Internet Ad Spend has got quite negligible contribution with just 2.6% in overall Global ad Spending market that is reportedly stood worth $266 Billion in H1 2012. Advertisers still bet over TV – contributes 61.4% – as their safest and most effective bet when it comes to advertisement.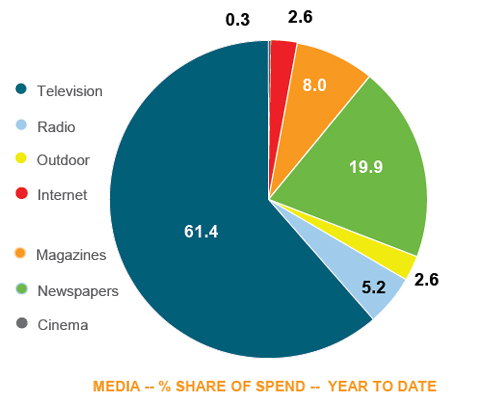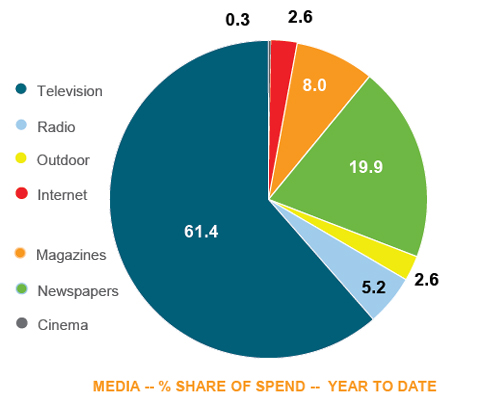 One must pay attention to the fact that the report is meant to understand the trend of Global ad spending across various verticals and ad type – NOT the overall Global Ad Industry Expenditure.  
Global Ad Spend: What's Under The Hood
The report clearly indicates that despite of holding the tag of 'fastest growing Ad type' Internet Advertising industry is still far behind than maturity. A very big chunk of advertisers and marketers still don't hold confidence in Online Ads.
This could be due to the fact that top sectors – ranked upon percentage of spend – are mostly unmeasured e-markets and their online business penetration is either negligible or very low. Sectors like Healthcare, Cosmetics, Automotive and Food industries are main drivers in Global Ad Spend. On the other hand, the online business model either doesn't satisfy needs or is at quite pre-mature stage of the same industries. Think about it – how many people will hit internet in case of any health related treatment or medical consultation with doctors, how many people/industries order heavy machines or parts online, how many of you log-in to website to order food ? Undoubtedly, there is no measurable online market for such industries – at least for now.
Global Ad Spend Trend 2012: Regional Analysis
A long invested efforts are finally paying off Middle East countries as MEA (Middle East & Africa) region has emerged as the biggest Ad spending region among all covered continents. Though, the conservative life-style is not responding to Cinema and Entertainment but being as biggest 'Trading hub' in the world, ME is attracting more and more brands – so the advertisers.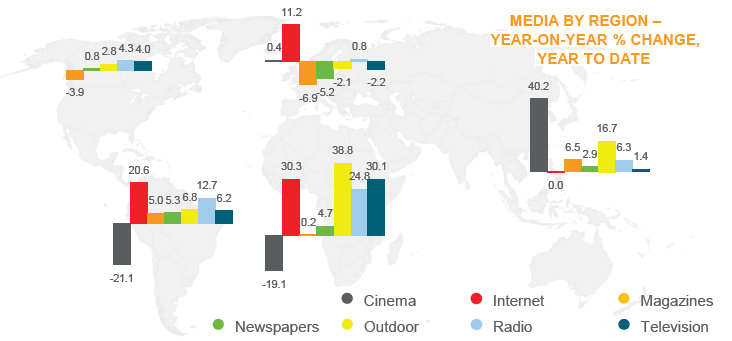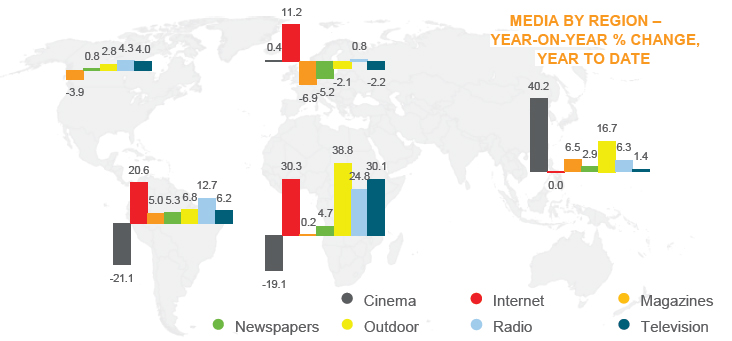 The economy reformation in Africa is just another important factor behind strengthen Ad spending capabilities. Unfortunately, the Europe and U.S. are still going through tough time and advertisers are, apparently, not ready to open up to market aggressively.