Apple is just a day away to host an event for its one of the most awaited products iPad Mini. But, rumors are revealing around that the company could launch some more products including 13-inch MacBook Pro with Retina display and refreshed Mac Mini  along with iPad Mini tomorrow.
Tomorrow, Apple might launch a refreshed version of the iPad Mini's big bro with a lighting port. It's just a rumor; Speculations are still in vague whether the company will leave working on the 30-pin connectors or not. Apparently, Apple's proprietary 30-pin connector is languishing users to use the device.
Leaked images are depicting that the company is also working on unannounced version of 13-inch MacBook Pro with Retina Display. The smaller version of Apple's notebook  will have the same dual Thunderbolt I/O connectors, an SD card slot and HDMI port that are on the bigger model of the device.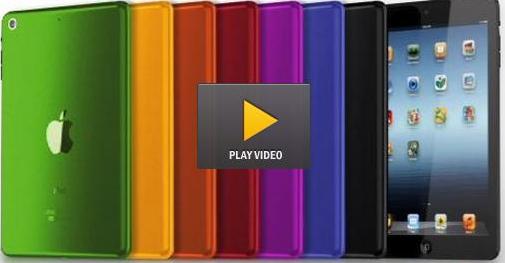 It's also claimed that the price of Apple's new version notebook will start from US$1,699—a US$500 more than the entry-level non-Retina MacBook Pro.  Apple has not officially announced any smaller version of the Retina-equipped Pro so far, but the smaller version is expected to debut in tomorrow's event.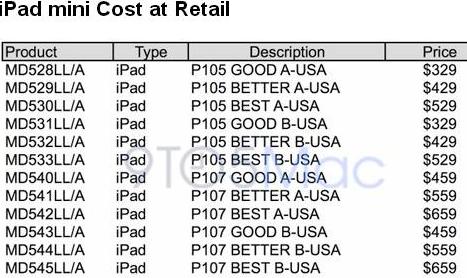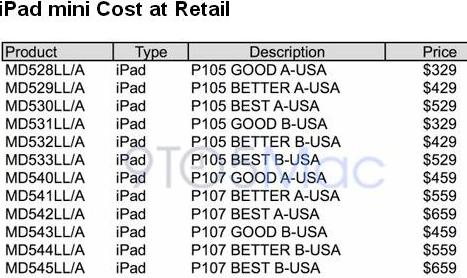 We have still no any authentic information about the color and price of iPad Mini. It's also speculated that Apple could launch iPad Mini in a rainbow of colors (shown above); It means users will have more color options to opt the device.
But, how much the device will cost ? Previously, we showed off that build-of-materials (BOM) cost  $181.17 and if the company will sell iPad Mini at the gross margin of 37%, then it will cost hardly $299. But as per the above image (revealed by 9To5Mac), the starting price of the device would be $329–quite higher than the expected price.
Previously, it was expected that the device would be available at the starting price of just $299 and that's why, a significant number of users were waiting for the device just due to such price tag. If Apple will launch  the device at $329, then definitely it will lose a considerable number of customers.
Image credit: 9To5Mac