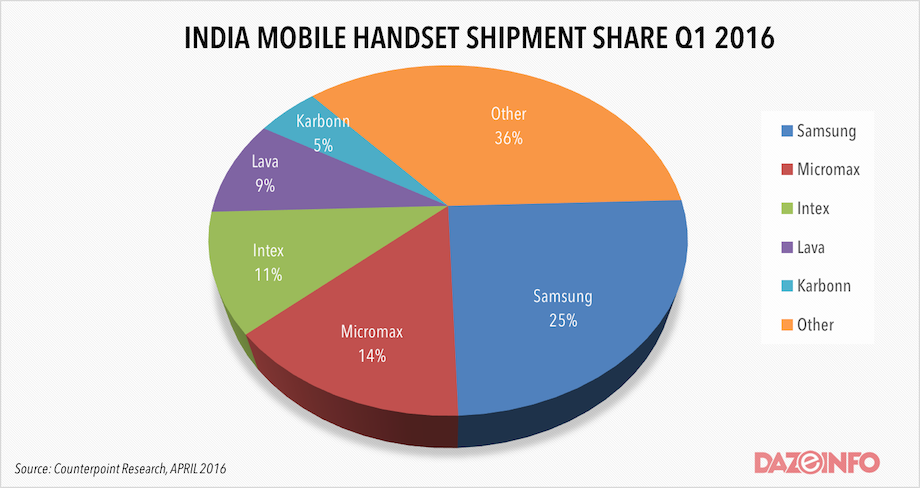 2016 hasn't been a good year for smartphone OEMs around the world. However, for India, who has recently acquired the second spot in the list of the world's largest smartphone market, it seems that the smartphone juggernaut remains impossible to stop. Posting in at a healthy growth rate of 23% YoY, the latest report from Counterpoint, shows that the growth potential in the budget smartphone market in India is not only intact but alive and kicking as well ! India, home to over 1.2 billion people, has smartphones in the hands of less than one-fourth of a billion of its people.
As LTE penetration grows, initial estimates hint towards India being home to a mammoth half a billion smartphone users in the next half a decade. This incredible growth potential has drawn in many international players to revamp their pricing strategy to suit the Indian smartphone market. And as more OEMs rush in to take advantage of the first-time smartphone buyers, we see that the Indian smartphone market is playing host to a variety of new players from across the border. Who will make the most of this mad rush? Stick with us as we find out!
LTE Capable Smartphones Make Up The Majority of New Mobile Purchases
Smartphones have caught the Indian market by storm and in Q1 2016, more than 45% of all mobile phones shipped were smartphones. While that by itself is a staggering number, two out of every three smartphones shipped during this quarter have been LTE Capable devices. Keeping in pace with the demand for faster Internet connectivity, there has been the growing demand for phones with larger screens by the audience to feast their eyes on. Phablets have ruled the charts with 60% of devices being sold in this quarter sporting screens over 5 inches. We take a more in-depth look at smartphones and how they've been shaping up in the Indian scenario in our next segment.
Reliance Jio Makes A Grand Entrance: Becomes Second Largest LTE SmartPhone Supplier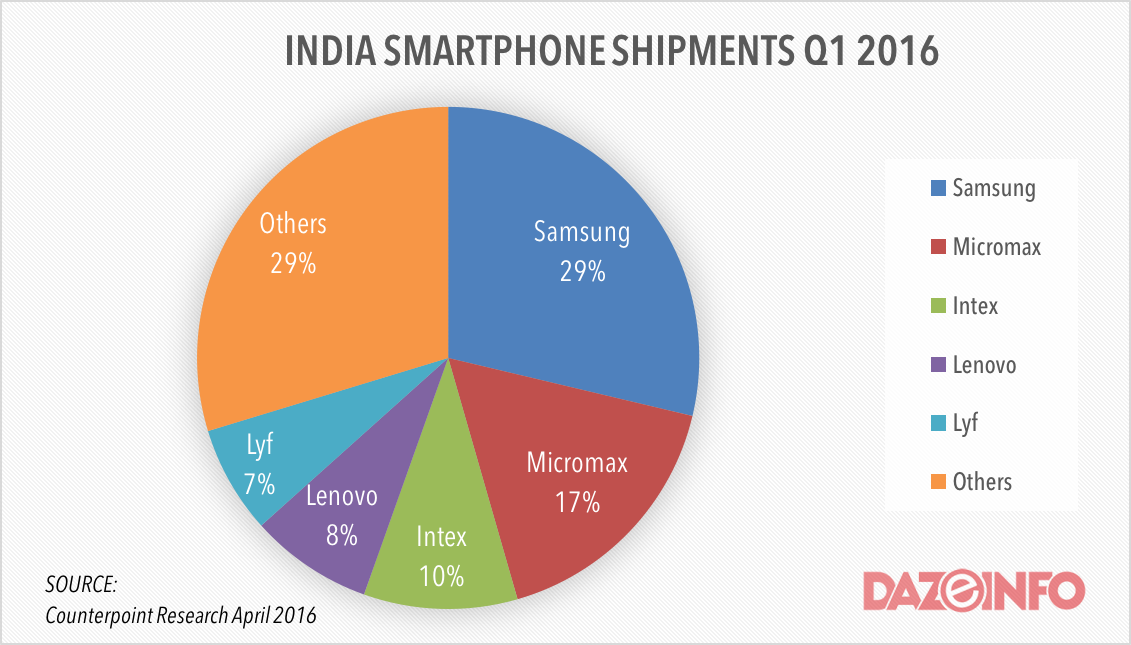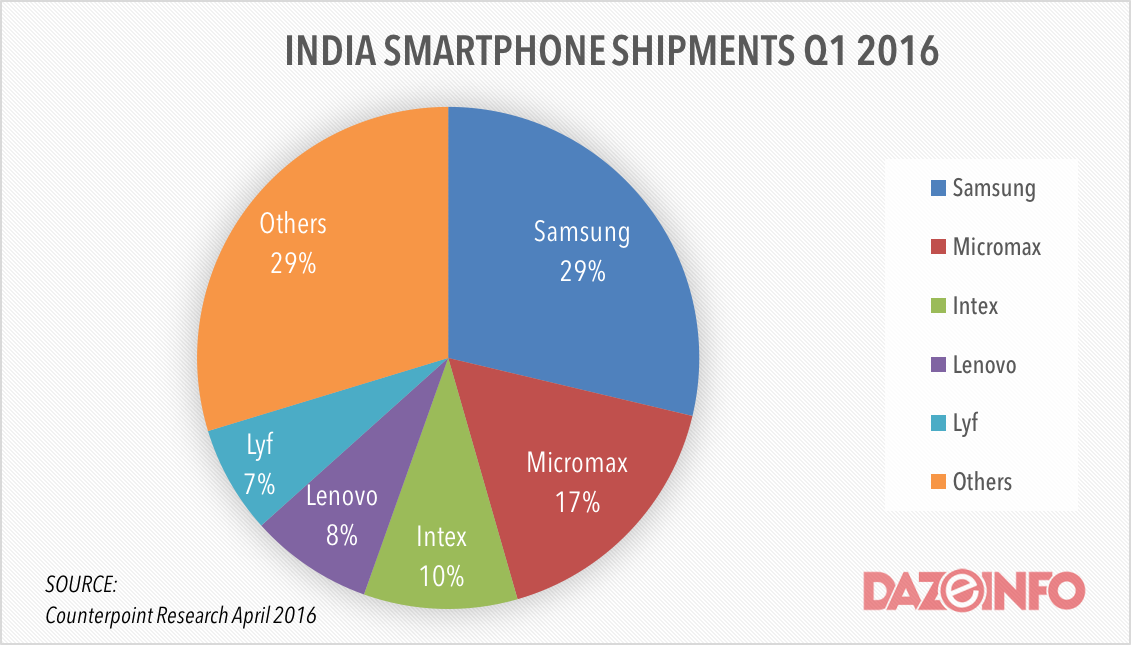 The importance of LTE in smartphones in the Indian marketplace has been yet again reinstated in this quarter's smartphone market share graph. While the top 3 contenders stay unfazed, the scene changes dramatically for the fourth and fifth spot. In fact, Lenovo the 4th Largest LTE smartphone supplier leapfrogs Lava to the fourth spot while newcomer Reliance Jio Lyf has a flying start with 7% of the total market share. How could a new entrant like Reliance Jio make it's way into the top 5 spot? And can Indian players like Micromax and Lava do anything in the face of stiff Chinese competition? We answer just those questions in our next segment!
An In-Depth Look At the Major OEMs in The Indian Market
Let us start with the market leaders Samsung. The fact that every 1 out of 4 phones sold in India is a Samsung device proves how much the Korean giant has been able to imprint itself in the minds of Indians. The numbers rise even higher when it comes to smartphones with 3 out of every 10 smartphones being sold in India bearing the Samsung moniker. With their new generation of LTE-capable devices, Samsung posted a very healthy 27% YoY increase fuelled by the launch of the J series smartphones in low and mid range and the S7 and S7 Edge in the premium handset segment.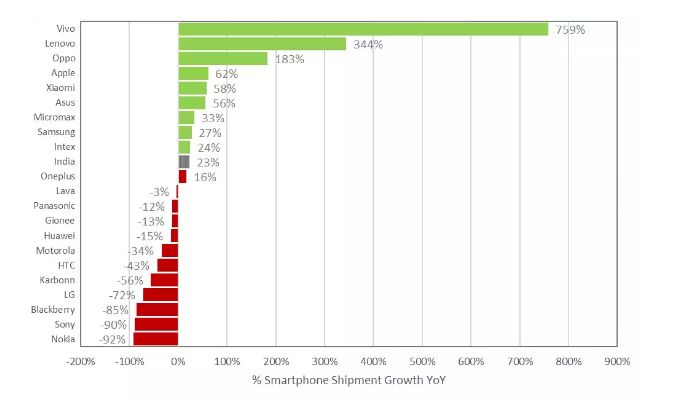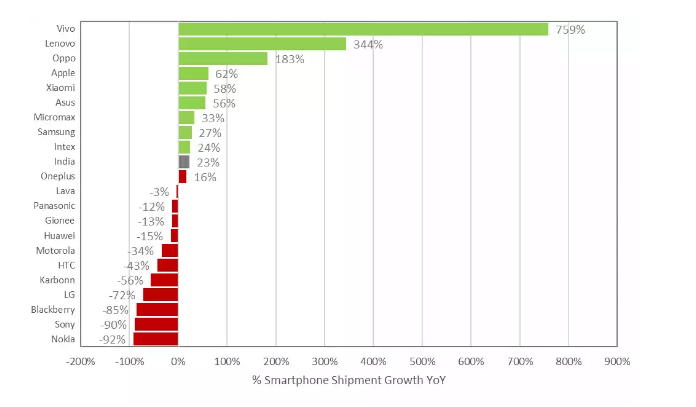 While Samsung remained the market leader in LTE capable devices, coming up at the second spot was Reliance Jiyo, who had since their inception a few months back, been able to capture a fairly significant share of the market in Q1 2016. However, we believe that these numbers merely reflect the number of devices shipped and not sold as Reliance is probably keen to maintain a huge stock of devices for their offline channels before they start advertising Jio across all media platforms.
Coming in at number 2 spot on the smartphone shipment list, Micromax saw decent YoY growth pegged at 33%. With stiff competitions from other brands like Intex and Lava especially at the sub $100 price category, a decline in shipments at the lower spectrum of the price range was inevitable. However, as the third placed brand in the LTE device countdown, Micromax looks ready to take on the online model with their Yu brand which has posted decent sequential growth of 8% in this quarter.
Despite tough competitions from other local brands as well as new Chinese entrants, Intex has been able to maintain its position as the number 3 smartphone vendor in India by volume. Part of the reason behind their success has been the fact that Lava has seen incredible success in the sub-$75 smartphone category. Their expansion efforts into Tier 2 and Tier 3 towns paid off handsomely as Intex shipments grew by a massive 45% YoY in Q1 2016. The growth for smartphones was at a much more conservative 24% annually and as such, shows signs of worry as the majority of their budget lineup doesn't have LTE Modems.
The Chinese brands enjoyed some success in this quarter as well with more than 21% of the smartphone market share. While conspicuously missing from the list of high market share smartphone vendors, the companies Vivo and Oppo had an excellent showing in India, posting 759% and 183% YoY growth.  As for Lenovo, in the face of stiff competition from the likes of Redmi Note 3 and Le Eco Le 1s, the OEMs market shares have taken a hit in the $150 price point.
Final Thoughts And Key Takeaways
While the report on smartphone market share in India provides an interesting point of view into the Indian smartphone scenario, the main battle for the budget smartphones in India is being fought online. In fact, as a recent report has revealed, in 2015, 1 out of every 3 smartphones sold in India has been through online channels. This is why despite racking up impressive growth in China, Vivo and Oppo can only go so far if they keep to their strategy of going offline.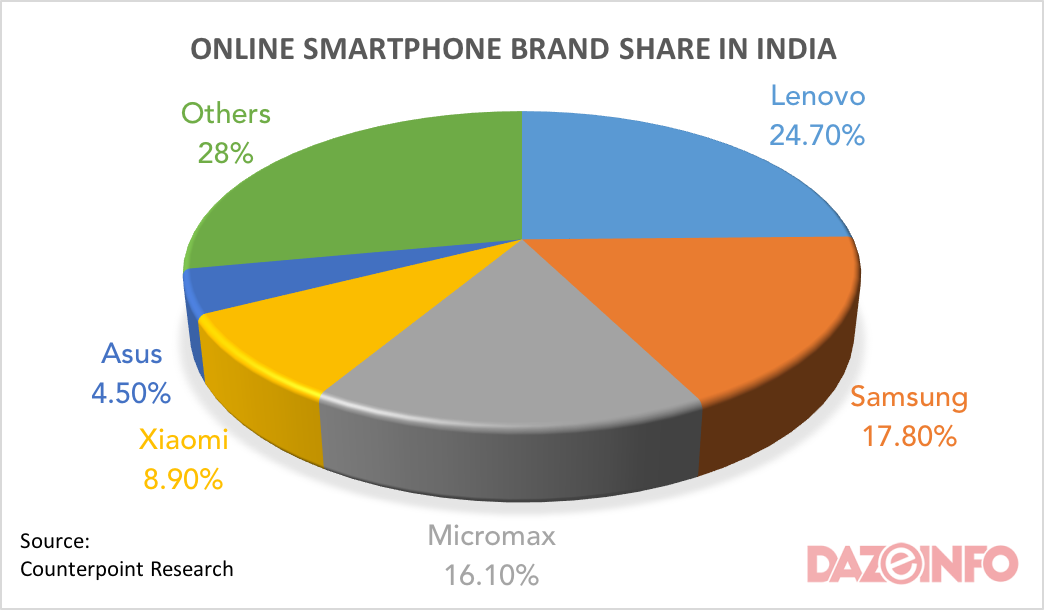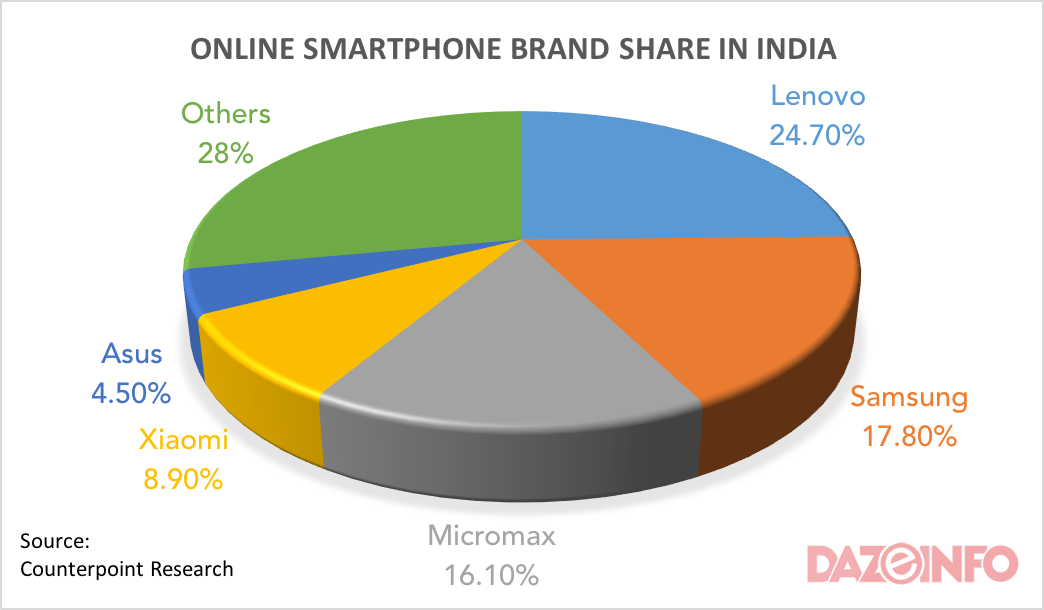 Xiaomi and their Redmi Note 3 has faced stiff competition from the like of new entrants Le Eco and their budget monster the Le Eco Le 1s. This has once again proved the fickle nature of Indian consumers who value price and specifications over brand value. In fact, this would gain first place in the number of factors mentioned below that OEMs should keep in mind while entering the intensely challenging Indian smartphone space.
Performance but at a budget price: The king of budget SoC makers Mediatek, who have recently ousted even Intel from the mobile SoC space, has been the one supplying the silicone powering 1 out of every 3 smartphones sold in India. The fact that brands like Lava and Intex have managed to hold onto their market shares bear testimony to the fact that India has a huge market for under $100 smartphones.
LTE Capability is Key: As the Indin smartphone market has boomed so has the Internet consumption of their users. As India looks to breach the 700 million mark in smartphones in the next half a decade, the country is on track to consume 85% of the entire world's mobile data. With such a huge demand for LTE devices, we find that even Qualcomm has stepped into the fray with budget LTE capable SoCs and controls around 39% of the 4G enabled smartphone pie.
Bigger is Always Better: The public demand has clearly shifted towards bigger devices and that is one of the reasons that the newly launched iPhone SE has been such a flop in Indian conditions. The struggling fruit company has got their Indian strategy all mixed up as bigger is better in India but not if it applies to price. Phablets are clearly on the rise with more than 60% of devices falling in the large screen size category.
The Cupertino company had managed to record stellar growth of 62% YoY based on their sales of older models of iPhones but their recent quarterly dip in growth has elicited the worst possible reaction from them. In fact,  Tim Cook, after singling out India as a growth sector, increased the prices of iPhone 6 and 6 series to boost the sale of recently launched iPhone SE. This, however, will be a colossal failure as India is a budget sensitive smartphone market and should be used as an example of how not to conduct business in the Indian smartphone arena.
Commenting on the current situation, Peter Richardson, Research Director at Counterpoint Research has said," There is a massive opportunity for every player in the mobile value chain when the second largest market by volume is still under penetrated and growing, while the rest of the world smartphone demand has waned. India is the next China."
And that last sentence sums it up beautifully. For smartphones, the one market with immense growth potential is India and to be successful in this new China, one must master the art of balancing the demand for performance against the light wallets of the Indian people!