In the last decade, the global shipment of smartphones have shown incessant growth and while that has been good while it lasted, the smartphone bubble has been finally burst. In a recent report by IDC, smartphone shipment numbers have flattened out in Q1 2016, with shipments rising by a measly 0.6 million units on a YoY basis, from 334.3 million units in Q1 2015 to 334.9 million units in Q1 2016. The reasons for this plateauing growth of smartphones could be attributed to an economic slowdown in the largest smartphone market, China; there is more to this development than as Tim Cook would put it, "macroeconomic headwinds".
While the slowdown in smartphone shipments has been mostly due to a poor showing by the two market leaders, Apple, and Samsung, yet they're not the most important part of this story. In fact, amidst all the talk of a sluggish smartphone market and a tumultuous economy, two OEMs from China have turned all adversities to their greatest advantage. Vivo and Oppo have used the conditions perfectly and hit the perfect price point in the almost mature Chinese smartphone market. In fact, they've managed to leap frog Lenovo and Xiaomi in the top 5 list of smartphone manufacturers; such has been their level of success! So what led to this major reshuffling in the bottom two ranks of top 5 worldwide smartphone OEMs? We investigate in today's report!
Smartphone Shipments Q1 2016: The Chinese Cookie Has Crumbled
Despite our focus being mainly on the bottom two slots of the graph above, we will have to talk a bit about the top 3 contenders of the table as well. In fact, it had not been for the economic conditions combined with the pricing strategy of Apple, we would probably have never seen Oppo and Vivo burst into the scene as we have witnessed in Q1 of 2016.
Samsung has managed to hold onto their numero uno position despite a 0.6% decline in its smartphone shipments YoY. However, with the new Galaxy S7 and S7 Edge receiving glowing reviews from all across the world, and their new lineup of Alpha and J series doing rather well, Samsung would not be too worried about losing 0.5 million in smartphone shipments YoY.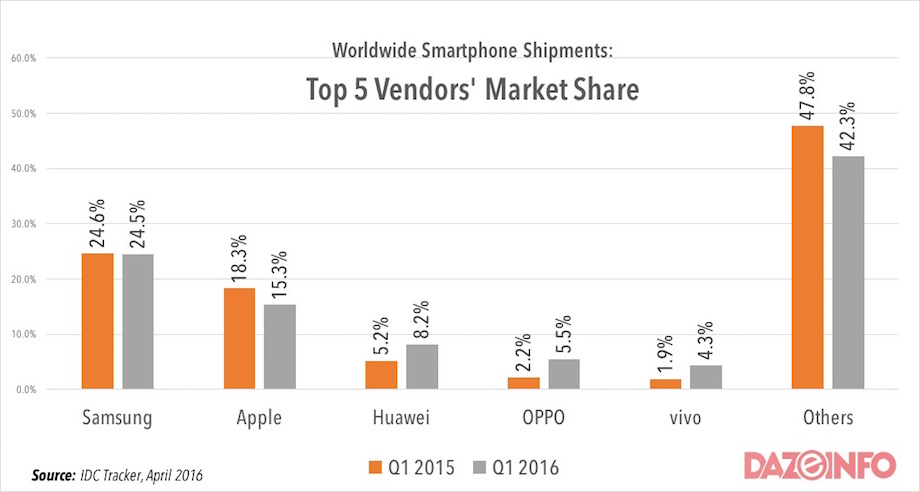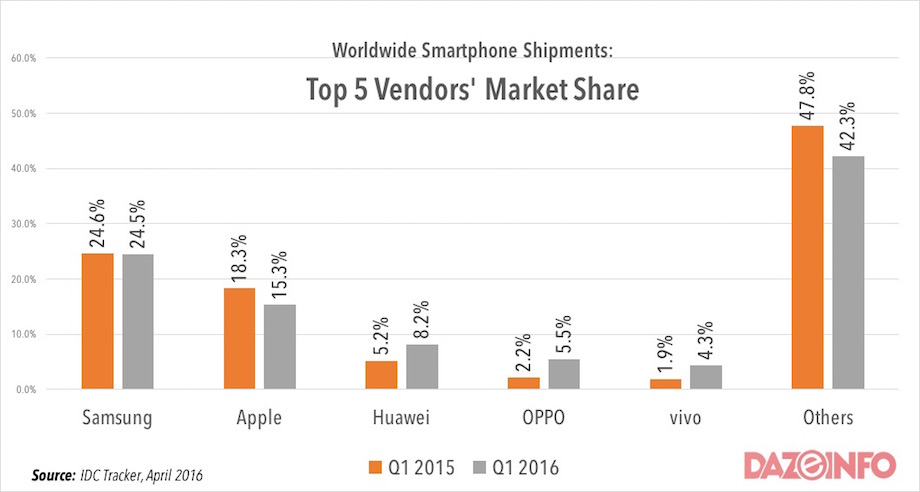 It has been a rough quarter for Apple with their first ever decline in sales of iPhones in the last decade. While we have discussed the reasons for the failure of the Cupertino giant in great detail in our past report, today we will be looking at some of the consequences of Apple's plummet of 16.3% in shipment numbers YoY.
The failure of the iPhone 6s on a price to performance perspective mostly benefitted third placed Huawei, who have in recent months, managed to capture a huge chunk of the device market both inside China and more impressively in other developed markets like the US and the UK as well. While their much-lauded premium Android device, the Nexus 6P has sold incredibly well in foreign soil, the healthy mix of premium features and build quality and an iOS-esque Emotion UI has helped Huawei further their cause on domestic markets. Banking on devices across all price segments like the budget Honor series, the mid-range P9 and the higher end Mate series, Huawei has managed to rack up an impressive growth of 58.4% YoY.
While Huawei has found success with their sub $450 flagship the Mate 9 as well as the Nexus 6P, the two companies that have us all excited for the future of the medium ranged premium smartphone, Vivo and Oppo operate on a different sales model. For both of these companies, their primary business market remains rooted in China even though Oppo has since 2013 been branching out into various countries across South East Asia, starting with Singapore. Interestingly enough, for both these companies, a mere 20% for Oppo and an even smaller 10% of total shipments for Vivo came from outside China! So how have these two companies managed to strike gold in a market where the much players like Samsung and Apple are struggling to hold their own? That is just what we deal with in our final segment!
What Went In Favour of Vivo and Oppo
Before we dive headlong into the why's and how's lets first look at the numbers to get a scale of the growth spur that these two companies have gone through in the past few months. In Q1 2016, Oppo managed to ship 18.5 million units, a hefty increase of 153.2% YoY over 7.3 million units shipped in Q1 2015. The number of smartphone shipments for Vivo, though smaller, are equally impressive with 14.3 million units shipped in Q1 2016, a sizeable increase of 123.8% YoY growth compared to 6.4 million in Q1 of 2015. So what has been the driving factor behind the impressive surge in their smartphone shipment figures? We point out a few of the reasons below.
Adapting to a Mature Market
The slowdown in the Chinese smartphone market is undeniable, but all of it may not be due to the economic meltdown. In fact, as the smartphone permeability escalates, Chinas growth streak will slow down as it acquires the status of a mature market. While Xiaomi and Lenovo had been able to make initial inroads into the budding market by placing smartphones below $150 in the hands of first-time smartphone owners, that strategy may not work out quite so well now.
In 2013, Lenovo captured the low-end market with the sub $150 devices, followed by Xiaomi and their high specs mid-rangers in the under $200 ASP in 2014 and 2015. With new phone buyers mostly now being second time owners, the slightly pricier but more premium offerings of Oppo and Vivo give them a distinct advantage in the sub $250 price range.
Satiating Consumer Demand
While Xioami's flash sales based model has worked brilliantly in the past, especially by fuelling growth and providing free publicity in newly entered markets, this method of doing business has not been found to be either sustainable or effective in the long run. In fact, Lenovo, following in the wake of Xiaomu's huge success in India had started following the same model of flash sales as well which might have led to disgruntled customers.
While it is understandable that Xiaomi a startup may not always be able to keep up with consumer demand for more devices, Lenovo resorted to the flash sales tactic simply as a method of creating hype and cutting down on advertising costs as well as focussing on an online only model to reduce retailer percentages and offline inventory expenses. However, these two companies by focussing on the offline market, mainly the lower tier of cities, have effectively managed to reach an audience that finds it difficult to participate in such flash sales or remain largely ignorant of them.
Providing Unique Experiences
Xiaomi in the past year has been lax on the smartphone front and their previous gen flagship the Mi4 had started to look a little long in the tooth come 2016. And while MIUI has made iterative progress, the iOS inspired UI has started to get stale for a chunk of the audience. And while Vivo may have a slightly higher price point of $300, their X5 Pro with its strong audio-centric focus has helped differentiate it from the others. Oppo has opened up a similar avenue by focussing on camera and optics while their long-standing VOOC fast Charging remains an industry leader in that field.
In comparison, Lenovo has played it safe in Q1 2016 with only their latest release the Vibe X3 showing some real innovation at an affordable price point. That, however, doesn't mean that Oppo and Vivo have managed to stomp on their competition for good.
Melissa Chau, senior research manager with IDC's Worldwide Quarterly Mobile Phone Tracker. "These new vendors would be well-advised not to rest on their laurels though, as this dynamic smartphone landscape has shown to even cult brands like Xiaomi that customer loyalty is difficult to consistently maintain."
With smartphone shipments growth slowing down, the major factor for all these Chinese OEMs will be how they manage to expand their reach outside of their own country, as in International markets, premium quality very soon devolves into a rat race to the bottom. While Huawei has shown that it can sell premium devices even in International markets, the question remains if the same can be said for Vivo and Oppo. And with Xiaomi gearing up to increase their reach on a global scale with their latest flagship Mi5 as well as other phones targeted at the $250 price tag, this startup is not willing to roll over without a fight.
Lenovo too has been preparing their own secret weapon in Motorola, as they look to leverage the brand name in the western markets to sell their new G lineup of devices at the same $250 unlocked price tag.  The first battle may have been won, but the greater war awaits these OEMs across the great Wall of China.