Apple Inc. (NASDAQ:AAPL) has announced the results of its fiscal Q2 2016, ended March 2016, and one word that eclipsed everything: Drop; Drop in revenues, Drop in profit, Drop in iPhone sales, Drop in iPad sales. It was deemed to happen as Apple hit the new low in the past decade. However, the ever smiling Tim Cook took it as a challenging quarter and smirked it off.
"Our team executed extremely well in the face of strong macroeconomics headwinds," said Tim Cook.
Apple reported a net income of $10.5 billion or $1.90 per diluted share and revenue of $50.6 billion for Q2 2016. The numbers look lack lustered when we compare it to fiscal Q2 2015 which recorded $58 billion revenue and $13.6 billion net income or $2.33 per diluted share, a huge drop of 22.8% in net income and 12.8% of revenues.
The numbers seem bleaker if we compare Q2 2016 with its preceding quarter Q1 2016 when the company posted a mammoth revenue of $75.9 billion and net income of $18.4 billion. The percentage drop compared to the last quarter is huge with 33.33% drop in revenue and 42.9% drop in net income.
On the contrary, Apple has also predicted its revenue for Q3 2016 between $41 billion and $43 billion with a gross margin to fall somewhere between 37.5% and 38%.
Tim Cook looked quite exultant with the performance of Apple's service department recording a 20% growth Y-o-Y (between Q2 2015 and Q2 2016) with a quarterly revenue of approximately $6 billion. App Store revenue increased 35% Y-o-Y and Apple Pay is also growing at a steady rate.
"We are very happy with the continued strong growth in revenue from Services, thanks to the incredible strength of the Apple ecosystem and our growing base of over one billion active users." – Tim Cook
The marketers outside the US accounted for 67% of the total Q2 2016 revenue, and gross margin decreased to 39.4% from 40.8% in Q2 2015.
iPhone Sales: Q2 2016
The ever-shrinking demand of Apple's beloved iPhone which garners 75% of the profit for the company is the most upsetting development. Apple sold 51.2 million units of iPhone in Q2 2016 which is 10 million units less, or a 16.3% drop, compared to Q2 2015 which recorded sales of 61.2 iPhone units. The diminishing numbers may be attributed to the lack of innovation in the iPhone 6s series and exuberant pricing.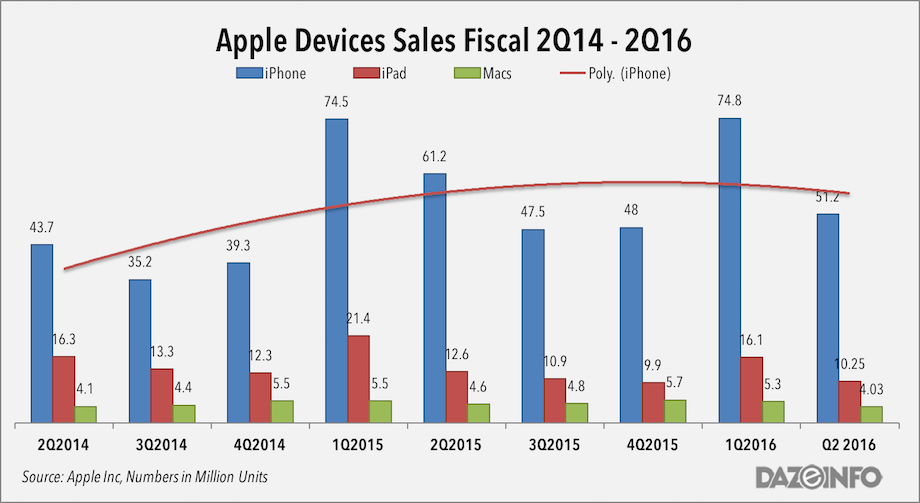 However, the Q2 2016 was not the worst performing quarter for Apple in 13 years. The sales of 51.2 million iPhone units is the 4th largest number of iPhones sold in a quarter by Apple ever. The other two being fiscal Q1 2015 and Q1 2016, which happened to be the holiday season, and fiscal Q2 2015 when iPhone 6 was selling like a hot cake due to the drastic and long-awaited changes, especially the bigger screen, that Apple made over the years.
Tim Cook credits iPhone sales to three pillars namely the Upgraders, the Android switchers and the first-time smartphone users. He said that quite a number of people have switched from Android and other platforms in the first half of fiscal 2016 than any other half.
Cook was also pleased citing 56% leap in Apple India's Y-o-Y iPhone sales and sights this as Apple's new geographic opportunity. With a large number of takers of an older version of iPhones in India and the huge surge in sales over the past year, it may be deciphered Cook's newfound playground is India.
"I view India as where China was maybe 7 to 10 years ago from that point of view" – Cook
Performance of iPads in Q2 2016
The dropping sales of iPhone in Q2 2016 is not the only disappointing factor for Apple. The number of iPads sold during Q2 2016 was equally disappointing as the sales tumbled to 10.25 million units in Q2 2016 as compared to 12.6 million units sold in Q2 2015, a steep drop of 18.7%.
The revenue from iPad also dropped by 18.8%, from $5.4 billion in Q2 2015 to $4.4 billion in Q2 2016.
The main reason of lack of iPad sales in spite of the launch of iPad Pro in September 2015 and 9.7 inches iPod Pro recently in March 2016 can be attributed to the fact that the users are not willing to upgrade their iPads. Besides the encouraging market response to smartphones sporting 5-inch or bigger screen and lowering the price of lightweight ultrabooks are also among of the major factors behind people's losing interest in tablets.
Apple Watches: Not Much Disappointing in Q2 2016
Apple Watch figures are combined with Apple TV and iPods among others in 'Other Products' section. Though Apple didn't disclose the sales figures but the revenue seemed impressive at $2.19 billion, an impressive 29.6% Y-o-Y growth.
Zipping many analysts, the Apple Watch performed brilliantly outpacing its competitors. Though the exact sales figure of Apple Watch for fiscal Q2 2016 is not disclosed, sale figures are estimated to remain between 12 million and 13 million during its first year. Apple Watch holds a big chunk of smartwatch market with 61% share.