Behind every successful man, there is a woman and behind every successful Mobile OS is an app store! With CES 2016 in full swing, the focus of the tech world has been firmly stuck on hardware for the past couple of days. Amid all of that, we decided that the time was right to shine some light on the app ecosystems that run behind the scenes, to enable all that shiny hardware to achieve their optimum performance. While often ignored, apps as a whole have shaped smartphone hardware more than most people would give them credit for. In fact, had it not been for media apps like YouTube and Netflix, we wouldn't have ever seen the rise of the large screen devices that have since firmly placed themselves as top dogs of the smartphone world.
Interestingly enough, according to a recent report by Flurry despite the prevalence of larger screens the only category to record a negative growth in app usage in the past year was mobile gaming. What is, even more, surprising is that this year has been very good for mobile gaming with King, maker of Candy Crush Saga being acquired by Activision for a whopping $9.5 billion. So with mobile games predicted to take over other forms of gaming by 2019, is lower user session counts something that game developers will have to keep in mind? We try to answer this and many more such questions as we look into some very interesting numbers for various app categories in today's article!
App Usage Soars Across Personalisation Media & Productivity Categories
Overall app usage, in general, grew by 58% YoY. For an industry as mature as the app market for Apple and Android are, these growth numbers are phenomenal. This growth shows us that although we have mature markets in some regions, the penetration of smartphones across the world remains fairly low; the higher the penetration of smartphone, app industry growth rate will slow down. The apparent decline of app usage growth rate at 18% points over the last year might worry some, but it is to be expected as smartphones have become more mainstream.
Breaking these numbers down, however, reveals another very surprising fact; 40% of this 58% growth has stemmed from old users, and this bodes well for the industry as a whole as user engagement is vital for sustained growth. In comparison, in 2014, only 20% of the 76% growth came from new users and numbers were, even more, dismal in 2013, where old users contributed only 10% to the 104% growth. Let us now shift our focus to the top categories individually.
Personalization Apps: As phones make the transition from utility devices to extensions of our own selves, there has been a change of attitude towards how the average consumer looks at their device. Apps that provide various levels of personalisation have skyrocketed in popularity gaining as much as 332% in 2015. The major gainers in this category were keyboards especially those with an abundance of emojis as people found a new fun way to communicate with friends and family via these little images. Further reinforcing the popularity of emojis was the fact that Kim Kardashian's app Kmoji managed to top the list on Apple's App Store on launch day!
News and Magazines: As time spent on smartphones peaked, people found themselves consuming all sorts of information from their apps and neglecting other forms of media. A whopping growth of 135% in 2015 signals a change in the medium people use to consume infotainment.
Productivity Apps: As the mobile operating systems have matured they have become increasingly capable of handling complex business and productivity-oriented tasks. Spurred on by a growth rate of 125%, these apps have ostensibly given tablets a new life by marketing them as productivity oriented devices.
Lifestyle and Shopping: Shoppers have been moving away from traditional outlets to app-based shopping for a while now. Following up the massive 174% growth of 2014, e-commerce does excellently this year as well with 81% growth. Shopping apps have accounted for nearly 33% of all US online commerce and nearly 40% on a global basis.
How big a role has the hardware of the smartphone played in all of these? While we did go into a very in-depth analysis of that very question before, it was focused specifically on the shopping and e-commerce sector. In the next segment, we will be taking a more generalised look at how the hardware has spurred the growth of the software.
Phablets: One Size to Rule Them All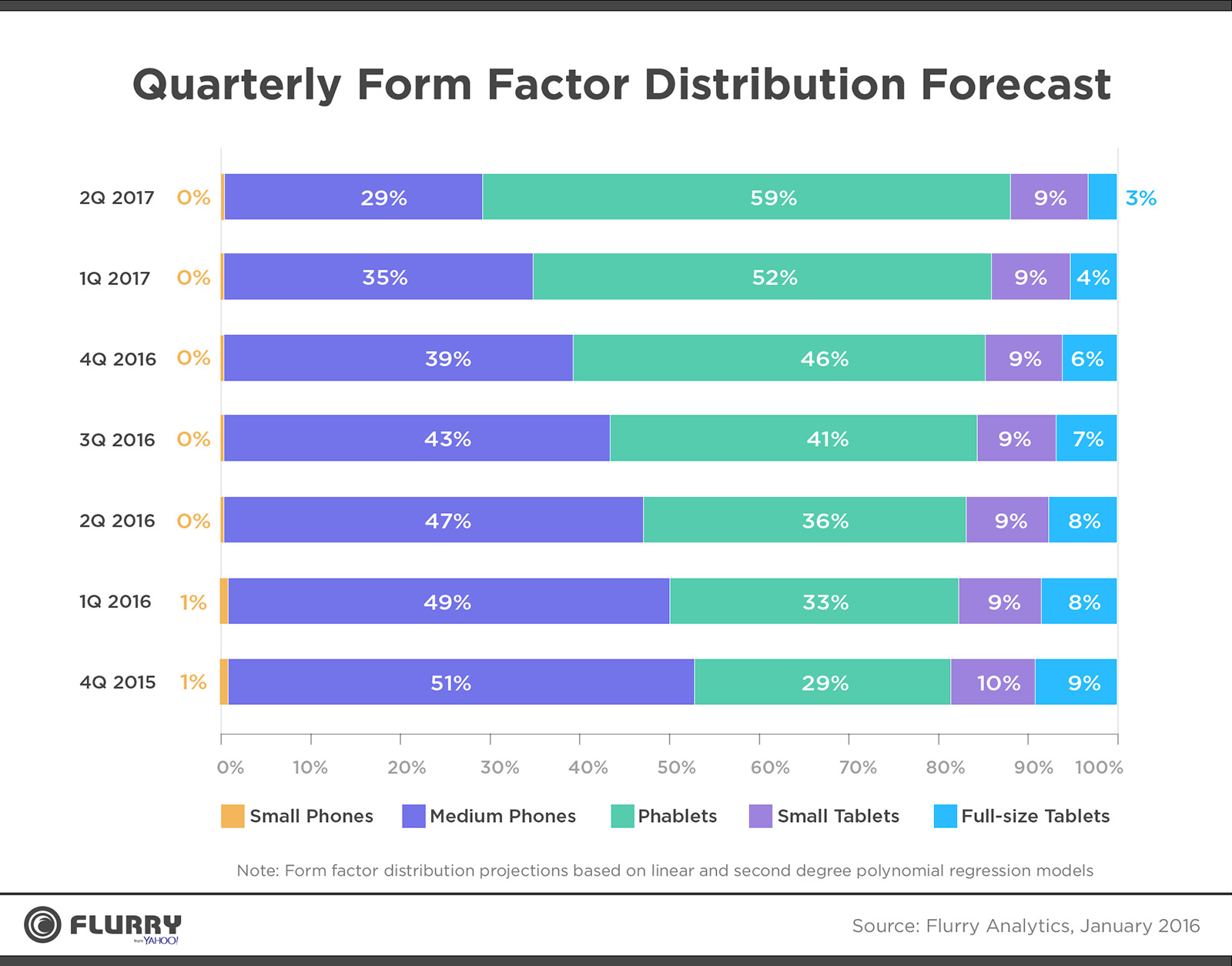 Bigger is better. That certainly seems to be the case as far as screens are concerned in the smartphone world. Not only have phablets outsold all other device classes, but users of phablet devices have also been found to have significantly more device usage time than the average. A quick look at phablet sales numbers reveals that over 50% of device activation during the holiday season was from phablets while 27% of all new devices sold during Christmas were phablets as well!
Extrapolating at the same rate of sale, we can see that by November next year, phablets will have the overwhelming majority among smart devices. This can be counted on as a very positive sign for media apps and in fact, apps in general as phablet users tend to spend way more time on their apps than other categories of smartphone users.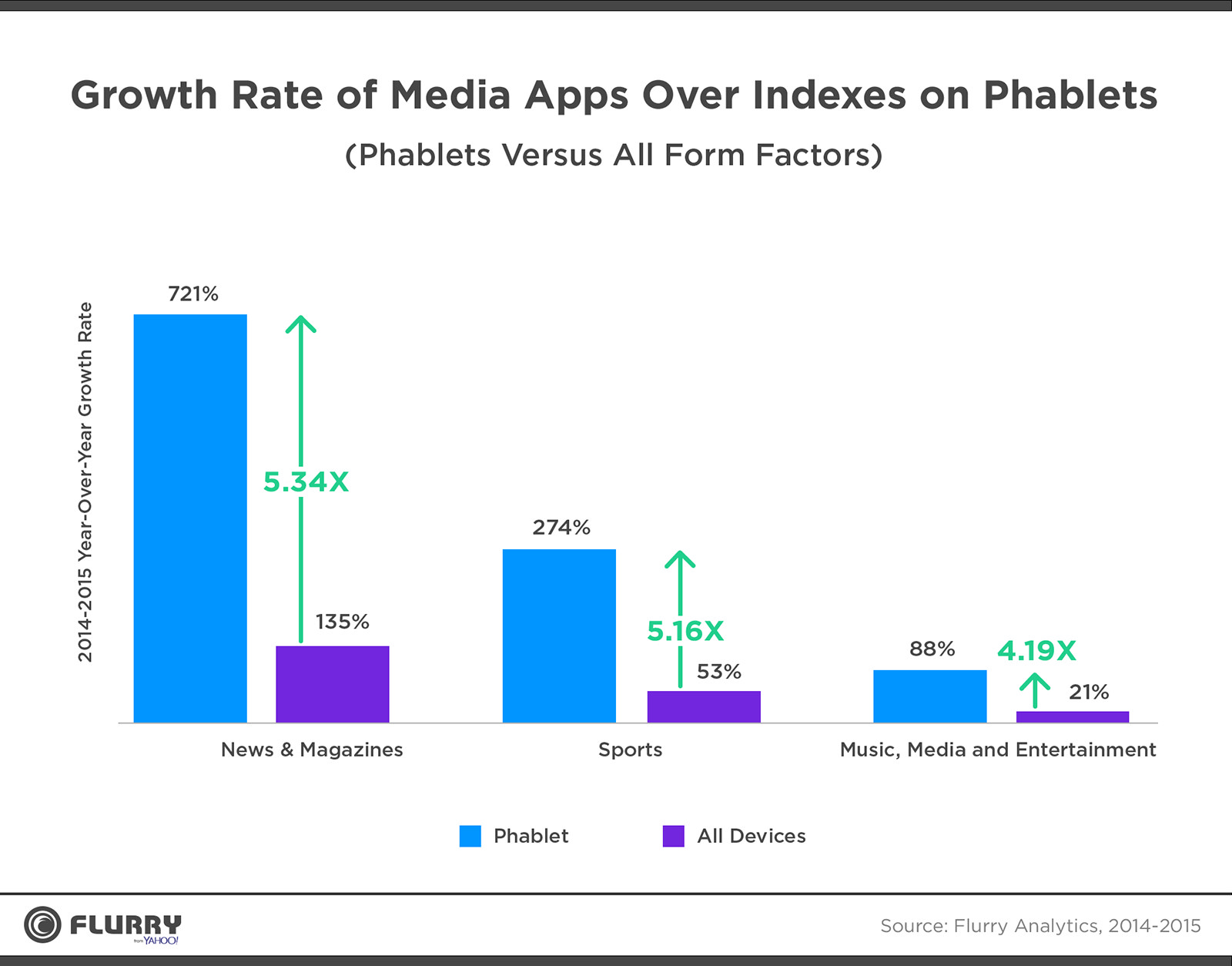 Predictably enough, a breakdown of usage pattern by form-factor reveals that phablet users have dramatically higher growth rates than other smartphones. In fact, it seems that the extra screen real estate has a huge effect on media consumption in general as we find that categories like News, Sports and Music see a growth rate multiplier of 5.34x, 5.16x and 4.19x respectively in phablets compared to other smartphone categories.
Final Words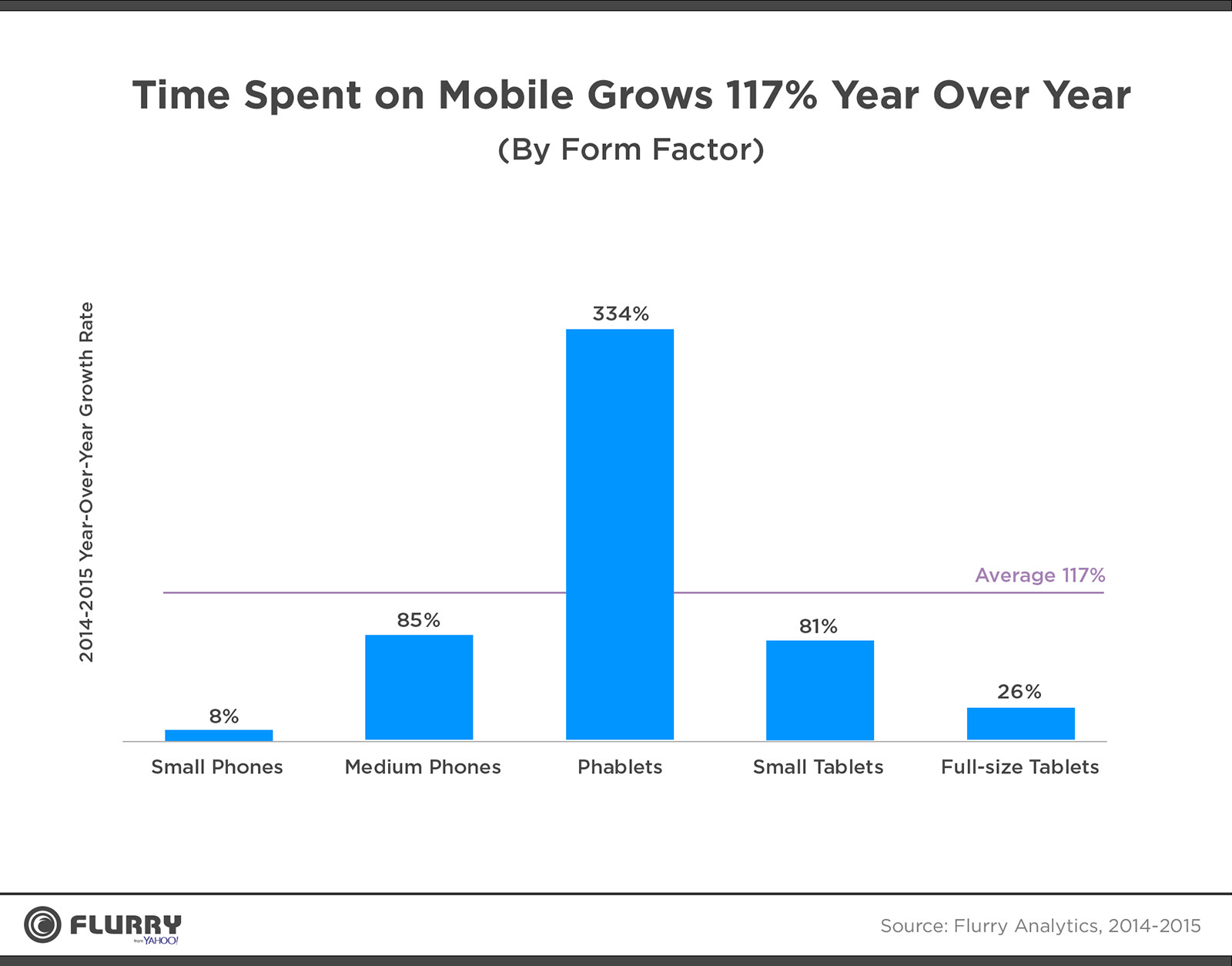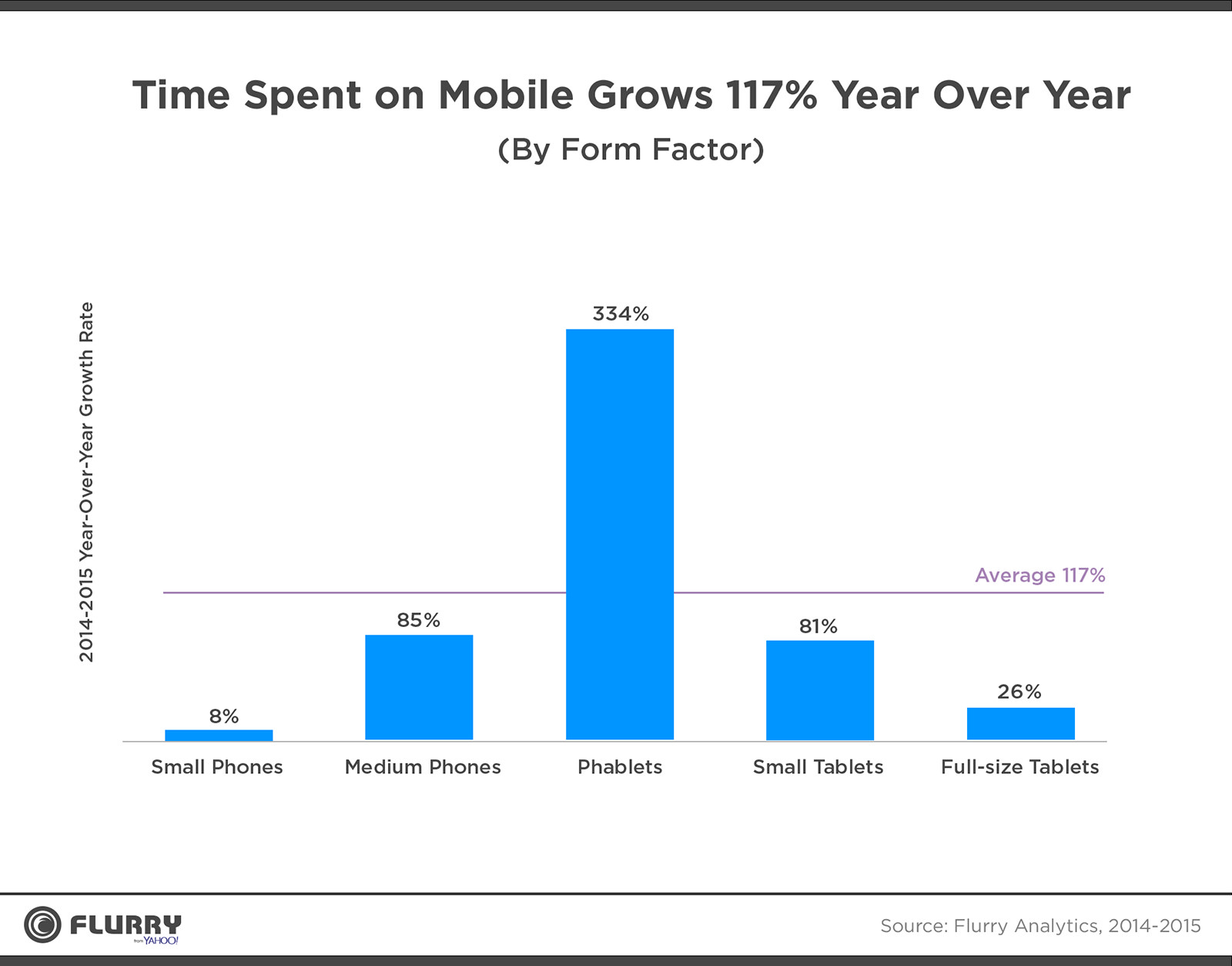 While this report may not have brought something entirely new to the table, that's not what year-end reviews are supposed to do anyway. That, however, doesn't mean there is no takeaway from this analysis. In fact, getting new data reinforcing previous estimations is something we always look forward to. Going forward, on the basis of this report and our previous works, here are a few trends in hardware that we see panning out in the next few quarters.
The death of the PC and traditional media has been predicted for a long time, but they have held on tightly to the last strands for the past few years. Will 2016 be the year they finally let go?