When almost every device and component manufacturer is betting on mobile at the cost of their other focused areas, Intel Corporation (NASDAQ:INTL) has surprised many with a decision to exit smartphone industry. So, what is cooking 'Inside Intel', let's find out today.
As the first quarter results for 2016 keep rolling in, it seems that the tech giants of the world are in for a tough time especially on the mobile side of things. While it is too early to speculate if the smartphone growth bubble has indeed burst, the fact that companies like Apple, Google and now, even Intel, has been forced into rethinking their strategies, raises quite a few red flags on their own. However, while a slow Q1 2016 may have been the catalyst, there was certainly more to Intel's surprise move to pull out of the smartphone industry entirely.
While Intel never has been able to compete with ARM toe to toe, on the smartphone front, yet this move comes as a bit of a surprise especially with having the mobile-focused SoFIA chips almost being at the end of their development cycle. With Intel out of the picture, ARM can breathe a sigh of relief as even though there is intense competition among Qualcomm, Samsung Exynos and to a lesser extent Mediatek in the Android SoC market, all of them use ARM reference designs and then make modifications on that. So is this the first signs of stagnation in the smartphone industry? And does this mean we are witnessing the first stages of the demise of Intel? These are the questions we seek to answer in today's analysis.
Intel Ends Their Laboured Presence In The Smartphone Arena
Intel, one of the major players in the desktop PC industry, made one of their worst mistakes by failing to recognise the potential of the smartphones early in the development cycle. In fact, in the early growing days of mobile, Intel had famously remarked that gunning for more than dual core chipsets on mobile would be folly on the part of OEMs and SoC makers alike. ARM, yet again proved them wrong and by then, the smartphone SoC market had grown too competitive for Intel to make any meaningful impact.
Intel then left the high-end market and tried to capture some of the low-end segment away from Qualcomm with their Atom lineup of chipsets. However, they were never able to get partnerships with decent OEMs managing to only put out a handful of devices each year. In the meantime, x86 for Android was neglected and as a result app compatibility remained a huge problem for Intel-powered chipsets. Intel's fortunes, however, seemed to have turned when they finally managed to snag a deal with Asus, and the $200 Zenfone Lineup of devices proved to be the best mobile endeavour for Intel yet.
Broxton Chips And SoFIA Partnership Program Abandoned
In order to hide the struggles of the mobile processing segment, Intel merged the business with their high-profit high revenue consumer desktop grade CPU production department and cumulatively called them the Client Computing Group (CCG). However, in the face of dwindling PC sales, once again the low revenue generating mobile segment has come under fire. Even though in the latest quarter CCG's profit margins improved by a healthy 34% YoY to 1.9 billion in fiscal Q1 2016, the growth was primarily due to the rising ASP of Intel-based tablets.
After almost half a decade in this field, Intel decided to cut their losses and pull out of smartphones for good. While their own development cycle for Broxton chips was scraped, the more important news in this context is that their manufacturing partnership for the SoFIA project has been also dropped rather unceremoniously. How this might affect the Android ecosystem is our next of discussion.
The SoFia Project: Preliminary Vision And Impact On The Android Ecosystem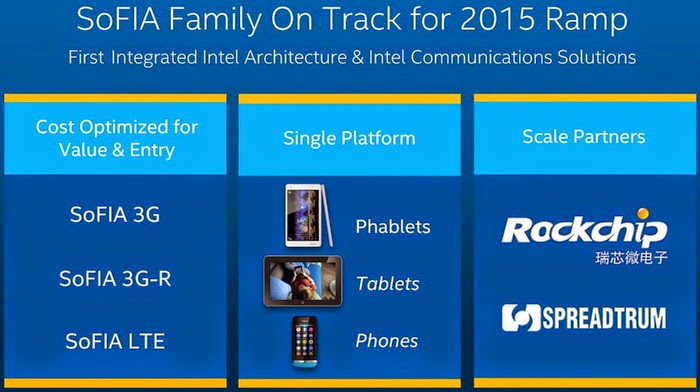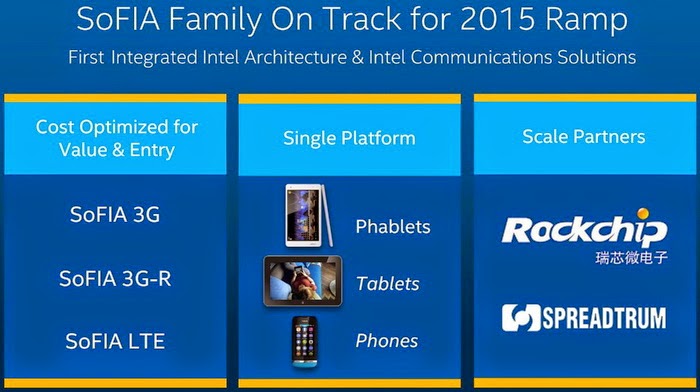 Having ceded the high-end segment to Qualcomm, Intel tried to capitalise on the booming entry and mid level market that was available in countries like India and China. In the sub 200$ price ranges, Qualcomm didn't provide value propositions, and this was a market share which was largely dominated by Mediatek. Intel formed partnerships with Rockchip and Spreadtrum, two Chinese SoC manufacturers so that they could form a strategic partnership to take over the emerging markets. This venture, called SoFIA, ran into quite a few problems of its own, some of which we will highlight in the next little bit.
As has been evident from the first, Intel's intention with the SoFIA lineup of microprocessors had been to team up with the mass producing SoC fabricators in China so that they could have a compelling product at a lower price point. However, due to several reasons including the surge in LTE based devices made Intel reconsider releasing the SoFIA 3G models.
According to reports of some analysts, the SoFIA brand of products had already faced multiple delays cumulating up to a year of delayed production and had been cut short despite reports alluding to them being ready to be launched in late 2016 with the new Intel LTE modems embedded in them. So where does it leave Rockchip and SpreadTrum? While Spreadtrum has managed to find it's way into powering the hardware of Huawei's Honor Bee, Rockchip hasn't found much success outside of China. With Intel ending support for the SoFIA program, it seems that MediaTek remains the only one competitor in the below 100$ smartphone market.
Looking Towards The Future For Intel
In the last almost half a decade, Intel has poured billions into its Mobile division. However, in recent years with the PC market struggling to maintain it's revenue growth, the companies highest earning division, CCG, which handles both Consumer grade desktop CPUs, as well as mobile SoCs, has come under fire. The latest quarter has been less than a stellar one with Intel posting a meager 8% YoY growth and missing conservative analyst estimates for the quarter by $0.03 billion, finishing at $18.3 billion in profits. This has caused some panic in the company as a result of which we have seen some major reshuffling being done inside the company, both regarding products and team members.
Turning the Focus Away From the PC and Smartphone SoC business
Intel is well aware of the dying nature of the PC industry and has also been quick to foresee the upcoming plateauing of the smartphone manufacturers. In fact, their conscious efforts from Q1 13 has helped reduce the percentage contribution of CCG to Intel's revenue from 63.5% to 54.7% in the present quarter.
In their latest move, Intel along with shutting down their smartphone processor manufacturing plans have also announced their plans to shed 11% of their workforce over the course of the next few months. That number equates to nearly 12,000 employees, and all of them are getting axed from the CCG division. These combined efforts will bring in a total saving north of $1.4 billion, money which Intel intends to invest in their future plans.
Gearing Up For A Connected Future
In Q1 2016, Intel's revenue from IoT increased at a remarkable rate of 22% YoY to $651 million. Turning over to the profit numbers reveal an even rosier sight where Intel has increased their operating profits 41% YoY to $123 million.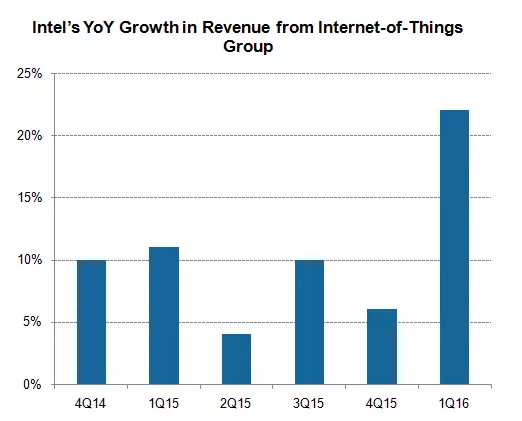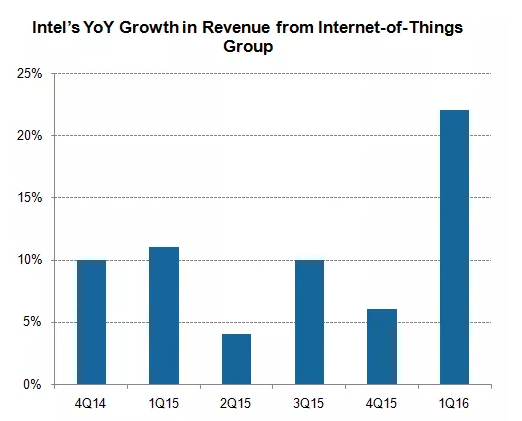 Thus, it comes as no surprise that Intel is looking towards IoT and connected devices as their future. In fact, their recent hiring of  Qualcomm executive Murthy Renduchintala in the position of Intel's President of Client and IoT business reveals that the company is looking to ascertain their dominance in this field. In fact, despite dissolving the mobile sector, Aicha Evans has been retained by Intel for her expertise in 5G related communication protocols.
Here are a few of the product lines where we can expect Intel to be foraying into with their latest products in the near future:
5G connectivity: As we head towards the next decade, reports predict that there will be around 1.25 billion connected devices by 2021 that will use some form of cellular connection for communication. In the highly developed markets like South Korea, Japan, we shall see these communications being handled by a 5G network. Intel has already been laying the groundwork for large-scale deployment of the enterprise as well as commercial 5G networks.
Modem Chipsets: In spite of stepping away from the smartphone processor game, Intel will continue building their LTE modems and according to a new rumour has managed to snag the deal for the LTE chipsets of the latest iPhone 7. Now this will come as a huge boost to Intel, who will benefit greatly from the exposure of the new iPhone as well as revenue accrued from the sales.
IoT Devices: With automation coming into every aspect of our lives like Smart cars and smartwatches, it is no doubt IoT that will provide the linking dot between all these smart devices. Intel is focussed on getting their systems integrated with IoT capabilities. In fact, the cancelled low-power Atom cores may find themselves reused as Edison smart things processing units. This could be a good way for Intel to utilize the resources it had spent in the SoFIA project as well.
Cloud Services:  In recent times, Intel's cloud-based enterprise solutions have had some hard times due to falling ASPs because of the macroeconomic instability across the world. However, using Altera's, FPGA IoT Chips, they can provide customizable experiences to their enterprise consumers a feature that will help them stand out in the highly competitive industry and help drive up ASPs.
"Connectivity is fundamental to every one of the cloud-to-thing segments we will drive. As the world moves to 5G, Intel will lead because of our technological strength to deliver end-to-end 5G systems, from modems to base stations to all the various forms of connectivity that exist today and will exist tomorrow." says Intel CEO, Brian Krzanich.
And with that goal in mind, diverting their resources towards a connected future may just be the most 'Intel'-ligent thing that has come out of their management reshuffle in recent years. A certain fruit company would do well to listen in.
UPDATE: According to a statement provided by Intel, "We are not exiting the mobile space. We are committed to long-term leadership and improved profitability of our mobile business and the decision to cancel these projects enable us to move resources to products that deliver higher returns and advance our strategy."
While Intel has tried to play safe with the above statement, it clearly highlights the struggle going inside Intel in regards to mobile industry. At the time when one particular industry is witnessing an unprecedented growth and showing promising future, if a company decides to cancel projects instead of investing more in that one particular industry, then we all can sense what's cooking inside intel !