Facebook Inc. (NASDAQ:FB), as a company and as a brand has redefined social media in the nouveau digital era. In fact, in a smartphone-centric world, Facebook, owner of the largest social network and two of the most popular messaging services, seems pretty invincible. We were flabbergasted when we came across this recent report of a certain browser extension that has the mighty Facebook quaking in fear. What power can a few lines of innocuous code running atop a browser possess that is making the mighty Facebook ponder in worry and this is what we intend to find out.
Let us first, formally introduce Facebook's incredible foe- the Ad Block. And while Facebook may be the first to voice their concerns over it, Ad Block has been plaguing the bottom lines of digital ad revenues for quite a while. However, according to recent events, Ad Block has evolved from being a niche tool in a tech nerd's browser to something that almost every internet accessing individual is aware of. While the role of obnoxious ads being peddled by the likes of ad networks including Facebook in the growth of popularity for Ad Block remains debatable, what is beyond doubt that the Internet ad industry is in dire straits, and something needs to be done to fix it as early as possible.
Ad Blockers and Their Impact on Internet Advertisement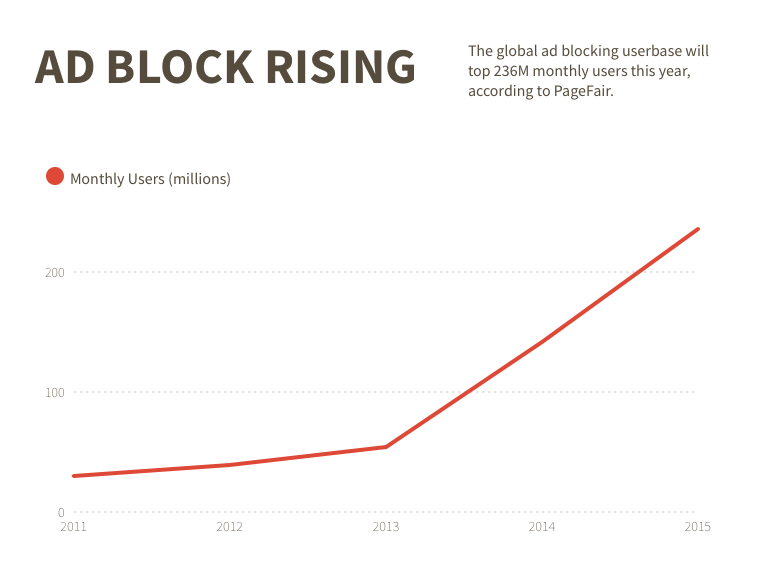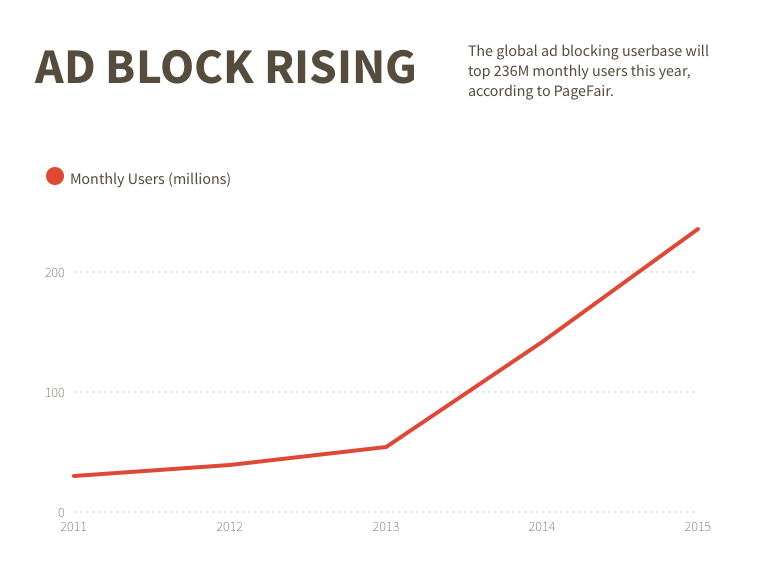 While Ad Blocking had been mentioned in reports before, this year was the first time that Facebook has dedicated a paragraph in their risk assessment document to the software. While we had reports coming in from various sources in 2015, that companies like Google had potentially made deals with Ad Block to whitelist their ads, the extreme necessity of such an agreement had not been brought to the limelight until now.
As noted in the 10k filing, Facebook is dependent on ads for 96% of their revenue. While ad blocking has been more prevalent in desktop browsers so far, it could seriously affect Facebook's revenue if ad blockers made a successful transition to mobile. With the contribution of desktop PC's waning in Facebook's revenue, the recent reports of ad blocking software being bundled with both Android and iOS devices could ring warning bells at Menlo Park.
With the introduction of iOS 9 last year, Apple introduced ad blocking capabilities to their default Safari browser and considering the sheer volumes of iPhones being sold each year, losing out in ad revenue from the entire Apple userbase can be very scary for Facebook. To add fuel to the fire,  Samsung has recently added ad blocking capabilities to their default browser, and with the top two smartphone OEMs in the world declaring war on mobile advertisements, it translates into dwindling profits for all ad publishers alike, including Facebook.
Mobile AdBlockers: The Problem As We See It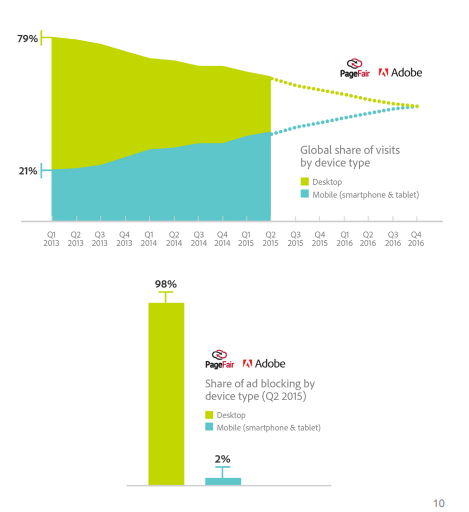 As this infograph above demonstrates, ad blocking on mobile is still not an immediate concern as it contributed to only 2% of the total ad blocking scenario in 2015. However, that doesn't mean that ad blocking is something to be considered casually. As previous reports have indicated, we will observe a sea change in the way media and content are consumed by people and leading the way will be the phablet class of devices. Furthermore, as the proliferation of 4G LTE devices increases, reports indicate that a significant chunk of people will be dependent on wireless broadband connections from their smartphones as their primary internet gateway. With that in mind, we feel that ad blocking in the mobile world would have a much larger impact than it is apparent at this point in time.
In regards to Ad blockers, Google Ads SVP Sridhar Ramaswamy says ,"In my mind, it's a very blunt instrument. And that's why we need to be worried."
So what are the possible ways to combat the situation? We have shortlisted some of the methods that have been used thus far to combat ad blockers, though, it is important to mention that none of them has reaped satisfactory results as yet.
The first and quite simply the most obvious solution has been to ignore ad blockers and their effect on advertisement revenues as a whole. With more than 198 million users on board, we don't think that ad blockers are a niche community as they have been previously made out to be.
The next attempt has been at outsmarting the ad block software with even more advanced anti-ad block software. While it sounds good in practice, the technical limitations and investments in this project make it seem like a lost cause.
A third attempt has been made to thwart Ad Blockers by dragging them into lawsuits and legislation by pointing out that whitelist in ad blocking is basically an extortion attempt. We reserve comments on this as the courts know better.
With all efforts fizzing out, some innovative minds have turned to the root of the problem. Ad block users are largely annoyed internet denizens, who are irked by ads and their presence. Figuring out a way to make ads appeal to them might solve the problem and increase ad revenue by growing user engagement at the same time.
However, Native ads are not the answer to the problem as explained in detail by a report from Page Fair. That leaves us with the question we started with, "So what do we do to solve this mess?" and we believe we have the answer to that in our finishing segment.
And Our Solution For It


Let's clear out the obvious question first. How does a categorical distribution of sites with most ad blockers among the viewers help us solve the problem? Well, for starters it provides an interesting view at the demographic of the majority of ad block users. The preference of gaming, social networking and tech at the top 3 spots leads us to believe we are looking at a demographic of tech-savvy young teens who are very much aware of the distinction between content and advertisement in the digital realm.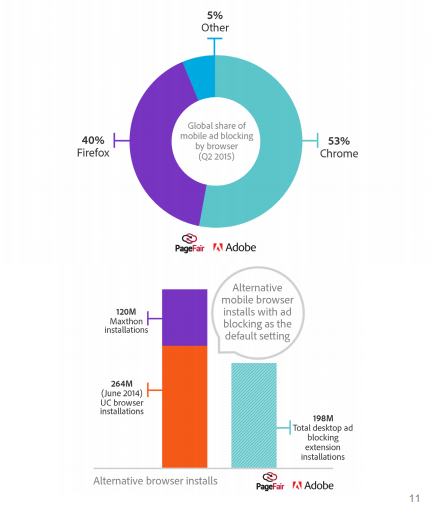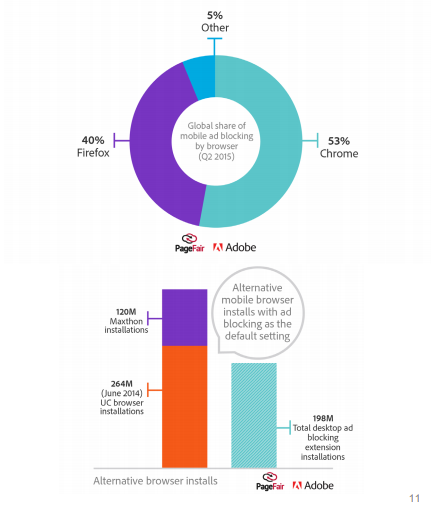 As the infographic above points out, users are now, actively downloading other browsers if their default browser doesn't support ad block. In fact, as evident in a recent post by Ad Block Plus on intrusive Facebook apps, there is a large and vocal community of Ad Block users who have had enough of annoying pop-ups, banner ads as well as auto-play video ads. However, the blanket action of Ad Blockers removes even non-obtrusive ads and puts the entire freely available information structure of the internet at risk.
Faced with such a situation, a few innovative solutions have come up of serving ads in a contextual manner, a few use case scenarios of which we have detailed below:
With all these new technologies coming up, we predict mobile advertisements to have a long and prosperous future, just not in their current boring form of banners and texts and pop-ups. The real question is, whether if Facebook will be able to transition its social network into the new genre of mobile ads or will it face some hiccups like its elder brother, Google!