It's December, the air has gone chilly, Christmas lights are up, and Amazon wishlists are being fulfilled like never before. This holiday season, the perfect gift gets ever so much easier to get as smartphones and retail apps are blended in a perfect harmony. In a recent report, it has been found that the download rate for the top 10 retail apps surpasses the overall download rate in three very diverse markets like the US, UK and Japan. While there is a wide range of apps from various categories and show usage pattern, one thing is very clear; the best way to rope in customers is to create a unique and user-friendly app experience.
So, while this report has primarily focused on the three countries, the wide diversity between them ensures that the findings from this report can be utilised by almost all major e-commerce and retail giants across the world. Retailers are using apps not only as a means for easing the shopping experience of potential customers but also as a means to engage with their user base and even reward loyal customers so that a substantial user base is established. As the mobile and app industry is still booming and with 4.2  billion smartphones, the potential in this market is just as great as the risks of failure. Today we analyse the top retail apps across the board and outline the success strategy that has fueled them to success.
General Merchandise Stores Enjoy Lion's Share of the Market
Consumers love choices. And due to the vast nature of choices offered by general merchandise stores, it's pretty obvious that they would take the top spot across the three nations.
While this provides a general look across the board, the diversity in markets like the UK where we see 5 major branches of retail, each getting a piece of the pie is a testimony to the fact that there is scope for almost all major retailers to make the move to the app ecosystem.
Amazon's Sucess Across the Board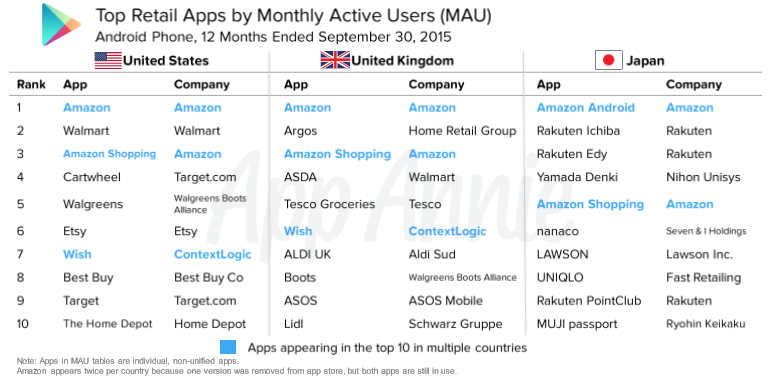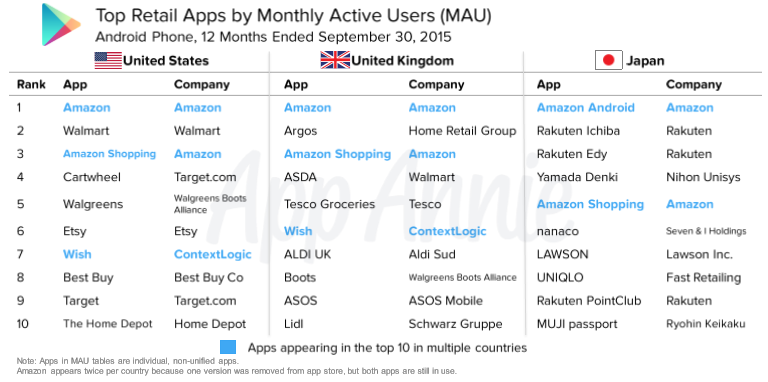 Based on Monthly Active Users, Amazon has grabbed the top spot in all 3 countries across the world. This is clear proof of the mobile first strategy working out in aces and spades for them. A quick overview reveals the main reason of Amazon's high usage is due to the fact that they are a general merchandise store and the wide variety, and delivery options available to the users makes them a fairly essential and ubiquitous download. They also offer several customer oriented deals and delivery services which gives them a higher number of recurring customers.
Fuelling Customer Retention With Unique Methods
While the traditional methods of providing discounts and good customer service still remain a golden rule for businesses to follow when dealing with customers, we have seen discounts go awry and fall flat on their faces a few times with the most recent one being the Flipkart debacle.
With that being said, Black Friday and such related sales do post a large amount of revenue but the most of the products are sold at cost or sometimes even at a loss. However, such deals help to get more new customers to an app or desktop site and with few of these tricks up their sleeves, there's a high chance of them being converted to regular customers.
Shopping apps don't have to be always centered around products and buying and selling and to break the age old app paradigm, several of these top 10 companies have introduced new ways to interact with an app.
Online Drugstores like Walgreens and CVS have added features like auto refilling of prescription and user-facing features like daily medicine intake reminders that make users a recurring customer and bring more utility to them in one innovative solution.
Personalised offers and sophisticated search algorithms make it such that engagement in apps are boosted and these practices have helped retailers like Wish and Geek break into the top 10 for both the US and the UK.
Apps can act not only as just a portal for purchases but also a social media. In Japan, the mobile app WEAR has proved to be immensely popular among the fashion conscious as entire outfits worn by the latest trendsetters are available on their app to buy.
One of the better ways to foster loyalty among consumers is to provide rewards for in-store check-ins, which increases brick and mortar sales in the primarily mobile-centric space.
Some people prefer brick n mortar stores. Companies have found to make their app useful for them as well. The target app provides exact in store location of an item via a map of the interior of the shop, thus increasing app usage even in customers who prefer to do their shopping through physical outlets.
And lastly payment solutions and gateways like Apple Pay, Android Pay, etc are paving the way for consumers to make their payment processing a hassle free experience.
The basics of e-commerce and retail apps are the same as that of a good website but new and exciting features help drive the growth and participation of the established user base.
Final Thoughts


While the app first developmental model is gaining traction, it is important to note that online options have a large chunk of the sales figure as well. While many favour their mobiles, there is still a significant chunk in countries like India, who are more than wary of purchases on mobile devices and prefer to have a desktop option as well.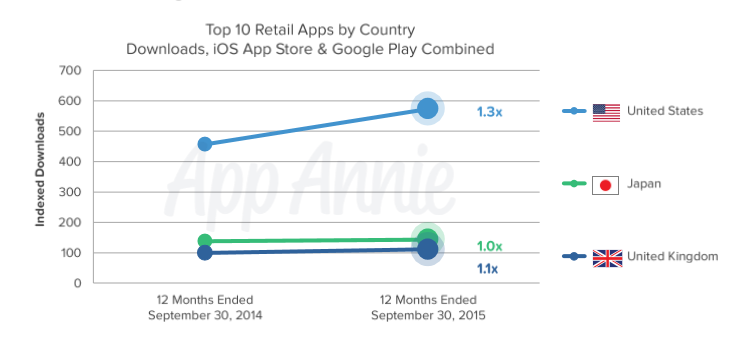 With the US being a mature market as far as smartphones are concerned, their increased download rates compared to other countries come as no surprise. In fact, these are promising signs as it shows that as smartphone penetration increases, the market for retail apps will continue to grow. Another probable reason for the high rate of growth in the US could be the high percentage of locally based retailers. This again bodes well for new companies in up and coming markets as they get to have a fighting chance with big retail chains as well.
There seems to be a real future in the retail apps segment as we seem to be shifting towards a mobile first experience across the board. What remains to be seen is if the early forerunners like Amazon hold onto their dominance or will the newer and more innovative local companies take over the top spot? There is a battle brewing in the world of apps and it's not unlike the one in the smartphone world!