In a world, that is increasingly shifting its focus to a mobile first scenario, the Desktop Internet as we know is slowly dying. Companies are gradually understanding the impact of an app ecosystem and many of them are taking the plunge from being app-first to an app-only model. One of the driving factors behind this change of outlook has been the success of mobile-focused ad networks like InMobi that have been key in driving user interaction inside apps by placing targetted ads based on meticulous user profiling. While Google did have a headstart in the business with Admob being the current global market leader, InMobi comes in at the second spot and is giving some tough competition in markets like India, China and the UAE.
So what makes InMobi different from the other myriads of ad networks out there? Instead of spamming people with push notifications and banner ads, InMobi has intelligently invested in native ads that form a part of the app that the user is using. This has paid off in spades as their rich media ads have won them accolades and conversions alike! This has made them the ideal ad network to use for new entrants in the smartphone app arena, who are looking to grab as many new customers as they can. One such company who have been struggling to make an impact in the smartphone and apps scene is Microsoft and they have their eyes on InMobi, looking to snap up the world's largest independent mobile ad network for a cool $2 billion.
Microsoft to Acquire InMobi: Fact or Fiction?
Microsoft Corporation (NASDAQ:MSFT) was one of the first companies to get into the search engine business along with Yahoo! Inc. (NASDAQ:YHOO) and Google Inc. (NASDAQ:GOOGL). Despite the fact that their Desktop OS, Windows proved to be the most popular PC operating system of all time, they could not emulate the same level of success with their endeavours on the Internet. Internet Explorer was and remains one of the most hated products, and the Bing search engine has been left in the dust by the likes of Google Search. As a result, AOL has taken over what remained of Microsoft's Ad Buisness around half a year back, a clear sign that the execs of Redmond Pie do not see much of a future for desktop search and content based ads.
However, the move from desktop to mobile for search queries has opened up yet another opportunity for Microsoft to make a place for itself in the app centered ad industry. As recent numbers reveal, mobile searches have already surpassed desktops in volume and smartphones are at the helm of the new trend. InMobi has already had significant success in the app space with over 1 billion mobile uniques across 200 countries.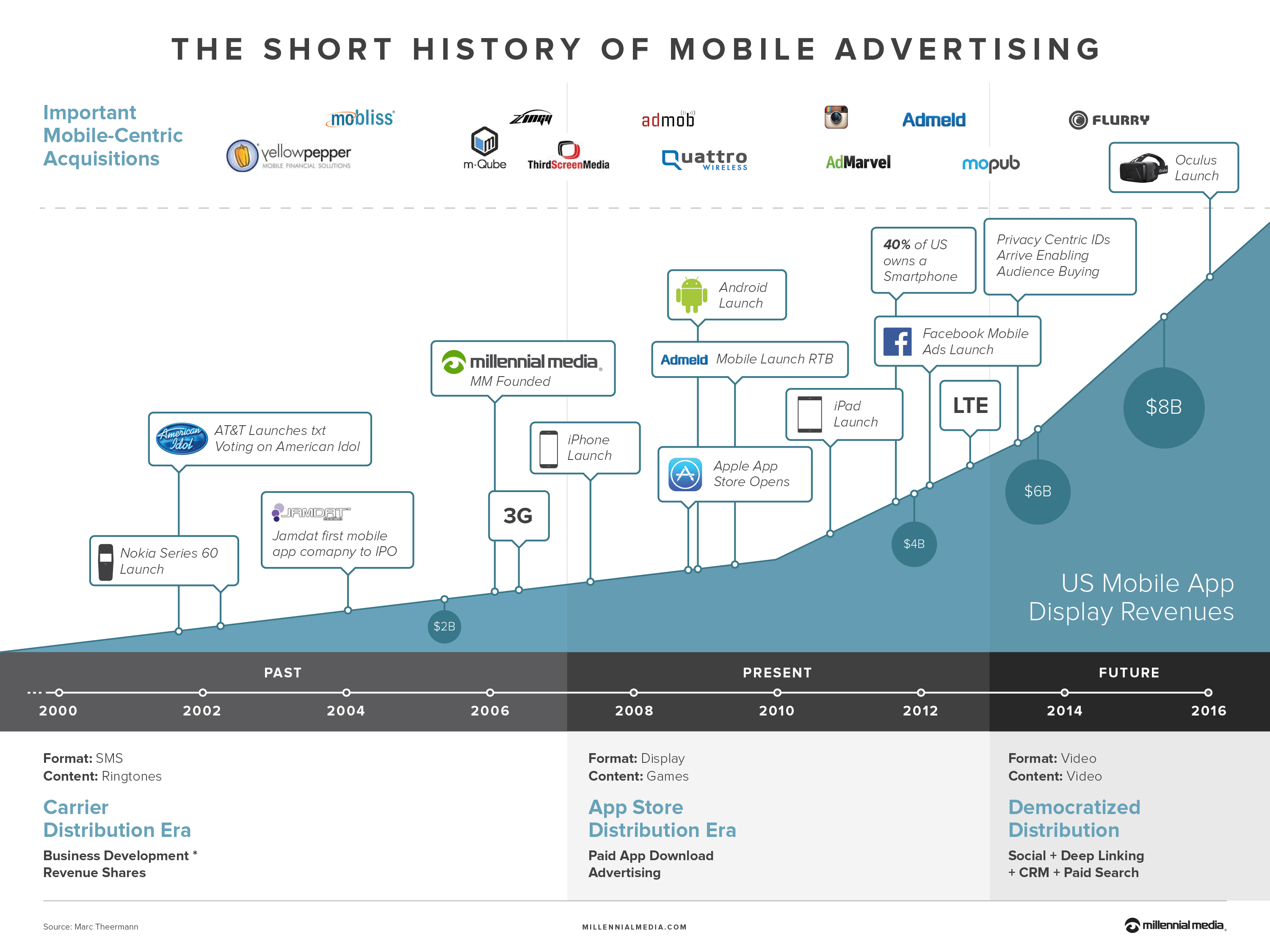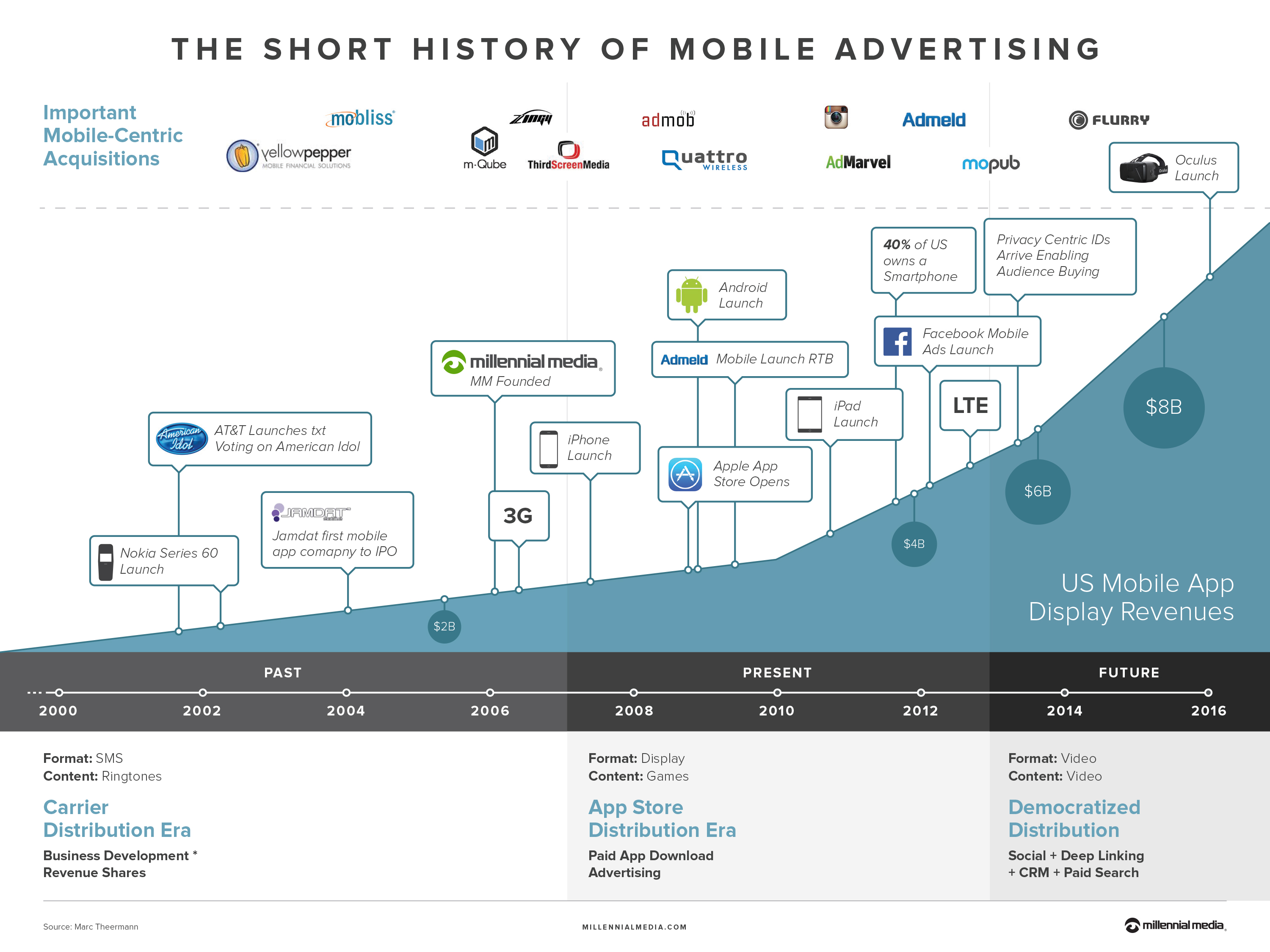 If we take a look at the evolution of the mobile advertising industry in the infographic above, it becomes clear why a company like Microsoft would want to get their hands on InMobi. Not only is their technology far superior than the ad networks that Microsoft previously had, InMobi's app based approach gives them a head start ahead of other players in this space and catapults them straight into the top 3 spots in space. But is the price of $2 billion a bit too high for the market share that InMobi has, or is it an easy ticket for Microsoft to stake their claim among the
But is the price of $2 billion a bit too high for the market share that InMobi has, or is it an easy ticket for Microsoft to stake their claim among the Google Admob, Facebook Audience Network and Apple's iAd network. That's what we intend to find out next!
InMobi: An Investment for the Future or A Turf War for the Present
While sources inside both companies have not yet come out with official statements, the rumor mills have been abuzz with talks of the impending takeover. Microsoft, one of the top clients for InMobi, are already quite familiar with the workings of the company and one of the insiders at the company has been quoted as saying,
… Microsoft, which has being our client for many years, is likely to take over the company and this would be a major coup for the software giant.
Microsoft has been striving hard to increase their presence in the mobile industry, and InMobi's insights and substantial ad network that spans across 200 countries will prove to be invaluable for the company. However, questions are being raised if this is a feasible buy for the company that had till now been focussing mainly on streamlining their efforts.
InMobi Powers a Future of Native Ads in a Changing Landscape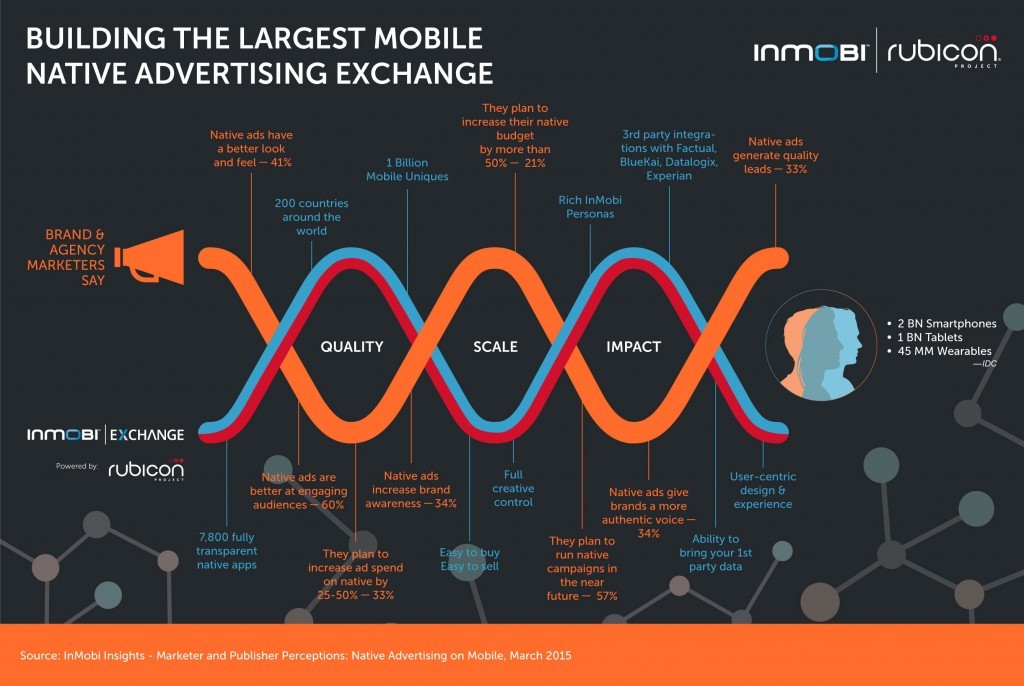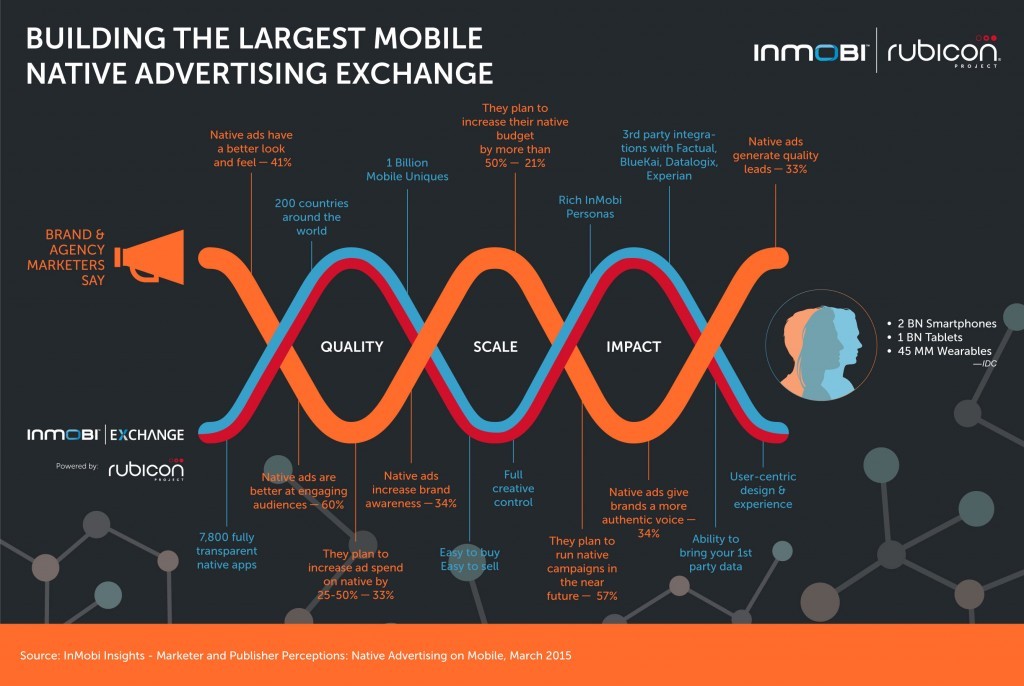 As we have mentioned in detail in our analysis and predictions for data traffic in the future, video consumption is going to take up a huge chunk of the internet data consumption. In keeping with the changing nature of the audience, the ads in the applications must also evolve. Banner ads, popups and push notifications serve only to irritate the user and drive away user engagement.
InMobi has figured out the way to combat this, and this makes their Rich Media based Advertisements the perfect tool for advertisers to reach and interact with their potential customers. Native Ads in both desktop and mobile are predicted to attract nearly $21 billion in the US alone by 2018. From that, ads based on video alone would be worth around 4.4 billion by that time in the US.
As a forerunner in this particular industry, it makes sense that InMobi would stand to make a great deal of revenue in the near future as advertisers would prefer to use their native ads and dedicated app-based ads services compared to other traditional means. This alone makes it worthwhile for Microsoft to go through with this deal. Add to that this deal would see Microsoft reap some instant rewards as well, which we will now take a quick glance at!
Gaining a Foothold in the Current Smartphone Market Courtesy of InMobi
Even with the launch of Windows 10 and updated Lumia phones, Microsoft has not been able to improve their foothold in the smartphone industry. While Windows 10 Mobile, as an individual operating system, has evolved into a worthy competitor for iOS and Android, the lack of an app ecosystem has led to dismal penetration in all smartphone markets.
With InMobi being particularly popular in markets like India and China where the smartphone penetration is still low, Microsoft can use the data and analytics collected by the company to get a good read on consumer demand from both a hardware and software perspective. The acquisition of InMobi will not only give Microsoft some crucial insights into which iOS and Android apps are popular, with their control of Ad Network, but Microsoft may also finally be able to lure developers to their platform with promises of better revenue shares than the competitors.
This may also see Microsoft from moving away from manufacturing Windows 10 mobile devices and instead offering  Windows 10 as a software choice on handsets, much like they tried with Xiaomi's flagship Android device, the Mi4. How this acquisition pans out for Windows 10 and Microsoft in the mobile space is certainly something to look out for.
Final Words
This is not the first time that a giant company has approached InMobi for a buyout, in fact, in May last year. Google offered to buy them out for a rumored price of around $1 billion, yet the deal fell through for various reasons. Offers were also made from Yahoo! as well but were turned down by Naveen Tewari, who maintains,
We are clear it will be an IPO. Maybe we will do it two or three years later.
As CPC rates keep on declining at a steady rate year over year, Google's AdMob has been struggling to keep the revenue growth intact. This has forced both publishers and advertisers to look beyond the standard ways of mobile advertising. Ad aggregators are proving to be the most daunting players in this as they allow advertisers and publishers to have the most price effective deals. InMobi has fixed one of the fundamental problems of this model of advertising as their new 'advertising OS' Miip takes over from the intent based sales model to a discovery based model. Approximately 1.2 billion people have got the chance to try out Miip in the past year with the numbers increasing as InMobi continues to expand their user base.
Almost 80% of purchases are on the spur of the moment and with Miip and it's 'D-Commerce' platform, InMobi is all set to disrupt the mobile ad scenario. However, Facebook has similar plans with their Messenger platform as well, and it remains to be seen how well machine learning and artificial AI can change the face of shopping in the near future.
With shopping apps looking for new ways to monetize and attract user engagement in the near future, it seems that InMobi and their brand of mobile advertising is here to stay, with or without Microsoft at the helm.