For a modern smartphone user, their device is more than just a handheld computer, often times it is their closest companion, assisting in every aspect of their day to day lives. As such, it is not difficult to imagine why NFC-based mobile payment is something all major smartphone players like Apple, Google, Samsung and most lately LG has been so keen on. A major chunk of an adult's life is spent in buying items and then waiting in ques to pay for those items. Touch based mobile wallets like Android Pay, Apple Pay and even the OEM specific solutions of Samsung Pay and, recently launched, LG Pay has the potential to revolutionize our shopping experience by streamlining the payment procedure from a multitude of reward cards and bank cards to one simple tap on an NFC reader.
However, one major caveat that has plagued this fledgling market is the reticence of banks in getting on board. While Apple has had more success in this regard with more than 300 banks offering their services on Apple Pay, Google may have found a way to eliminate the Banks altogether in their implementation of Android Pay. Today, we explore all of the major players of the mobile wallet market and see the progress they've been able to make in the physical retail space. Being the only connection between physical in-store buys to our digital personas, mobile wallets are touted to be the next big thing for the smartphone industry, and we intend to find out how!
LG Joins The Mobile Wallet Wave
LG has forever been under the shadow of Samsung, being known as that other major Korean smartphone manufacturer. While they have tried hard to get out of the shadow of the much larger OEM and establish themselves as a separate entity on the Android smartphone scene, the influences of Samsung is still apparent on LG's implementation of Android. With that in mind, it is easy to dismiss LG Pay as more of the "me-too mentality" that LG has been guilty of several times in the past. A brief look reveals that this time LG has a solid game plan and LG Pay is not just another Samsung copycat but one of the refined Touch-to-Pay experiences that is available in Korea right now.
For now details are scarce but LG has two launch partners, South Korean credit card issuers Shinhan Card and KB Kookmin Card with more expected to join the ranks as the service gains users and momentum. The first roll out is expected to come as early as December of 2015 with Korean users of the LG's flagship line of devices being the first to get a taste of this service. However, there are no confirmations yet if LG Pay will be restricted only to online stores, or users will be able to pay using the service in brick and mortar chains as well.
NFC-Based Mobile Wallets: The Prospects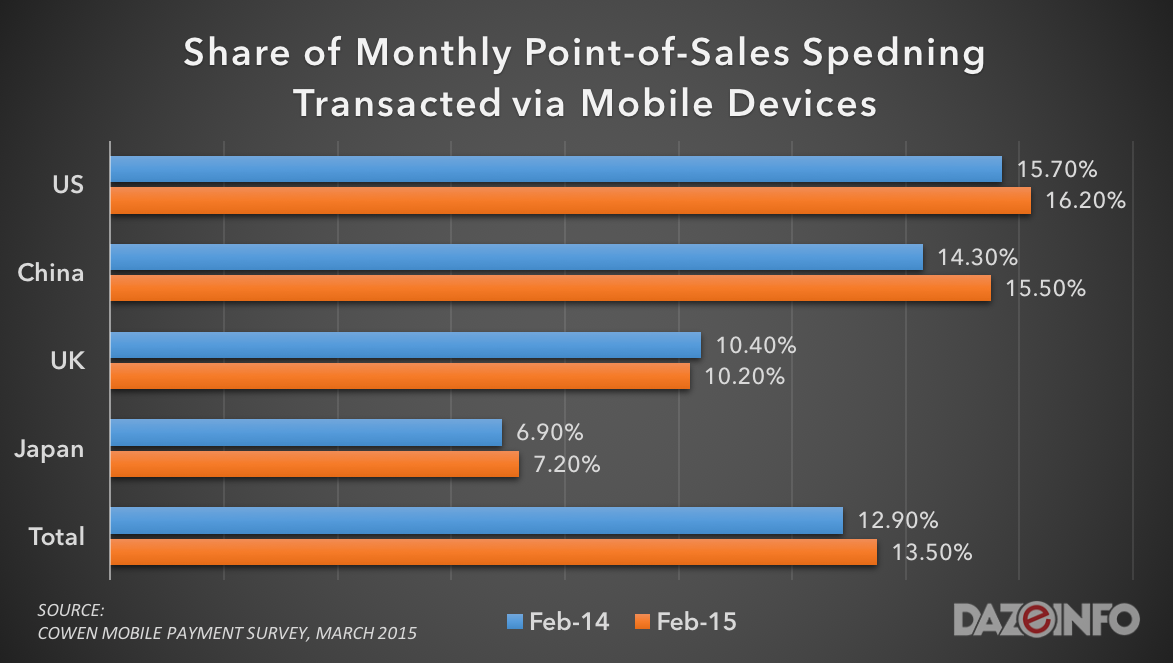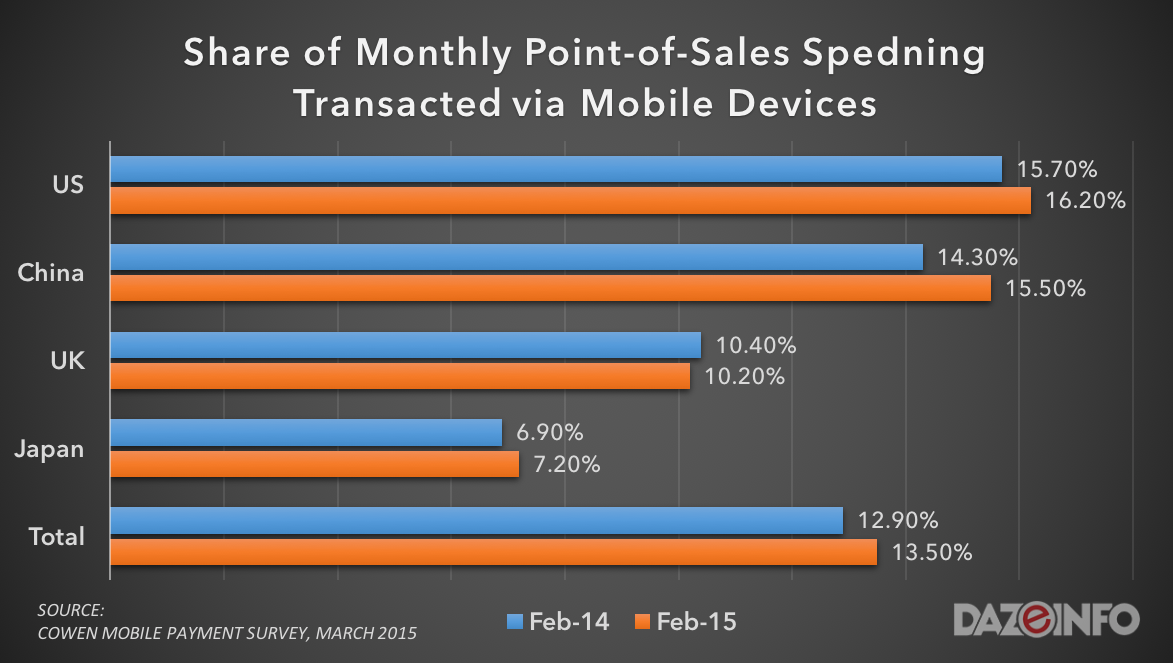 Mobile-based payments, be it using debit/credit cards or other online wallets like PayPal, has been on the rise. This can be attributed partly to the rise in e-commerce sites, mobile apps as well as a growing trend of brick and mortar stores to include touch-based payment services in their billing infrastructure. At the forefront of the mobile payments, revolution is the US with a staggering 61% of its population owning a smartphone. In 2015 alone, mobile payments have accounted for a total of $8.71 billion worth of transaction in the US, with users spending an average of nearly $376 annually using their mobile phone as a payment method. This number is expected to rise to $27.05 billion by 2016 with users spending an average of $721.47 annually. So what's driving this move towards NFC payments in all developed smartphone markets?
Smartphone penetration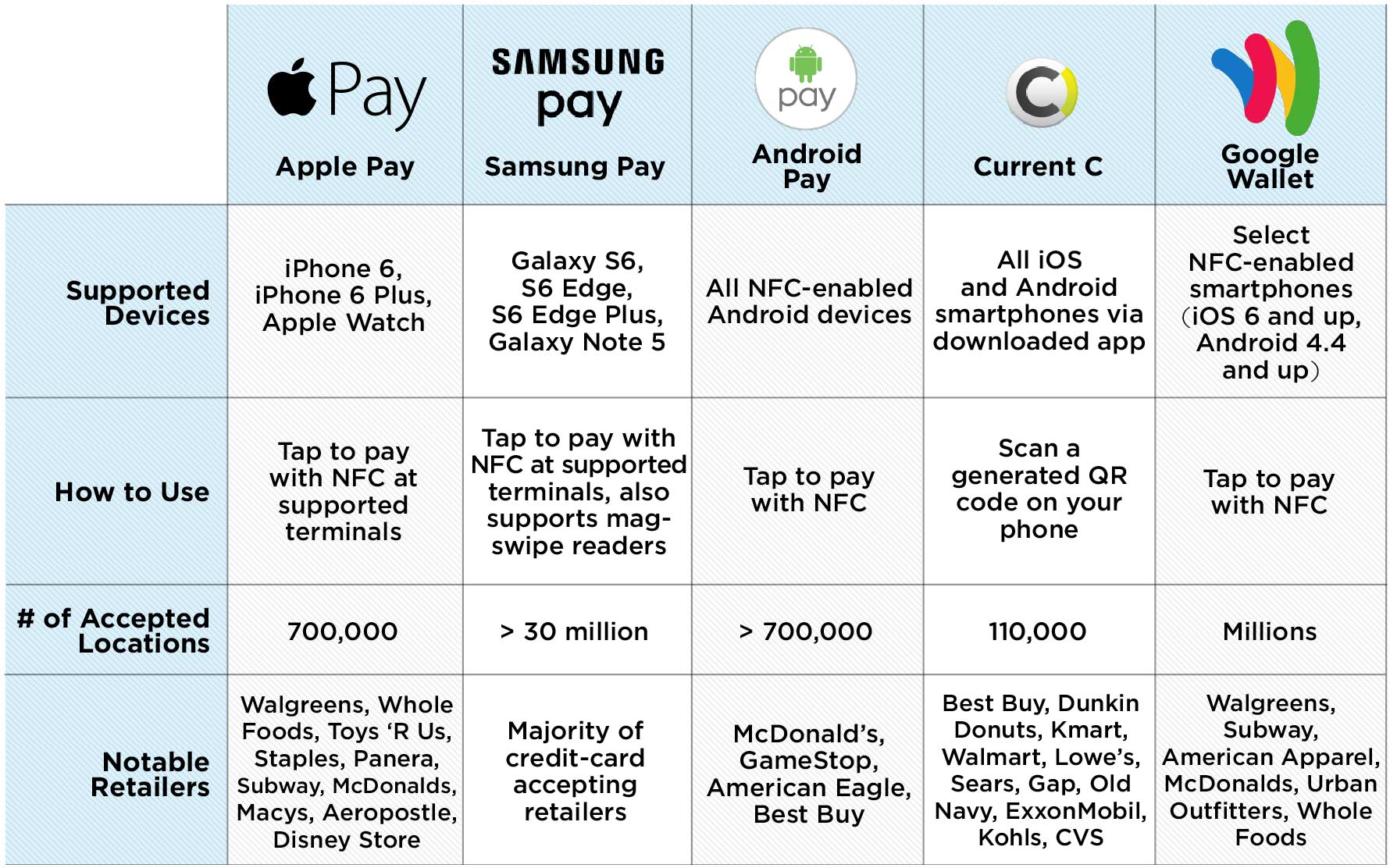 The behemoths of the smartphone world are all firmly behind the trend. Apple expects its Apple Pay app to be accepted in 1.5 million locations by the end of 2015. Google has announced that Android Pay will be accepted by more than 700,000 physical stores and over 1,000 mobile apps. Samsung Pay has already established its base in its home country of Korea is looking to make its way across the globe to other nations as well. At the same time, Microsoft is also rumoured to be gearing up to jump into the market.
Deals and Discounts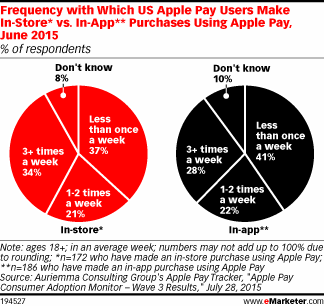 One of the major reasons people carry cards with them is due to the fact that most retail stores offer customers loyalty cards that offer discounts on purchases. With a multitude of banks and retail chains on board, NFC-based payments can emulate the same cards to lure more customers in. As the above chart goes on to show, while the novelty factor is there in NFC-based payments, and the transformation from awareness to interaction is missing. One such success story is of the Starbucks app which through its use of discounts and coupons have managed to migrate nearly 20% of their customers in the US to using their app-based payment methods.
Increased Security Measures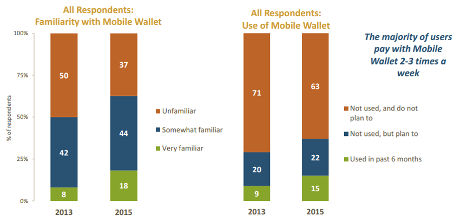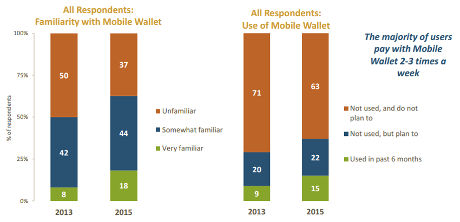 In a study conducted by The Mobile Wallet 2015, an overwhelming 63% of people of who didn't want to use mobile wallets cited security reasons as their primary cause of concern. 26% of the surveyed populous also voiced concerns about stores having access to their bank accounts.
Mike McGuire, Gartner research vice president, has high hopes that with time the public trust will grow as he has said
Look at ATMs. It took a long time to convince people that they were secure and trustworthy.
And remains convinced that with the measures being taken, and biometric scanners being implemented in Android and iOS phones, public opinion will change and soon!
Final Thoughts
We are heading into a new era of retail marketing both online and offline. Mobile Payments are here to stay, but which platform assumes dominance remains to be seen. The plethora of apps in devices that can all do the same function is a clumsy implementation, and the sooner one clear winner emerges out of the many services, the better it is for the consumer. However there along with the 3 major competitors on stage right now, Banks are also looking to jump into the fray with their own implementation. While Apple holds an iron grip on iOS and Apple Pay shouldn't face any competition in this field, the situation is much more complex for fragmented Android Devices.
However, with Samsung planning to equip even lower end hardware with Samsung Pay, it seems the Korean giant is looking to take the initiative away from Google who despite their long presence in the field via Google Wallet hasn't been able to make headroom thus far!
Alistair Goodman, CEO of Placecast, a location-based mobile advertising company sums up the allure of Mobile Payments very well as he says
"One of the exciting promises of marketing through a mobile wallet is the ability to unlock that 90% of commerce that's happening in the real world and connect it to the digital world."
What remains to be seen is which company can connect these two dots the best!