Arch rivals Apple Inc. (NASDAQ:AAPL) and Google Inc. (NASDAQ:GOOGL) bring no more surprises with their competitive market figures. The leaders in the revenue and mobile traffic don't seem to deter from their positions. As per the latest Q3 2014 released by Opera Mediaworks, Android maintained its lead over iOS in mobile traffic market with 57.6% share, a rise of 8% from the previous quarter. Apple iOS held back at 30.2% market share. It was Apple who was leading the traffic chart till the last quarter of the previous year but eventually Android took over in the first quarter of 2014. Industry analysts silently nodded to this market preference. Android with its free to use platform has evolved over years and is now being monetized by every big-gun in the market who are churning out smartphones at a price never witnessed before. Samsung Electronics Co Ltd. (KRX:005930), though has been the leader for long, is facing tough competition from the low-price smartphones of Motorola, Xiaomi, Huawei and many homegrown smartphone vendors in various countries.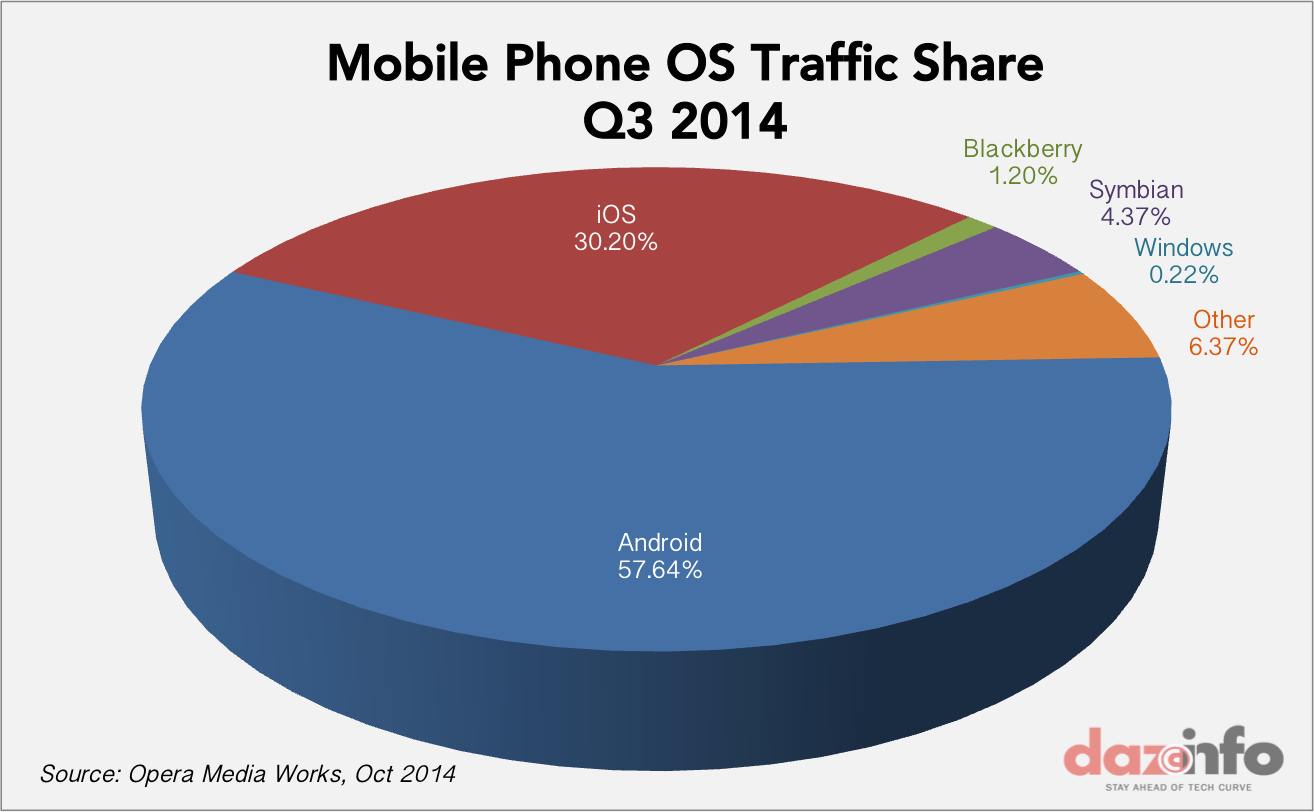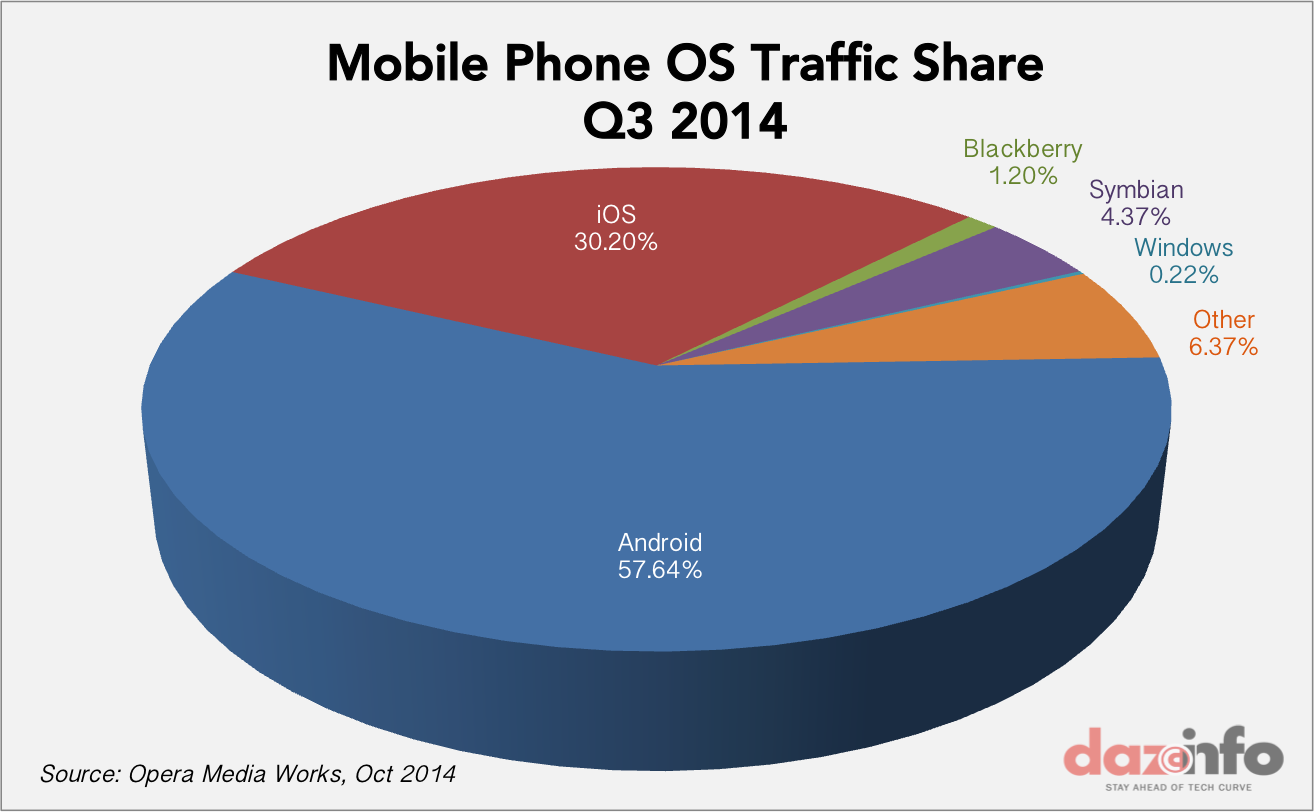 In terms of revenue, iOS accounts for 51.2% of all revenue generated when compared to 41.8% of the Android share in Q3 2014. Apple's owes its dominance in the revenue sector to its very popular iPhones, iPads and iPods which have been widely acclaimed in revolutionizing the industry. Noteworthy is the fact that there is an increase in the Android's revenue share at the expense of dip in that of iOS. Between Q2, 2014 and Q3, 2014 Apple iOS revenue share by nearly percent point from 53.12%, while Android's revenue share has surged up to 41.8% from 38.60% in the previous quarter.
With the release of iOS 8 in the third quarter, it was much expected that traffic and revenue from Apple iOS devices would increase but it failed. A week since the release, iOS 7 accounted for 65% of all impressions served to Apple's devices. The figure for iOS 8 was 28.6%, a dismal figure with respect to Apple's previous track record.
Highlights of the report
Android leads the pack of mobile

traffic, but

Apple's iOS continues to be most top revenue

generator

.
Social media has the greatest volume of 

ads, but

revenue comes from Music, Video and Media.
Mobile video impression

is dominating the ad market.
Mobile Video Advertisers tend to be most successful in France; 34% of all ads are in video format.
Entertainment ad videos are most sought after, but Education ad videos have the 

highest completion rate

.
Shorter video length of 15

sec

or less is being preferred.
Investment in shorter video format

(

10-14s and 15-19s) is on high.
Large screen devices and better network

are affecting

the growth of

mobile ad industry

.
This report gives us a beautiful insight into the world of Mobile Advertising. The number of smartphones in the market is increasing. Apple and Samsung alone control 45% of smartphone shipment. It is expected that IP video traffic will be 79 percent of all consumer Internet traffic in 2018. If the scenario remains, what needs to be seen is how early the advertisers realize the effect of the changing pattern in this market.
Music, Video and Media highest revenue generators, Social

leads

the traffic
The incorporation of social networking in almost every available feature has given way to it acquiring highest volume of impressions. Simply put, impression is counted each time an ad is shown. 21.8% of impressions is from Social Networking Category. Music, Video and Media lead the revenue chart (23.1%) with Health and Fitness category generating maximum revenue per impression. The story was no different in the previous quarter where again social media sites and apps had shown similar stats.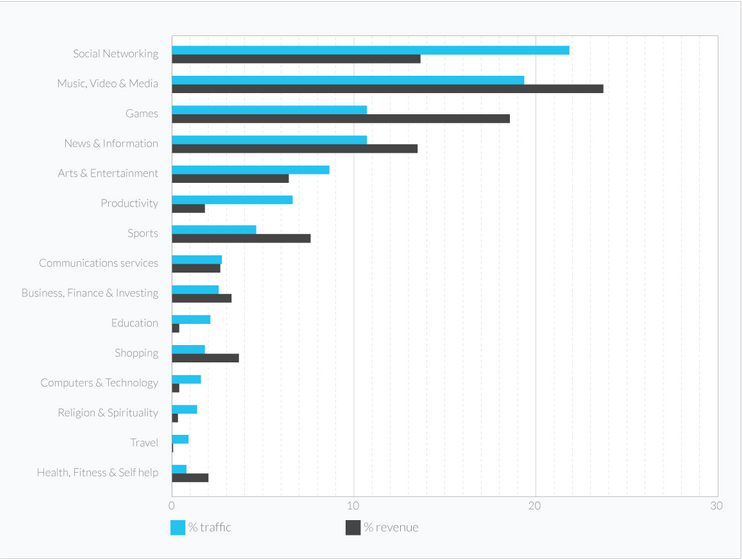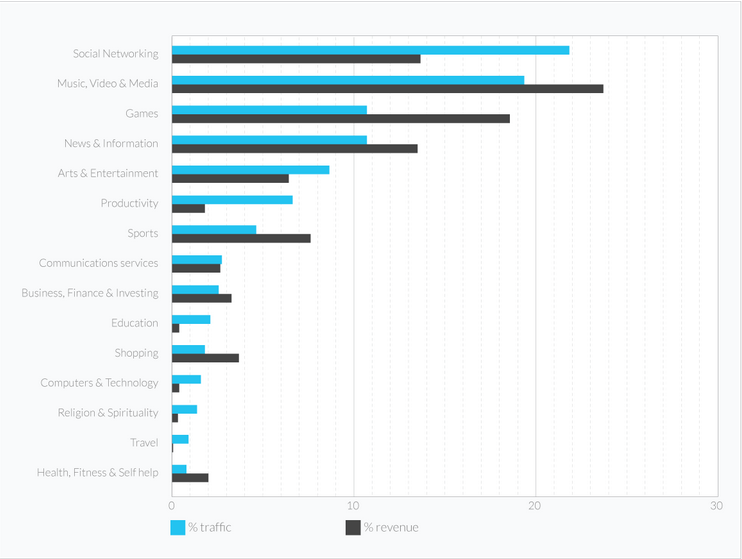 US Leads in Mobile Ad Market; Revenue Double That Impressions
The mobile advertising market has flourished the most in the America. As per the reports, America – the Western Hemisphere not including the U.S.A – boast of 9.8% of their share of impressions, up from 5.8% in the previous quarter. Even in revenue sector, it grabs 10.3% of the market share with Mexico coming out as a major contributor. Argentina showed highest growth standing fourth at the position of top 20. It stood at tenth in the same list the previous quarter.
Asia region, which harbors 52.2% of total social media users, continues to grow by retaining its second spot. The ad impression share doubled to 27.4% in Q3, 2014 from 15.3% in the year-ago quarter. It is likely due to increased penetration of mobile phones and internet usage. However, as Asian internet users and mobile users are not known as a great consumer of advertising, revenue gains remain a concern with its slow growth at 8.4% in Q3 2014, marginally high than 4.9% in the last year quarter. Europe with 17.3% share in revenue shows highest revenue gain, just behind the US.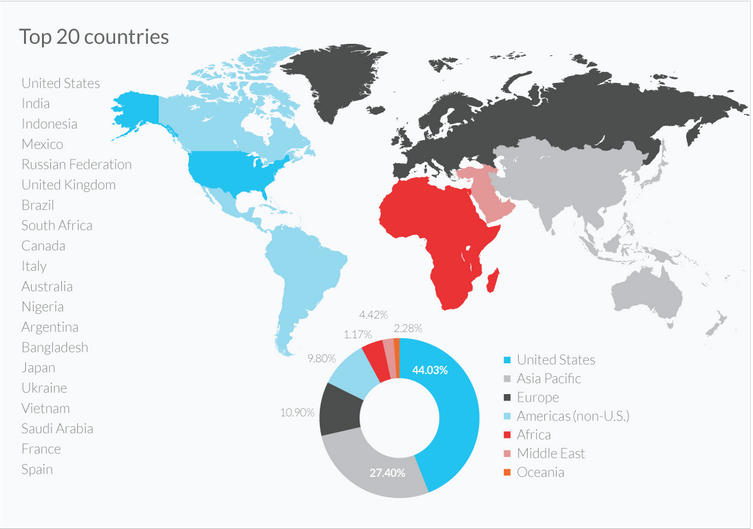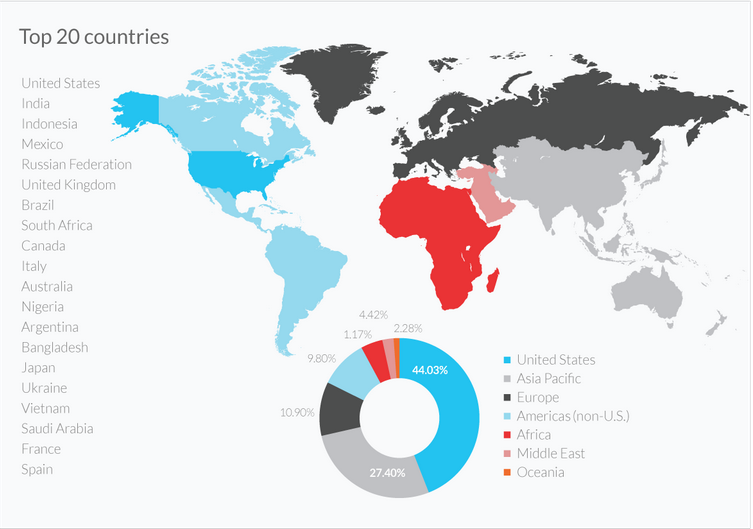 When It Comes To Mobile Advertisement, Video Steals The Show
When Reebok & Carat teamed up with AdColony for their ad, they had realized the long lasting impression that a video ad will leave behind. The combination of HD video and post-view interaction saw 1.77 million video ad viewers with an engagement rate of 3.03%. Such is the impact when it comes to choosing between video and other sources. With their ability to engage users with high-end graphics and compelling messages, they have grabbed the ad market since they set foot. It is expected that by 2016, mobile devices will be responsible for 50% of all video consumption. Closing this quarter, rich media accounted for 15% of the total global traffic with nearly 8.7% coming from video formats. Video eCPM (effective Cost Per Thousand) is almost twice that of regular ads. Hence, even in terms of revenue, video is leading the pack.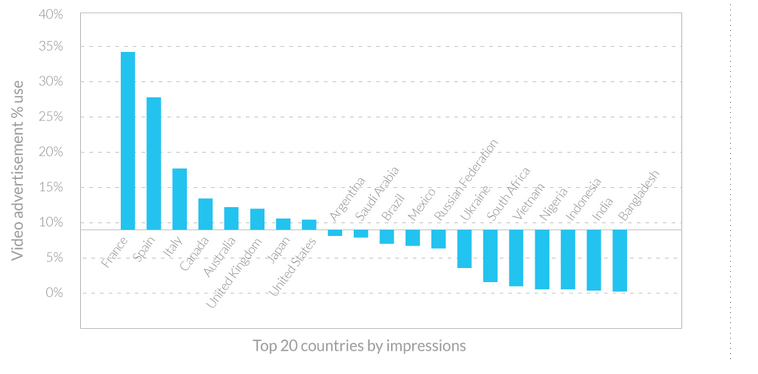 However, video advertisement does not have an uniform distribution across the globe, probably due to unbalance average internet speed among all the countries. With 34% of advertisements in video format, France is the best bet when it comes to video ad success. Spain, Italy, Canada, Australia, U.K., Japan and the US too have turned out to be profitable markets.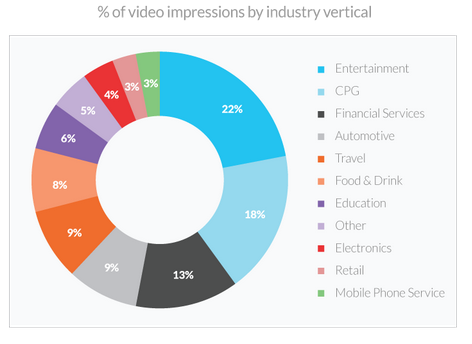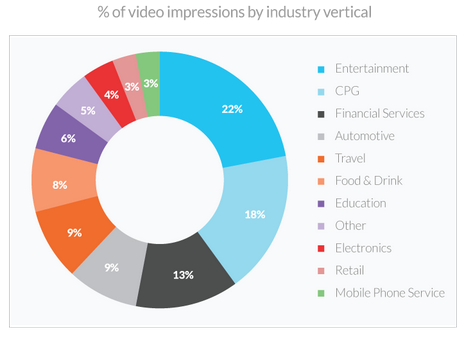 Even among the type of videos, Entertainment (22%), CPG (18%) and Financial Services (13%) together account for more than half of the share of video impressions, which makes it clear that advertisers in the field of entertainment are bound to profit more.
Interesting is the fact that these services have a direct dependency on the seasons. Summer, which sees new movie releases, TV show launches and undoubtedly the release of new mobile technologies(remember the iPhone 6/6+), sees the highest concentration of spending across apps.
Though Entertainment boasts of the highest share it fell second to Education which saw highest video ad competition rates. Rich visual content, well-integrated video ad placement, post-release marketing and the brand itself adds to the consumer engagement.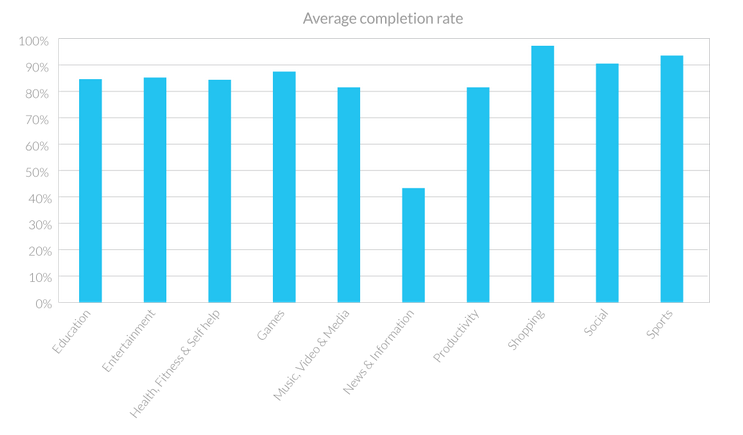 Even among all of these, be it most profitable entertainment to the critical zone of mobile phones, people are not willing to spend a sizable chunk of their time on video ads. 27% of the online video viewing is on mobile devices and short videos have been effective.. Short videos with an over span of 15 seconds in length is in demand.
All talks of profit, success, revenue will stand no meaning with disappointing device operation and poor network coverage. Observation showed that large screen devices with an enhanced experience have more video impression than their overall market share. Tablet, iPhone and iPad grabbed a big share of the pie. Android stands good with 51.53% of video impressions compared to 61.56% of all smartphone impressions. In fact, the mobile and tablet video viewing has rose by 532% since 2012.
No Loss For Mobile Ad Advertisers But Need To Allocate Resources Wisely
In spite of all above findings, the analysis does not keep advertisers on a backstage. What is important is how wisely they use their creativity and resources. Above observation shows that it'll be best to hit the large screen market which is growing at an exponential rate. Among them too, it is quite unlikely that iOS will lose its dominance in terms of revenue any time soon. However, one should prefer the previous version and wait for iOS 8 to have a strong-hold. In low and developing economies, Android is the best bet. This platform is not going to lose in the near future seeing the current market pattern. Whatever may be a platform, it is video ad format that will continue to be a hit. Good network coverage, shorter video length and formats will only increase its giant share. App and site developers need to be especially conscious as Music, Movie and Media will give them the highest profit. In terms of demography, Asia is set to see a phenomenal growth in this market. It still does not cloud the fact that Uncle Sam remains the big daddy.
The ordinary banner though still has not lost its charm but with the increased penetration of technology in our lives, we wonder how long will it take for it to lose its shimmer beyond recovery!