Internet penetration rate across the globe is steadily rising day-by-day, so is the social network penetration (social media sites and messenger apps together) as users are getting acquainted with various networking sites like Facebook Inc. (NASDAQ:FB), Twitter Inc. (NYSE:TWTR), QZone and messenger apps like QQ, WhatsApp, WeChat and others. People are being specific as they prefer social networking sites/apps which are related to their purpose of visit. Personal interaction and networking has totally shifted from social networks to messenger apps. News consumption trend is shifting slowly towards social networking sites like Facebook, Twitter and others. Photo sharing, video sharing and brand engagement is the most happening activity among well-known apps like Instagram, Vine and Pinterest.
Social Network Penetration Is 26% Compared To Internet Penetration Rate Of 35%!
Out of a total global population of 7.1 billion, more than 35% or close to 2.4 billion folks are internet users or have web access. This has aided growth rate of social networks as more than 74.7% of the internet population now accesses social networking sites. This is also equivalent to 26% of the overall population.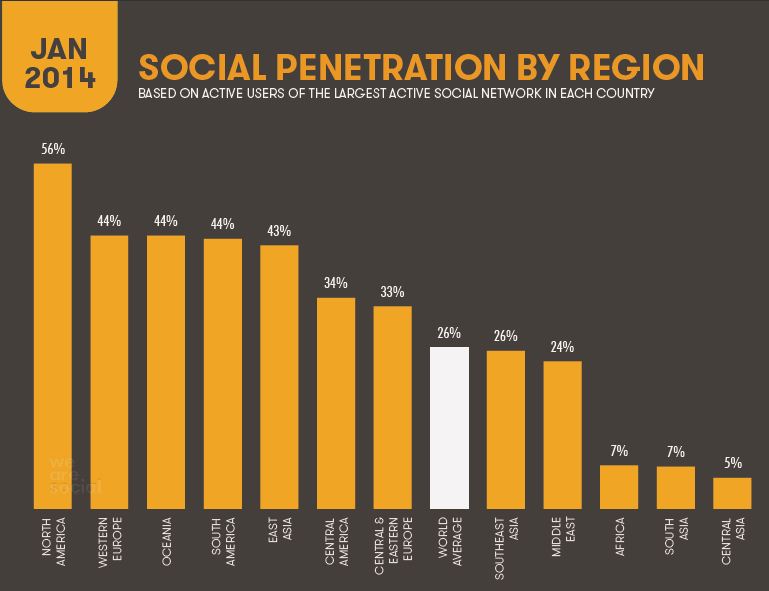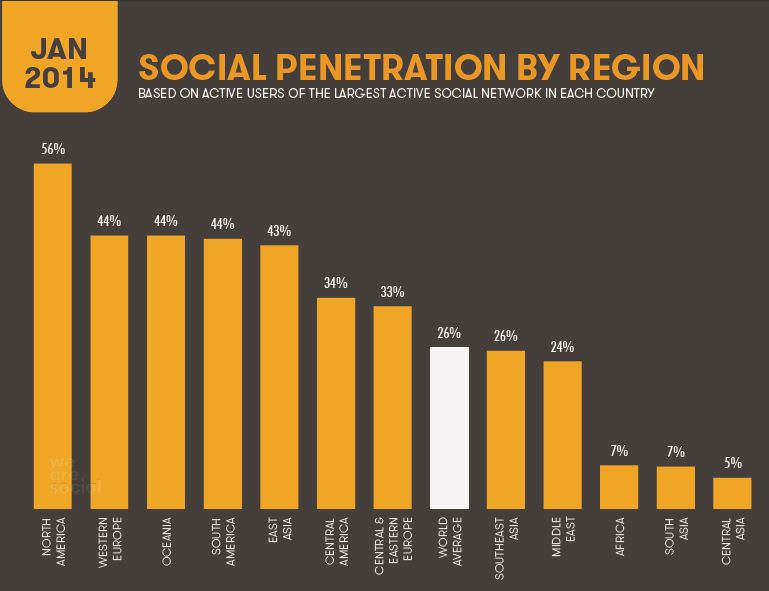 If we analyze social network penetration based on major geographic regions, penetration is highest in case of developed states of North America, Western Europe and Oceania countries (Australia, New Zealand and surrounding islands) and is growing at a steady rate in developing regions of Middle East, South East and Central Asia. North America remained at the top with a 56% social network penetration, followed by Western Europe, Oceania, and South America with 44% each and East Asia with 43%. Social network penetration in developing economies of South East Asia (26%), Middle East (24%), Africa (7%), South (7%) and Central Asia (5%) were below the world average of 26%.
If the data above is interpreted in comparison with internet penetration in the respective states, we can observe that a majority of internet users have embraced social networking sites or apps for communication, story sharing and other purposes. In North America, nearly 69% of internet users have embraced social networks and messaging app services. In Western Europe 76%, Oceania 69%, South America 93% and East Asia 95% of internet population of respective countries have embraced social network and messenger apps successfully for their daily tasks.
Facebook Was Most-Used, Followed By QQ, QZone And WhatsApp!
The social media titan Facebook emerged as the leading social networking site used by over 1.184 billion (as per Q3 report total user base is 1.189 billion) in spite of the ban on Facebook usage laid by governments in countries like China and Russia (to aid local players in the social media industry) else it could have added close to another half a million odd users to the networking giant's website. Next highest was instant messaging software service called as QQ by Tencent holdings which has amassed over 816 million users, QZone – social networking site by Tencent has over 632 million users. WhatsApp, teen's favorite messaging service apps has over 400 million users worldwide. It is interesting to know that of the top 4 social networking sites, 2 of them are messenger apps.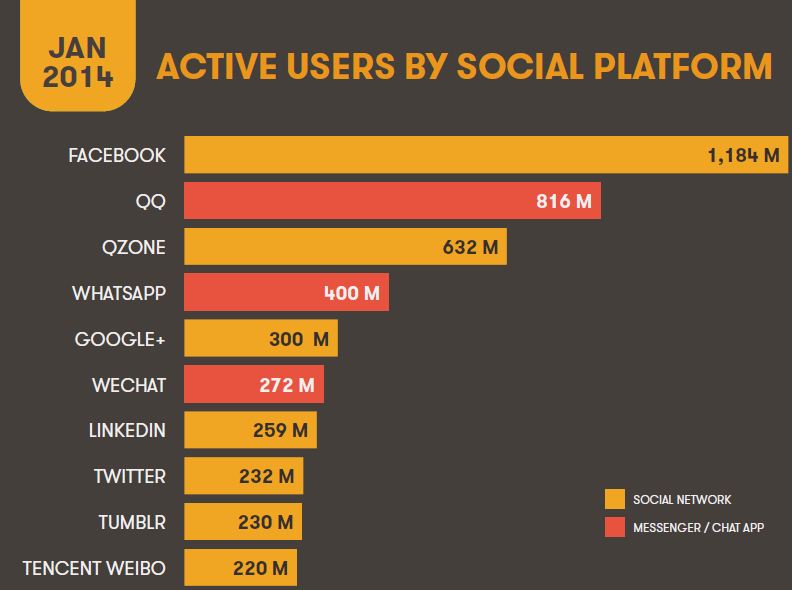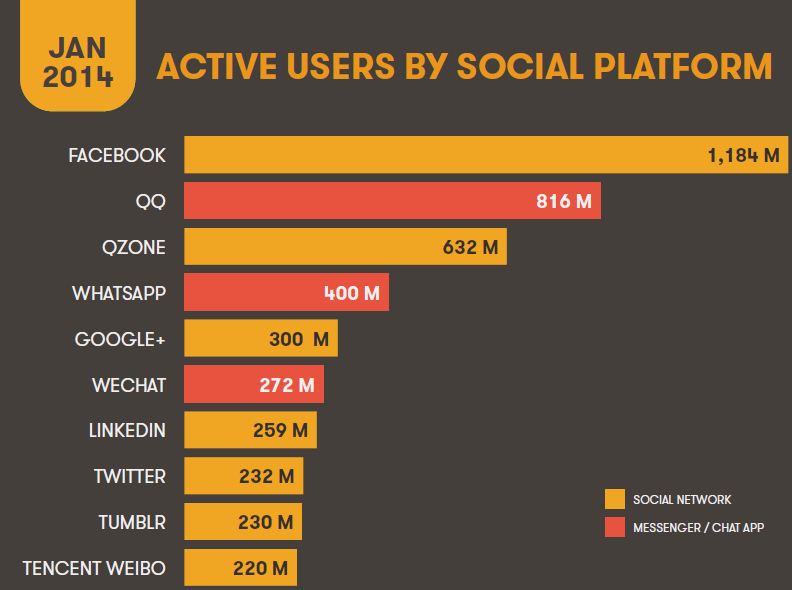 Messenger apps have totally stolen the thunder from networking sites and is increasingly being adopted by Smartphone and tablet users worldwide. More than 1.3 billion users use messenger apps to have private or group conversations as it is easy to use and requires minimal data usage.
Google Plus was 5th highest with 300 million registered users attributing to the fact that the search giant has forced users using various Google Inc. (NASDAQ:GOOG) products (comment on YouTube, review the +post Ads in various sites driven by Google ad Network, Place reviews in Google City Expert program) to sign-up for Google Plus. LinkedIn Corp. (NYSE:LNKD) with a niche user-base who browse and network on the site for serious business related discussions and to seek information via knowledge rich platform services like the Influencer's program and channels program. San Francisco based Twitter was widely used by eminent personalities, media firms and other intellectual elite group of folks who could capture the essence or main theme of cheeky 140 char tweets depicting the entire  message or actual situation and voice their opinions/replies in form of short messaging services.
Social network penetration is bound to rise in future with an increase in internet usage as more people now prefer social media sites and messenger apps to communicate rather than traditional SMS or voice calls. Messenger apps have evolved themselves to help data transmission in voice, picture and video formats. Even social networking sites are now widely used for brand engagement, news consumption, content-sharing, launch any social movement or create awareness and a whole lot more.
Source: WeAreSocial