Apple Inc. (NASDAQ:AAPL) recorded yet another impressive year in mobile advertising market beating arch-rival Android with a distinct margin. In 2013, Apple's iOS edged out Google Android in mobile traffic and mobile ad revenue section.
According to the latest Q4, 2013 study titled The State of Mobile Advertising Q4 2013 released by Opera Mediaworks – one of the leaders in mobile ad networks – Apple iOS accounted for 43.39% of mobile traffic during the fourth quarter of 2013, beating Android that settled with 37.71% of traffic during the same period.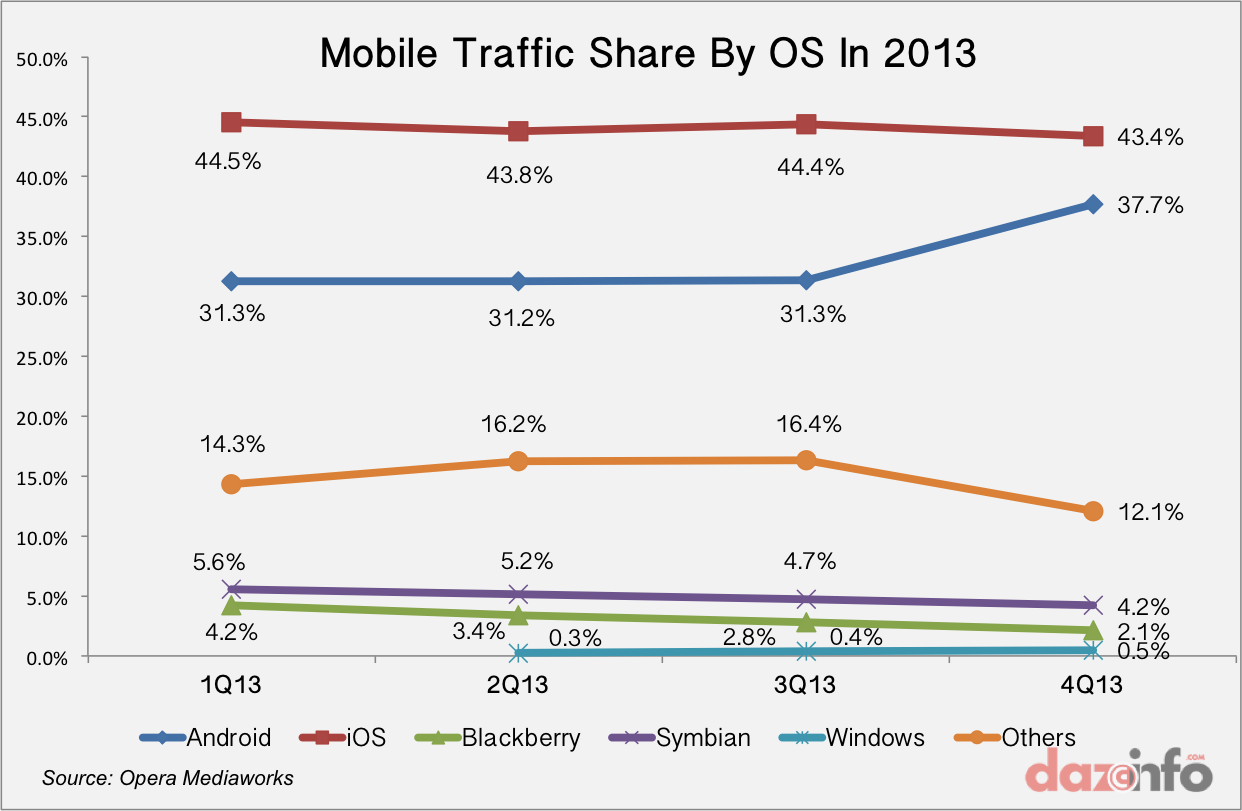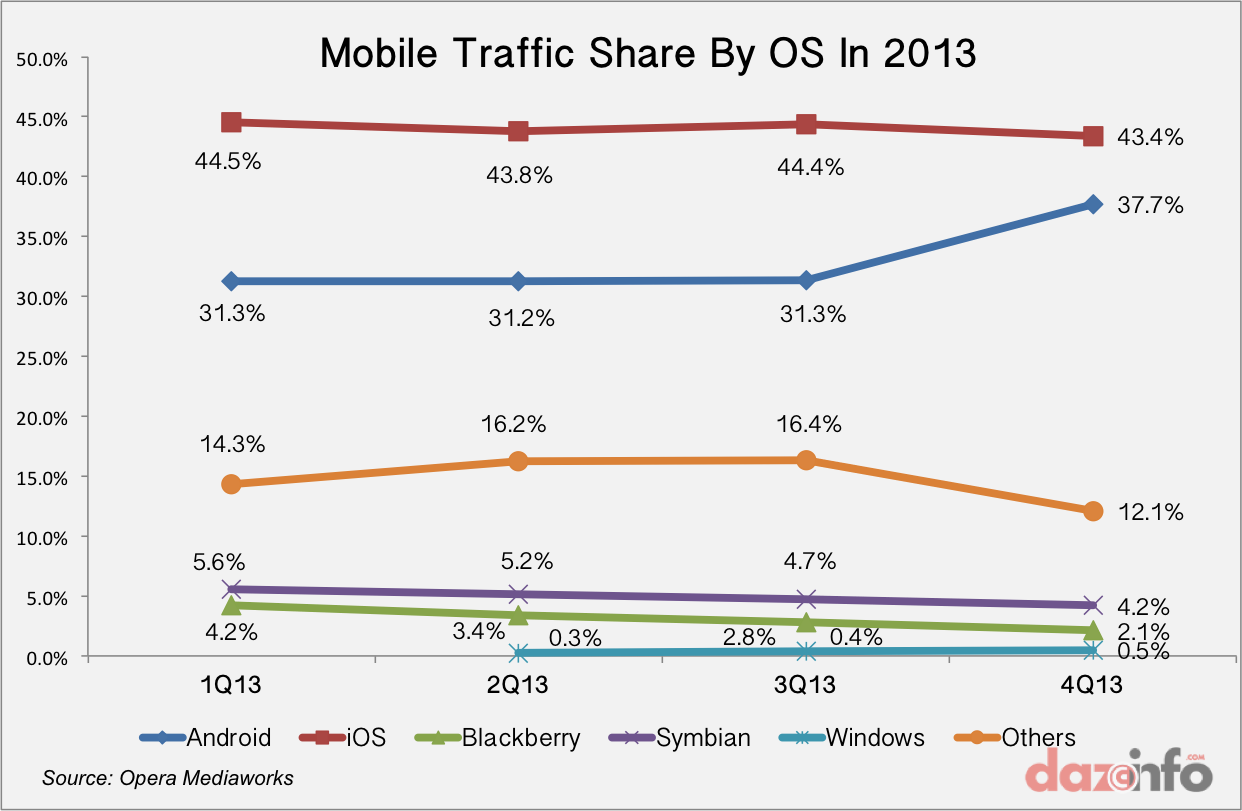 However, after digging the numbers further, the tables turned in favor of Android. Mobile traffic share of Android Smartphones leapfrogged iPhone traffic in Q4, 2013. The farther one recorded 35.85% of mobile traffic, while the latter one was pushed below with 28.72%. In the tablet segment, Android failed to present any challenge to iOS as the iPad accounted for 10.59% of mobile traffic against a mere 1.86% which originated from Android tablets.
But there is another side to the picture when you put mobile traffic data for all four quarters of 2013 together. The rosy picture fades out as Apple iOS traffic remained stagnant throughout the year. Infact, iOS closed the year with a negligible loss in markets share compared to 44.5% of mobile traffic share recorded in Q1, 2013. On the other hand, Android enjoyed a significant improvement in Q4, 2013 compared to 31.3% of market share accounted in Q1, 2013.
Apple iOS vs Android: Mobile Ad Revenue War
Mobile traffic is just half the story, however. For advertisers and marketers monetization and conversion are more important aspects to look into. In this scenario, Apple iOS dominated the arena and improved its mobile ad revenue shares significantly in Q4, 2013. Apple iOS enjoyed almost half of the total mobile ad revenue during 2013 and closed the quarter with 55.7% of mobile ad revenue against 31.7% by Android.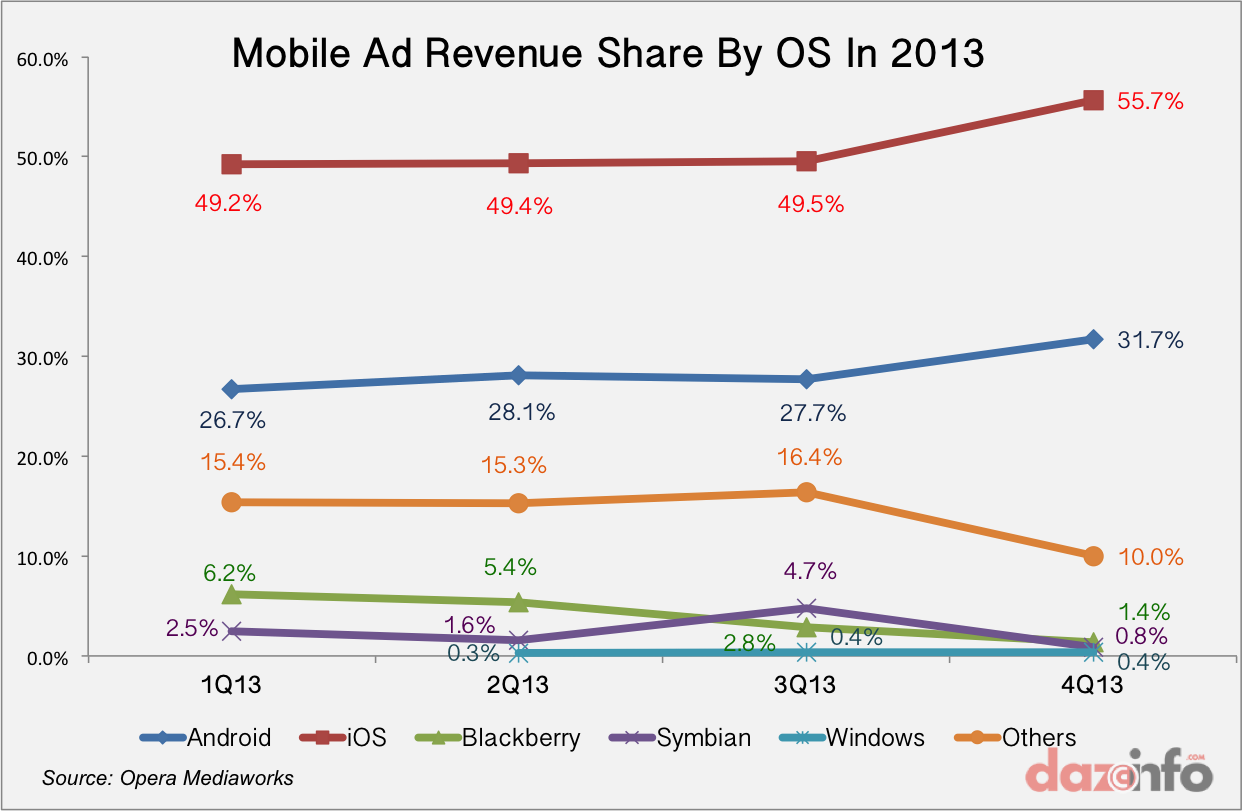 Both iOS and Android saw a sizable up surge in their mobile ad revenues in Q4, 2013 at the expense of other OSs that saw a sizable decline in their ad revenue market share.
A large part of iOS' revenue came from the iPhone that contributed 40.3% of the total mobile ad revenue in Q4 2013. While the iPad and the iPod Touch contributed a mere 12.7% and 2.80%, respectively. Scenario remains no different for Android as 30% of the total mobile ad revenue came from Android powered Smartphones while Android tablets contributed just 1.67% to it.
Nothing Like Entertainment: Mobile Users Are Sold
Movies and Entertainment services have emerged as the biggest mobile traffic pullers as well as mobile revenue sources. Due to a long holiday period in Q4, 2013 advertisers from the Music, Video and Media category remained more active and invested more to promote entertainment based ads. But this trend is not an isolated case, Entertainment has consistently been a high performing category over the past few years. Food & Drinks and Consumer Electronics were the other top ad types that fascinated mobile advertisers during the holiday season.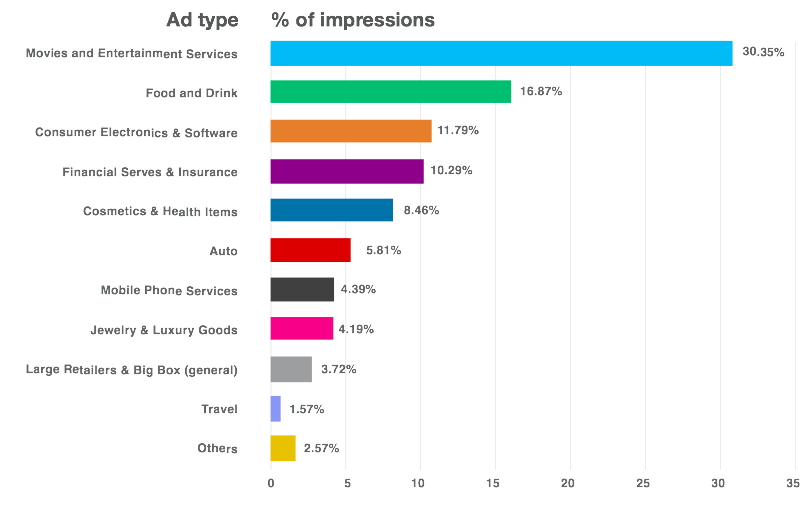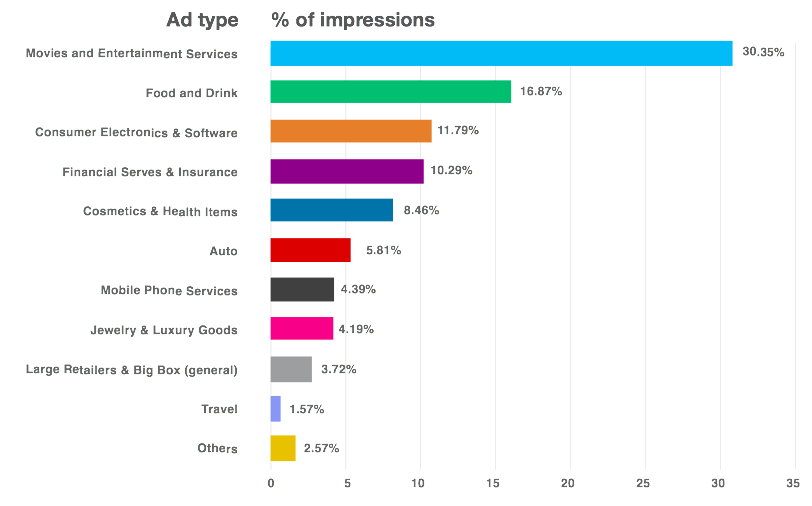 United States And Asia Pacific Driving 70% Of Traffic
Regions containing top three countries by the number of mobile subscribers and internet users, United States, China and India, are responsible for driving little over 70% of the total mobile traffic. United States and India have emerged as the top countries, followed by Indonesia, Russia, United Kingdom and Canada in Q4, 2013.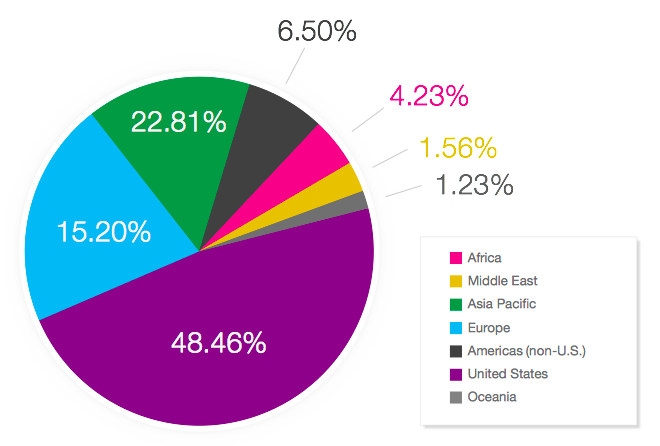 Eventually, It's Apple vs Samsung
The above findings from the reports clearly depict that Android has largely benefited from the constantly declining market share of RIM, Symbian and others. Besides these, constantly growing market share of first time Smartphone users that have migrated from feature phones and mid-range devices market where Apple has failed to leave an impression, has also benefited Android. The iPhone and iPad maker, though, has dominated the U.S. market by making the iPhone available at the price of mid range Smartphones under the installment scheme, other emerging markets like that of China and India are yet to respond in a similar fashion to Apple.
In absence of any other strong contenders, Samsung has accumulated a large market in these countries by flooding low-priced Android powered devices. Nearly 81% of smartphones that were sold in Q3, 2013 were powered by Android and three out of four of these Android powered Smartphones were manufactured at a Samsung facility. Therefore, it won't be wrong to say that Samsung controlled almost 60% of the Smartphone market while the Apple iPhone market share fell to 12.1% in Q3, 2013. The left over 28% of Smartphone market has become a crowded playground for more than 2,300 global and local Smartphone vendors and each of them are fighting for a bite of the rather small pie.