Samsung Electronics Co. Ltd. (KRX:005930) came up with the idea of mass-producing a device which combined the functionality of a large screen smartphone along with the small screen size of a tablet, and thus the modern phablet device was born. The behavior of a typical phablet user has often been compared to that of a smartphone or tablet users to understand the various usage patterns. A new study by Opera Mediaworks has revealed that phablet users are a separate group altogether with their own distinctive behavior. The number of phablet users is still far less than that of smartphone users, hence this research provides important insights for the future.
The study was conducted among 13 million mobile devices which had screen sizes between 5 inches and 7 inches such as Samsung Galaxy Note, Sony Xperia Z and LG Optimus G Pro. During March and April 2014, data from a 24 hour period was analyzed among the Opera's mobile ad platform which serves 64 billion impressions a month and reaches 500 million users through 14,000 mobile sites and apps.
Phablet Users Formed Half Of All Social Networking Impressions
The total number of global ad impressions by publisher content category were measured across the ad platform. By comparing the sites and apps frequented by phablet users, a profile of a social-oriented user emerges. Social networking sites are the most visited among phablet users, accounting for 53.8% of total impressions. In contrast, the impressions on smartphones was almost 30% and tablets constituted less than 10%. Interestingly, phablets users are far less likely to use their devices for accessing news and information than smartphone users. They also fall well behind tablet users in usage of their devices for entertainment activities such as gaming, music, video and  media. The lead of tablet users is not surprising as, by 2016, mobile will be responsible for 50% of all online video consumption, and tablets will be the most popular device for video viewership.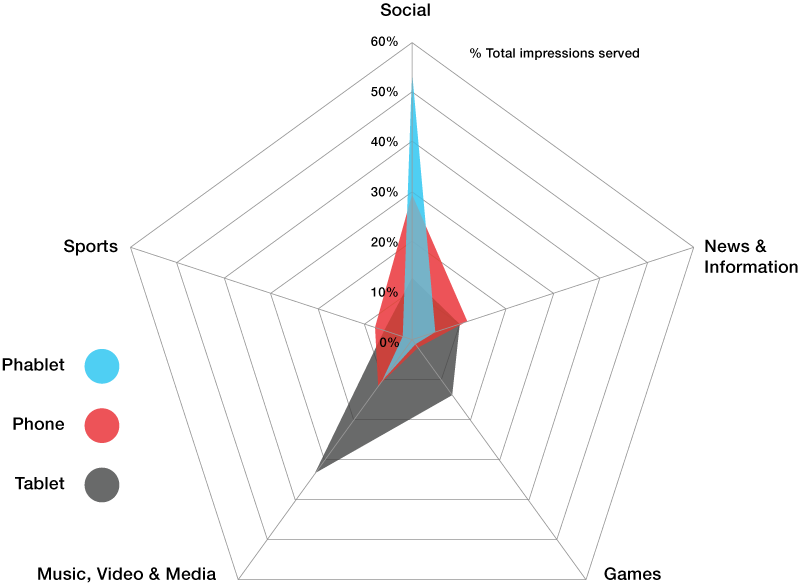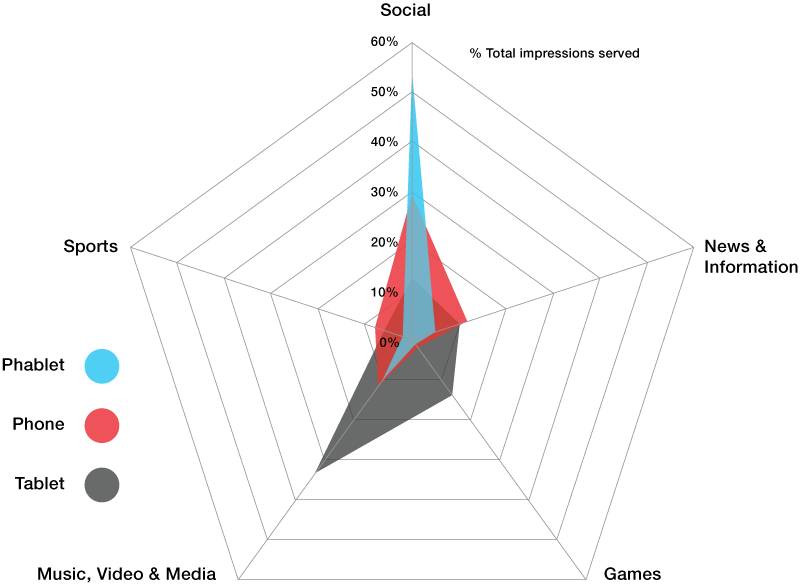 These trends show that the pattern of phablet users is similar to that of smartphone users, although they tend to be more social-oriented. The large screen sizes could perhaps be responsible for the overwhelming usage of social media as it is easier to see pictures and read text on larger screen devices.
Lack of interest in news and information websites is because these information is usually accessed while commuting. Since Phablet devices are often quite large, users prefer not to use them for basic activities unless necessary. Games and media usage on phablets is likely to be far lesser as users prefer their tablets for entertainment related purposes. Opera Mediaworks President Scott Swanson commented on the findings:
"What we discovered is people now want to use their phablets for both purposes — to run around town, use the map, check email, text a friend that you're running late. Then they were also using it at home, sometimes instead of a tablet, for checking social media."
Advertising Works Best During Evening Hours
Web Traffic and advertising engagement in the United states was examined over the course of 24 hours to find usage patterns based on time. It was observed that traffic volume on phablets soared to almost 6% between 9 AM and 12 PM, the busiest time of the day. However, engagement on phablets dipped between 5 PM and 7 PM, as this was the time most users were commuting, having diner or spending quality time with their families. Meanwhile, tablet traffic volume soared after 5 PM till 9 PM as most consumers relax at this time by using their tablets for playing games and watching videos while staying engaged in multi-screen activities.


The average Click Through Rates, or CTR, tended to be higher on phablets than tablets. The average CTR rate on a phablet was about 0.9% vs 0.15% for tablets, throughout the day. Interestingly, the total number of ads served on tablets decreased continuously between 9 PM and 12 AM, although CTR rates rose sharply after 12 AM. The number of ad impressions served on phablet devices declined between 6 PM and 9 PM despite CTR rates rising sharply after 6 PM. These figures are a clear indication that advertisers need to time their ads at the appropriate hour to gain the most traffic.  
Users Still Prefer Smartphones Over Phablets
Large screen devices were responsible for a third of all smartphones shipped in Q1 2014, but globally the market is still at a nascent stage. In 2013, out of a total of 980 million smartphone shipments, only 20 million devices were phablets. Juniper research estimates that this figure will increase by 600% to reach 120 million shipments annually by 2018, creating a grand total of 1 billion phablet users. Large screen devices are a huge draw in Asia where they are favored more for reading small characters. In March 2014, 40% of Chinese buyers preferred phablets as their choice of smartphone. Apple Inc. (NASDAQ:AAPL) is reportedly planning to launch a 5.5 inch screen phablet device in 2014 to gain a significant share of the fast-growing segment.
The findings have broken some myths surrounding phablet devices. Users of large screen devices do not actually view more media than smartphone users, hence more phablets in the market may not create a demand for increased data usage. That category will be dominated by tablets in the years to come. Although phablet shipments are surging ahead, the global demand for smartphones will continue to stay higher as users still prefer easy to hold devices. Smartphone, tablet or phablet are all suited for their own unique purposes and users will continue to find different ways to integrate them in their daily usage.