Online social networks are enjoying the attention of nearly two billion internet users and brands have become a driving force behind the highest level of engagement. Facebook Inc. (NADAQ:FB) is leading the phenomena with nearly 1.3 billion monthly active users and majority of brands, available online, are making sizeable investment on the social giant in terms of time, efforts and investment. Despite of the fact more than 60% of questions asked on brand Facebook pages are going unattended, according to the latest report from Quintly.
The report is based upon the study done on more than 75 million updates on 76,734 Facebook pages having more than 1,000 likes/fans. The sizeable number, therefore, make the findings more authentic and valuable.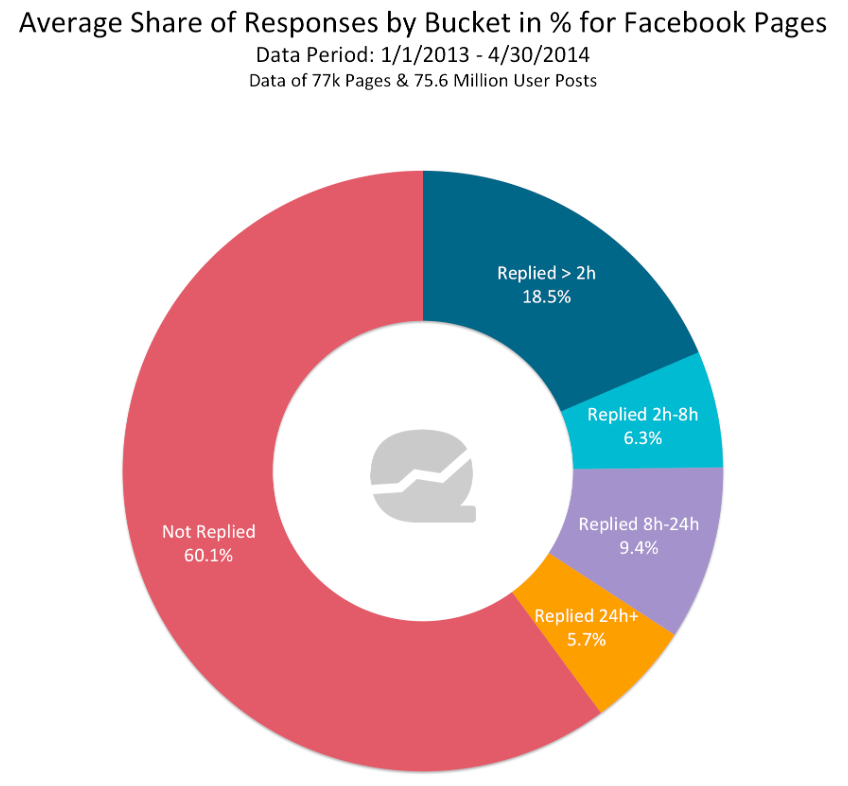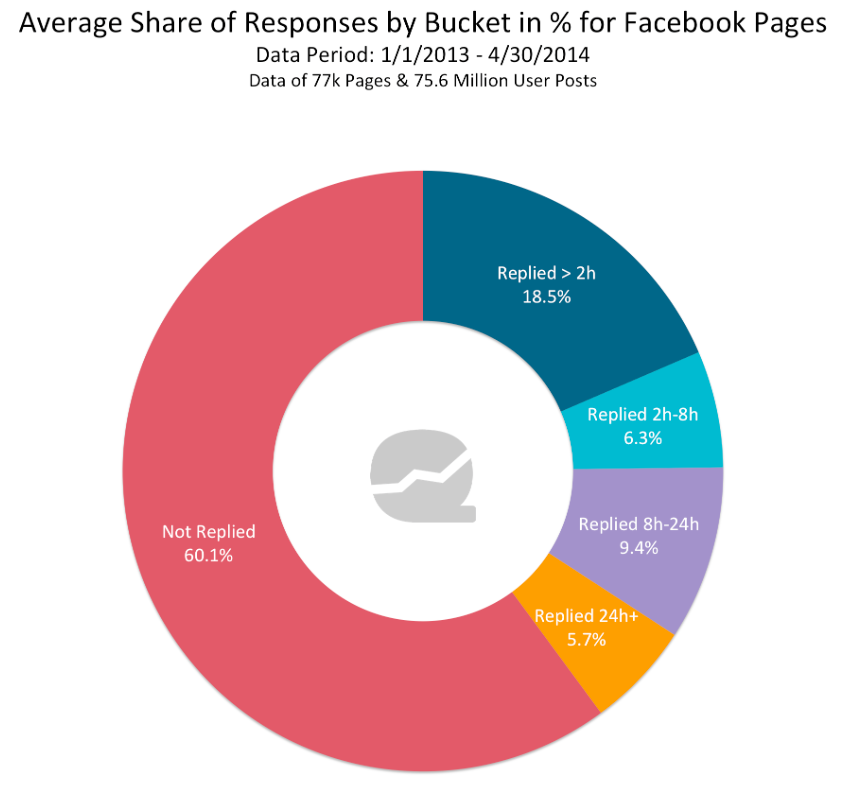 The response rate, however, went up by 5% to 42.4% in April 2014, compared to January last year. The development is indeed positive but it also portrays another picture in which more than 50% of users questions on brand pages going unanswered. The study categorizes the findings based upon the duration of responses. Nearly 18.5% of users' questions on Facebook brand pages are being answered within 2 hours, while 9.4% questions are being replied anytime between 8 hours and 24 hours. Only 6.3% of questions being posted on Facebook brand pages are being replied within 2 hours and 8 hours. These findings clearly depicts a picture in which only 34.2% of total users' query are being replied within 24 hours of time frame and majority of queries are either being ignored or replied beyond 24 hours, ditching users expectations from brands on Facebook. Besides, this also portrays that despite of obtaining aggressive Facebook marketing strategies, brands are reluctant to make parallel adequate investment required to attend queries on pages effectively. The study, however, doesn't highlights the types of queries going unattended but majority of these belong to post-sales and product/service quality.
Monday is identified as the most active day for brand page managers, the highest 27.8% of queries are responded within 8 hours. Overall, brand page mangers remain more active to attend and respond to users' queries on first four days of a week, the study highlights. Surprisingly, though weekends are tentatively low on, Sunday almost equals the number of queries being replied on Monday. Therefore, Sunday and Monday emerge as the best days where chances to get response from brands on Facebook are higher than other days.
The findings easily highlight how brands on Facebook are far from achieving majority vote of fans' satisfaction. Majority of questions are going unanswered and there are few ones being attended with a significant delay. It's still unclear what type of questions brands are trying to ditch but one thing is certain – brands on Facebook must adopt a positive attitude and attend higher number of queries to generate greatest level of engagement. Some times it's difficult to attend those 'tough talks' but an intelligent handling and quick response could still generate positive sign towards a brand among users.