Apple Inc. (NASDAQ:AAPL) iPad ushered in the age of tablets in 2010, and four years later, half of the entire U.S. population is using a tablet device, at least once a month. Although the tablet market has saturated in North America, the number of users are expected to grow from 132.2 million in 2013, to 147.2 million users in 2014, an 11.3% increase. According to an eMarketer report for March 2014, an estimated 52.1% of the U.S. population, or 173.1 million users will use a tablet by 2018. The report goes on to highlight the rapid importance of tablet devices in video viewership, and the lack of advertising investment in video ads on tablets and smartphones. Despite the explosive adoption, 83 million mobile users in the U.S still don't have a smartphone, and 153 million mobile users still don't have a tablet.
Tablets Trump Smartphones In Video Viewership
Tablets are increasingly preferred over laptops and desktop computers for viewing videos, both online and offline. The devices are winning favor over desktops and smartphones alike, owning to portability and the large variety of screen sizes.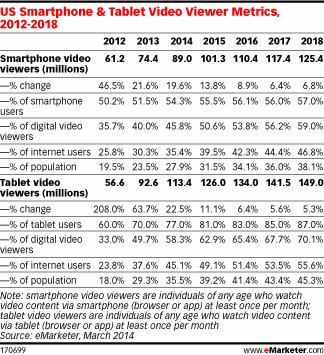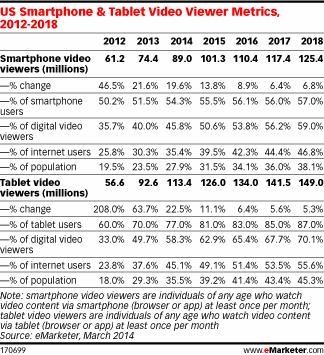 For  February 2014, the smartphone penetration in the U.S. stood at 68.2% with a total of 163.2 million smartphone users. According to eMarketer, the number of users watching videos on smartphones, at least once a month, stood at 74.4 million in 2013, and will grow by 15 million users to 89 million in 2014, and 125.4 million by 2018. This video viewership includes both mobile browser and app usage. In 2013,  51.5% of smartphone users viewed videos on their smartphones, and this figure is projected to grow to 57%, by 2017. 28%  of the entire U.S population will view videos on a smartphone in 2014, which will grow to 38% by 2017. However among smartphone users, video penetration  is unlikely to ever cross 60% , even by 2018.
Interestingly, the projections are tilted overwhelmingly in favor of tablets. Out of 132.2 million tablet users in the U.S in 2013, 92.6 million users or 70% of tablet users were watching videos on their devices, at least once every month. In 2014, 113.4 million users will view videos on their tablets, a 7% jump from 2013. By 2018, this penetration will soar to a massive 87%, with at least 149 million out of 171.3 million users, watching videos on a tablet. This is a total of 55.6% of the internet population in U.S, and 45.3% of the entire population. Tablets will continue to be featured as entertainment devices, while smartphones are used for other purposes. It is estimated by 2016, mobile devices will be responsible for an estimated 50% of online video consumption
The Average U.S Adult User Spends 20 Minutes On Tablets Daily
U.S adults are also spending more time watching video on tablets. It's growing faster than all other mediums, and is poised to overtake digital videos being viewed on desktop and notebooks. In 2014, the average U.S adult will spend 55 minutes a day on digital video. Time spent in watching digital videos on tablets grew from 13 minutes in 2013, to 20 minutes in 2014. Smartphones are a laggard in this category, with time spent watching digital videos, growing from  9 minutes in 2013 to 13 minutes in 2013. 22 minutes a day is the time spent watching digital videos on online devices, which include desktops and laptops. This figure has remained flat Y-O-Y.
Advertisers Ignoring The Prospects Of Mobile Video
The explosive growth of mobile video, and the relative decline of video viewing on PC, is having less effect in the ad spending segment. In the U.S, according to eMarketer's ad spending forecast, investments in online video ads toward laptops and desktops, will reach US$4.45 billion this year. In stark contrast, mobile video ad spending was just US$1.44 billion, despite a 119% change from last year. By the year 2018, the revenue spent on digital video advertisements in the U.S alone, will grow to US$12.27 billion, with the revenue towards online ads accounting for US$6.83 billion or 57% of ad spending.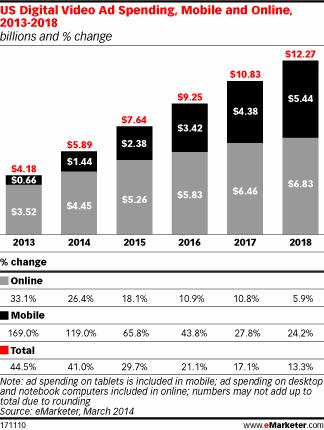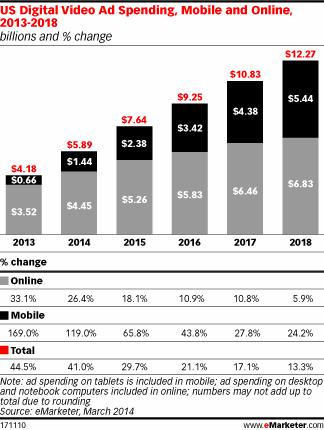 Despite increased spending in digital video ads on mobile devices in coming years, the marker is still skewed towards traditional online video. It will be interesting to see how this scenario emerges in other countries, with lower smartphone and tablet penetration rates and faster adoption. The lack of momentum in advertising towards mobile devices, can be attributed to a lack of knowledge  and experience in advertising promotions on new devices. In coming years, tablet penetration in emerging economies will soar, especially in the Asia pacific regions,and advertisers will need to adapt quickly.