Apple Inc. (NASDAQ:AAPL) continues to lead the global PC market, which includes tablets, notebooks and desktop computers, with a market share of 14%. Tablet sales, however, which constitute a majority of PC sales are on a steady decline since the last two quarters, giving the edge to traditional desktop and notebook PC manufacturers such as Lenovo Group Limited (ADR) (OTCMKTS:LNVGY) and Dell Inc. (NASDAQ:DELL). According to independent analyst firm Canalsys, worldwide tablet shipments fell by 5% sequentially to 48.4 million units in Q2 2014, as Apple and Samsung Electronics Co Ltd. (KRX:005935) suffered shipments declines. This, in turn, allowed the PC market to stabilize for the first time since tablets first shook the market almost four years ago.
The flip side to declining tablet sales is the resilience of the notebook market. Declining innovation in the tablet market and cheaper prices for notebooks has allowed the notebook market to grow strongly in Q2 2014, and shipments have also remained flat Y-O-Y. Further price cuts across all devices in the second half of 2014 are likely to stimulate demand, which is a good news for vendors.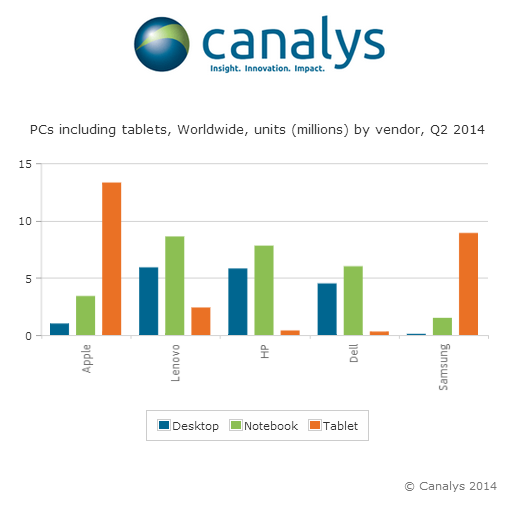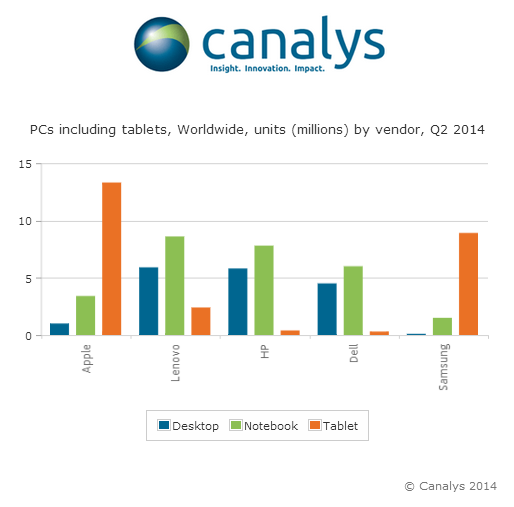 Lenovo May Soon Overtake Apple In The PC Market
A total of 123.9 million PCs were shipped in Q2 2014, registering a Y-O-Y growth of 14%. Apple recorded a 10% increase in shipments in Q2 2014, but weak iPad sales caused the company's overall shipments to decline by 5%. Korean rival Samsung fared no better with 8.9 million tablet shipments, although its sequential decline was less sharper than Apple's. Together, both firms accounted for 46% of the global tablet market, and their success is vital for the tablet industry. Several regions including China, the Middle East and Western Europe reported declining sequential shipments as high as 10%, although shipments in the US increased by 4%. Canalsys Research Analyst Rusabh Doshi tried to shed light on the struggle of Apple and Samsung:
Pricing remains Apple's biggest barrier to growth and essentially locks it out of a number of markets. By holding firm on its prices, Apple ensures that its tablet business is highly profitable. But as sales in its key markets slow, it is betting on the improving economic environment in high-growth markets, such as China, to drive future growth. Samsung faces a different challenge  as it attempts to compete in a range of market segments. The release of the Galaxy Tab S line saw it add Super AMOLED screens to its tablet offerings as well as introduce a new 10.5″ screen to its portfolio. With Samsung playing in so many segments, it is able to find pockets of demand. But it also drives obsolescence in other areas of its portfolio, causing inventory build-up that necessitates rounds of promotional activity.
Apple's loss is Lenovo's gain. The Chinese firm secured just under 14% of the market in Q2 2014, with shipments grew by a rapid 20% Y-O-Y.  It is now just 780,00 units behind Apple and could exceed Apple's shipment figures in the third quarter considering Apple has no plans to roll out a new iPad in the said quarter. Lenovo has been largely successful due to a superior pricing strategy and an assortment of desktop, notebook and tablet PC devices. Hewlett-Packard Company (NYSE:HPQ) and Dell also registered Y-O-Y increase in shipments at 14% and 11% respectively, and sequential market share increased as well.
Slowdown In Innovation Causing Low Tablet Sales
The main issues with tablets continues to be the lack of innovation. Unlike smartphones, which come equipped with new features and faster components every year, tablets have had very little overall hardware improvisation. The tablet is still viewed largely as an entertainment device for watching videos and playing games and hence consumers see little or no reason in upgrading their device frequently. Yet another reason for declining tablet sales is the cannibalization of sales through large screen phablet devices, which forces users to choose tablet devices with screen sizes larger than 7 or 8 inches.  It will be interesting to see if Apple's rumored 5.5 inch iPhone 6 device causes further sales-drop to its own range of iPad drastically.
The current situation in the tablet market is similar to the notebook market a few years earlier. Falling tablet prices are not a good news for vendors, as shipment decline forces them to squeeze their margins further. If vendors are serious about increasing sales in the second half of 2014, they will have to give users several reasons for upgrading their tablets. Microsoft Corporation (NASDAQ:MSFT) has responded by dropping the licensing cost on small factor tablets and by providing Windows for free thorough low cost notebooks. Apple has meanwhile partnered with International Business Machines Corp. (NYSE:IBM) to sell more iPad devices in the enterprise segment, and is also rumoured to be releasing an iPad Pro device in late 2014 .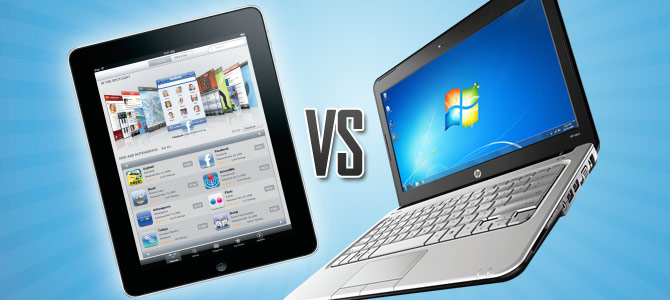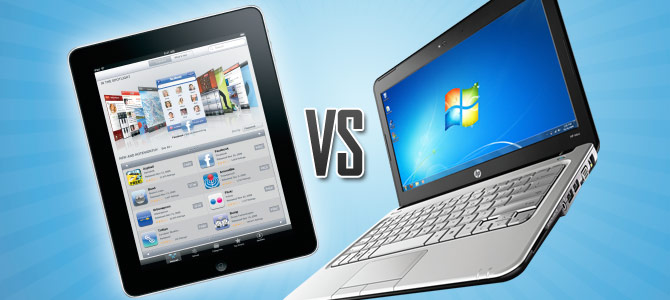 Notebook Sales Enjoying Quiet Resurgence
A total of 49.1 million notebooks units were shipped in Q2 2014,  and surpassing those of tablets for the first time since Q3 2013. Shipments were particularly good in North America and EMEA regions, rising by 13% and 8% Y-O-Y respectively. A number of factor have been attributed to this resurgence including improved economic conditions and the rapid shift away from Windows XP.  The falling price of touch screens, increased demand for Google Chrome books and Intel's Atom-based Bay Trail Platform are causing notebook prices to drop steadily.  To make the most of the current PC market, vendors will need to differentiate their portfolio of PC devices over the next few quarters.