Worldwide tablet shipments in Q2, 2014 recorded a yearly growth of 11%, totaling 49.3 million units. Apple Inc. (NASDAQ:AAPL) continues to be the largest tablet vendor in the world despite reporting a decline in iPad sales for Q2 2014. The Cupertino giant sold a total of 13.3 million iPads during the quarter compared to 14.6 million in the year ago quarter. Data released from IDC depicts that Apple retaining  the top position with a tablet market share of 26.9% in Q2, 2014. Korean Electronics Giant Samsung Electronics Co Ltd. (KRX:005935) had a market share of 17.2% with a total of 8.5 million tablet shipments.
The data depicts that the tablet market grew by 11% Y-O-Y, but declined by 1.5% sequentially from the previous quarter. Shipments of tablet devices reached 49.3 million units in Q2 2014, up from 44.4 million units during the same period last year. After three years of solid growth, tablet sales have been on a steady decline for a variety of factors, including longer replacement cycles and the overall impact of phablet smartphone devices.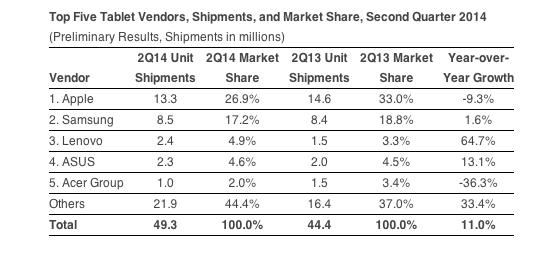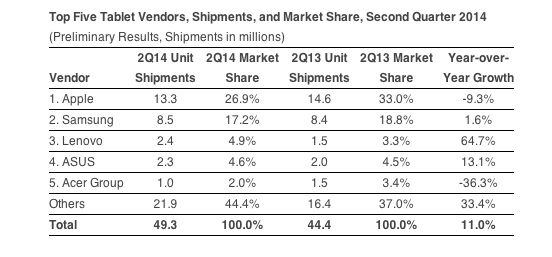 Apple iPad Market Share Eroding Faster Than Expected
During Q2 2013, Apple had a one third share of the global tablet market. This figure has now dropped to 26.9% due to declining sales of iPad in developed markets. Yet Apple continues to be the largest tablet vendor in the world due to strong sales in the BRIC countries. Samsung remained the second largest vendor by maintaining the same shipment numbers as compared to last year. Increasingly, the tablet market of the two tech giants is under threat from a large number of traditional PC manufacturers such as ASUSTEK Computer Inc. (TPE:2357) and Lenovo Group Limited (ADR) (OTCMKTS:LNVGY), who  have developed more affordable tablets.
Chinese vendor Lenovo gained a massive 64.7% Y-O-Y growth and saw its market share growing substantially to 4.9%. Similarly, Taiwan-based ASUS  saw a growth of 13.1% Y-O-Y with 2.43 million tablet shipments. Interestingly the largest market share falls to the 'other' category of tablet vendors who are not among the top five. The shipments of tablets from other vendors rose to 21.9 million units in Q2 2014. The market share of this category also stands at a whopping 44%.
Is The Golden Era of Tablets Ending?
Tablets were initially viewed as alternatives to notebooks and traditional desktop PCs. It was long thought that the tablet market would grow as fast as the smartphone market within a few years. Although the global tablet market is set to surpass those of Desktop PCs in 2015, sales have been far weaker than anticipated. The tablet market is recording slower growth due to a variety of factors; The replacement cycle of a tablet is far longer than those of smartphones, meaning people have fewer reasons to upgrade to a newer model every year.  Moreover, tablets  are far more likely to be used as mere entertainment devices for reading and web browsing. This is the reason why Apple continues to sell millions of iPhones every quarter, while iPad sales continue to slump.
The market for tablets is also maturing in Europe and the U.S. In these countries, users are more likely to purchase expensive tablets, such as the iPad to use in schools and workplaces. In Asia, however,  demand for tablets is clearly driven by the cost factor. As such, cheaper tablet offerings from various vendors have severely dented Apple and Samsung's grip on the tablet market. Over the next few quarters, sales of cheaper tablets will continue to rise steadily and drive the market forward. Jean Philippe Bouchard, IDC Research Director for Tablets expressed optimism for tablet sales in the coming quarters.
 "As we indicated last quarter, the market is still being impacted by the rise of large-screen smartphones and longer than anticipated ownership cycles. We can also attribute the market deceleration to slow commercial adoption of tablets. Despite this trend, we believe that stronger commercial demand for tablets in the second half of 2014 will help the market grow and that we will see more enterprise-specific offerings, as illustrated by the Apple and IBM partnership, come to market."
The Future of Tablets Is Still Unclear
The declining sales also show the general lack of interest in tablets in the commercial space. Hence, companies are using different strategies to redefine the tablet as a workplace device. In July 2014, Apple entered into a landmark agreement with International Business Machines Corp. (NYSE:IBM) to sell more iPads in the workplace. Microsoft Corporation. (NASDAQ:MSFT) has developed the 12 inch screen Surface Pro 3 tablet and projected the device as a laptop-killer. Similarly, Apple is rumoured to be introducing a larger iPad Pro device in 2014.
Are the rumours of the death of the iPad vastly exaggerated?  What strategies will Apple and Samsung use to sell more tablets in the coming quarters? Do Let us know in the comments section below.