The demand for traditional PCs, inclusive of desktops, notebooks, and workstations, in India, started falling in the second half of 2022, causing concern among manufacturers and industry leaders. Notably, the consistent pattern of double-digit yearly decline in shipments persisted into the second quarter of 2023. India's PC shipments declined 15.3% YoY in Q2 2023, to just 3.2 million units. This is surprisingly the lowest shipment figure since Q1 2021, when the country shipped about 3.1 million PCs.
Despite these challenges, the PC market displayed modest signs of improvement, clocking 5.9% QoQ growth, according to new data from the International Data Corporation (IDC).
The annual drop in PC shipments in India becomes even more worrisome as we observe the year-on-year decline across all product categories. The notebook category, which had been a significant volume driver, experienced an 18.5% YoY decline. Similarly, the desktop category, which had been experiencing growth until the previous quarter, also witnessed a 7% YoY decline.
The annual plunge in both laptop and desktop demand highlights a significant shift in consumer behaviour. This could be attributed to a multitude of factors, including economic uncertainties, widespread layoffs, inflationary pressures, and more. Additionally, it's possible that Indian consumers are strategically awaiting the upcoming holiday season, set to commence in September, where enticing discounts and offers are anticipated. This potential wait-and-shop approach could be contributing to the subdued demand for PCs at present.
PC Shipments In India by Segments
To comprehensively understand the root cause behind the substantial double-digit drop in PC shipments in Q2 2023 in India, it's important to determine whether the decline is more prominent in the consumer or commercial sector.
The IDC report sheds light on this matter, revealing that both the consumer and commercial segments reported double-digit yearly declines in PC shipments in Q2 2023. The consumer segment experienced a stark 17% YoY decrease compared to the previous year, while the commercial sector saw a notable 13.8% YoY decline.
However, amid these challenging market conditions, there are positive signs emerging from India's consumer PC segment. The market sentiment appears to be on an upswing. Despite the considerable year-on-year decline, the segment exhibited robust double-digit growth on a quarter-on-quarter basis, indicating a promising shift in trajectory.
If we take a closer look, it becomes evident that the education and government sectors have played significant roles in shaping the PC market in India during Q2 2023. In contrast, the enterprise segment is encountering hurdles.
The impact of government-led education initiatives in states such as Madhya Pradesh, Gujarat, and Tamil Nadu is particularly notable. These efforts have fueled the demand for traditional PCs within the education sector, leading to an impressive 43.7% YoY growth in shipments. Simultaneously, the shipments in the government segment grew 8.2% YoY during Q2 2023, largely attributed to the successful execution of state high court orders.
On the flip side, the shipments of premium notebooks priced above US$1,000 declined a massive 30.7% YoY in India during Q2 2023. This decline is attributed to the limited number of enterprise orders. It's noteworthy that many Indian companies, particularly in the IT sector, have been undergoing restructuring efforts aimed at cost reduction, leading to significant measures such as layoffs and hiring freezes. This restructuring has evidently impacted the demand for premium notebooks, as businesses prioritize prudent financial management.
However, in a more positive light, when comparing the June quarter to the March quarter, the demand for premium notebooks in India experienced a notable upswing. During the June quarter, the shipments of premium notebooks in India increased a strong 39% QoQ.
"PC vendors successfully ran college campaigns and got good traction. The improved performance of their e-tail channels has also provided much-needed respite to the consumer segment," said Bharath Shenoy, Senior Market Analyst, IDC India.
Top PC Brands in India by Shipments: Main Highlights
HP, the frontrunner in India's PC market, experienced reported a strong 14.4% YoY and 2.47% QoQ decline in shipments during the second quarter of 2023. However, these declines did not undermine the strong demand for HP PCs, which continued to shine in both the consumer and commercial sectors. Notably, HP secured a significant market share of 29.5% in the consumer segment and an impressive 32.6% in the commercial segment. These successes contributed to an overall increase in HP's market share, which climbed from 30.8% in Q2 2022 to 31.1% in Q2 2023.
Lenovo reported a massive 30.2% YoY decline in PC shipments in India during Q2 2023, totalling 512 thousand units. However, the shipments grew an appreciable 8.94% QoQ. In terms of market segmentation, Lenovo secured the third position in both the consumer and commercial sectors, capturing a market share of 13.0% and 18.9%, respectively.
The share of Dell Technologies in India's PC market declined from 21.6% in Q2 2022 to 15.3% in Q2 2023. The brand shipped only 485 thousand traditional PCs during the June quarter, with a massive 39.9% YoY decline. However, the shipments grew 16.3% QoQ. Dell holds a 19.1% share in the commercial segment and an 11% share in the consumer segment.
Securing the fourth position, Acer Group secured an 11.4% share in India's PC market in Q2 2023. Interestingly, Acer was the only PC brand among the top five to witness yearly shipment growth during the June quarter, delivering 360 thousand units with an 8.43% YoY increase. The brand's prowess shines particularly in the desktop category, where it achieved the second position with a 21.9% share, trailing only behind HP. Acer's dominance extended to the commercial desktop sector, where it led with a significant 29.8% share, fueled by heightened demand from the government segment.
In Q2 2023, ASUS secured the fifth position in India's PC market, with a 7.2% share. The brand's success can be attributed to its robust expansion in the offline channel, which has driven its performance in the consumer segment. With an impressive 14.8% share, ASUS claimed second in the consumer segment, trailing behind only HP and surpassing Lenovo.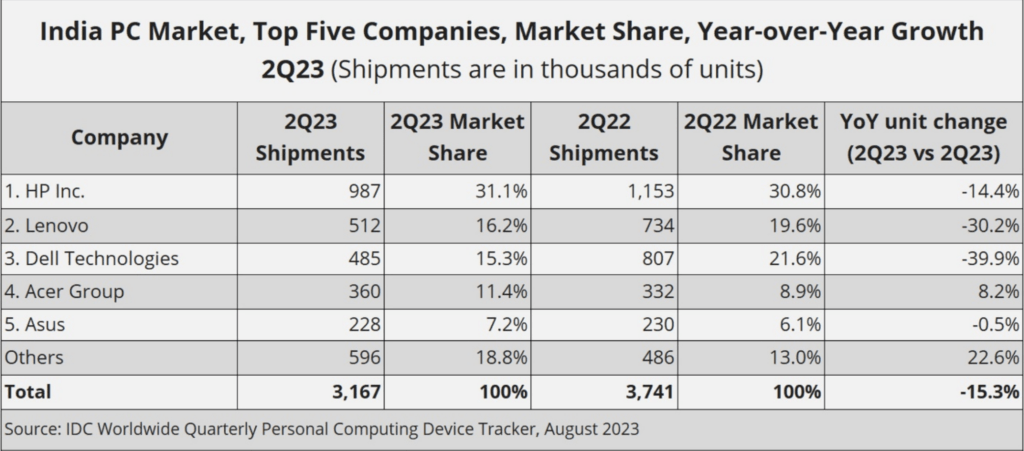 Government Efforts To Boost the Shipments
The PC market in India has been grappling with sluggish demand over the past few quarters, primarily attributed to the cautious stance adopted by enterprises and small to medium-sized businesses (SMEs). This mindful approach has prompted them to defer their PC procurement plans. However, a notable shift is on the horizon, poised to reshape the market landscape.
The Indian government is actively working to boost the demand for PCs and other devices in the country. In a recent development, the government has introduced restrictions on the import of laptops, tablets, all-in-one personal computers, ultra-small form factor computers, and servers. The import restrictions aim to promote domestic production and manufacturing of PC devices. Local manufacturing can potentially result in more competitive pricing, making laptops and tablets more accessible to a broader consumer base.
Additionally, vendors and manufacturers are likely to adapt their strategies to optimize their channel inventory across consumer and commercial segments. They may accelerate the production and distribution of domestically manufactured laptops and tablets to capitalize on the expected surge in demand resulting from the import ban.
This situation might prompt SMEs and enterprises to accelerate their PC procurement plans, as they anticipate potential price hikes after the import ban takes effect in November. It's like a chess game where the pieces are being strategically moved to adapt to the evolving PC market dynamics.
Will the Indian government's import restrictions and other strategic initiatives be the catalyst much-needed to reinvigorate India's PC market, ensuring accessibility and affordability for a broader consumer base while driving local manufacturing and innovation? Let us know in the comment section!