Apple Inc. (NASDAQ:AAPL) shipped 16.4 million iPad's in its Fiscal Q2 2014, far below that of analysts' estimates of 19 million shipments. Apple CEO Tim Cook, said he remained bullish on iPad projections, quoting that the company had reduced its iPad channel inventory compared to last year, so sales were in line with expectations. Another point he made was the incredible growth of the iPad, selling 210 million units totally since its launch, which is twice as many iPhones sold in the same period. He also made a strong pitch for the iPad in the education and enterprise segment, estimating that tablets will eventually surpass the PC market. However, Benedict Evans, a mobile analyst at Andreessen Horowitz, has demystified the hype surrounding the iPad, which was Steve Job's final revolutionary product.
Apple's Declining Revenue is Symbolic Of A Larger Problem
The revenue of Apple has clearly stopped growing. In the graph shown below, the company's quarterly revenue since December 2004 has been depicted. The spikes are increasingly large during product launches, but the overall trajectory is flattening. In its fiscal Q2 2014, the company generated US$45 billion in revenue.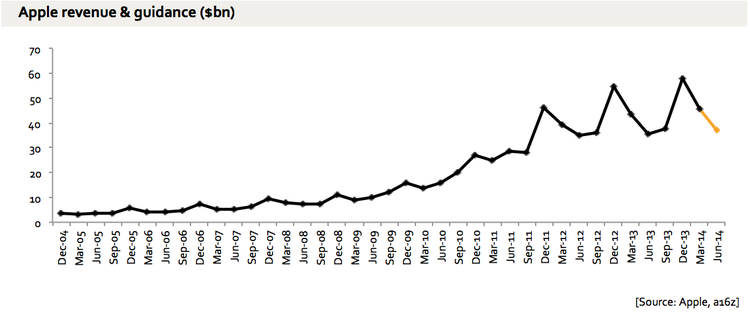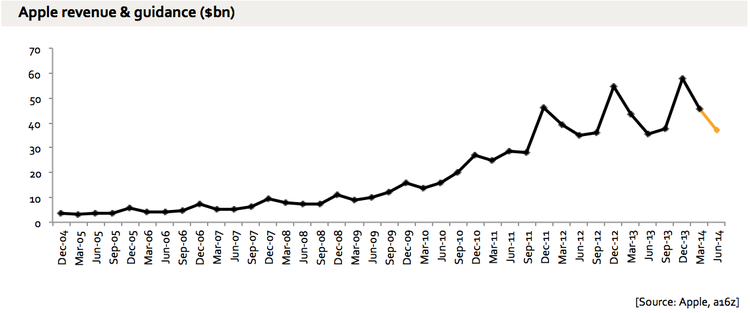 When it comes to revenue by region, America clearly contributes more than everyone else. Apple is the largest OEM by market share in the U.S. During the 12 quarters to March 2014, revenue from all regions, other than China is clearly flat. In January 2014, Apple began selling iPhones through the China Mobile Ltd. (ADR) (NYSE:CHL) Network, which is expected to account for 20 million iPhone sales in 2014 alone. As recently as Apple's Fiscal Q2 2014, China contributed US$10 billion in revenue. The company is now looking at selling more products to customers in emerging markets, through price discounts and low-cost versions of earlier models.
The three main sources of revenue for Apple are the iPad, iPhone and everything else,which includes MacBook and the App store. From the graph, it's obvious that the iPhone is continuously generating the most revenue, but for iPad and everything else, revenue growth is flat. Part of this decline can be attributed to Apple's introduction of  cheaper variants of the iPad, which included the iPad mini. This caused the average selling prices to  decline to US$450, while the ASP of iPhone remained steady at US$600.
Apple still controlled 36% of the tablet market share in 2013, despite dropping from 52%, a year earlier. By shipping 70.4 million iPads, the company was far ahead of rival Samsung Electronics Co.Ltd. (KRX:005930) which shipped 37.41 million tablets in 2013. However, when iPad sales are compared to the iPhone, there is an undeniable fact – iPad sales have barely shifted upwards since December 2012, just two years after the release of the first iPad. However sales of  iPhone are soaring higher, with every release, every twelve months.
This decline cannot be attributed to pressure from Android tablets, as people are not switching their iPads for Android tablets on a large-scale. Android tablets are not selling well either, despite the low-costs and massive potential. Only 120 million Android tablets were sold to end-users in 2013, compared to 758.7 million Android smartphone sales. It was also suggested that iPads could not compete with PCs, due to a lack of features. But PC sales are increasingly seeing a downward trend too. The below graph shows the rapid rise of smartphone shipments and the declining shipments of PCs.



Smartphones Are The Truly Revolutionary Products
In Q1 2014, 285 million smartphones were shipped compared to 76.6 million PC shipments and 50.4 million tablet shipments. These figures show the nature of the smartphone adoption rate, with shipments soaring each quarter and unlikely to decline for several years, till 2017. The sheer utility of the smartphone makes it attractive for users all over the world with 2 billion smartphone users expected around the world by 2015. As the ASP of a smartphone continues to decline and the introduction of 3G and 4G networks increases rapidly, smartphones will continue to be shipped in billions of units. Another reason is the app explosion for smartphones and the widespread attention it receives for available opportunities in applications, compared to the iPad or Android tablet segment. One such example can be found in Facebook's quarterly report, which showed that Facebook users who use only their mobiles, exceeded those users who were not on mobile.The replacement cycle period for a tablet is also longer than the replacement cycle of a smartphone, which is typically two years. The shelf-life of a tablet, laptop or PC is higher than that of smartphones and first time buyers are usually far less in numbers.
It can effectively be concluded that the smartphone is a truly revolutionary product, while tablets are in another group altogether. The laptop, desktop, PC and tablet devices are all large screen category devices, competing in the same segment. Tablets are still viewed as entertainment devices, hence low-cost Android tablets are still popular in Asia for watching videos. It will eventually be several years, till tablets can finally push laptops and desktops out of the picture completely.
Can Apple Replicate The Success of The iPhone?
Apple created the revolutionary iPhone and that may have been the company's greatest and truly transformational product. Seven years later, as revenue starts to shrink slowly, the company needs a new product in its inventory. The latest rumored device is the iWatch, where Apple reportedly plans to sell 65 million units in just one year. The new iPhone 6 is rumored to be a phablet device, hence it will most likely end up slowing iPad sales. Either way, the company still has US$160 Billion in cash, so it remains safe for the next few years.
The rapid decline in iPad sales, four years later, highlights the fast rate of adoption. However, the iPhone still remains the company's most used product globally and if the iWatch is to be launched soon its adoption rate is bound to be quick, as the cost of the iWatch is rumored to be around US$265, which is less than half the price of the iPhone. Apple's bottom line will improve, and after that, there is no clear road-map of what the company plans to venture into next, after pioneering MacBooks, iPods, iPhones and iPads. Creating a revolutionary technological product is a huge challenge for any company, often involving years of painstaking research. If Apple can replicate the iPhone's success, the world will be transformed once again.