After years of declining profit and fleeing clients, Blackberry is apparently heading towards the last ceremony, thanks to the recent partnership deal between Apple Inc. (NASDAQ:AAPL) and IBM (NYSE:IBM). On Tuesday, both the tech giants – not Blackberry, of course – entered into an agreement that would help Apple to strengthen its position in the business market – beyond their traditional base of the consumer market. What, Apple with IBM!!!!! I am sure, by this time, some of you might be thinking of the famous pic of Apple's visionary Steve Jobs standing below the IBM logo and showing the finger. But, I will come to this section later on this post.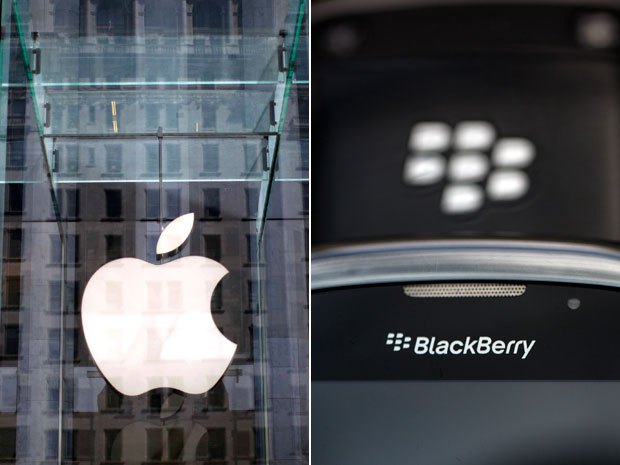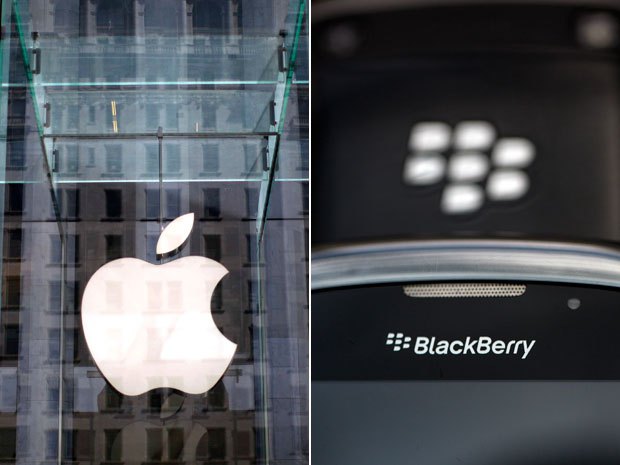 According to the 'exclusive' partnership, IBM will develop a fleet of business apps for iOS, with a focused approach on Retail, Healthcare, Transportation and other emerging industries. In return, IBM will sell Apple's products with these business apps to all of its corporate clients worldwide and Apple will introduce new support services for these prospective customers. With this partnership Apple is aiming to tap the enterprise mobility market, which has been registering an unprecedented growth in the last few quarters.
In an official press release, Apple has emphasized on the word "exclusive" four times. Probably, the iPhone maker wants to pass a stern message to all its competitors, especially Google, in the smartphone space. While attending questions on "exclusivity" IBM spokesperson clarified that the word is mentioned in the context of "apps exclusive to iPhone and iPad", however, this didn't not satisfy everyone till core, especially when other possible Apple-HP tie-up is reportedly on the cards. This means, now Apple can't run towards HP and make a similar deal with other hardware/service providers that enjoy a strong presence in the enterprise segment.
But more than Google Inc. (NASDAQ:GOOG), and Microsoft Corporation (NASDAQ:MSFT), the Apple-IBM deal is going to bring damages for ailing Blackberry – the company that was once known for its unparalleled influence over the enterprise and corporate customers. After years of struggle and tough-time Blackberry is trying to regain its lost ground by placing its card at the right place. Once the leader in enterprise mobility and mobile industry, Blackberry is gearing up to launch the new version of its enterprise server software with an expectation to turn around its fortunes. The company is working on a platform that would provide a comprehensive experience and control to IT managers to deploy their services on Blackberry Phones. This is currently difficult due to multiple iteration of Blackberry OS, but with the upcoming Blackberry Enterprise Service version 12 all these iterations could be handled by the single blackberry OS.
By early this year, John Chen – CEO, Blackberry, said "We listened to customers, they didn't want two infrastructures, they wanted one."
However, with the new development, in the form of the Apple – IBM deal, Blackberry looks left behind and Apple is all set to eat into its leftover market share. However, with the inbuilt support function to Android, iOS devices and Microsoft's Windows devices, BES12 looks to have an edge over Apple in enterprise segment – still. But the company needs to work on the war – front now, as Apple-IBM news has started affecting Blackberry, whose share slumped by 4.7% to $10.77 on Wednesday.
Market analysts feel that Apple-IBM partnership is a kind of a big deal. And, why not, considering the growing culture of BYOD (Bring Your Own Device), enterprise apps and supporting mobile platforms are going to play a big role in a mobile company's growth, and revenue too.
Ok; coming back to Steve Jobs' finger! It's a globally known fact that Apple's co-founder was never a big fan of IBM. During his initial phase with Apple, Steve almost triggered a war between IBM and Apple in PC market. This very famous vintage picture of Steve jobs sums up the stand of Steve against IBM.