Apple Inc. (NASDAQ:AAPL) released the first iPad in 2010 and caused turmoil in the global PC market for the next few years. The iPad ushered in the age of tablets, and the market for bulky desktop PCs was soon in steep decline. At the time of the iPad release, it was a widely accepted belief that tablets were the alternatives to bulky laptops and desktop PCs. The market has matured steadily four years later, as consumers demand for notebooks and PCs are still high, according to Independent analyst firm, Canalys research.
Apple is far ahead of Lenovo Group Limited. (ADR) (OTCMKTS:LNVGY), Hewlett-Packard Company (NYSE:HPQ) and Samsung Electronics Co.Ltd. (KRX:005930) in the global PC market. Shipments of PCs, including tablets and Desktop PCs, reached 123.7 million globally in Q1 2014, up 5% Y-O-Y. The traditional Desktop PC market includes notebooks, laptops and other variations. A total of 50.8 million tablets and 72.9 million Desktop PCs were shipped in Q1 2014, with tablets beating notebooks in shipments. Tablets accounted for 41% of the market share while notebooks had 38%. Growth in tablet shipments slowed to 21%, as the market begins to mature. Desktop PC shipments have remained flat Y-O-Y, owing to the migration from Windows XP after its support was terminated on April 8.
Apple Is In First Place With 21.4 Million Shipments
Going by sales of tablets and PCs combined, Apple is the front-runner in the global PC market. The company shipped a total of 21.45 million devices, which includes iPads and Mac Computers in Q1 2014. This is not surprising, given that the company controlled a third of the global tablet market in Q1 2014. Shipments of Apple iPad declined by 16% Y-O-Y to 16.9 million units in Q1 2014, and fell by 40% in North America. However growth in China was 20%, which is Apple's second largest market after the U.S.
Apple's market share in the global PC market declined to 17% in Q1 2014 from 20% last year, as competition is increasing. Despite the sharp fall in iPad shipments in Q1, analysts from Canalys do not believe that Apple's performance points to a decline in the tablet category. The sales of Mac computers such as MacBook Air, have stood at a steady 4 million each quarter, and are showing no downward trend. Apple's flawless ecosystem and the recent launch of Office for iPad will ensure it remains well ahead of competitors, for the next few years.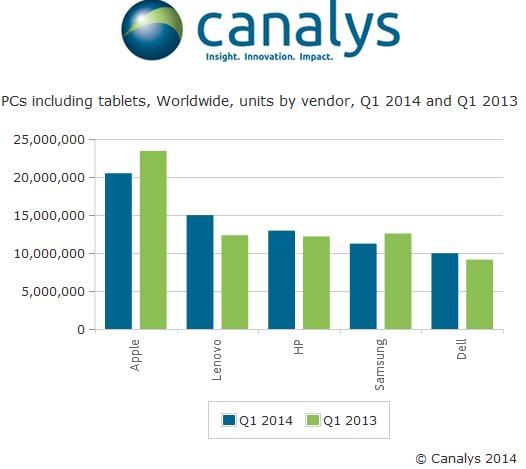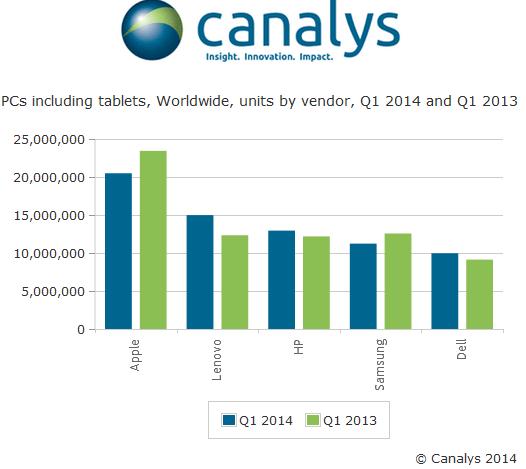 Lenovo Leads In The Notebook Category
Chinese tech giant Lenovo shipped 15 million PCs in the quarter and increased its market share from 10% to 12% Y-O-Y. Lenovo is in first place in the notebook segment, thanks to strong sales of the Yoga convertible devices. It is also at the second place in the desktop market, but is at the third place when it comes to tablets. Europe, Middle East and Africa were the main markets of growth for Lenovo in Q1 2014, with PC shipments up by 61% this quarter. Lenovo is bound to have a long-term advantage with tablets as it can customize the devices to suit specific market segments. It also designs devices for specific categories, such as the Y510P laptop for high-end gaming .
Samsung Slips To Third Place As HP Gains
Samsung's loss is HP's gain. It fell to the fourth position in the global PC market, due to its exit from the notebook segment, followed by a rapid decline in shipments. This allowed HP to return to the third place. In Q1 2014, it shipped 12.9 million units giving it an 11% share of the market. Shipments of its notebooks grew by 7% Y-O-Y, due to its dominance in the notebook market in the U.S. and West European countries. However, it remains a big laggard in the tablet market, by shipping only 400,000 tablets this quarter. HP's strategy is to offer bundled mobile data with  its tablets in emerging markets, significantly adding value to individuals and small business owners.
Tablet Shipments Are Slowing Faster Than Expected
There is still much debate on whether tablets can be classified as PCs, along with notebooks and desktops. The Apple iPad has powerful computing capabilities, and so far it remains the only tablet to rival desktop computers. Businesses in particular are fascinated with the iPad, as it accounted for 21% of enterprise device activations in Q1 2014. Android tablets are largely seen as inferior to iPads, due to lack of computing power and decreased security. This makes it unattractive to businesses seeking to use tablets in the workplace.
Globally, sales of tablets and PC's are falling worldwide, unlike smartphones which showed Y-O-Y growth of 33.1% in Q1 2014. However, growth in tablet sales was strong in the Middle East, China and Central and Eastern Europe. Meanwhile, sales of notebooks declined by 13% in China and remained flat in North America and Western Europe Y-O-Y. This scenario presents an opportunity for Lenovo, HP and others to gain market share, by aggressively promoting tablets. The average cost of a tablet is falling worldwide, and in coming years the Asia Pacific region and Europe will contribute the highest growth. According to IDC, total tablets sales will grow by 19.3% in 2014. In any case, the market for laptops and notebooks will continue to exist , as they cater to various categories of users.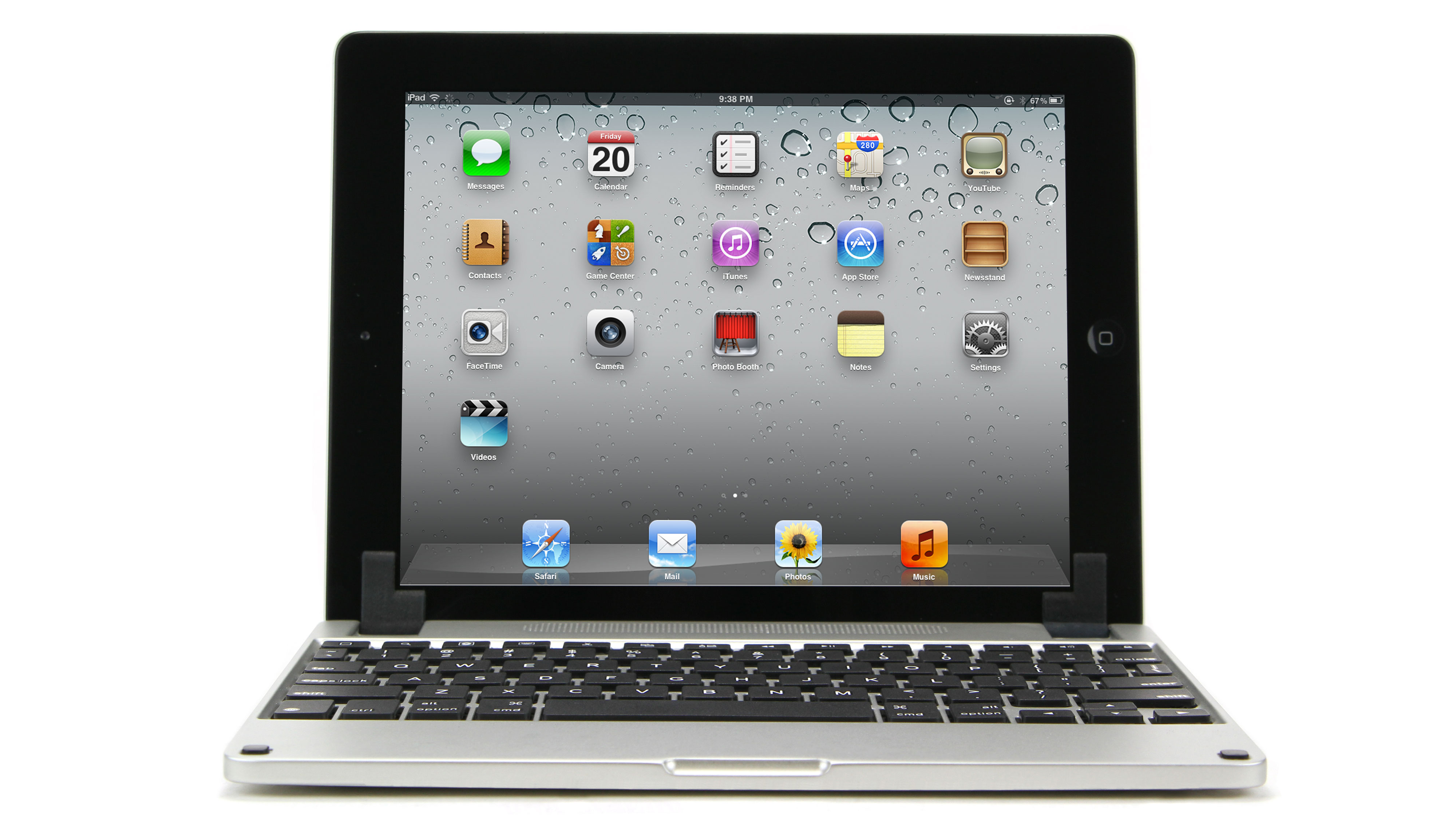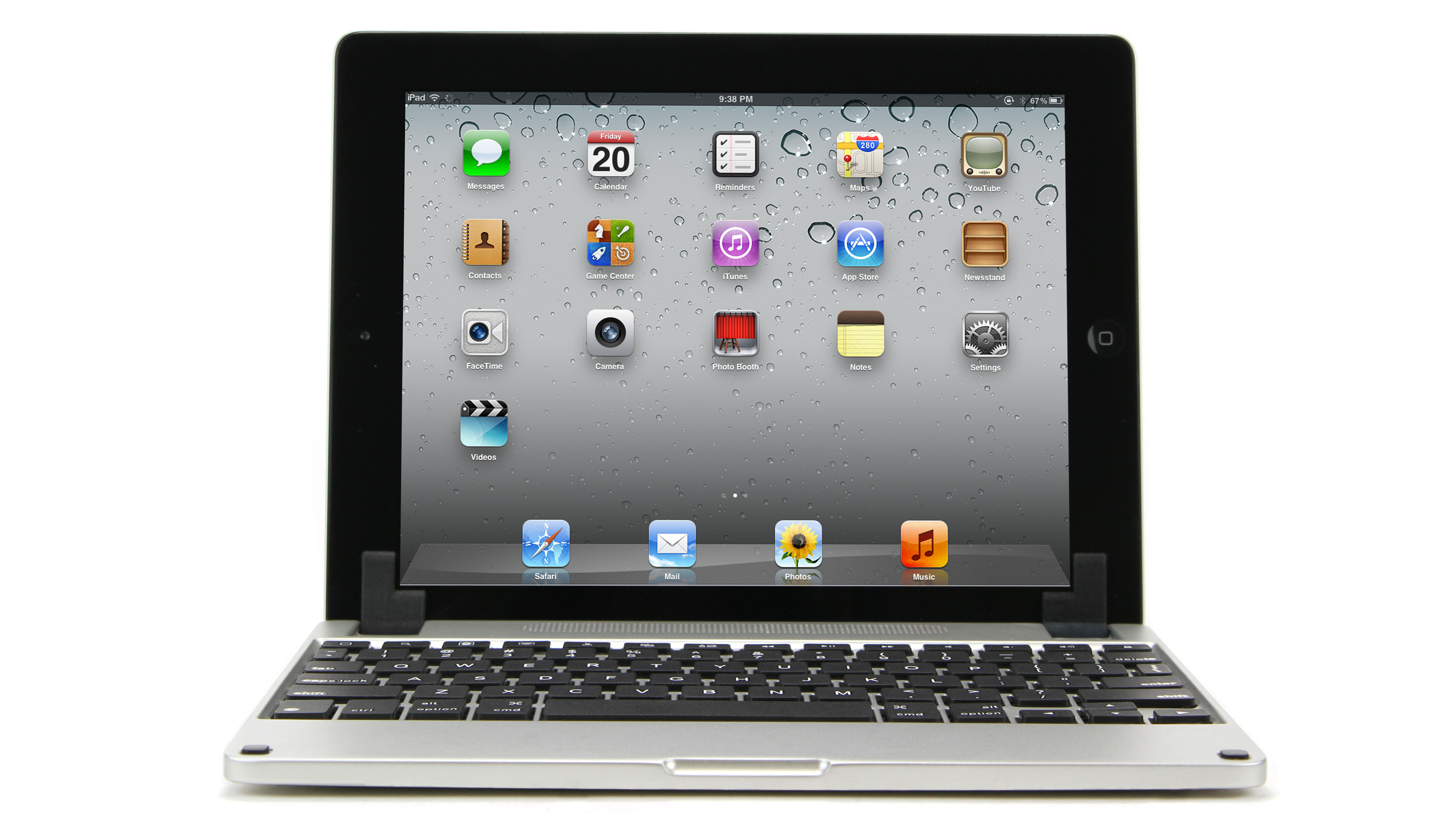 Apple's New Strategy
The global demand for phablet devices is also eating into tablet sales. Apple is reportedly planning to launch a large screen iPhone 6 in 2014, to attract customers who prefer large screen phones. This is bound to affect sales of the iPad, hence Apple is reportedly planning to launch a major redesign to the iPad Pro this year. The new design will supposedly feature a 12 inch Macbook/iPad hybrid, and will certainly have appeal among employees in business. It will also ensure that Apple remains king of the PC business for years to come.